40) DIY Tiny House Smart Design
This DIY Tiny House which is literally choke-full of smart design ideas won't leave you anything less than impressed.
It was built on a 24 foot trailerout of 90% reclaimed material on the outside. The fancy design of this house is particularly his wife's idea as she is a fan of the old European style.
Personally, I adore the fold down porch which works great for traveling.
You can pretty much enjoy the abundance of sunlight in the sleeping loft thanks to the 2 big square windows and the circular window.
However, as shared in the video tour, it's important to think of blind folds or you'll be forced to wake up with the first rays of the sun painfully early each morning.
The bed can be lifted up to save space through a very smart mechanism. All in all, this tiny house is a tightly packed mixture of profound space-saving ideas the owners deserve to feel proud of.
41) $1500 Tiny House
The story of Luke Thill who managed to build his very own tiny house for as little as $1500 when he was only 13 years old has gone totally viral but why shouldn't it?!
He is an inspiring example that nothing is impossible when you have a dream.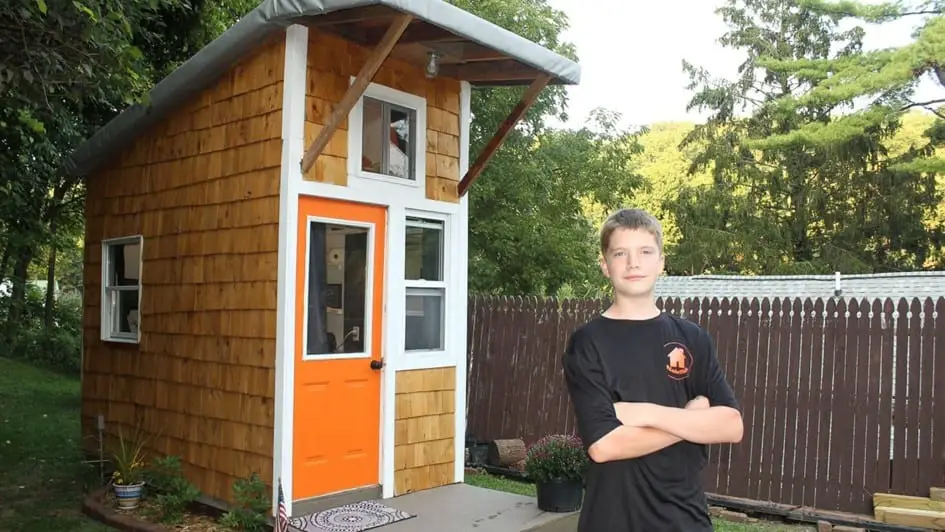 And nonetheless, for every true tiny house aficionado who is planning and craving to construct the tiny home kept in the hidden corners of your most sacred thoughts) well, I think there is barely something more powerful and invigorating than checking out this boy's tiny invention.
Covering the humble 5' by 10' this tiny creation has a sleeping loft but also a folding dining table, and even a small kitchenette.
When it comes to the money used for the building of this house) Luke also managed to save it all by himself, mostly through his summer lawn-mowing chores.
42) Tiny House in the Shire
Okay, I know this is not the typical tiny house and it is definitely a specific design which won't be able to be adapted if you want to build a tiny mobile home but just look at it.
The mere idea of being able to design and construct such an extraordinary house is more than motivating.
Let yourself get Kristie Wolfienized and you will get contaminated with the ease and somehow natural flow that she has when it comes to explaining how to turn your DIY building projects into reality.
Fortunately, Kristie's sketches are also available, and we are always happy to stumble across tiny house owners and creators who are true to the spirit of sharing.
Plus, the interior decisions can give you a massive creative boost on how to structure your own tiny house, whether it's hobbit-inspired or not.
43) Amazing Tiny Truck House from Reclaimed Material
While most of the mobile tiny houses are constructed on a deck, this couple decided to think out-of-the-box and adjust their old truck into a tiny home on wheels.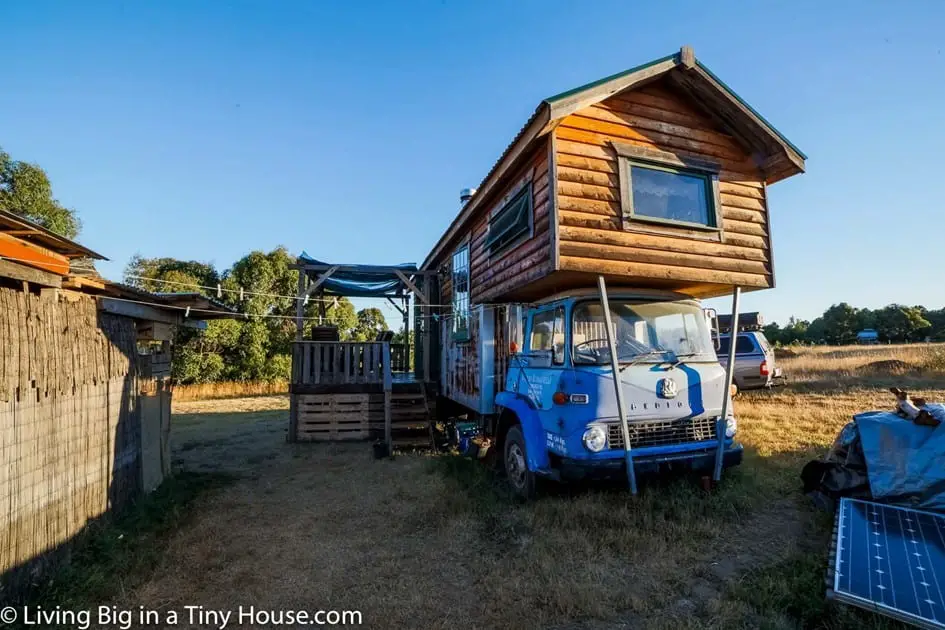 Well, as it turns out, this was a fantastic idea.
They managed to construct their tiny house utilizing predominantly salvaged materials.
Nevertheless, they were determined to make this mobile home an off-the-grid one, so it is running entirely on solar power.
One of the undoubtedly most stunning parts of the tiny house is the added shower at the back of the truck which makes up for a truly one-of-a-kind experience.
Whenever they are not using the shower, the couple loves to use this as an outdoor space to get a gulp of fresh air while enjoying the view.
We think this tiny house is the perfect example to get your creativeness sparkled.
44) Tiny House with Rooftop Balcony
What better way to finish this list of tiny house plans than sharing a truly creative tiny home? At the very moment you take a sneak peek of this tiny home on wheels, it grabs you right away. The idea of constructing a rooftop balcony is a magnificent one, and it truly deserved our admirations.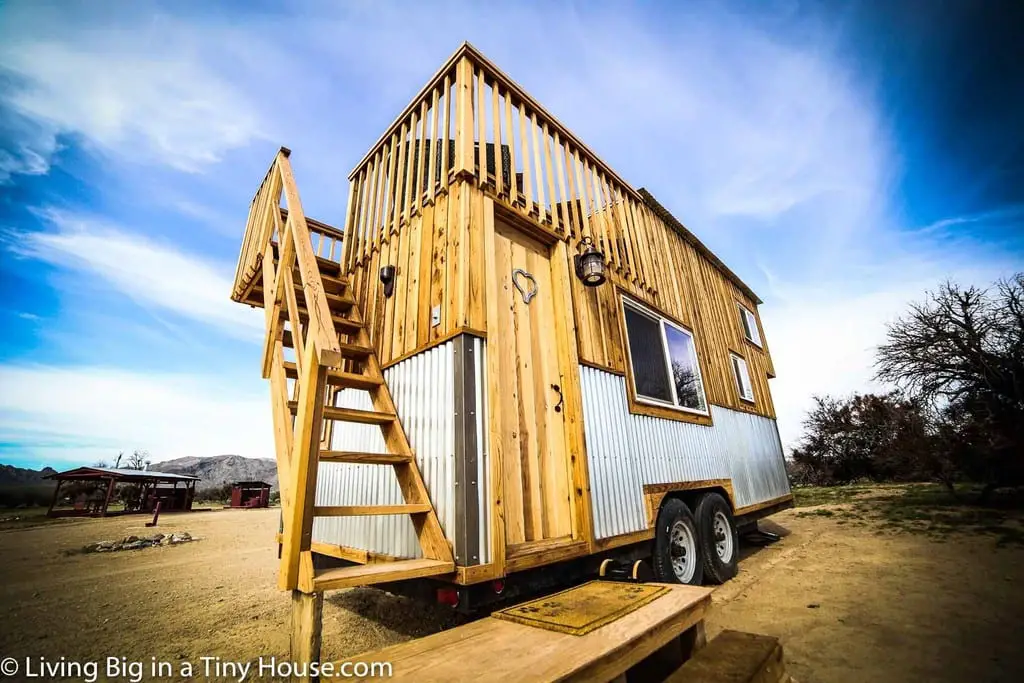 But the rooftop balcony is not merely a fancy addition to enjoy panoramic views. It actually gives a precious amount of extra space you can use however you find to suit your taste best.
The interior packs a punch with a distinctly exotic taste of Mexico through the little touches added by hand-crafted Mexican-style objects. Currently, this house is available for rent at Airbnb.
For those who are less experienced with working with wood, though, this balcony design can be quite a challenge. But as what we want to keep emphasizing from the very start – challenges should raise your motivation instead of making you delay the construction of your dreamed tiny home.
45) Van Makeover into Tiny House on Wheels
Bryce Langston is meeting us with Demi and Eli who are a young couple with huge imagination. They managed to turn their old van into a strikingly welcoming tiny house on wheels.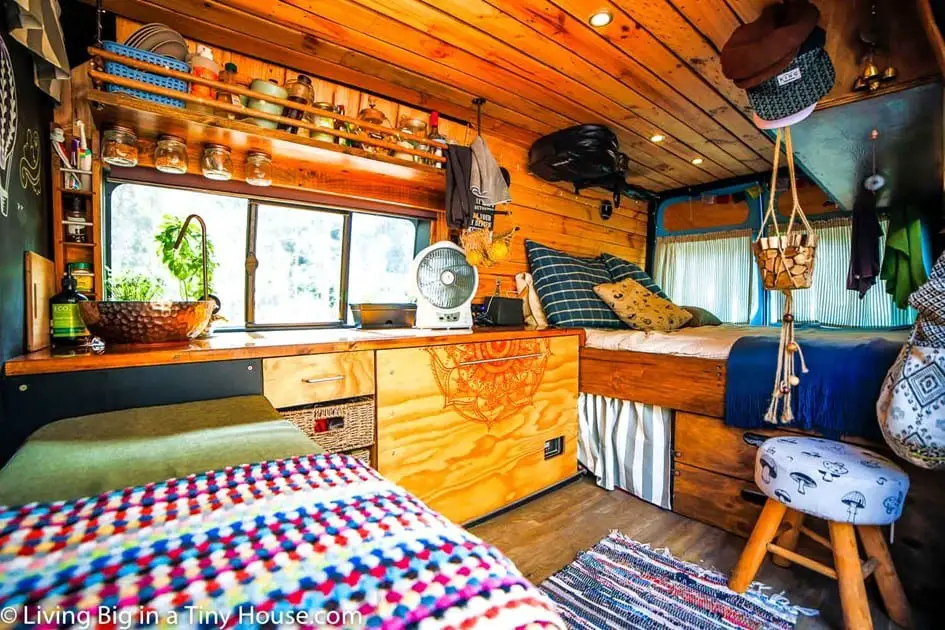 Staying true to the best principles of the tiny house movement, the van runs on solar energy. That energy is enough to sustain the functioning of the fridge and charging of their devices, among others.
They have also installed this super cool folding deck which gives them extra space for cooking or simply enjoying the view.
The inside of the van is more than merely hospitable because of the warmth, coziness, and uniqueness of the timber utilized. Nevertheless, the timber used is mostly reclaimed.
The traveling couple has thought of all the little details which make a house's interior design uniform, such as the mini chairs and an exquisite copper sink.
46) Whimsical Modern Tiny House Running on Renewable Energy
It is sure no wonder why Bryce Langston features this little gemstone for being an amazing off-grid tiny house which has absolutely everything.
Apart of the solar power utilized, the young couple who constructed the tiny house of their dreams also capture they own water and have even implemented a solar water heating system.
So if you are looking for ways to make your tiny-home-to-be absolutely independent in terms of water and power supplies, then this modern tiny house will give you plenty of inspiration and practical ideas you can apply.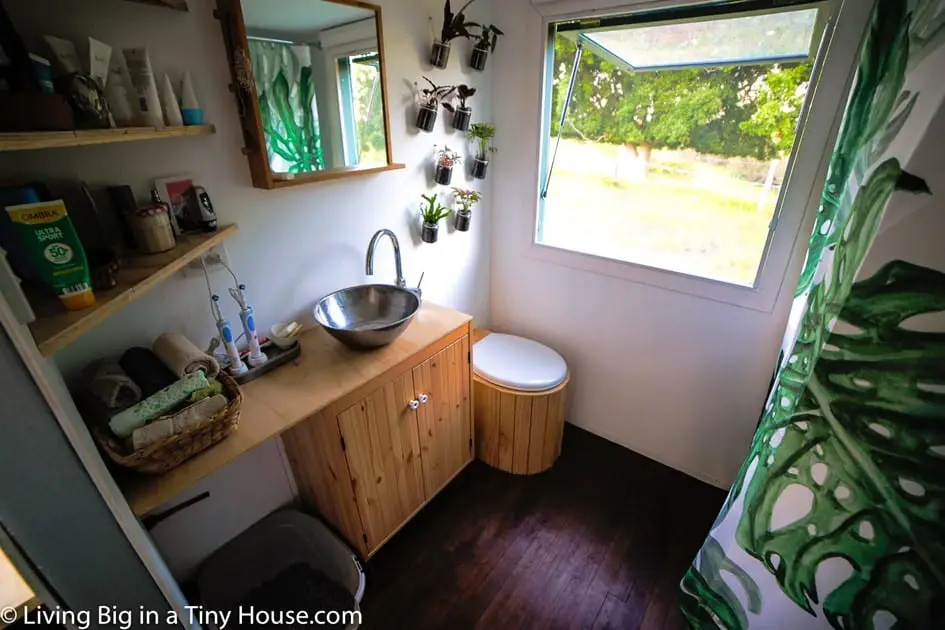 Personally, what grabbed my attention the most is the bio gas digester which makes it possible to generate your own gas.
Wondering how this happens?
The gas bio digester works by turning your garden waste and/or food scraps (or any other organic matter) into gas.
Every little piece of the cleverly designed interior is nothing less than excellent, which proves it's worth exploring the debts of your tiny house imagination.
47) Bus Into Tiny Family Home Mind-Blowing Conversion
Okay, maybe your idea of the tiny house plan of your dreams doesn't really fit into converting an old school bus (or whatever vehicle) for turning it into a place you can call home.
But since constructing your tiny house has so much to do with the need for inspiration, we bet this stunning transformation, as well as the tons of tiny treasures hiding inside, will give you a huge gulp of motivation on how to construct your tiny home.
Personally, I am crazy in love with the way this couple utilized only reclaimed materials and managed to achieve this whimsical interior.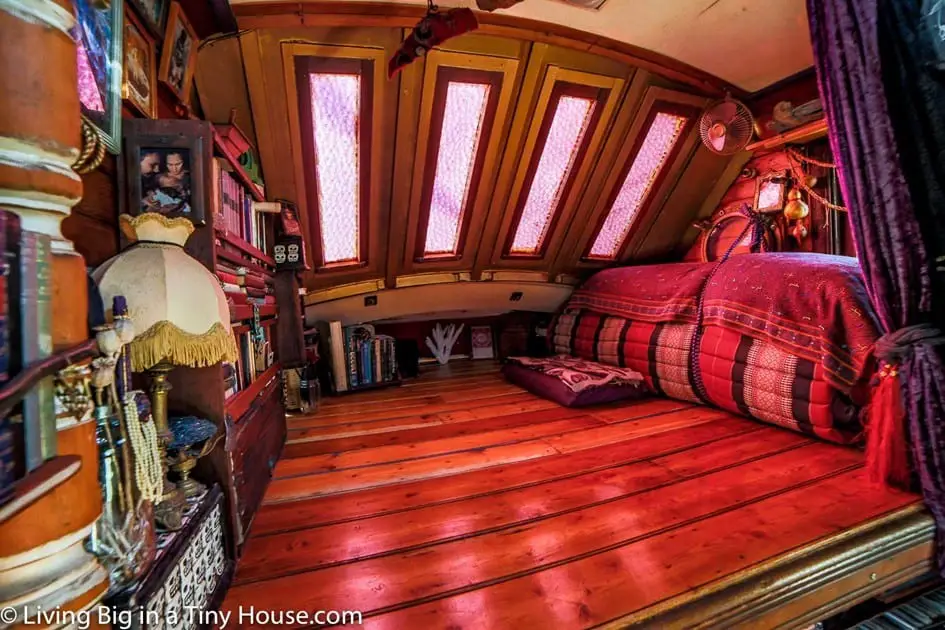 And besides, the space-saving gigs inside are absolutely worth exploring. This couple's tiny home is one which makes you feel yourself a part of this amazing story, too. That shows how all the tiny elements of your house design finally fit into one bigger, mutual picture.
48) Minimalist Tiny House Plan
If you are a fan of the minimalist style, then you can count me in, too. I believe in the way minimalism helps clear the mind.
Even though pretty small, this home has all the essentials for a comfortable living.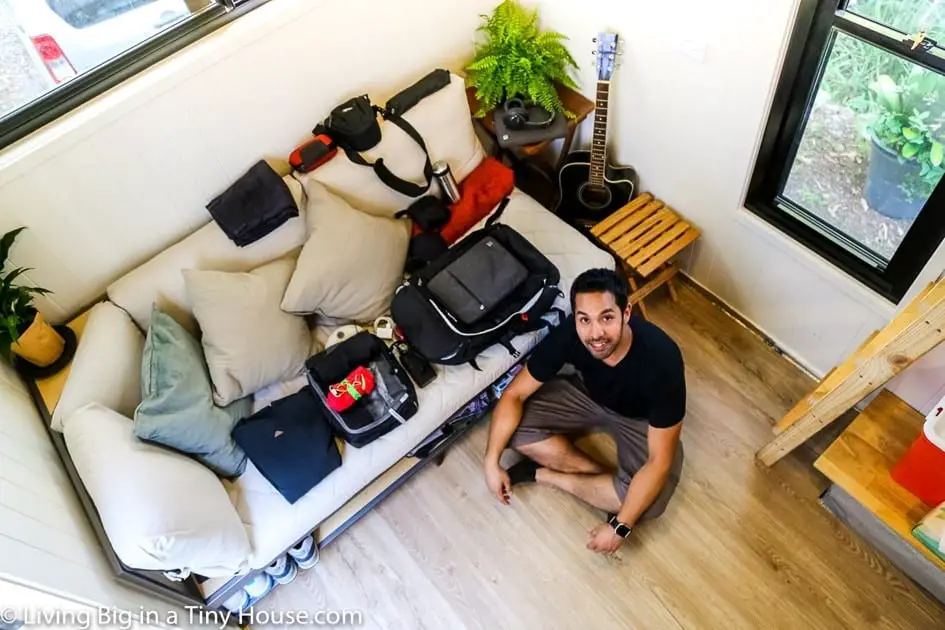 The loft is reachable through an installed ladder, and apart from the kitchen and bathroom there's also a lounge area.
That helps to make the tiny house feel very spacious but the lack of clutter is also a game changer which adds to the open feel of the interior.
49) One-of-a-Kind 60 Square Meter Small Family House Built From Hemp
The benefits of using hemp as a building material have been discussed for quite some time, even though hemp persists to be illegal in many countries.
But the truth is, hemp is also considered one of the most environmental-friendly materials by activists, fighting for the well-being of our planet.
Hemp is not only renewable, it is also one of the most durable ones, and that's why it has been utilized for sail ropes long before it was banned by the governments.
One family has found a way to incorporate hemp for the construction of their tiny house, which doesn't at tall feel like being tiny.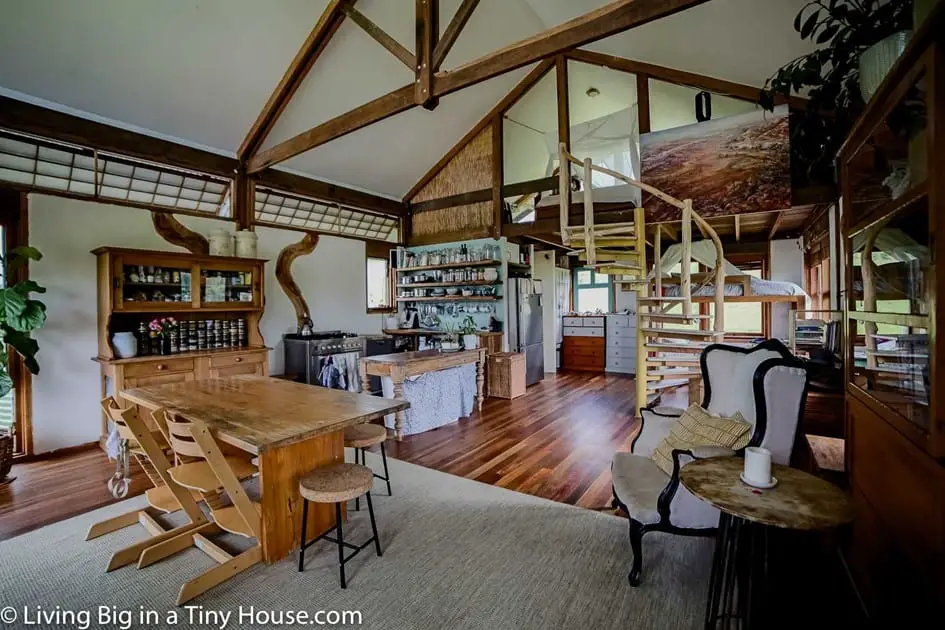 All the clever interior decisions have created a very open space which is a pleasure to inhabit.
Personally, I am determined to consider the benefits of hemp as building material and try to implement these into the design of my tiny home with a mind for the environment.