61) Kid's Bed Frame Design 2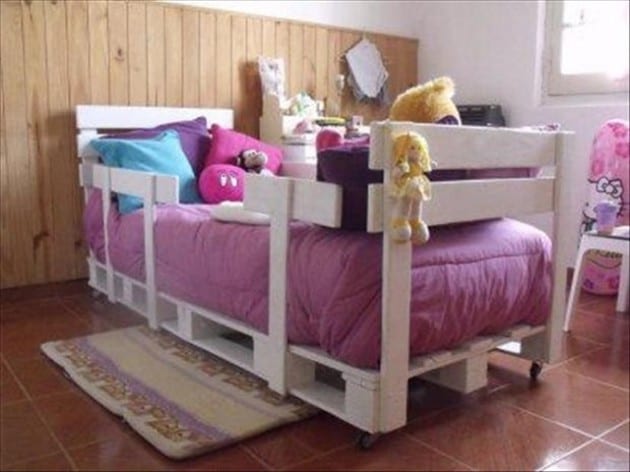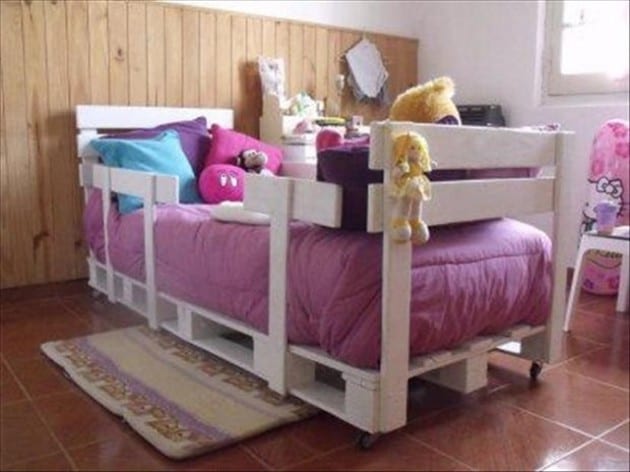 This is a nice kids' bedroom with a lovely pallet bed frame. This bed frame cradles a kiddie size mattress along with beddings, linens, toys and more. The pallet bed frame has been commissioned and was specially designed to create a lovely and whimsical effect.
The bed frame is equipped with side rails to protect the child from falls. It kept its natural shine and appearance but you can paint this any color that you wish. You can match the color of the bed frame according to the kids' room or nursery room color if you wish.
62) King Sized Bed and King Sized Pallet Frame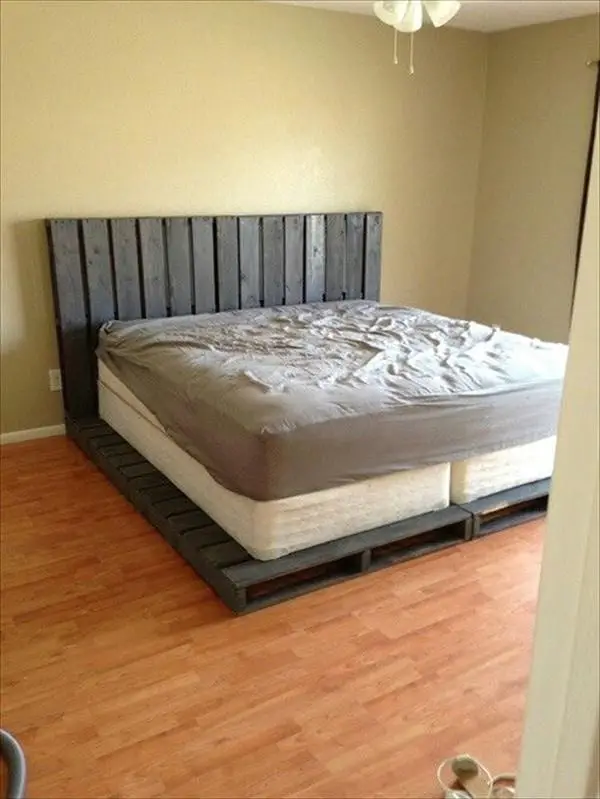 This is a standard single-level pallet bed frame inspiration that will let you raise a king-sized mattress. A matching headboard was constructed out of pallet wood as well and as you can see, this accents the wooden pallet bed frame very well.
When this bed is done, this will be more comfortable and perfect for two people to sleep on. It will also be the focal point of your bedroom because of its pallet wood bed frame.
63) Contemporary Bed Frame Design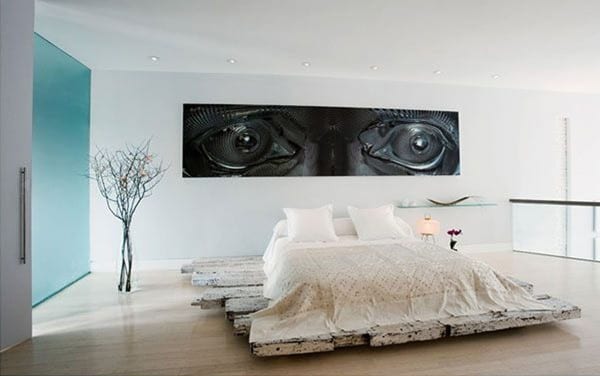 This looks like a very artistic living space and the artist made use of some natural elements like wood and trees. The bed frame is made of large wooden pallets which were irregularly shaped to create a distressed appearance.
The bed is large and very comfortable and with this design, the bed looks even larger and more inviting. It is not known if this was an actual bedroom but it sure proves that design can be so powerful that it can attract attention and keep you interested in anything that's different.
This may also look like a different design but it can be used as an inspiration to create bolder and more powerful woodworking projects.
64) Wooden Pallet Bed on Wheels
This is a wooden pallet frame on wheels. It supports a large, king sized bed which can comfortably accommodate two people or two large adults. This large bed frame has a wide headboard was made from the same wood pallets. The builder has retained the natural appearance of wooden pallets but you can certainly paint this whatever color you like.
It's not too common for a large bed frame and bed like these will have attached wheels because of the sheer size and weight. This is why it's very important to use only quality, strong and safe pallet wood to support the weight of the bed.
Meticulously checking all the wooden pallets for your project is essential so you can make any design stylish as well as safe. Needless to say, you must also pick the right wheels for the job so you can move your bed to any side of your room. 
65) Luminous Bedroom Pallet Bed Frame Design
What a way to accent this lovely room! The large spherical window is the accent point of this room but it looks like the bed has stolen the limelight with its inviting white design on top of a large wooden pallet bed frame.
The bed was just a small, insignificant mattress that was barely noticed with the large scenic window. But when it was installed on top of this lovely bed frame, it became sensational. It was lifted inches from the floor creating a floating appearance. And because the bed was decked with a white lace-like cover, it looks even more like a floating cloud.
66) Wooden Pallet Bed Design with Legs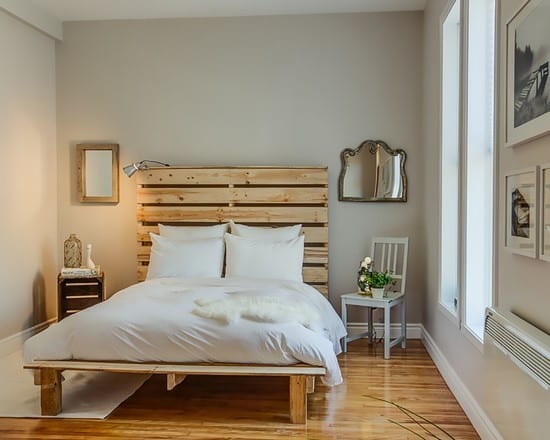 This pallet bed frame is unlike other designs because it is large and has strong legs. This design is a classic because it already looks like a regular bed. What's even better is that this one has a large headboard which ties up the natural wood design.
67) Boosting Storage Space with Pallet Bed Frame
This pallet bed frame design gives you an idea of how much things you can actually store in between wood pallets. First, you must have at least a two to three layer pallet bed frame to have a lot of storage space.
Next, make sure that when you install the pallets in your room, the open edges of the frame face outward to let you use these spaces for storage. Like this photo; the spaces were used to store books and other everyday items.
68) Fluffy Design with Wood Pallet Bed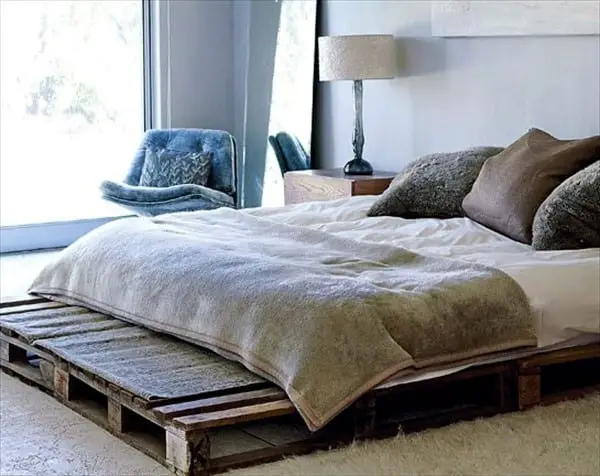 The mattress in this photo appears to be thin and narrow, possibly for only one person. But when placed on top of a pallet bed frame, it becomes thicker, larger and more comfortable.
As you can see it looks more inviting and very relaxing to lie down and just nap away. It has large pillows and a thick blanket, what more could you ask for? Another comforting thing about this set is the color of the mattress, wall and the pallet; everything looks warm and relaxing. Just like what you need in your bedroom.
69) Simple Pallet Bed Frame 2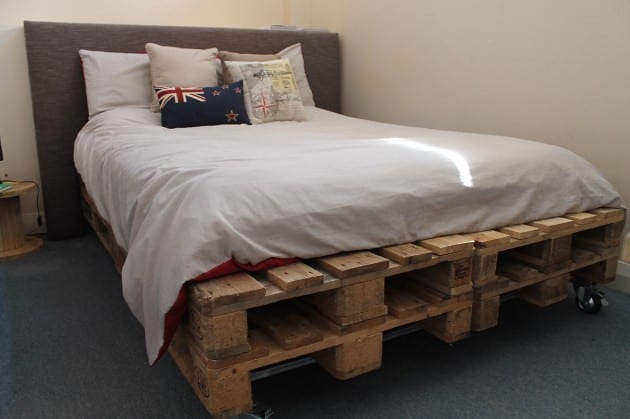 This bed frame was made from two layers of pallet frames and was fitted with casters so you can push it anywhere in your room. Despite a very simple design, there are a lot of good points with this pallet- inspired bed. Not only was this bed frame made with pallets but the headboard was also made from pallet boards.
70) Industrial Design Pallet Bed Frame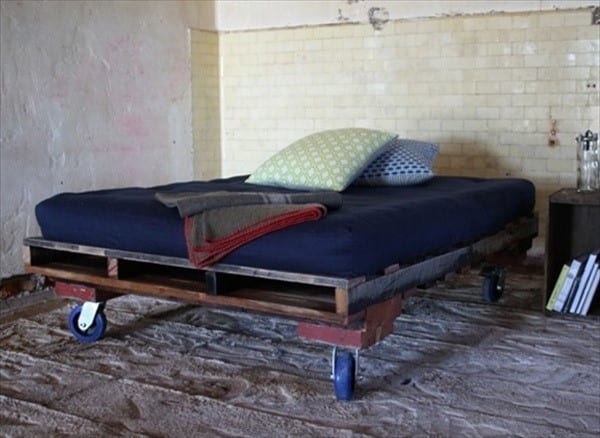 This pallet bed frame has wheels to let you easily roll it into position. The large rubber wheels are strong and can handle very heavy weights. The mattress in this designs is very large and very heavy and this is the reason why you must check ever pallet you need to use.
A small crack can turn into a huge nightmare if you fail to check your materials. Some builders even reinforce their pallet frames before adding the mattress to ensure that these are safe and strong.
71) Rustic Pallet Bed Frame Design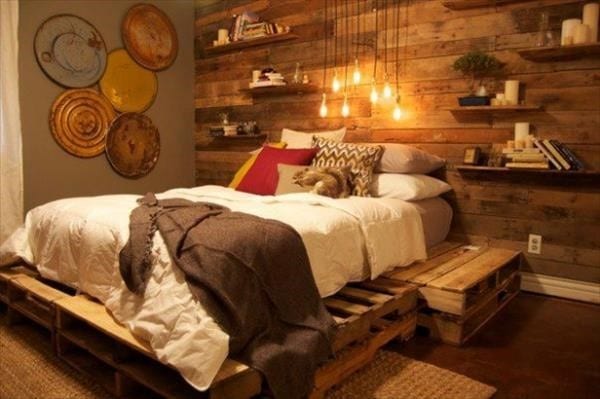 This bedroom looks like it came out of a movie set because everything seems to be perfect. The furniture, the lighting, and the accessories, all make a rustic bedroom effect. The highlight of this rustic room is the large bed which was placed on top of two levels of pallet frames.
The bed itself looks very luxurious, large and very inviting and when placed on top of the bed frame the bed becomes even more awesome than what it was before. The room is filled with interesting trinkets, knick-knacks and more.
The designer also made use of lighting to highlight the back wall as well as the head of the bed. Is there anything that can improve this pallet bed frame design?
72) Pallet Bed Frame with Modular Crate Storage Space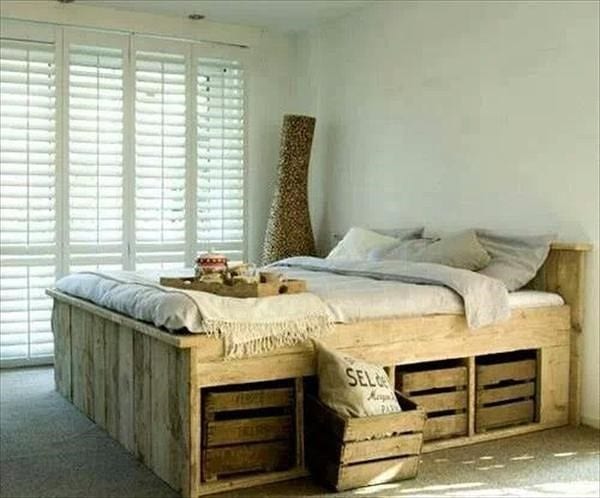 This is a fantastic pallet bed frame that doubles as a large storage furniture. You can tell that it was made to hold not just the mattress but also a lot of stuff that you need. Just look at the large crates that line up under the bed. These can hold clothes, shoes, books, school supplies, makeup and more.
The bed was raised several inches from the ground and this allows the use of the bottom of the bed for storage. The crates make a good storage system because these are large and can be used for pretty much anything. But if you don't have crates, you may also use baskets, boxes or plastic containers instead.
73) Simple Scandinavian Design for Pallet Bed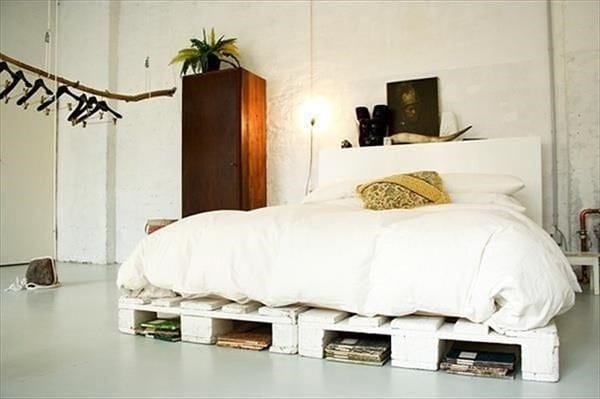 This is a pallet bed frame that was made for a very large mattress. The mattress used in this design is an extra-large king-size mattress that needs at least nine wood pallet frames to hold it in place.
The bed has large pillows, a soft and luxurious comforter blanket and a very large bed board made from wood. You may also notice that the bed frame was also used for storage.
74) Bedroom Design With Wall Art and Pallet Bed
The pallet bed in this design is made of only one layer of wood pallet frame, therefore, this was able to elevate the bed just a few inches from the floor. The mattress is large and can accommodate two people. It has a luxurious feel because of the pallet frame plus the low lighting that was used to accent the back of the room.
You can see that the designer's plan to give the room a warm and appealing aura has worked. The low lights cast a shadow on the bare walls while the wood pallet frame begins to sparkle.
75) Simple But Sophisticated Design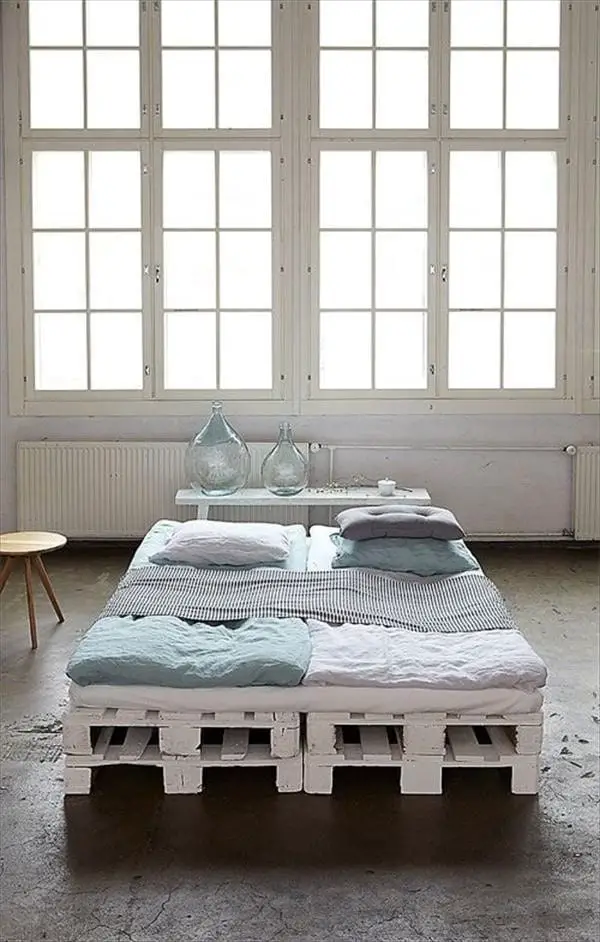 Use this as an inspiration to make a bed frame for a small bed for two. The mattress appeared tiny but when placed on top of a two-level pallet frame, the bed looked larger and more comfortable.
The mattress is flat but by using large pillows and thick blankets, you will be able to make the mattress better. The wooden pallets here are stacked side by side to create a frame for the bed and most likely these were connected and reinforced to hold at least two people at a time.
This simple yet inspiring design may be improved by making the mattress larger and the bed frame larger as well, to work with a larger mattress. With more pallets, a  headboard may be constructed.
76) Small Bedroom Pallet Bed Frame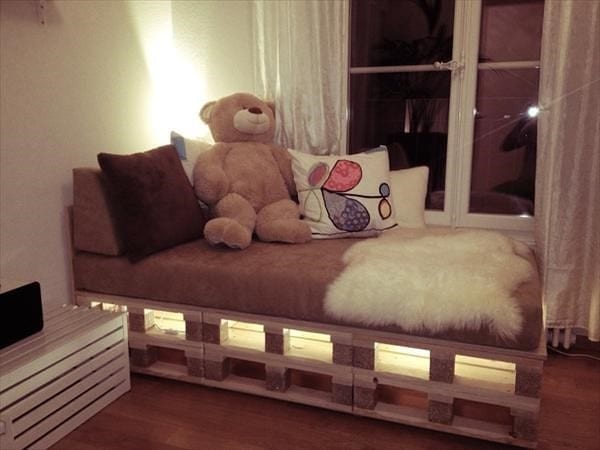 This is another pallet bed frame design that makes use of light. The frames in this design were stacked together to hold a single sized bed. In between the pallets are small flickering LED lights that create soft glow especially during nighttime. This lovely design is certainly something that can create a dramatic feel.
Instead of LED lights, you may also use lamp light or fluorescent light. You can further enhance this design by adding a headboard and decorating this with lights as well. Use safe lighting and bulbs when you want to install lights in pallet frames just like this design.  
77) Wooden Furniture and Pallet Bed Frame Designs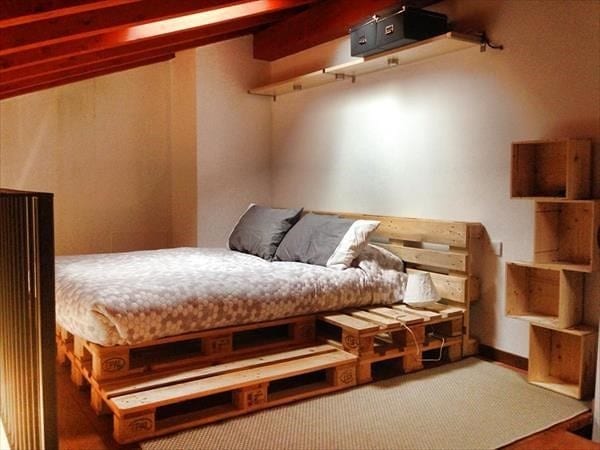 This looks like an unoccupied room because there are no décor yet but this gives us a chance to check out the lovely wood pallet frame. The mattress here sits on top of a large frame that doubles as a nightstand, bed board and a small area to sit on. It uses more than ten pallet frames with each frame strong enough for a large bed.
The design uses two layers of pallet wood to mount the bed. Large wooden pallets were used as parts of a headboard while smaller pieces of wood were used to make storage units on the wall.
Obviously, the design for this room has been well planned. The builder has also made sure to use only strong and quality pallets to make his designs. This design may look elaborate but actually, you can work on this even when you are new to woodworking. As long as you follow plans and you use quality materials, you will be able to easily complete this project.
78) Simple Blue and White Room Pallet Bed Frame Design
What to say about this lovely blue and white room? The bed looks very comfortable from this angle because it was set on top of two layers of pallet frames. The pallets were stacked side by side with no paint or varnish. The natural color and design make the wood surface stand out.
Still, other elements in the room make the bed stand out. The colorful pillow, the warm and inviting blanket and the twin modular side tables all frame the bed to make it look inviting and comfortable. This design may be enhanced by constructing a headboard or more pallet furniture like a small stool or a table.             
79) Inexpensive Cozy Pallet Bed Frame Design
What do you use if you don't have much money to renovate your bedroom? Try wooden pallets!
For this project, you will need several pallet frames to construct the double layer bed frame and the headboard. This cheap pallet frame project has shimmering lights for a dramatic effect but instead of buying new lights, you can use your tree lights while it's still months till Christmas time.
80) Lovely Shimmering Pallet Bed Frame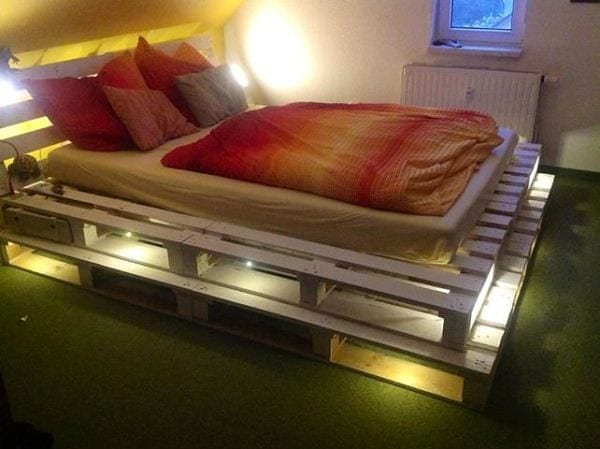 This is another shimmer pallet bed that can be constructed in just a few minutes. The bed is made from several pieces of pallet wood, stacked and held together by strong nails to become the frame. Lovely LED lights were placed at the inside of the wooden pallet frames and these make a glowing, dramatic effect.
Not all glowing and shimmering pallet bed frames are the same. You may find the designs quite similar but these differ from the size of the mattress, the accessories on the bed and the height of the bed from the floor. All these factors affect the way the light affects the room.
81) Easy DIY Pallet Bed Frame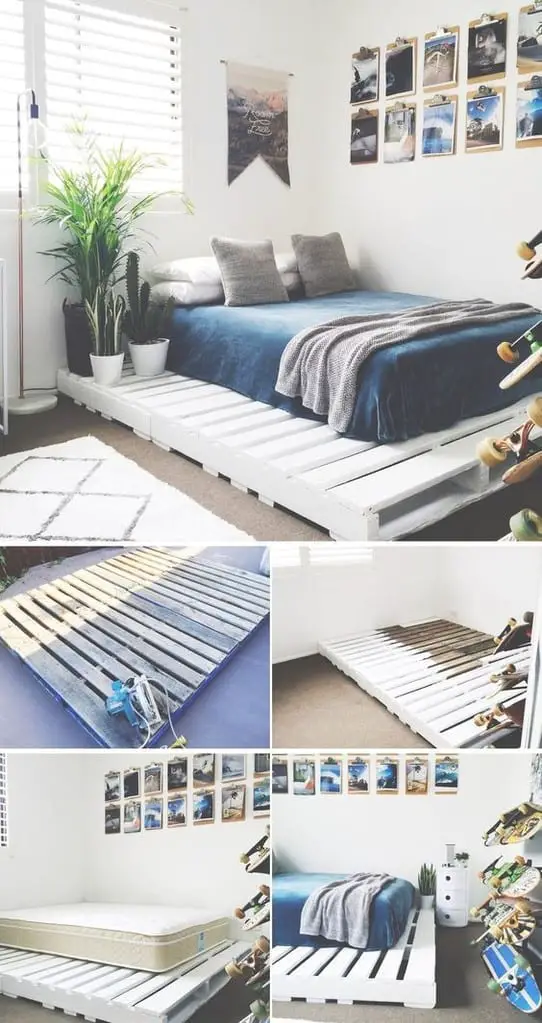 This is a quick and easy pallet bed frame plan that uses only a few pallet frames to support the large mattress. The steps on how to achieve the final look are seen in the photos below and as you can see this frame was made in just a few hours.
Accessorizing this lovely blue and white room was quite easy because the wooden pallets were painted white. Adding white pillows and blue accents have made this bed and bed frame stand out.
82) Cool Pallet Bed Frame Design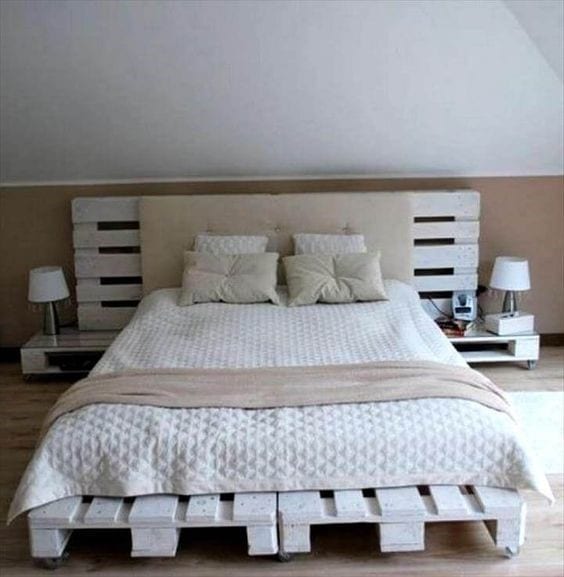 Pallet frames were used to construct the bed frame for this project as well as the headboard and a small bedside table. This builder made sure that the bed was properly highlighted in this design by using soft white colored linens with brown accents. The lovely natural appearance of wooden pallets can be seen and felt when you touch the pallets' surface.
Conclusion
Wood pallets are among the easiest and the cheapest materials to use for a bed frame and for building other types of furniture. Many builders choose pallet wood because of its natural beauty, sincere strength, and versatility.
Building a bed frame is easy as well and it is safe to see that you don't need to be an expert to follow these plans. And with the best plans and the right materials and the best tools, you will be able to finish any project easy. Have fun making your own pallet wood frame!