41) Pallet Bed Frame in a Small Attic Bedroom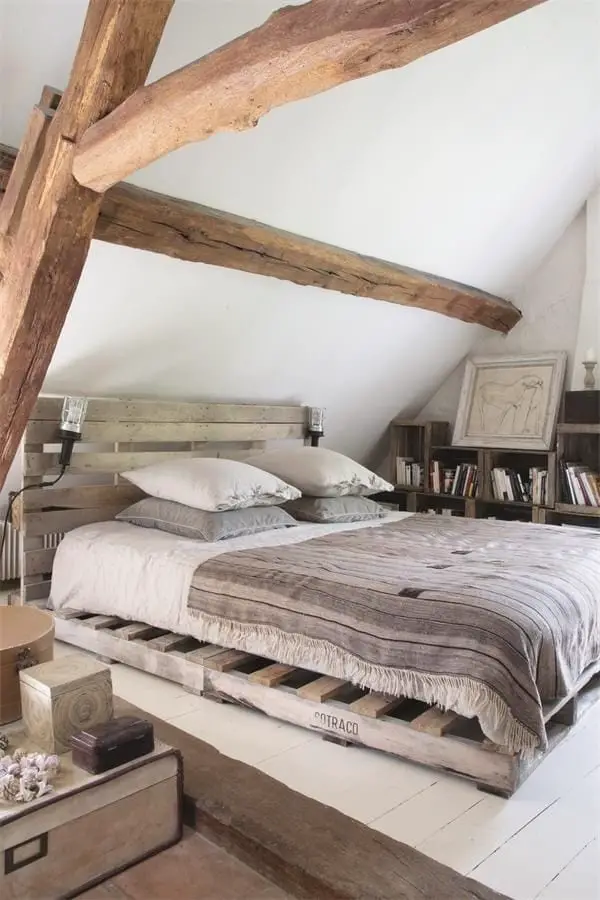 This pallet bed frame matches the theme color of the entire attic room. Pallets with the same color were also used to make a wooden headboard. The overall look has made this attic bedroom so inviting and warm. You will surely love to take a nap or sleep here because it looks very comfortable.
42) Simple Pallet Bed Frame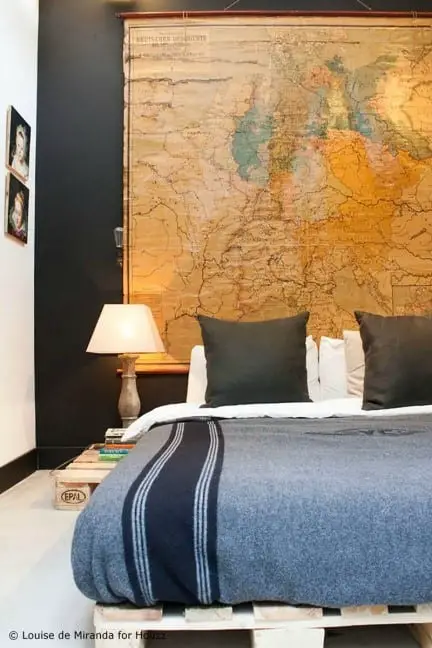 This is a lovely room that has been enhanced with simple pallet bed frame and pallet furniture. The pallets have that natural design that enhances the soft and cool colors of the bed. There is a very low side table made from a single pallet frame that holds a small lamp.
The most striking part of this room is the accent wall which is painted black. A large age-old map serves as the focal point of the room and this is lightly illuminated by the soft glow of the lamps.
The room looks very modern, neat and perfect for a bachelor to stay in.
43) Dark Hued Bed Frame
This is a room that's meant for the manly man. This has a dark theme with a large and very comfortable bed. The bed has a large and wide wooden pallet frame bed board that accents the bed frame color. The bed is against a pallet wall which has been treated and coated with dark wood stain.
44) Attic Loft Bed with Wooden Pallet Bed Frame
The pallets were simply placed side by side in the middle of this large attic bedroom. The wall is bare and offers a wonderful backdrop to the bed. Take note of the weight of the mattress as well just to make sure that you are making a safe and comfortable bed frame.
45) Modern Pallet Bed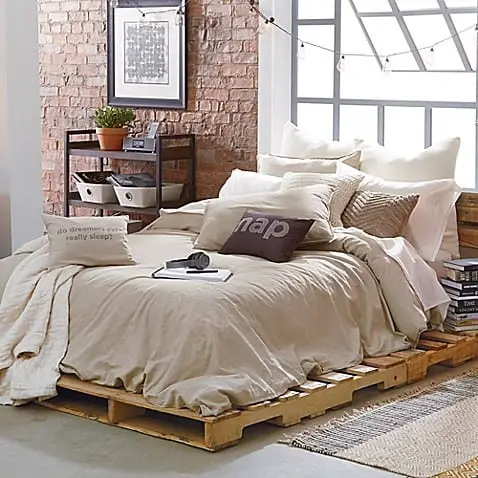 This is a pallet bed design that looks very chic. A small headboard was also constructed out of the same wood pallets. This is a design with a lot of potentials. You can make the pallet bed frame higher but make sure to use strong wood pallets and reinforce these with braces to be able to handle this large sized bed.
The pallet bed frame is very comfortable as you can see. The bed has extra-large pillows with oversized blankets and comforters. The bed is smaller than the pallet bed frame which gives you a small area where you can sit and read.
46) Pallet Bed with Natural Hues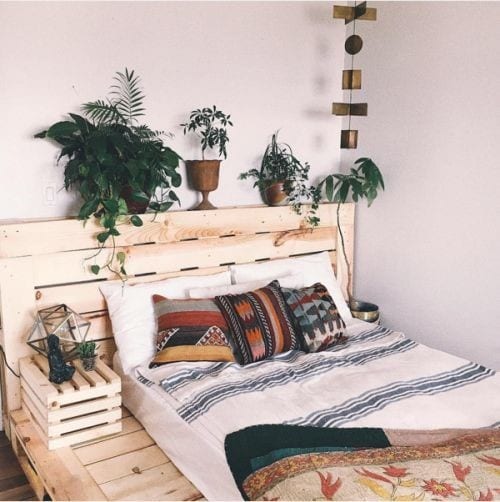 This pallet bed design is a nature-inspired pallet frame paradise. The bed frame, headboard, and small side table were entirely made from wooden pallets. The mattress is small and thin but has become quite comfortable because of the elevated wood frame. The headboard functions as a plant holder too.
You can also use this section to hold books, a lamp, and some picture frames if indoor plants are not your thing.
How to make this a total nature-inspired pallet room? You may add shelves instead of just ledges where potted plants can sit.
47) Scandinavian Vibe Bedroom
Why are we so in love with Scandinavian designs? Most designers from this region use neutral colors on their furniture designs as well as their accessories. It is also because most Scandinavian designs use wood pallets to make different furniture and accent pieces.
In this Scandinavian-inspired bedroom, the bed is the focal point. The thin, single-sized mattress sits on a wooden pallet bed frame with casters for legs. The bed has a luxurious design with a gray, white and black color scheme.
The bed has become more comfortable, inviting and stylish with an elevated pallet wood frame. A pallet wood stool stands near the bed and this accent the overall Scandinavian look as well.
48) Suspended Pallet Bed Frame
The hanging pallet bed has made this room warmer and a lot interesting. As you can see, this is a very large, cathedral-like bedroom that needs a little warmth and life. The bed is suspended in a pallet frame. This queen size bed is large and strong but it is suspended using strong rope strung on each corner of the frame bed.
This is classy and chic but at the same time very intricate to make. If you wish to use this design, make sure to test the strength of your wooden pallets first. It should hold the weight of the bed and your weight as well.
You must use the best and the strongest rope. Consider the strength of the beam that you will be hanging your bed from. Again, this should hold the weight of an occupied bed.
49) Minimal, Elegant and Simple Pallet Bed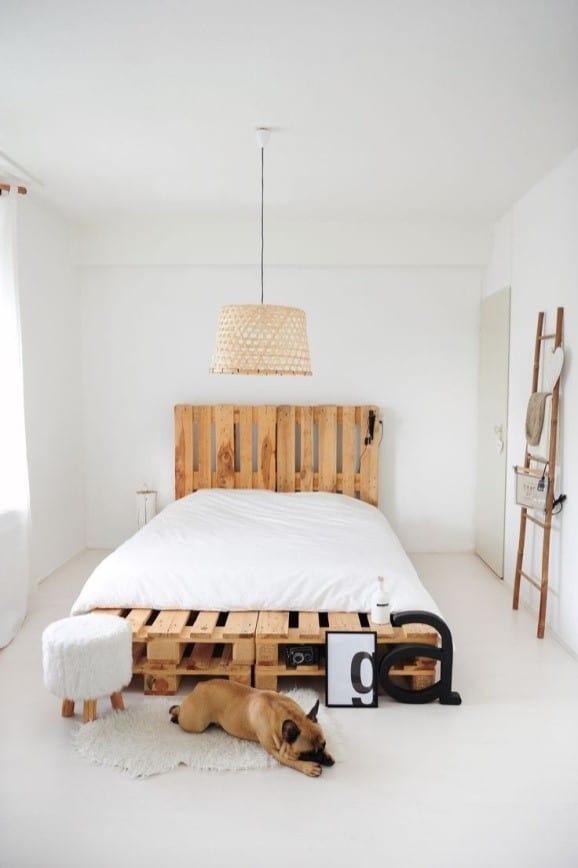 Why is this room so perfect when there is just the bed and a dog in it? It's because the bed is nestled on top of a perfect pallet bed frame. The bed is just a small flat mattress, with no life at all. When placed on top of the bed frame, the room became inviting and had more color.
50) Mattress, Pallet Bed Frame, and Plain Room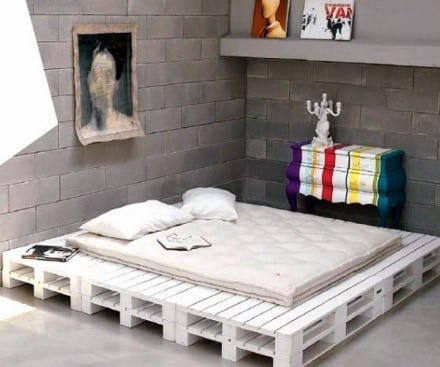 This is a simple room design that looks clean and neat. The mattress is barely a mattress but looks like a very thin sheet but the wood pallet bed frame has made it a more comfortable place to sleep and relax in.
This frame is huge and meant for a large mattress. It was made from 12 wood pallets stacked together to make a two-level bed frame. This large wood pallet frame has made the room more comfortable and perfect for total relaxation.
51) Day Bed Frame for Two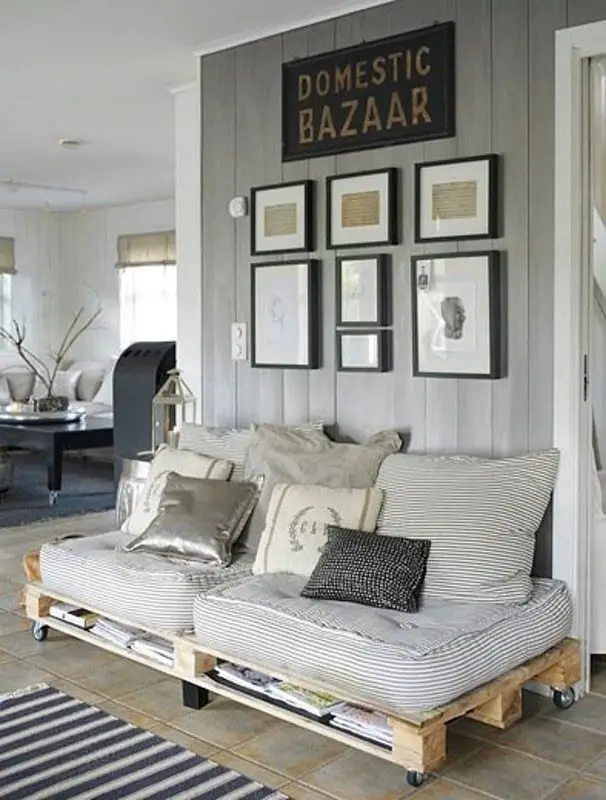 This is a day bed that looks very fresh and inviting. This is another Scandinavian-inspired design that uses the simple black, white and flesh color scheme. This sofa bed was once two oversized cushions that were just lying on the floor but the builder used two wood pallet sections to be its frame.
These two pallet sections were connected and casters were placed at the bottom of the frame. These casters let you move the sofa bed to anywhere you wish to place it.
And aside from carrying the weight of the two large cushions, the pallet wood frame also doubles as a storage system for magazines and books. This is a very smart design from simple pallet frames.
52) Pallet Bed Frame 2
The bed has been made from several pallet wood frames with each frame connected with strong nails or bolts. The frame is elevated from the ground with installed legs on each corner of the frame. Because of this design, the bed frame is not just sturdy but it elevates the mattress a foot and several inches off the floor; a height that is very comfortable.
53) DIY Pallet Bed Frame Before and After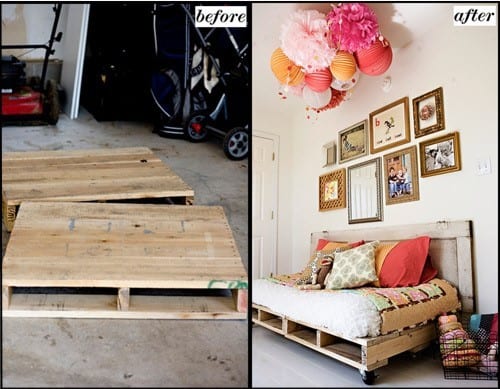 Transform everyday pallet wood into something that looks like this. This is a before and after photo of a bedroom project made out of wood pallets. As you can see, the result was awesome. The builder used just a few wood pallet frames and transformed this into a lovely bed made for two.
The bed looked small and lifeless before but after placing it on a wood pallet bed frame, it began to breathe life. The bed frame has casters for feet so you can take this anywhere you want in your room. This design also features a pallet headboard which was similar to the wood that was used for the bed frame.
This very large bed was decorated with large colorful pillows and a quilt which has made this section of the room even more comfortable.
54) DIY Pallet Bed Ideas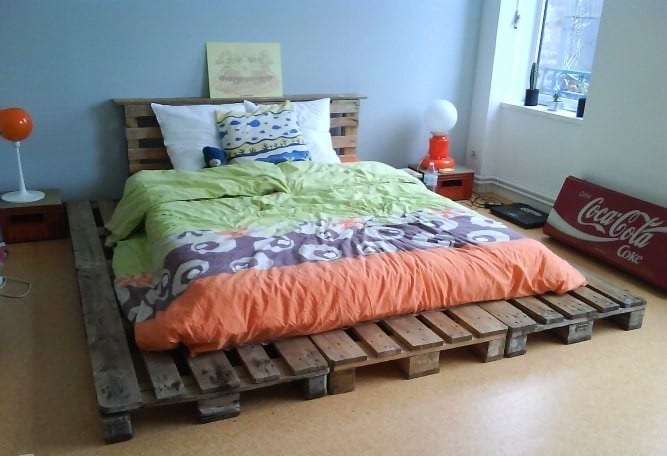 Come home and lay your weary back on this lovely quilted mattress on top of this large pallet bed frame. This is a bed frame that deserves your undivided attention. It was made from nine separate sections of pallet frames that were carefully placed side by side. The builder let the pallets keep their lovely natural color which enhances the beauty of the room as well.
The bed looks heavenly. It is large and appears larger as it sits in the middle of the pallet panels. The bed has a matching headboards which make the bed look more inviting and comfortable.
55) Day Bed with Pallet Bed Frame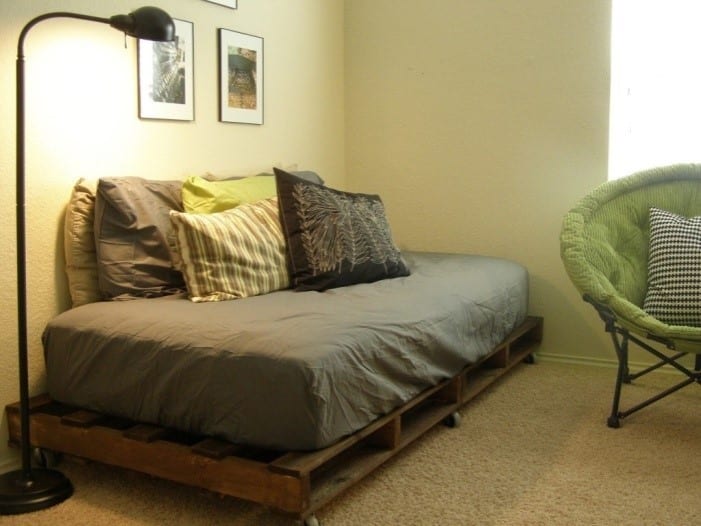 This day bed looks very inviting with its soft and luxurious mattress/sofa and matching warm lamp light on one side. This bed is comfortable and very relaxing to sit in because of its pallet bed frame. This is a day bed sofa sits in a corner somewhat beckoning you to stay and relax.
This was made from two wooden pallets, carefully arranged side by side to create a lovely sitting and relaxing area. The bed is for one and has large mismatched pillows to accent the plain colored sheet. Adding a blanket will definitely make this section more inviting. You can relax, read a book, chat on the phone or nap here.
56) Another Day Bed with Pallet Bed Frame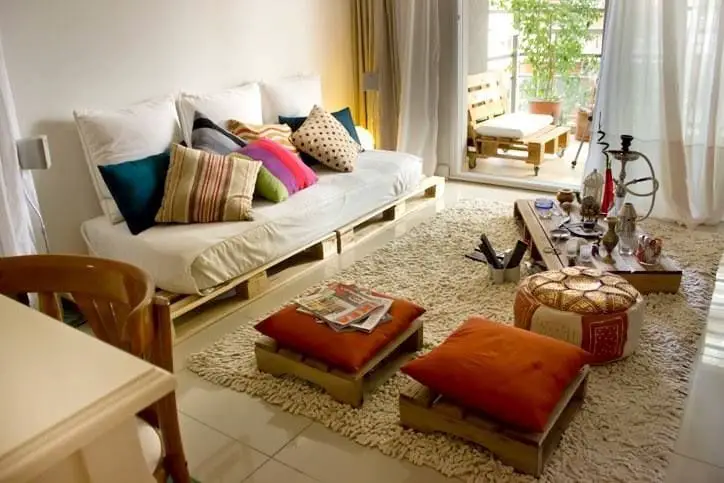 This is a day bed project that has transformed a boring mattress sofa into a lovely sitting or napping area. This day bed looks very inviting as it received a splash of color from large mismatched pillows and large cushions. The bed frame here was made of only two layers of pallet wood and this was enough to elevate it inches off the floor for a comfortable sit.
As you can see, the builder also played around with pallet wood on other furniture pieces in the living area. You can see a chair and a table made of pallet wood on the veranda while a pallet table and stools can be seen near the sofa bed.
57) DIY Pallet Bed on High Bed
Sleep like a queen with this awesome queen size bed with a pallet wood bed frame. This is a bed frame made from two layers of pallet wood, stacked together side by side. The bed now appears huge and with a set of matching pillows and a bright sheet, it looks larger even more.
This is a simple project that will let you enhance the size and the function of a mattress. It is also the least expensive way to update your bedroom that costs next to nothing. You don't even have to be an expert woodworker or builder to follow this design.
58) Pallet Furniture Bed Frame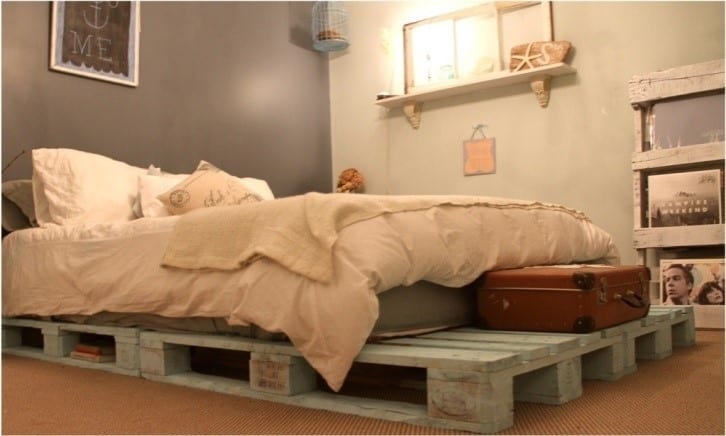 This is a charming bedroom design with a shabby chic design. In this design, the bed looks like a superstar as it is placed on top of two levels of pallet wood. The once small and insignificant mattress has become the focal point of this room.
First, a wide layer of pallet wood was installed and then another layer was added but left space at the foot of the bed to have an area where you can access the mattress.
The designer added warm touches to different areas of the room like a warm lamplight, colored pillows and more. A soft comforter is on top of the mattress and this makes the bed more inviting and relaxing.
59) Tall Pallet Bed Frame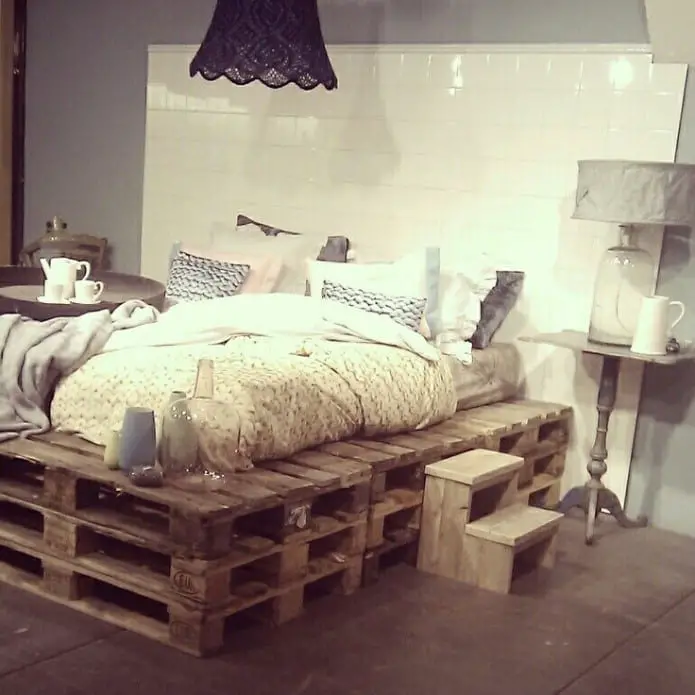 This design is totally spectacular with the bed on top of three layers of pallet wood. Feel like a princess as you climb up a small step ladder to reach your royal bed. You also need this ladder to climb down. The bed has become more relaxing and more inviting with oversized and mismatched pillows as well as a large quilted blanket.
60) Romantic Pallet Bed Arrangement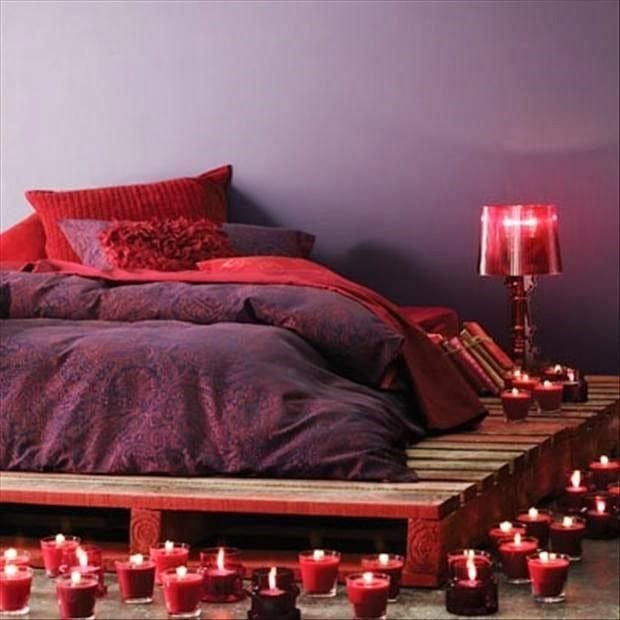 Ah, the candlelight moment! What could be more special than a romantic night in a bed that feels just right? But before you "break the bed" check out this romantic room design with its lovely bed on a pallet bed frame. The bed frame is larger than the bed in this design and this makes it more comfortable and inviting. The pallets were simply set side by side and attached together for safety.
For a romantic touch, the floor was strewn with tea light candles. Definitely, something that you can use an inspiration as you construct your own pallet bed frame soon.