21) Pallet Bed with Storage Space for Shoes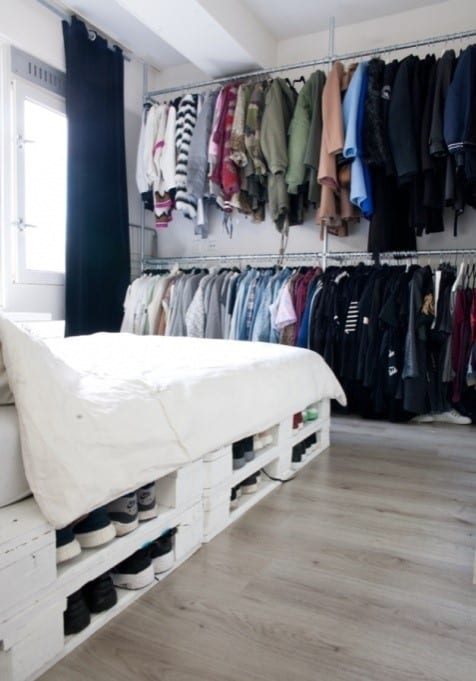 This is a pallet bed frame that can help you solve storage space worries. Two layers of pallet frames hold this large bed but as you can see, these do more than just hold the bed for you. You may use each section as a place to store your shoes.
From ladies' shoes to men's shoes, you can place these neatly and efficiently under the bed, literally. Aside from storing shoes, you may also use a pallet bed frame to keep other items like small articles of clothing like socks and stockings or other items like books, office supplies and more.  
22) Dark Colored Pallet Bed Frame
Now, what else can be said about this cool dark colored pallet bed frame? This is a completely different concept compared to using pallet beds with a natural color or white color. The dark colored theme certainly helped make the bed stand out and this is despite the mattress being very simple with very basic linen patterns.
It is very interesting how very different pallet wood furniture can become with just a touch of color. Usually, pallet wood furniture takes a natural color but no doubt it is fun to play with colors. Aside from choosing a dark-colored hue, you may also consider warmer colors like red, orange, yellow or brown and cooler colors like blue, green and violet.
The sky is the limit but always pay close attention to the wall color, accent color, and window treatment color. Remember, finding the best color counts so don't rush.
23) Bachelor Pallet Bed Frame Design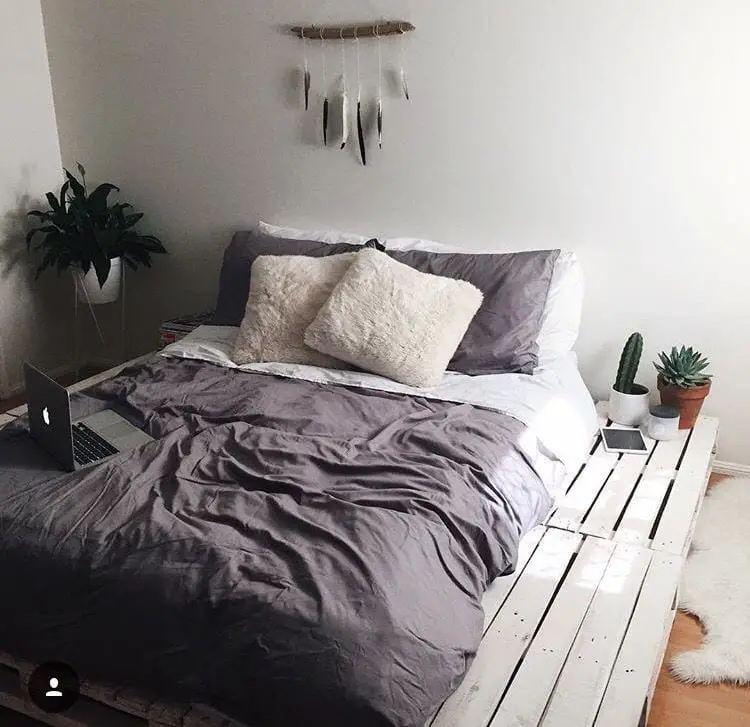 This pallet frame bed design is quite traditional and was made from a layer of pallet wood. The mattress is large and is good for two however if you are a bachelor then this would even suffice for you. This is a very simple design that has the basic colors. There are no bright, warm colors but the overall design certainly appeals to men.
You can construct this pallet bed frame design in just a few steps. All you need are clean and strong wood pallet frames and tools to connect the pallets together.
You can improve this simple design by raising the mattress higher from the ground or by adding more pallets horizontally to create a seating section or a headboard at the front.
24) Upcycled Bed Frame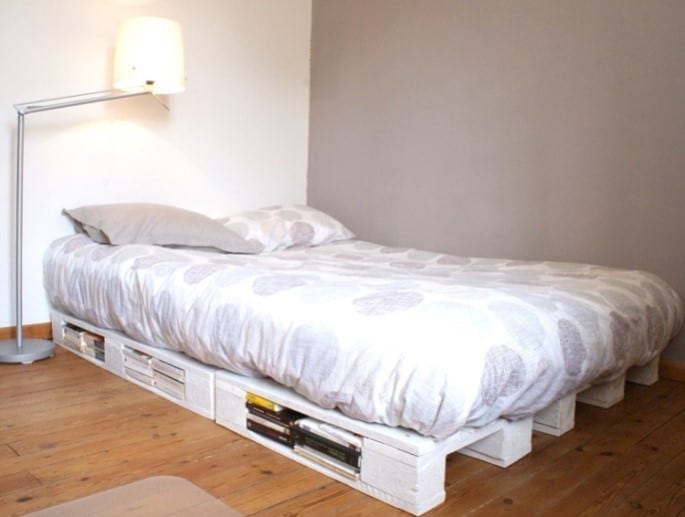 If all you have is a mattress and you want your bed to be more relaxing and more inviting then this project is the one for you. This is an upcycled bed frame made from two or more pallet sections. The pallets lift your bed from the ground and provide a stable and durable surface for your mattress to be on.
Aside from using this as a bed frame, this also functions as a shelf to keep different things in. In the photo, the designer used the pallet wood to store books with each section able to accommodate at least four to five pocketbooks.
25) Pallet Bed Frame For Kids Room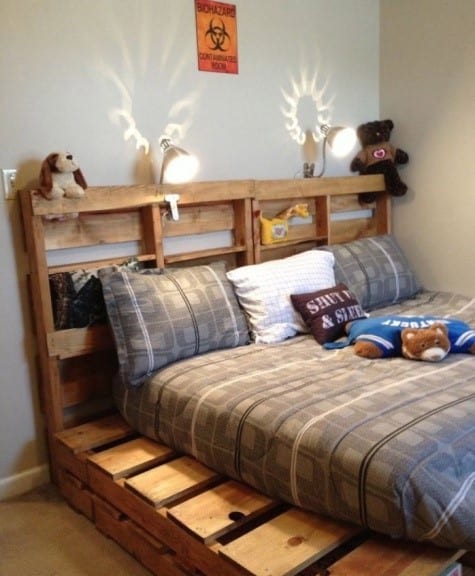 Build him a pallet bed frame that will elevate his mattress and will also give him a lot of fun. The pallet bed frame here is larger than the mattress and therefore can offer more space to sit and play.
Pallets were also used to build a bed frame which is where your child can place toys, stuffed animals, books and more. It can also be a place to hang a lamp so he could read in bed. And even if he only has a mattress, he can sleep like a king with this large and inviting wooden pallet bed frame.
26) Day Bed Pallet Bed Frame Design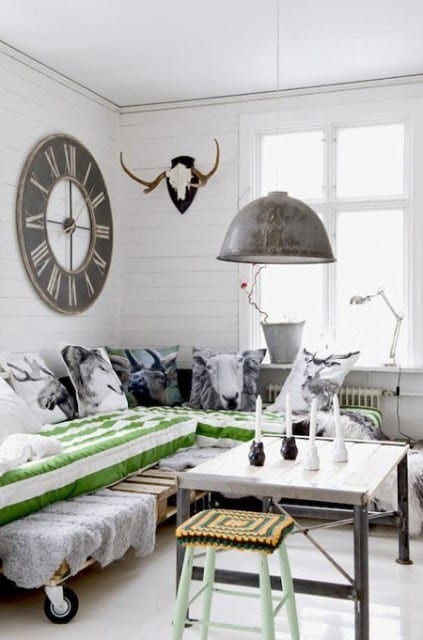 This is another day bed design that looks very comfortable and inviting. The pallet bed frame used in this project is larger than the actual sofa bed, therefore, it juts out of the sides of the day bed. But this is not an eyesore at all. 
The wooden pallets can be considered rustic wooden accents that can improve your living room or bedroom design. Make this lovely sofa bed more comfortable by adding more pillows, a comfy quilt, a blanket and an area rug.
And aside from the bed frame, you will also notice that another furniture in this set up was also made from wooden pallets like a high table, stools and small cabinets. May this design serve as an inspiration to create more wooden pallet furniture and accessories for your bedroom and home.
27) High Pallet Bed with Lights
This pallet bed frame will make you feel like sleeping on a throne because of its height and the hundreds of shimmering lights underneath! Three levels of pallet wood sections have been stacked together to form this luxurious and cozy sleeping area. The bed is so high that you need a ladder to hop in!
The pallets were painted to match the bedroom accent color and inside the pallets, LED lights were placed to create that stunning and dramatic effect. The headboard and wall are also made of wooden pallets and were also painted the same color.
You can see that nothing was done to the pallet boards to make the bed frame. The boards were merely stacked together and possibly connected with strong bolts or nails.
28) Recycled Pallets as Bed Frame and Book Case
This has got to be one of the highest bed frame designs that are part of this list. As you can see, the bed is nestled on top of two pallet board levels and these pallet boards are on top of more pallet boards. You certainly need a ladder to come up. Be careful not to fall as you sleep!
And the pallet boards were not just stacked together but are also functional as well. As you can see, the boards also function as bookshelves and as small storage spaces for small items too. The owner of this room definitely has a lot of books and these were also placed on pallet wood bookcases on the wall.
29) Natural & Comfortable Pallet Bed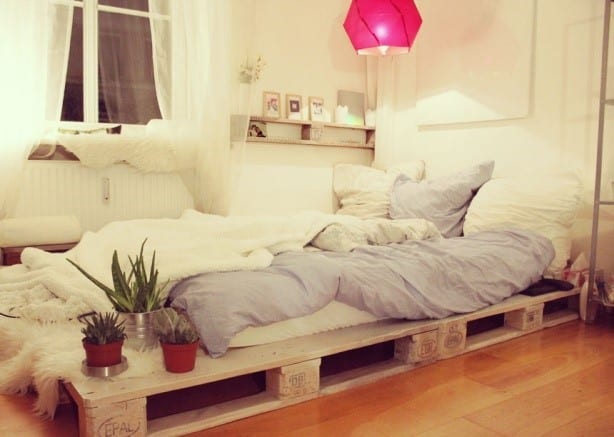 This is just a single layer of pallet wood and sees the difference compared to just placing the mattress on the floor. The natural and comfortable appearance of pallet wood also makes the room calm and inviting. Compared to using metal or hardwood frames, pallets are lighter and more pleasing to the eye.
The designer further made the area more inviting and comfortable with large pillows arranged in an L-shaped pattern plus large comforters. This setting makes you want to crawl back into bed again, right?
30) Creative Pallet Bed Frame & Headboard Design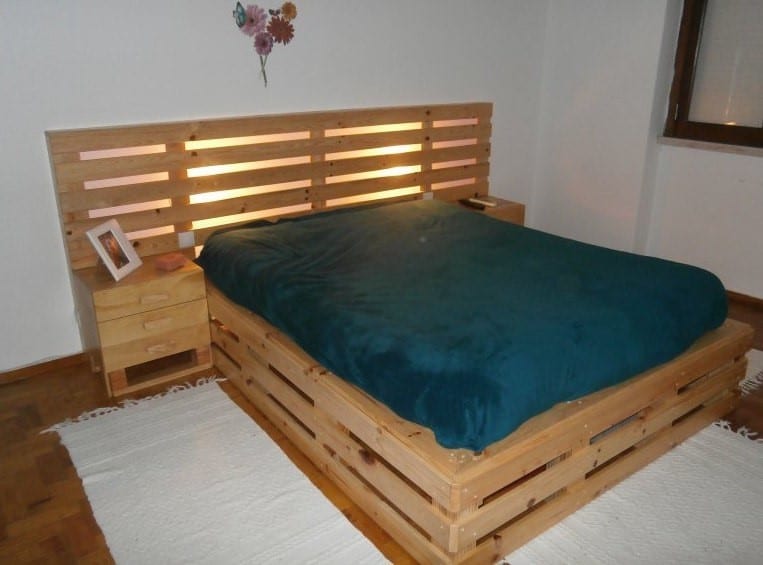 This has got to be one of the most updated and stylish bed frame design on this list! It is not just a bed frame design though; it is also a headboard that accents the bed. The bed frame sets the mattress high; you might need a ladder to climb up.
Because of this height, the bed becomes the focal point of this design making it inviting and very relaxing.
The wooden pallet theme extends to the walls with a headboard installation. The wooden pallets were lined up and lighting was placed at the back. The soft glow of the lights illuminates and highlights the lovely natural appearance of pallet wood.
31) Double Pallet Frame Beds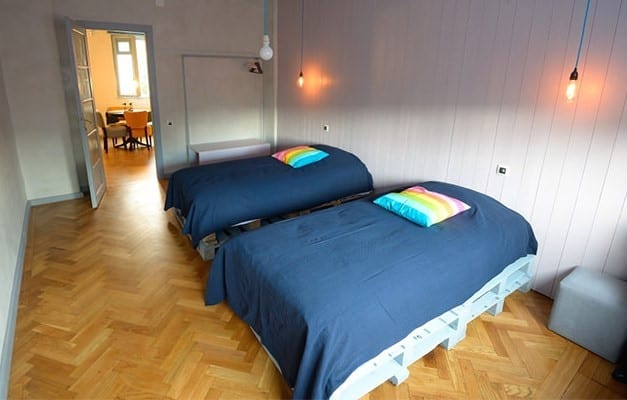 The wooden pallet bed frames in this design are tall and are painted the room's accent color. This is a double layer of pallet boards that elevate the beds several inches off the ground. The beds/mattresses have become bulkier, more comfortable and very inviting because of this height.
This looks like a kids' bedroom and the builder made sure that comfortable accents were used to make this room more appealing to kids. Pallets were also used on the walls and were painted a colorful shade. Aside from the bed frames, you can further enhance this room with pallets by using these to build shelves, tables, and chairs. You can do almost anything with pallet boards but take note of the furniture's use. 
32) Small and Narrow Pallet Bed on Wheels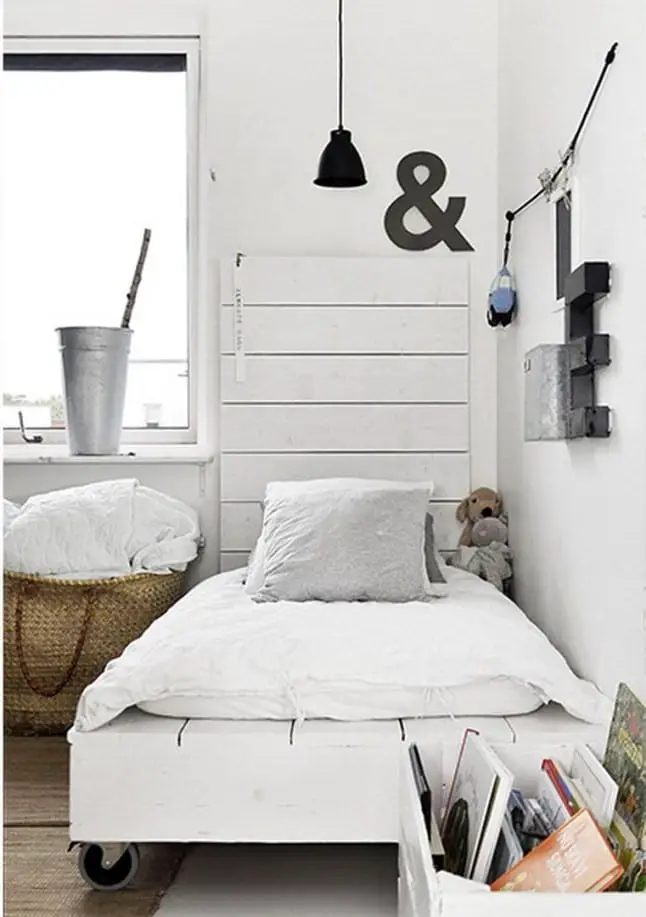 This is a pallet board bed frame that was made for a single-sized mattress. The pallet boards were not merely stacked together but were arranged to make a movable bed frame with wheels.
This bed is a part of a shabby chic bedroom with design accents and accessories placed strategically across the room. This design is smart as it is stylish. Adding wheels at the bottom of the wooden frames has made it easier to move anywhere inside the room.
You can further improve this design by making the bed frame larger or taller depending on the size of your mattress. Got spare pallet wood? You can make the headboard larger and wider. Paint it any color you want or preserve the natural lovely color of pallet wood.
Use versatile pallet wood on another room décor like the large E and & signs that you see on the walls. With a jigsaw, you can cut these easily even intricate curves of letters and signs.
33) Pallet Sofa Bed Frame
This is a large room that might look difficult to accessorize but the designer was able to do this by adding natural accents in and around the room. Aside from the woven area rug, fresh flowers on the coffee table and natural-colored pillows, the designer have installed a single level pallet wood bed frame to hold the large sofa bed.
The sofa bed is already huge but lifting it from the floor made it even more luxurious. It now looks very inviting instead of looking like a cold furniture piece. The pallet frames were untreated. The only wood stain was used which made the natural pallet wood surface stand out.
The pallets were simply placed side by side so there's no time wasted when constructing this large pallet bed frame. After this upgrade, you can use this bed during the day or have this used as a comfy guest bed.
34) Warm Colors Bedroom With Pallet Bed Frame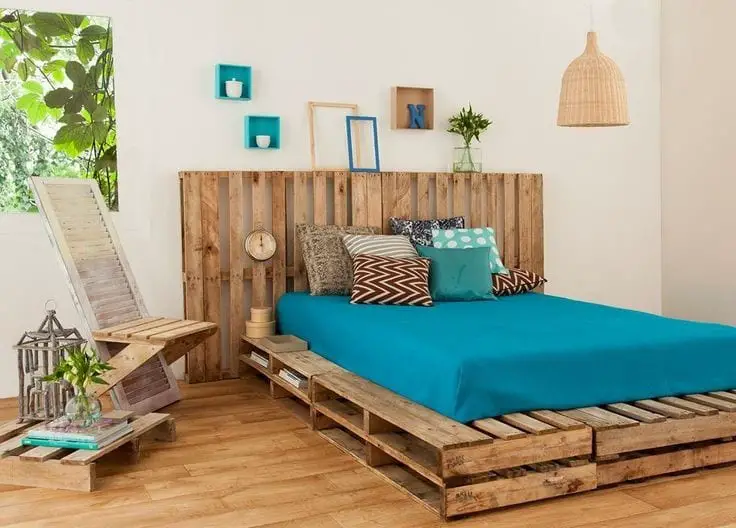 This is a fun way to play with colors! This bedroom has a moderately-large mattress built for two but instead of just placing the mattress on the floor, the designer used two layers of pallet frames neatly placed side by side to create the wooden pallet bed frame.
The nature-inspired room is so huge therefore it was not enough to just use pallet wood frames. The builder even extended the pallet wood theme to the walls, furniture, and accents. The headboard is made from recycled wooden pallets, a narrow chaise lounge at the side of the bed is also made from pallet wood and a pallet wood frame is a low-lying table near the chair.
35) Simple Pallet Bed Design Plan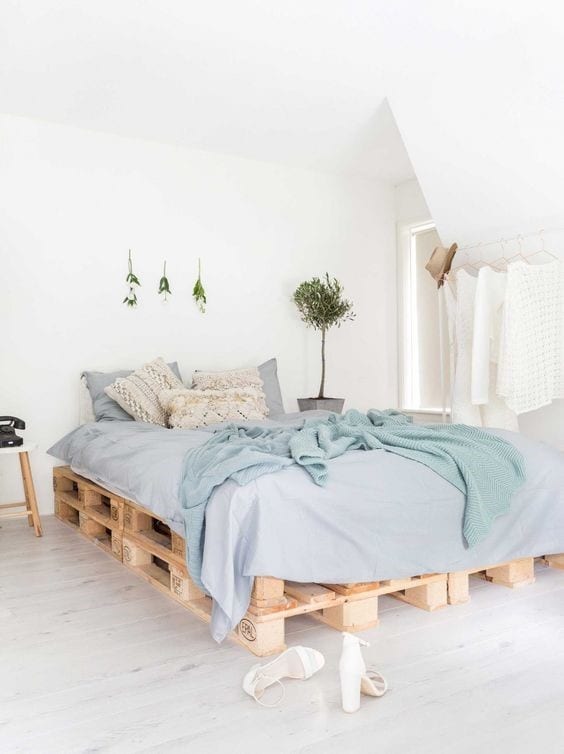 This pallet bed frame design makes use of at least six pallet frames to hold this very large mattress. Instead of just letting this large mattress on the ground, this design lets you keep the mattress clean and organized. This height also makes the mattress easier to use and to climb out of.
The frame in this design is very easy to make and can be done in about an hour. All that needs to be done is to lay out these pallet frames and connect each one. After a short while, you will have yourself a large frame for a very large and very comfortable mattress.
36) Cozy Pallet Day Bed Design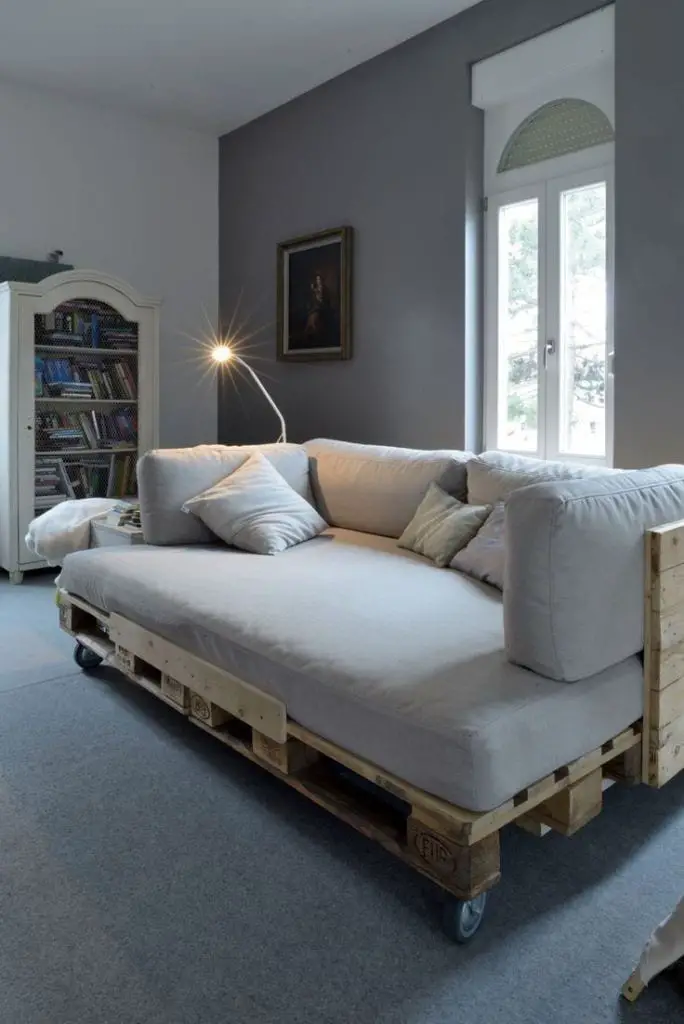 The sofa bed is huge and can even accommodate two people at one time. Two wooden pallet levels have been used to elevate the comfy sofa.
Pallets were also used to build a backrest and an armrest on each side of the sofa bed. This has large caster wheels that will allow you to move the day bed to anywhere you need to place the furniture. You can expect this day bed to be sturdy, soft and comfortable so you can take a nap, read a book or watch TV here.
You can further improve this design by adding more pallet wood to accommodate a larger sofa bed. More pallet wood may be used to build a larger and wider backrest or a taller bed frame for a more comfortable nap.
37) Outdoor Day Bed Design with Wooden Pallets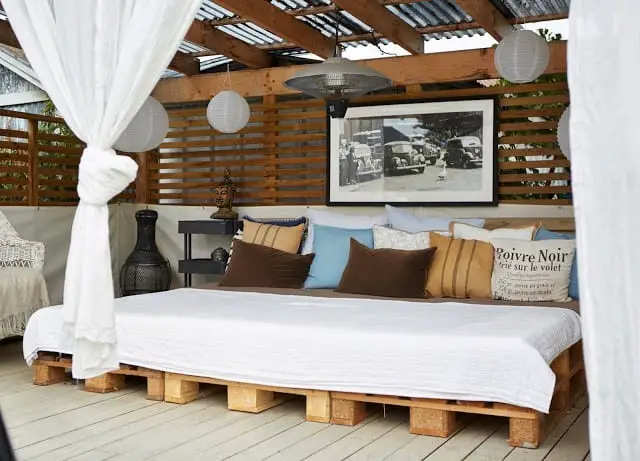 Get that tropical theme in your backyard with an outdoor day bed made with wooden pallet bed frames. This is a very large day bed that will accommodate four people at a time. Two levels of wood pallets were used to elevate this huge mattress from the floor. 
The bed is large and colorful mismatched pillows accent the head of the bed. All around the bed are nature inspired items. The walls of this outdoor paradise were also made from wood while large wooden beams of the ceiling and support beams were left bare which also accents the outdoor setting.
Flowing white curtains provide some privacy as you sleep or relax on this gigantic bed. You can use this design on a large backyard space or on your patio. Wooden pallets may also be used to make patio furniture and outdoor storage as well.
38) Modern Nonconformist Pallet Bed Design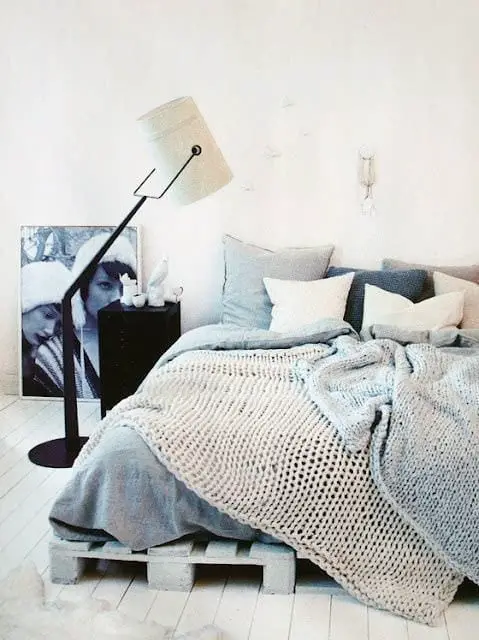 The designer used a single level wooden pallet bed frame to lift the bed off the floor. It keeps the bed in shape and makes it easier to climb out of bed as well. The designer also wanted a minimalistic modern design so the pallet wood frame was painted a neutral gray color to match the walls, bedding, and furniture.
This room has a modern uncluttered feel. The side table is small and takes only a few knick-knacks. The lamp is tall with an adjustable base and neck. Only a few accents were found on the wall while the pillows, linen, and blanket all had the same neutral color. 
39) Mondrian Pallet Bed Frame Design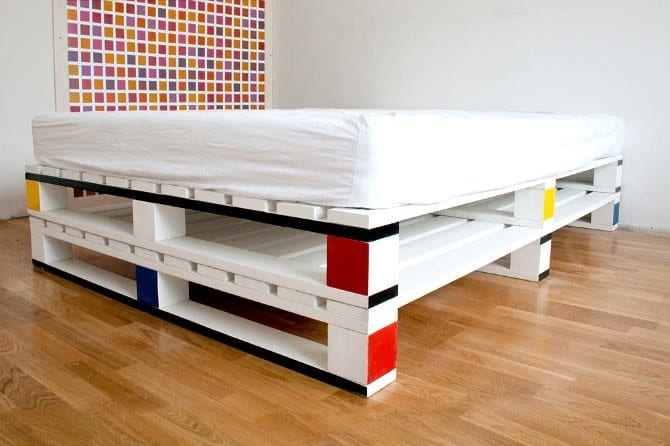 The bedroom was left unfinished to highlight the Mondrian design of this pallet bed frame. The frames were styled and painted with abstract art inspiration. The wooden pallets received a white coat while different colors accent the different sections of the pallet frame.
True to the original Mondrian design, the mattress will remain white and surely the pillows will have similar treatment like the ones found on the pallet frames. As you can see the accent wall also has a Mondrian art piece installed which ties the room together.
This design shows the versatility of pallet wood and as you can see you can do anything with this material. You can use it as a canvas for other artistic styles.
40) Colorful Pallet Bed Frame for Kids Bed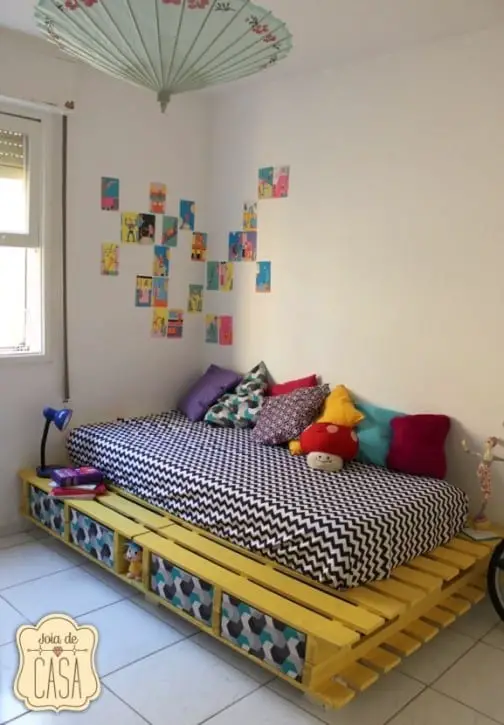 This pallet bed frame is for a single bed. There are two layers of wood pallet frames connected side by side to make this moderately-high bed frame. This bed is small and narrow but with the large bed frame, it became larger and more comfortable. The mismatched pillows and stuffed toys make this a very inviting and fun area to relax or take a nap.
The wooden pallet bed frame created large openings at the side of the panels which was covered with wood accents. These are large sections that a child can crawl into which is why wooden accent covers were added to seal the openings.
The pallet frame may be painted according to the child's favorite color. The walls can also use a touch of color in this design. The walls near the bed may also be decorated and accented with pallets and painted the same color as the bed frame.