11) Love in Rope Wood Sign
Even a small sign says it all. This pallet sign was made from three pieces of narrow pallet wood and a piece of rope was arranged to read the word LOVE in cursive. The letters in this lovely white sign were made of thick rope. It was either glued to the surface of this sign or super glued to do so.
The sign is very simple, very straightforward. You can already see that it is very easy to make because all you need to do is to connect the pallet pieces together, paint it and arrange the rope on the surface.
This is an inspiring sign that you can place in your bedroom, living room or dining area. You can also use different kinds of material to make the letters. You may use twine, ribbons, twigs and other versatile materials as well.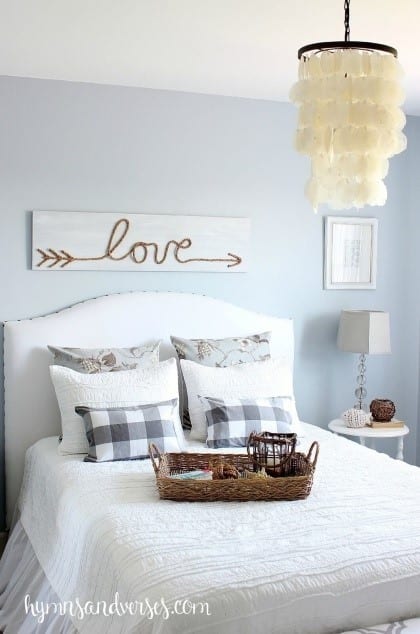 http://hymnsandverses.com/2015/06/diy-jute-rope-love-sign.html
12) Painted Love Wood Pallet Sign
You can't get enough love signs in a home! This sign was made by combining a few pieces of pallets to make this large project. The pallets here are stained only a very light stain, enough to let the natural beauty of wood shine.
Aside from painting the message on this wood pallet sign, the background was also painted different colors. You must use paint that will work with wood and let this dry for a bit before adding the words. You can see that the words were handwritten which is something worth cherishing than stenciled words.
You can see that this wood pallet sign is very easy to make. You only need a few materials and the right tools and you can be done in less than an hour.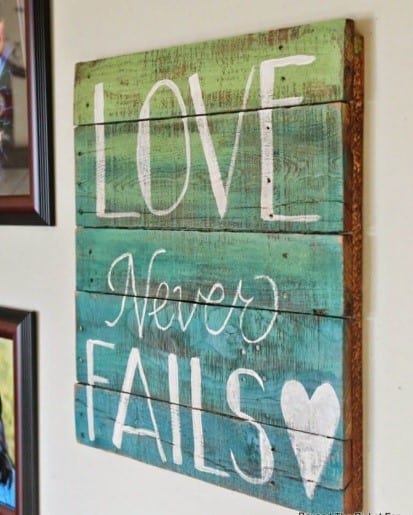 http://www.beyondthepicket-fence.com/2015/01/project-challenge-1-paintstain-two.html
13) Painted Wooden Sign
This is a wooden pallet sign that was made to look like a large seal or brand. The sign is large and requires several pieces of pallet wood. The surface of the wood was lightly stained to get that lovely natural appearance. You can also see that the large and letters were stenciled and possibly sprayed on the wood.
Making a stencil or a pattern for your signs is easy. You can make one by hand or you can use a computer or software to do so. There are also tools to make stencils or just about any kind of design and this is a Cricut. This is a tool that is operated by a software through a computer. You feed paper, cardboard or any material used for stenciling in the Cricut and it will cut stencils for you. With Cricut, you can make this sign and other signs, shapes, and figures easily.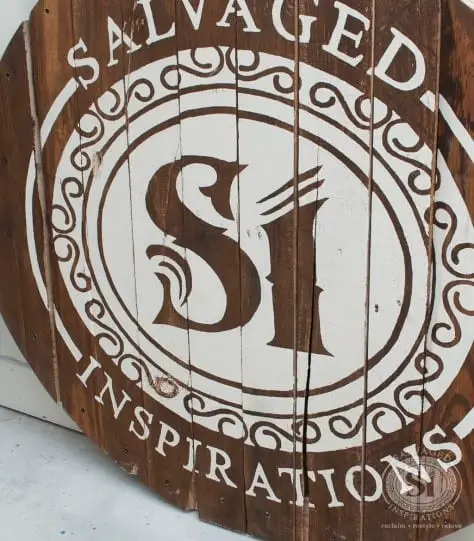 14) Rustic DIY Street Sign
I have always been fascinated with rustic street signs and this project is to make a rustic sign made out of pallet wood. This makes use of only a few pieces of pallet wood which was treated and stained to bring out the lovely natural appearance of wood.
Do you know that the most popular street and the most common street name is Main Street? But instead of just using Main Street you can use another name as well. Place the name of your street or a place that is very memorable to you.
And of course, this is a very easy project to build and does not require a lot of woodworking skills to do so. Even if you are a novice woodworker, you can start now and finish in just a few hours because it is very easy to make.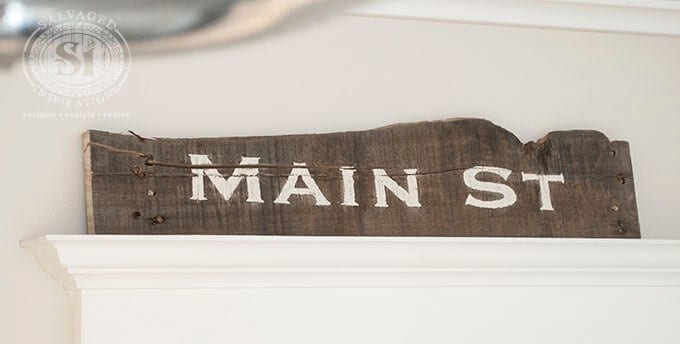 15) Wood Laundry Sign
Are you tired of picking up dirty laundry after your family members? Do you wish you can show them the way to the laundry chute so they can wash their own clothes? Now you can show them where the laundry room is and have some fun doing so by using a customized pallet wood laundry sign. This is a sign made from two pieces of pallet wood attached together with the use of braces. This pallet wood sign has sprayed on stenciled letters.
The wood was obviously stained a dark color that made this sign warm and inviting. And this is more than just a sign. This is also a place to attach hooks and holders so you can hang hangers and clips here. It is so easy to make this wood pallet laundry sign. You only need a few pieces of pallets, stencils and paint to build it.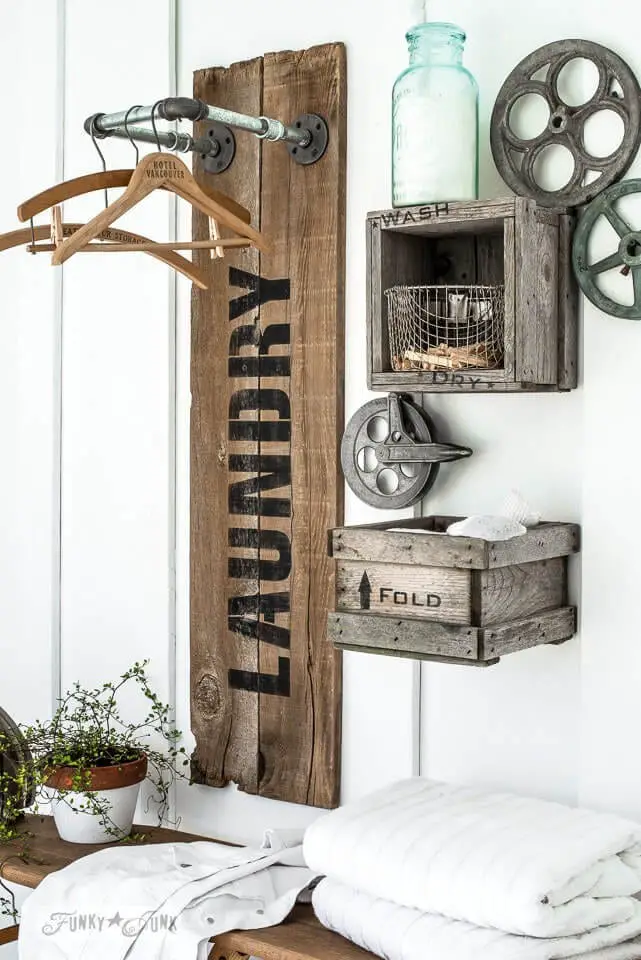 16) Hello Sunshine Wood Pallet Sign
This is a pallet wood sign that will surely cheer you up. The sign was made of several pieces of pallet wood which was attached together to make this large sign. A sunshiny design was painted on the pallet frame along with the words "Hello."  Hello-sunshine right? Can you think of a more clever design than this one?
You can make this pallet frame your own personal canvass.  You can make the pallet frame larger, wider, taller or in any shape and design you want. And just like frame found in this photo, your own sunshiny wood pallet sign can be hung from a wall or just placed against a wall.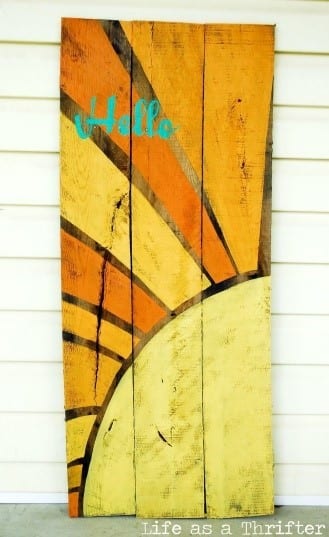 https://lifeasathrifter.blogspot.com/2012/03/hello-sunshine.html
17) Heart of the Home Sign
This pallet wood sign was placed on top of a coat hanger which is found near the front door. This sign seems to remind people that live in this home where their heart really is and that is at home. This sign was made from several pieces of plywood arranged to create a flat and even surface for this loveable sign can be placed.
The words were made from rope and paint. Strong and continuous rope can be used on many kinds of crafts and artwork just like this one. All you need to do is to make the rope stiff by applying white glue, let it dry and hot glue it on the surface.  This is a very easy project and you can build this pallet sign in just a few hours.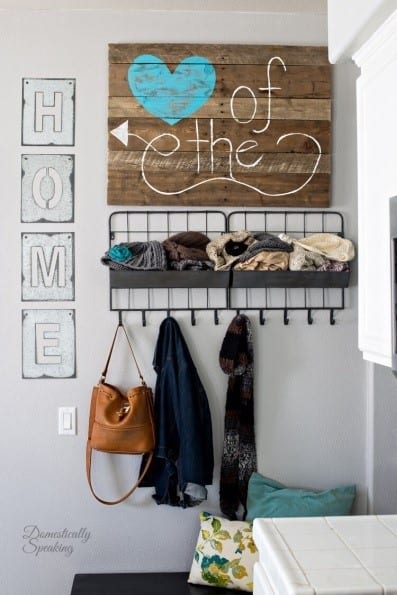 18) Rustic Fall Sign
Its fun to create stuff that's perfect for the season and one of the most popular are fall crafts. It is during fall that everything seems to be very colorful. Trees shed their green color and turn in all shades of yellow and red. Your crafts also become fall-centric at this time and one of the most festive and most popular is making fall wooden signs.
The letters FALL in this design was made from wooden pallets. One pallet per letter and these were cleverly arranged on a coat hanger. And since this is a festive project, you can also make signs for other seasons as well. Take down the fall sign and set up pallet wood that says WINTER or SNOW. SPRING and SUMMER can also be constructed out of pallets as well so you can have all seasons ready.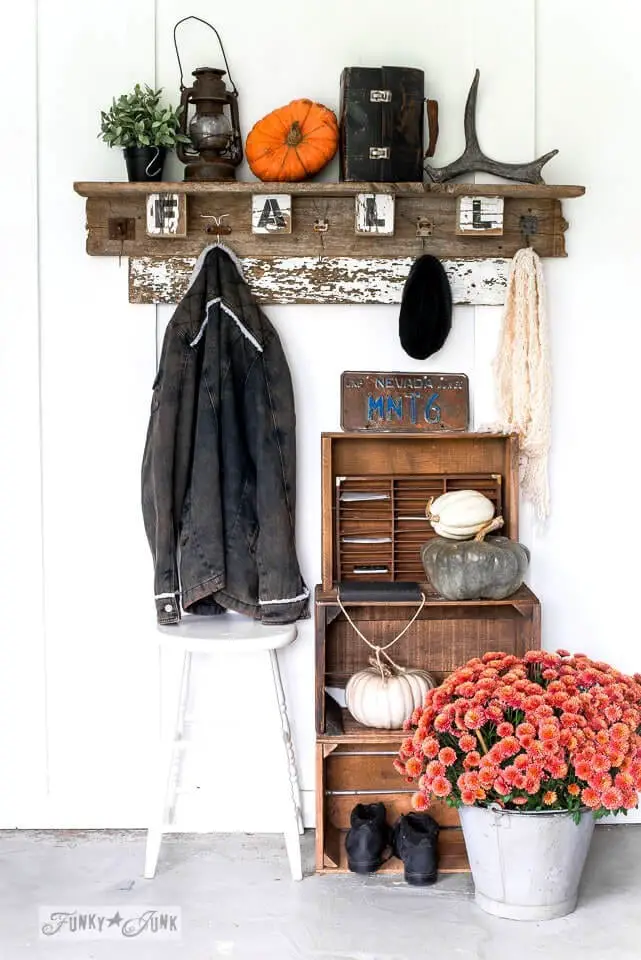 19) Love at Home Pallet Art
This is a pallet art sign that was made of only four pallets. This Love at Home sign is very rustic and classy. The pallets used in this design were recycled and were stained to perfection. A deep stain was used to give pallets this rosy glow. And after the pallets were dry, stenciled letters were added.
If you want to use a wood stain on your projects you need to choose the right stain to get the best effect. Most use a very dark stain which may look classy but has absolutely covered the natural appearance of wood. The best technique would be to apply wood stain twice to get the best effects.
Using varnish is also one way to improve natural wood color but be careful though because varnish could make wood very shiny and have an unnatural appearance.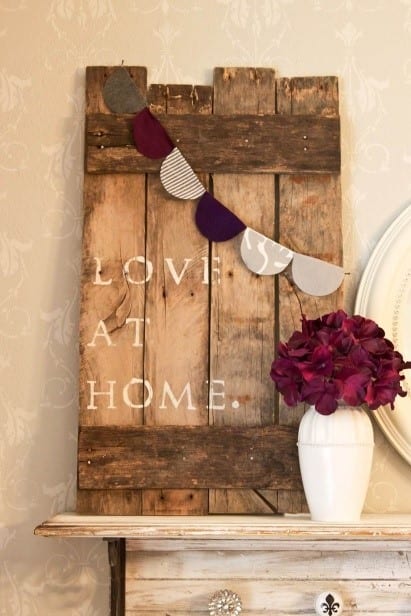 http://www.colorsandcraft.com/2012/06/diy-pallet-art/
20) Friends Become Family Wood Sign
This sign will truly warm your heart! This was made from a few pieces of pallet wood which were attached with a brace at the back and hung on a wall. The pallets were stained using a very deep stain color which makes the letters of this saying stand out.
This pallet wood sign is very simple but has a lot of potentials. First of all, this wood sign can be made larger so you can paint longer and more intricately designed words and sentences.  You can also paint this sign instead of staining it to make the letters stand out. And you can also hang this anywhere but the best spot has to be your living room where friends and family come together.