21) Supermarket Shopping List Pallet Sign
Have you ever found yourself moving aimlessly from aisle to aisle in a supermarket trying to remember what to buy? The solution is to make a supermarket list for the whole family. This pallet sign is a part of a supermarket list section in your kitchen. Tell your family to add to this list by writing on the list provided for the week.
The pallet sign in this project is just a piece of pallet wood which was carefully stained and painted. It won't take you too long to make this and all you need to do is to cut and paint. You will have a shopping list pallet sign ready in time for your next trip to the grocery store.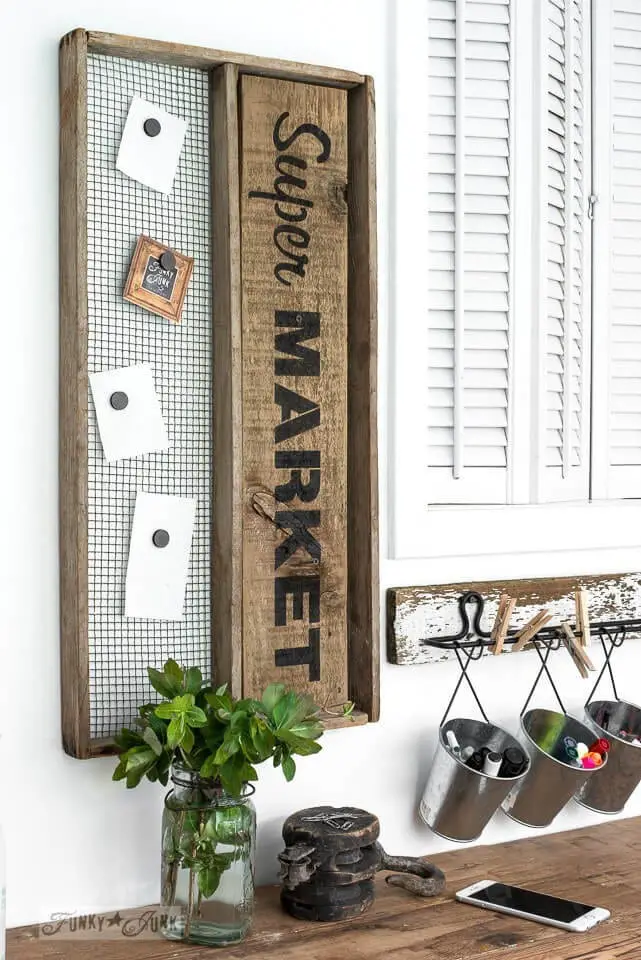 22) Wooden Pantry Sign
Are you tired of showing your family members where this and that is? Are they always asking where the cookies are or where the toilet paper is? Do you wish they can just go to the pantry to get what they want? Now you can with a personalized wood pallet sign that says PANTRY. With this pallet sign, you can lead everyone to the pantry or maybe the other way around!
This sign was made from two pieces of pallet wood, stained and painted with the word PANTRY. This was used as décor in the kitchen but you can use this on the door of your actual pantry. This sign is actually very easy to make and won't cost you anything at all. You can also use this style to make other wooden sign projects as well.
23) DIY Potting Shed Garden Sign
Show your guests the way to your potting shed and let them admire your lovely blooms and plants. The sign was made from old recycled pallet wood which was printed with the words POTTING SHED. This sign is actually very easy to make and won't cost you anything to build at all. This potting shed pallet sign design can be your inspiration to make other pallet signs as well.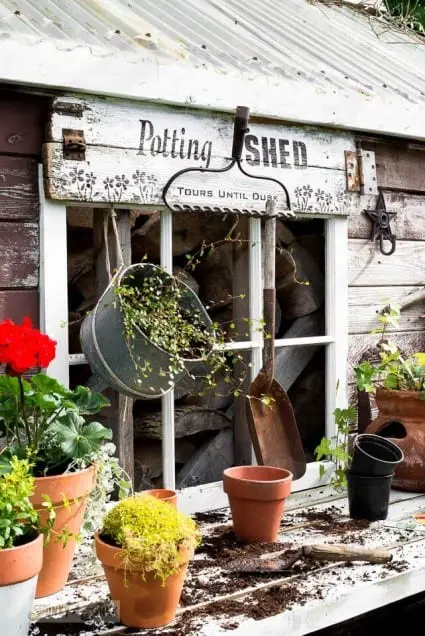 24) Wood Pallet Quote Art
What's amazing about wood pallets is that you can actually turn it into a canvass for any message or sign. But before you write any letter or image you need to remember that the ink or paint that you would be using should be made for painting wood.
You can paint the words on pallet wood using stencils or you can use freehand to write on wood as well. Not all can write this legibly. If you want you to use freehand, practice well before you write on actual wood pallets.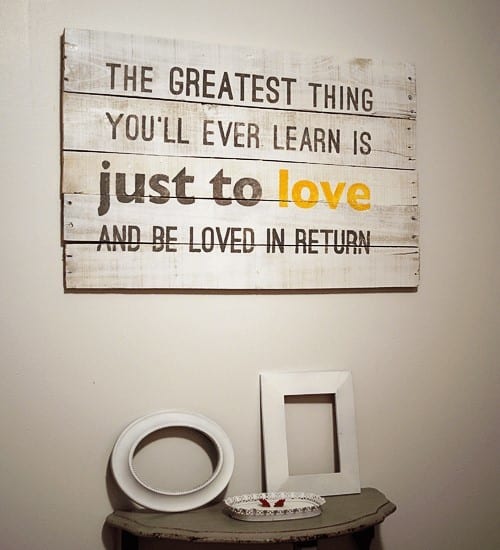 25) Welcome Home Pallet Art
Let this lucky pineapple greet you as you come home. This is a tall sign made from tall pallet pieces. The pieces were carefully stained to bring out the natural beauty of wood. The letters and words in this pallet art were sprayed on wood using stencils. This eliminates mistakes and saves you time instead of painting and writing using a brush.
You can actually make this pineapple pallet art in your own home to welcome guests at your porch or front door. This design is so easy to make you can actually make this in just a few hours as well.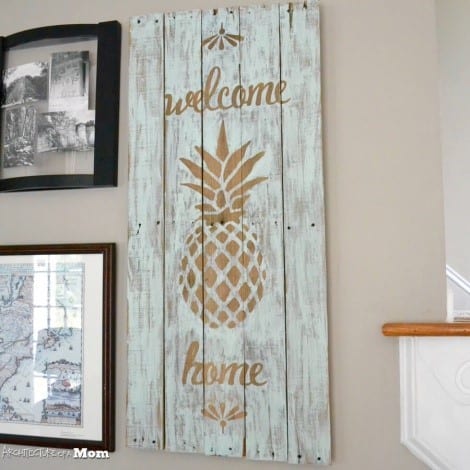 http://www.architectureofamom.com/2015/08/pineapple-wooden-welcome-art.html
26) Broken Crayons Still Color
This is pallet wood art made with two pieces of pallet wood and brightly-colored crayons. This could be a lovely addition to your living room or bedroom. The large pallet sign was placed against a wooden picture frame; this makes a wonderful conversation piece.
Aside from crayons, you can make art materials work with wood. Craypas, clay and Pentel pens can also be used. Still, other noteworthy materials that can be used on pallet wood are beads, shells, feathers, sand, and rocks.
Don't forget that this project is very easy to make too. Also, you only need a few pallet pieces to build this pallet sign.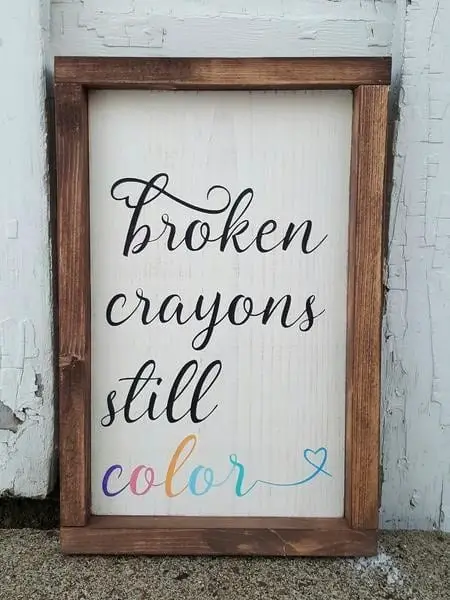 27) Easy Welcome Signs
What a very warm welcome indeed. This welcome sign was made from a large pallet piece which was painted white. The frame was simply painted and the words were painted using dark-colored paint using stencils. This is a lively artwork which can be improved by making the pallet wider and the letters more colorful. Adding other accents will also help make the sign come to life.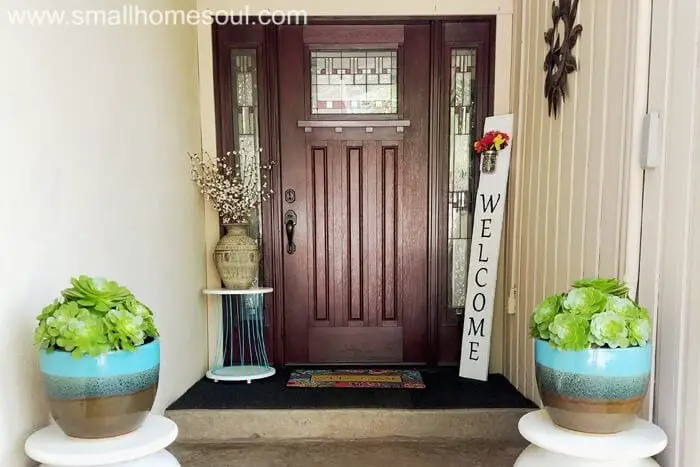 https://www.smallhomesoul.com/welcome-sign/
28) Family Plaque Pallet Sign
This is a family plaque made of pallet wood. This was made from only a few pallets and was simply stained to create that lovely warm color. What is a family plaque anyway and why do you need it?
Think of a family plaque as a family symbol that tells a lot about your family. Not all families have a plaque though and usually, this is placed on a special spot in the house like the front porch, front door, doorway, the mantle on top of a fireplace and any other special area.
If you want to make a family plaque think of a design, saying or color that best describes your family. And when you are done using the plans here, you can place your family plaque in a special place in your home or garden too.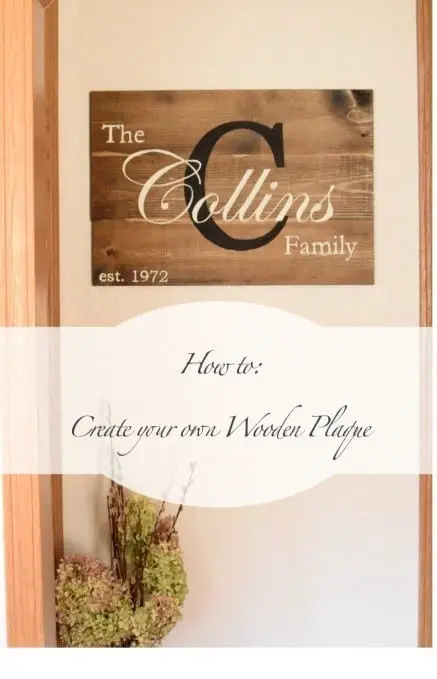 29) DIY Wedding Gift Idea
Aside from creating a pallet sign for your home, you can also DIY some to gift for your friends or family members. And one such special occasion where families and friends give special gifts is during a wedding. This is a plan to create a personalized wedding gift made from pallet wood.
This is a unique gift that you can't find in any store because you have made it yourself. And who knows? You can even make this as a business someday!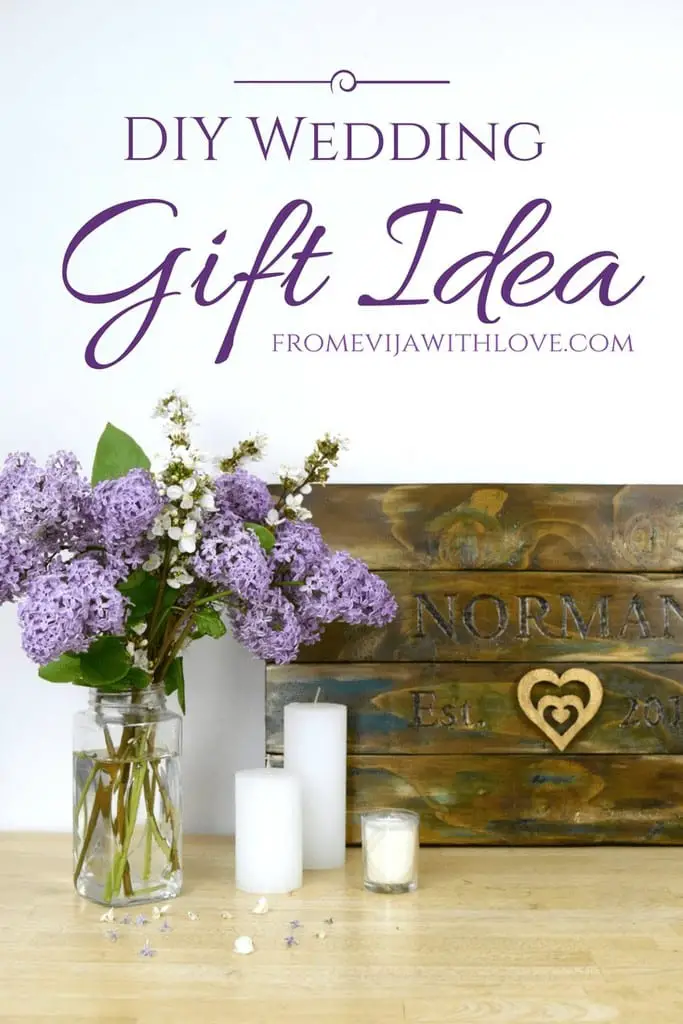 30) Thankful Grateful and Blessed Pallet Sign
Even the simple fact that you wake up every day is a blessing. You should be very grateful that you are surrounded by family and friends. And consider yourself blessed with a roof over your head, warm fire, good food and a loving home.
Place thankful, grateful and blessed in one pallet wood sign and hang this on your wall. This would be the highlight of your family room for years to come! And of course, you can make your own design according to what things you value most. Why not friendship, happiness, and fun for a dormitory room or peace, happiness and joy to hang in your dining room?