31) Gather Pallet Wood Sign
Gather could mean many things. It could mean to gather as a family or to gather your friends. It could also mean to gather or together. It can inspire you and give you motivation as well. There are many other inspiring words to print on pallet wood.
You can paint the words family, joy, peace, hope or love. You can also place your family name or the initials of your children. Anything that can inspire and motivate you.
As usual, stenciled letters were used to apply this word on wood. You can use a paint brush to apply paint or use spray paint for an even coat.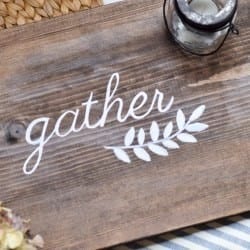 32) Let it Snow Part 2
This is another pallet wood sign that is festive and cool. This was made from several pieces of pallet wood, stained and painted with a dark stain. The lovely classy letters are very festive and with the matching snowflakes, you have a fantastic winter-themed design that you will love to display.
You can actually make this snow-themed pallet wood sign in less than an hour. It may take time to apply wood stain but after this is over, you can quickly proceed to paint your project. As always, this pallet project won't cost you a lot of money. You can make this out of recycled or reclaimed pallets. 
https://www.inlinkz.com/displayurl.php?id=34044310
33) Rustic Farmhouse Birthday Signs
What are all these numbers for? Believe it or not, these are numbers for the family members' birthdays. Take this family memorabilia that will surely be remembered for a long time.
A few pallets were used to make this birthday sign. It was painted white and was aged using different techniques. The numbers were painted on wood using stencils. If you were to make this you must measure your pallets accordingly.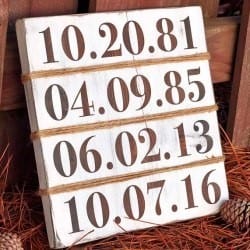 34) Colorful Grandkids Design
The saying is true; grandkids can really make you feel grand, literally. Have you spotted other funny sayings on pallet wood before? You can make your own fully sayings, jokes, and limericks and place these on your own pallet sign,
And just like this cute sign, you can make your own with cute décor and knick-knacks on the side to frame your creation. You can make this design larger or wider or paint your design instead of staining wood.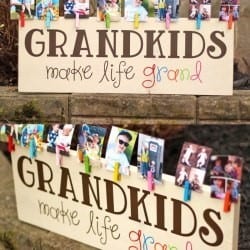 35) DIY With Style Pallet Signs
This is a pallet sign made from only a single pallet. Sometimes, greatness comes in short phrases; just like this one. But you can make your own pallet sign with a phrase version as well. You can make the sign longer, larger or paint the sign instead of painting it the color you want. 
You can also hang this lovely sign anywhere. You can sign this on your bedroom, living area or kitchen, anywhere where family or friends gather.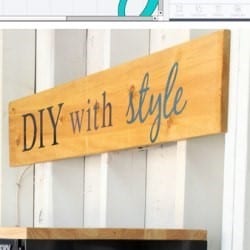 https://www.blueistyleblog.com/2016/12/CricutExploreAir.html
36) Happy Fall Pallet Wood Sign
This is another fall-themed wooden sign made from pallet wood. This sign is festive, colorful and very cheerful. You can see that it was made from only a few pieces of pallet wood and was simply stained well to accent the color theme of the room. You can make this in just a few minutes because of its very easy design. And just like fall, which is a very colorful season, you can also make the same pallet sign for other seasons as well.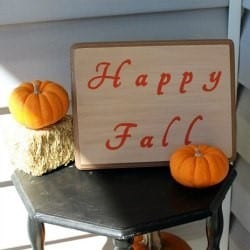 https://www.homecraftsbyali.com/2016/10/make-your-own-fall-sign.html
37) Happy Fall Y' All Sign
Another fall-themed sign is this lovely warm sign made from only a few pieces of pallet wood. This is a large sign that has been stained well and painted a festive message and symbols.
There are many ways to decorate for the fall season. Usually, people use pumpkins, colorful leaves, scarecrows and another rustic décor. You can add this sign and place it near your front door on the porch to greet guests a warm and merry fall y' all welcome.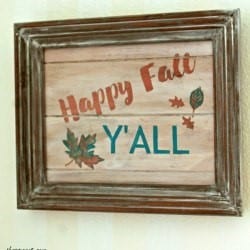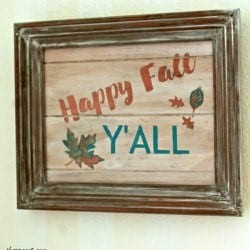 https://www.homecraftsbyali.com/2016/10/make-your-own-fall-sign.html
38) Fresh Cut Flowers Design
Create a rustic –theme design for your home with this fresh sign made of pallet wood. This is a lovely sign that will make your front porch a welcome sight. This pallet sign décor is something that you can make in just a few minutes. You don't even have to buy anything as well.
You can use recycled or reclaimed wood to make this fresh cut sign or you can use brand new wood to make this cute and homey pallet sign.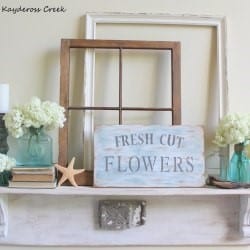 39) Coffee and Gratitude Sign
Coffee is truly a mystifying drink. It can make you feel energetic and happy. It can make you feel warm and loved. If you and your family love coffee then this is the sign for you. You can make this coffee-themed sign by staining a few pieces of wood and adding inspiring words or phrases. This is a very easy project and you can actually finish this in time for your next cup.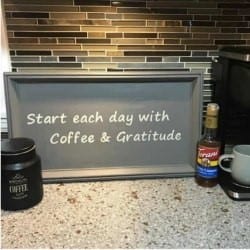 40) Distressed Painted Wood Sign
This lovely, colorful sign was made to symbolize the love and happiness of a family. This is made entirely of pallet wood and even the cursive letters in FAMILY were all made from pallet wood.
The pallet wood pieces here are large and are fastened together at the back to create a flat surface to decorate. Each pallet piece has a different color so this is definitely livelier and homelier. Now the word FAMILY here is trickier to make.
There are a few suggestions online on how to make this. You can use a jigsaw to carefully cut these words right. First, you need to make a large stencil to follow and then with a jigsaw, cut this carefully until you are able to get the shape you want. Use sandpaper to finish this and paint it according to your desired color. In this case, the builder used white to make the letters stand out from the rest of the colors on the board.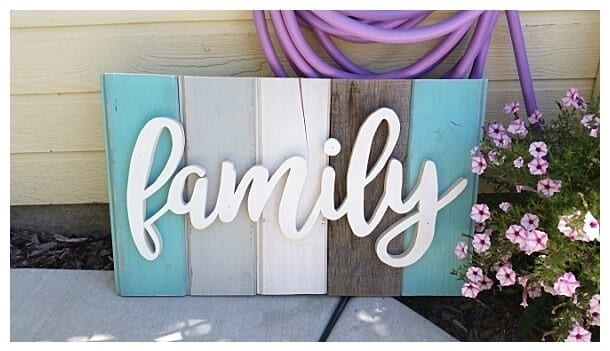 Conclusion
Pallet wood signs can contain any message. It can inform, lead or inspire. You can make your own pallet sign or you can follow some of the designs we have here. You can use different materials with pallet wood as well which is why it is one of the most versatile for making signs. Best of luck in making your own pallet wood sign for your home, family or friends.