31) Purple Playhouse by Ana White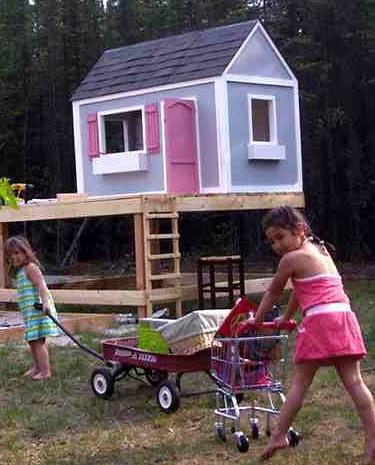 This is a playhouse project plan that is simple and easy to build using a single sheet of plywood. The builder also used scraps for the door. The front and back walls are quickly built with a footprint of 48 by 96 inches. You can use lag screws to attach the end and front walls. No help required. The materials needed include exterior plywood, boards, hinges for the doors, nails, screws, wood filler, wood glue, sandpaper, wood conditioner, paintbrush, and paint.
The tools used in building this playhouse include a tape measure, hammer, pencil, safety glasses, Kreg Jig, circular saw, brad nailer, power sander, and hearing protection. This project can be done within a week or two depending on the skills and time allotted of the builder. Become more confident in building your next woodworking project. This plan uses the basic materials and tools available in your home. You don't have to spend hundreds or thousands of dollars on a dollhouse, so you may want to build a dollhouse using your carpentry knowledge and skills and expect happy faces from your kids.
Helpful Link: http://www.ana-white.com/2010/05/furniture-plans-playhouse-front-wall-options-and-doors.html
32) Playhouse Fort by Instructables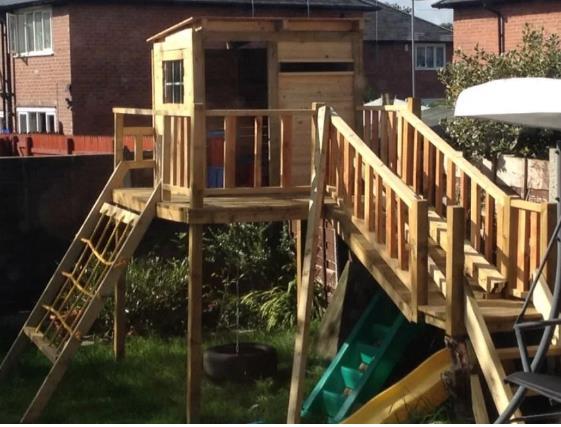 The builder had a great area to build at the bottom of their garden. The first step was to dig four holes for the playhouse's posts. A post create was used to keep the stability of the posts. For the base, you have to fix the rafters to the deck beams and posts. Next, the frame of the playhouse was made. The builder made a bridge from the stump of a tree to the floor level.
For the roof, an old pallet wood was used for the sides and on one side, a donated glass window was used. The last step for the roofing is the placement of the roof to ensure it is safe. Under the playhouse, a tire swing was installed for children to play with. Kids will love this playhouse because it has a lot of fun things to do!
Helpful Link: http://www.instructables.com/id/Playhouse-Fort/?ALLSTEPS
33) Playhouse by Imgur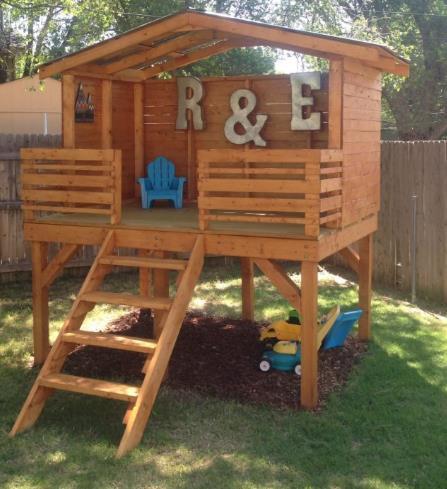 This is another great idea for a playhouse fort for a backyard. It is a small playhouse but it will be loved by kids. This playhouse has a small room with 3 walls and a deck. It is nice to decorate this playhouse by storing books and toys  inside, or you can also add chairs. This playhouse will look fun and excite with a slide for the exit. You can paint the fort colorfully to attract the attention of children and even your neighbors. Using different railings can add definitely add charm to this playhouse.
The materials are very basic like any other playhouse with a simple construction plan. You can do this playhouse plan within a week depending on the amount of time provided and the availability of materials and appropriate tools. You may consider building this playhouse if you have a very spacious outdoor or backyard area.
Helpful Link:https://imgur.com/r/DIY/kYODa
34) Playhouse with Swing Set by Our Fifth House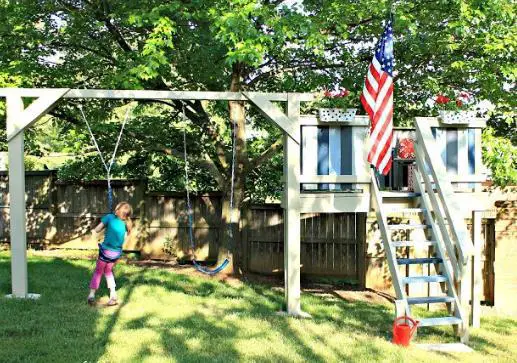 Do your kids love to swing. This playhouse is recommended for them because it has a swing set, so it is a clubhouse combination that is relatively easy to construct. It has a high deck but with railings for safety. It is effortless to build this playhouse. A challenging part of this project is attaching the swing set. You can paint the deck with pastel colors to eliminate the monotonous appearance of the playhouse.
It is also a good idea for decorating this playhouse with hanging toys and flower pots. You can add cushion or pillows for the comfort of your kids. It has a roofless deck but you can also modify the roof so you can store items or toys inside. Become more confident in building your next woodworking project. This plan uses the basic materials and tools available in your home. You don't have to spend hundreds or thousands of dollars on a ready-made dollhouse, so you may want to build a dollhouse using your carpentry knowledge and skills, making your kids happy.
Helpful Link: http://www.ourfifthhouse.com/diy-swing-set-playhouse/
35) DIY Clubhouse Playhouse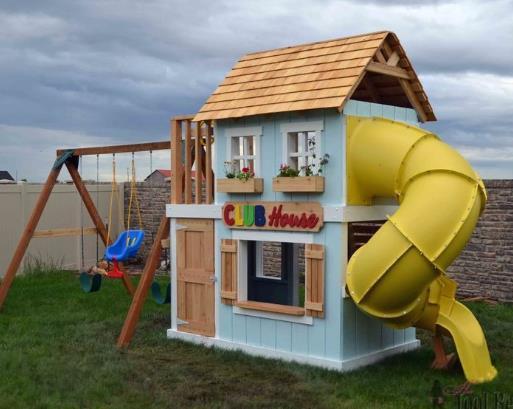 This is a very unique playhouse that can be built in an easy way. It is a comfortable big playhouse or clubhouse with an attached tunnel slide and swing set. It is a two-story playhouse, so kids can enjoy going up and down the ladder to come down the tunnel slide. This playhouse has a climbing wall too. The clubhouse letters were made of plywood and painted after.

This is a clubhouse playhouse with a super fun 3 swings, 5 feet turbo tube slide, climbing wall and ladder, telescope, steering wheel,  and spacious play area. All of these were purchased at Home Depot. This playhouse can be built within a week or two depending on the amount of time you will spend in a day. Your kids will surely love playing on this colorful and fun playhouse.
Helpful Link:
https://www.hertoolbelt.com/

36) Elevated Playhouse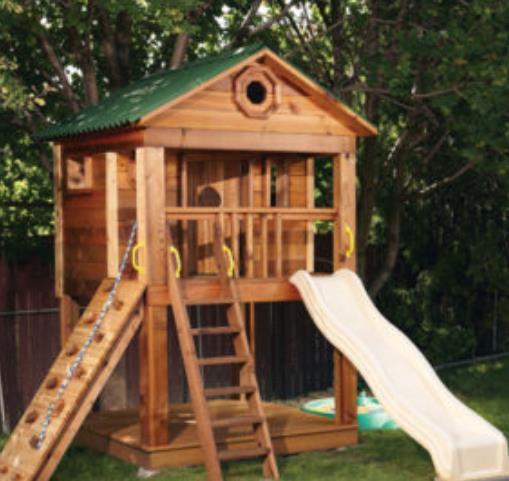 This is a classic look playhouse because of its brown color. Kids just love playing and jumping, sliding, and hopping above the ground level. Having an elevated playhouse is a good idea. There are so many ideas online for elevated playhouses and this is one of the best. It's sort of a two-story playhouse wherein the higher is higher on the floor and there is an empty space somewhere on the bottom part. It is a good idea adding a sandbox for playtime during summer.
While building this playhouse seems to be a complicated procedure, the instructions are very clear and easy to understand. For the construction process, it is simple to work most especially if you have carpentry skills and people to help you. Surely, your kids will love playing and exploring and enhancing their motor skills and creativity on this playhouse.
Helpful Link: https://canadianhomeworkshop.com/6597/project-plans/kid-cave#projecttabs
37) Cottage Playhouse with Slide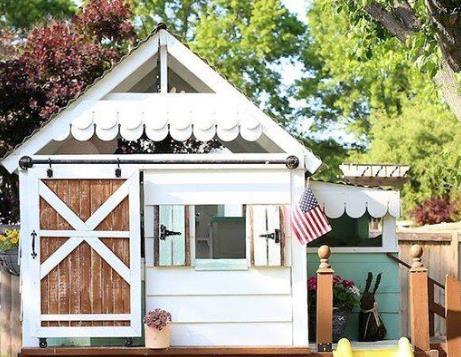 This is a challenging playhouse project. If you do not mind the extensive details or you want a cottage edition playhouse with slide, this is the perfect playhouse for you. It will surely ignite your creativity and problem-solving skills when it comes to carpentry works.
This is an elevated playhouse with a small ladder that leads up and also a slide that serves as the exit. You can designate a reading corner comfortably inside. You can make the playhouse cozy by adding pillows or cushions. Under the reading bookshelf is a good storage for books and toys.
Surprisingly, there is also a mini kitchen that your children will surely love. The entire playhouse decor of this playhouse is so homely. It resembles the cottages found in Europe. The window shutters are handmade that slide.
Helpful Link: https://www.thehandmadehome.net/2015/05/the-handmade-hideaway-awesome-cottage-edition/
38) Modern Outdoor Playhouse Plan by Sweetpotato Peachtree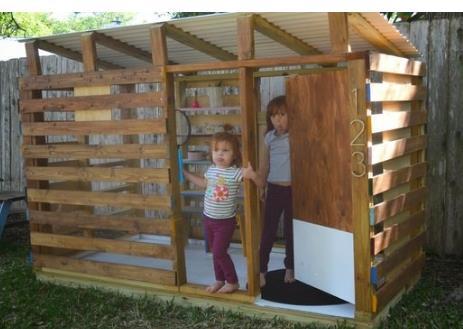 This playhouse plan went over the builder's $400 budget, but it turned out to be a lovely project. An adult can actually fit (5's") inside this playhouse. It is a major bonus for the builder! In Texas, the summer is very hot, so the builder designed and constructed this playhouse with an open and nice play area. It is versatile and there was a ladder for climbing back and forth. A foldable table is also available for cooking, preparing mud pies, and twig noodles. You can put any matched décor you want inside this playhouse. Home Depot cut the wood for free and the cuts were just a fraction of an inch.
This playhouse may need some help when it comes to construction but if you have some carpentry skills and you have experience then it can be amazingly done fast! Kids will surely love playing around this playhouse. It is a great bonding between parents and kids indeed!
Helpful Link: http://sweetpotatopeachtree.com/?p=26
39) PVC Pipe Fort Playhouse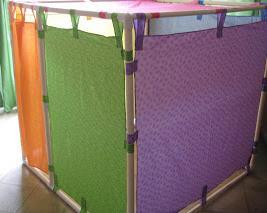 Do you want to build an indoor playhouse for your kids? This playhouse plan is a unique one. This PVC playhouse is so easy to build. You just need eight 1 inch side out joints. You probably won't find this type of joint in all three directions at your local Home Depot. But you can use a 1 inch with a ½ inch side out, and then you can buy ½ inch to ¾ inch converters.
You'll also need a straight join piece measuring 1 inch and two T shaped (1 inch) pieces to build the doorway. Apart from the ones mentioned, you'll need to purchase a PVC pipe. For modification, you'll need two 10 feet pipes in ¾ inch and four 10 feet pipes in 1 inch. If there are joints with all 1-inch openings, you'll need six 10 feet pipes (1 inch). Included on this resource is a video on how to build a Disney Playhouse.
Helpful Link: http://indigoamethyst.blogspot.com/2009/05/pvc-pipe-fort.html
40) BuildDirect Playhouse Plans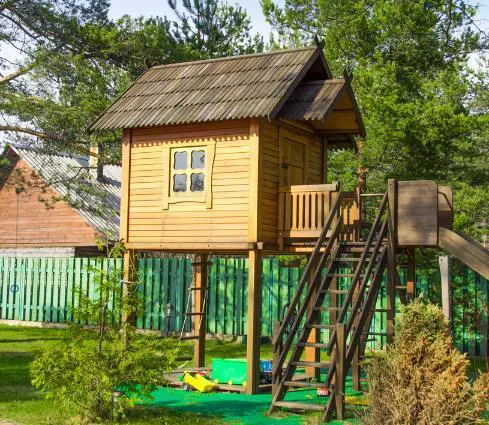 This website offers viewers 8 playhouse plans including platform playhouse with swings, full-meal playhouse, tiny playhouse, princess, playhouse, pallet kids playhouse, cedar teepee, and play fort. Each playhouse has a unique look from different builders who want to make their children and grandchildren happy. The materials used in making these plans differ including boards, wood, plywood, stainless steel posts, concrete posts, and others. The basic materials and supplies are seen on local hardware and basic tools were also used.
Most of these playhouses were also featured in different building house plan websites. However, what makes this resource unique is the explanation of each playhouse and how you can personally apply to your own project. Become more confident in building your next woodworking project. This plan uses the basic materials and tools available in your home. You don't have to spend hundreds or thousands of dollars on a  playhouse, so you may want to build a dollhouse with the use of your carpentry knowledge and skills, and making your kids excited at the same time.
Helpful Link: https://www.builddirect.com/blog/8-free-plans-for-playhouses/