11) Log Cabin Playhouse

The son of the builder of this playhouse noticed him always enjoy the playhouses whenever they went to a big playground. So, the builder decided to make one for him. A log cabin playhouse is a cool project which is also durable and kids will surely love!
Two people are needed to move and lift the panels in place. The builder took four weeknights, 2 hours  day, to complete this playhouse. The materials and tools used include treated timbers, treated lumber, stockade fence, roll roofing hammer, drill, paintbrush, spade, circular saw, and utility knife. Ensure that all cuts are made using a circular saw to reduce splinters that are usually noticeable outside. When it comes to the foundation, it should have enough space so it doesn't get in the way of a kid's pool or swing set. Check your location and find the lowest point.
Helpful Links:https://www.instructables.com/id/Build-a-log-cabin-Playhouse-for-under-%2524300/
12) Malaysian-inspired Playhouse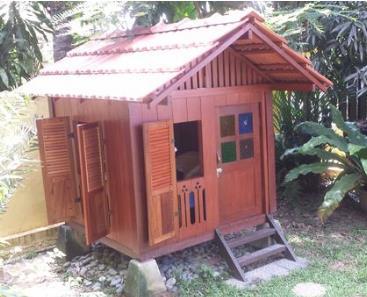 This playhouse is perfect for a small size garden where space is a major concern. First, concrete posts were built. The corners of this playhouse have four square posts. The walls were fixed to the posts and the base platform. The roof tiles were placed after the roof structure was assembled. The door was build using tenon joinery and mortise. A colored texture glass was incorporated that makes it Malaysian inspired because these are seen on old traditional Malaysian doors. Shutters were installed with louvers.
The architectural elements used in this DIY playhouse plan include the stilts, steps, narrow shutters, and intricate railings. A simple roof was used and a wooden spike was also installed on top of the roof later. The base of this Malaysian-inspired playhouse measures 150 by150 centimeters or 5 by 5 feet. Surely, your children will love playing in this beautiful and comfortable playhouse.
Helpful Links:https://www.instructables.com/id/Malay-Balinese-Styled-Playhouse/
13) Kids Fort Playhouse by HGTV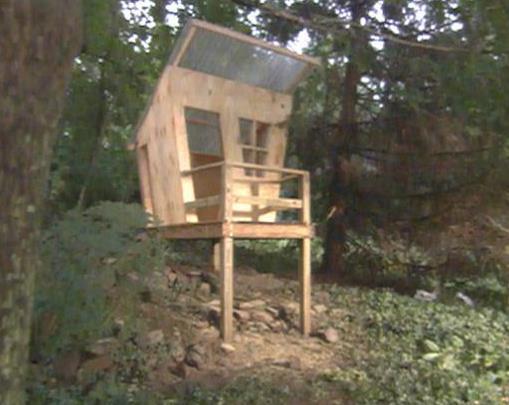 The materials and tools used in making this playhouse include decking, posts, plywood, paint, joist hangers, concrete, clamps, corrugated plastic, circular saw, jigsaw, reciprocating saw, nail gun, hammer, chainsaw, level, and router. For the construction plan, you need to measure a 4 by 8 platform and mark four corners. For a 4 by 4 posts, you have to dig holes in all corners. All posts should be on the same level and the brace is used as needed.
Most localities are considering play equipment as a deck, that's why you need to consider the size of the floor joist, hardware like joist hangers, and railing spacing. For small children, it is best not to have any working windows or doors so parents can see them all the time. It is also a good idea using
clear corrugated plastic roofing to let the light in, and it is fairly inexpensive.
Helpful Links: https://www.hgtv.com/design/outdoor-design/landscaping-and-hardscaping/constructing-a-kids-fort
14) Clubhouse Castle Playhouse by Instructables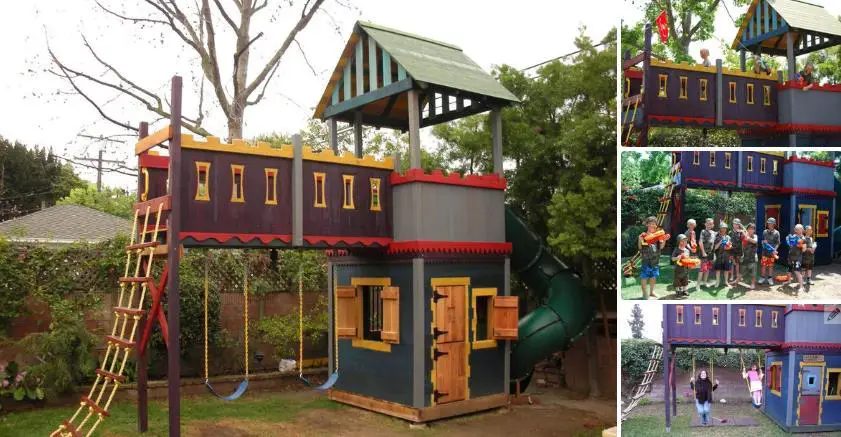 The builder always had a great fascination with building clubhouses and fortes using cardboard or pillows, whatever was at his disposal.  Now that he has more resources available, this builder decided to build a real one for his children. This is the clubhouse castle playhouse! His kids just love the house and he was very happy with the final output.
The owner has never built a structure in his entire life but he started out with four 4 by 4 by 16 feet redwood posts and bags of quikrete. He searched the internet and got some general ideas much of the design was adopted and owed to Ms. Barbara Butler. This playhouse has a tubular slide, tire swing, rock climbing wall, a secret door, stainless steel firepole, and the base is 5 by 5 feet with a total height of approximately 17 feet.
Helpful Links: https://www.instructables.com/id/Clubhouse-No-Adults-Allowed/
15) Princess Playhouse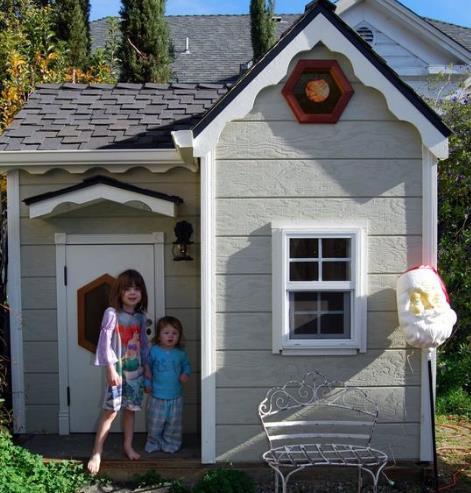 This playhouse is intended for the builder's 2 girls. It is a state-of-the-art playhouse with interactive magic mirror, stained glass windows, vintage light fixtures, built-in bookshelf, sound system, recessed TV, network, in-ceiling speakers, faux fireplace, phone, ceiling vent, gutters, doorbell, picture rail molding, gutters, and laminate flooring. The magic mirror is really amazing, responding to different sensors such as touch and proximity.
The builder is admittedly a computer and electronics geek. He took 8 months to complete this project with the help of family and friends' ideas and suggestions as well as the web. He spent roughly $1500 for the supplies including TV mount, roof shingles, flashing, wood, concrete slab, vintage light, Pergo floor, foam panel insulation, custom sized windows, speaker wire, in-wall speakers, and drywall. The dimensions of this playhouse are 8 x 8 x8 feet. It was framed in Oregon and drove in California where it was assembled. He was happy doing the electrical stuff but not the roof.
Helpful Links: https://www.instructables.com/id/The-Princess-Playhouse/
16) Playhouse with a Slide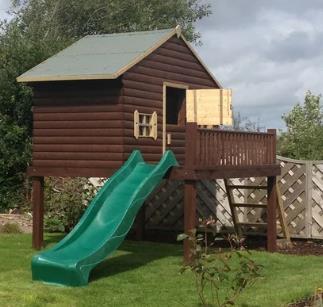 The builder has provided step-by-step photo guide of this playhouse project so you can see how simple this playhouse can be built with little mess. The builder uses a tantalized wood for durability measuring 4 by 4, 4 by 2 and 2 by 2. There was no plan to go from, so it was built and designed as the builder went along.
A concrete for the bedding was used in the posts because the top is heavy. The size just suits the 8 by 4 sheets for the roofing, minimizing wastage. For the internal floor, 8 by 2 sheets of chipboard were used and deck boards were used for the outside. The children were too smart to know how to test a playhouse's stability so this playhouse was built to also fit an adult. This playhouse was roofed over the ply using a green felt. The joints and clout holes were sealed with weather silicone.
Helpful Links: https://www.instructables.com/id/Playhouse/
17) Luxury Playhouse by Smart Playhouse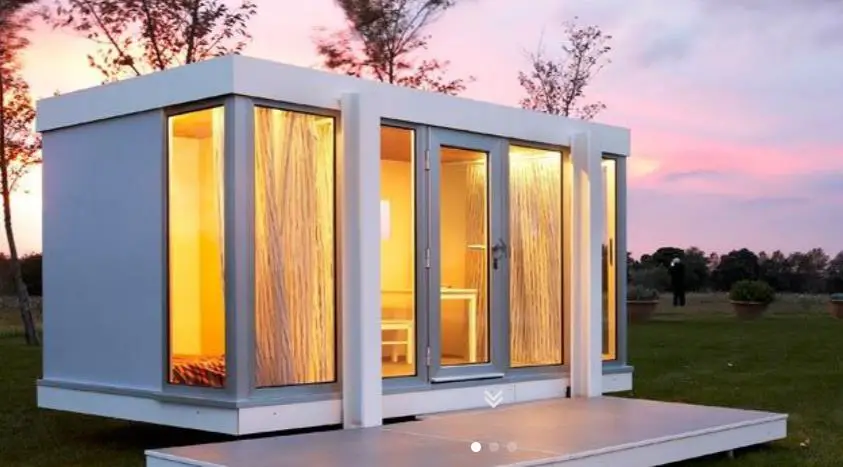 This playhouse is the real example of the modern playhouse. This beautiful playhouse has a very unique design. It has been designed to allow children to enjoy the view of the outdoors and feel freedom when playing. This is a comfortable and elegant playhouse with a bright and spacious area. It has a sliding door and many windows. This playhouse includes a 3 set of curtains with corresponding hooks and guides.
The primary material used in building this elegant playhouse for girls and boys is Birch plywood, which is highly-resistant because it is made of dense wood. It is glued using phenolic resins which are ideal for outdoors. The board has a shield sealing and painted with two films of water-based paint, giving a high resistance to harsh weather. The indoor flooring is also made of Birch plywood. The top floor layer is finished with a non-slip material. The roof of this playhouse is made of Okume. The outdoor terrace is supported by plastic adjustable feet, similar to other children's playhouses.
Helpful Links: https://www.smartplayhouse.com/portfolio/luxury-playhouse-illinois-maxi/
18) Puzzle Playhouse by SND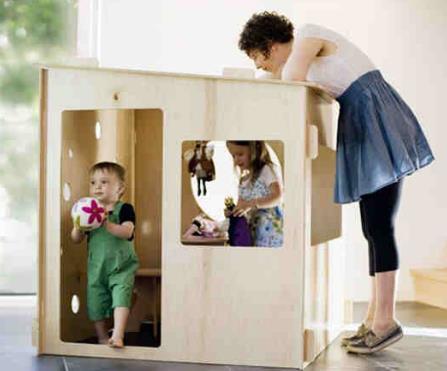 This is a puzzle playhouse which is a Modern Playhouse. It has interlocking panels that do not require additional hardware just to stay together. It was handmade in the United States using maple apple-ply. When it comes to the panels, they were shipped flat and can be easily assembled in just a few minutes. This system was also applied to the Dacha house which was made from recycled HDPE (100%).
This playhouse is great when it comes to portability. It adopts a modern architecture without requiring high carpentry or technical skills. It can be assembled and taken apart when desired. The interlocking panels are shipped easily so you can assemble it anywhere anytime your kids want to enjoy playing in a playhouse. You paint the panels in fun colors that children love. You can also hang toys or store books. The possibilities and imagination are endless with a puzzle playhouse!
Helpful Links: http://svendnielsendesign.com/portfolio/modern-playhouse/
19) Kyoto Playhouse by Smart Playhouse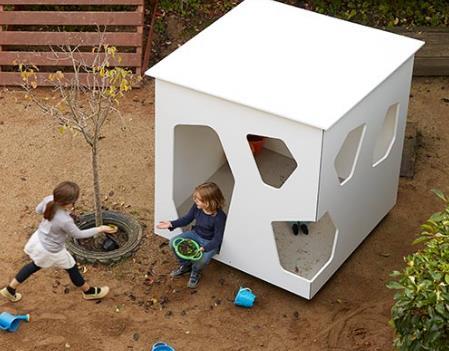 This playhouse looks like it was pulled straight out from architecture catalogs. It is quite different as compared to other modern playhouses. It really looks mesmerizing. You can easily assemble this stylish and unique playhouse anywhere. This playhouse features abstract polygonal windows and doors, making you feel like you are in the future or you're on another planet. The design is impressive because the windows are covered with thick glass. There's nothing to worry about your little one getting injured by it.
The monochromatic light makes the playhouse appear like a futuristic and advanced spaceship. This playhouse is made of Birch plywood. It is resistant to harsh elements and very durable. It also has a thermal insulation. It is easy to assemble anytime and anywhere. Your kids will surely love this modern playhouse with a futuristic sense. Now, you are more confident in building your next project. Of course, you want a woodwork project plan that uses the basic materials and tools available at home.
Helpful Links: https://www.smartplayhouse.com/portfolio/outdoor-playhouse-kyoto-junior/
20) Hobbit Hole Playhouse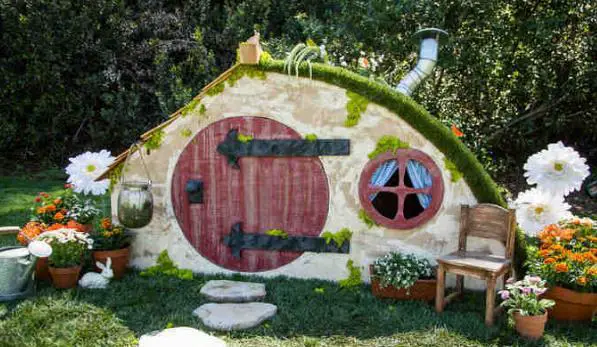 This is a DIY hobbit hole playhouse that children will definitely love. The tools and materials used include a circular saw, jigsaw, drill, nail gun, pencil, cedar board, joint compound, wood glue, wood boards, and plywood. This is inspired by the famous book and movie Lord of the Rings. The difficulty level is medium, so you might need assistance if you are not really into carpentry work. While it is challenging to make, you can be creative as well, adding more features whenever you desire.
It is a unique and fun playhouse wherein your children can use their imagination while playing for hours inside in pure amusement while enhancing their skills. You can install toys, a portable speaker, and a bookshelf so they can listen to stories and read books while they stay in their favorite play area.
Helpful Links: http://www.hallmarkchannel.com/home-and-family/how-to/diy-hobbit-hole-playhouse