41) Lighthouse Playhouse by Cherry Tree Toys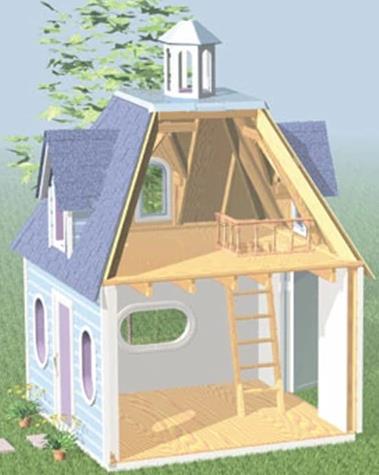 Kids just love playing outdoors. Having a playhouse makes your children popular in the neighborhood. Not everybody can build a unique playhouse. But building one for your kids using this plan will definitely surprise them! The structure of this playhouse is impressive to build. The lighthouse playhouse has a very detailed plan and clear instructions most especially when it comes to dimension for each piece. It also illustrates how to properly cut the rafters for the roofing. There is no special tool needed.
This playhouse measures 8 by 8 feet and the ceiling has a 5 feet measurement on the first floor. The second floor has plenty of headroom. The doors are doubled on the back for easier entry and exit. Your kids will surely love this playhouse because it is unique from other playhouses.
Helpful Link: https://cherrytreetoys.com/lighthouse-playhouse-plan/
42) The Stump House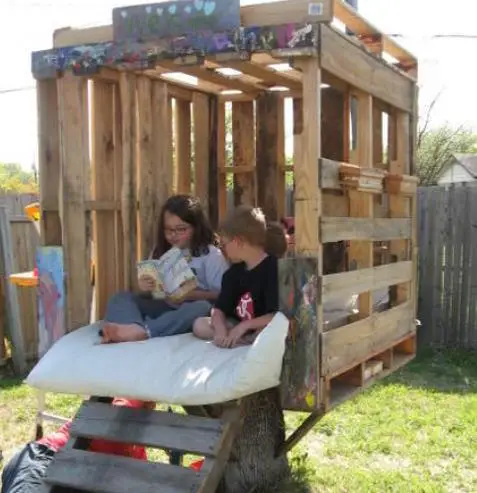 These days there are so many comfortable playhouse designs available to comfort kids zone. Among the listing pocket-friendly designs the stump house is also ranked. This can be easily constructed over the old tree stump, which is not too high from the ground level. The stump house designs are actually made of repurposed flat wooden straws. Such wooden pallets cost $30 which is not that expensive idea to innovate a playhouse design.
Despite this, you can comfort the stump house with other funky and luxurious items like carpets, cushions, pillows, stuff toys, cozy blankets, glittering Christmas lights, cartoon lampshades and more. Your kids will surely love to stay and play in this beautiful playhouse. It is simple yet will be memorable for your kids. It is easy to build and you can also get help from your little ones which also serves as your bonding moment with them.
Helpful Link: https://homesthetics.net/diy-playhouse-plans/
43) Playhouse by Rogue Engineer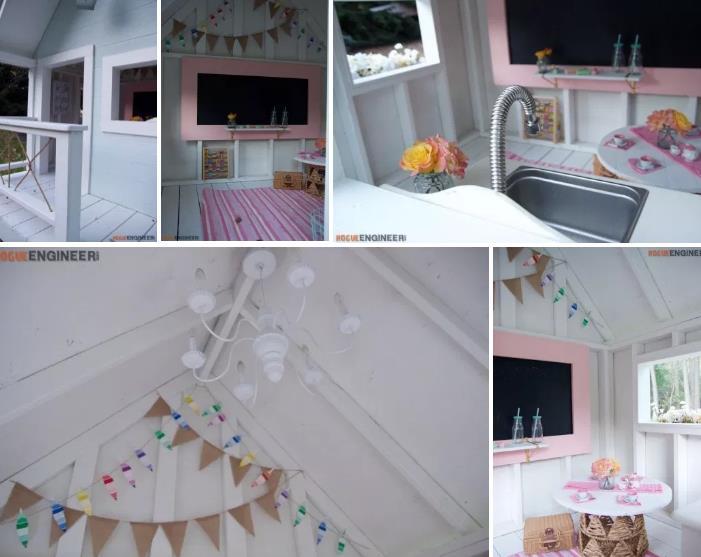 Playhouse is a dream castle for every daddy's little princess. Every girl is just fond of it, having such shiny memories later to share with other kids. There are various designs and techniques to construct a playhouse, but the best is when you can simply transport it to many locations nearby. It sounds challenging to design such kind of durable playhouse but yet easy. If you have innovative ideas, then you need to keep things prepared to construct a movable playhouse for your children. It should be cute, colorful, funky for little ones to play in.
The materials like the paint, the project idea with kids, favorite tones and interest can help you to build a new playhouse plan which is a durable and real-life playhouse. Many DIY video and designs will make you your children's best playhouse engineer that will also glance at your childhood.
Helpful Link: https://rogueengineer.com/diy-playhouse-plans/
Conclusion
A playhouse is a great place for children to play and explore the world. Building your own children's playhouse is a bonding experience for parents and children. You can choose from any of these playhouses or they can be s your basis for your next project. It is a good idea using the available materials you can find at home like old pallets, wood, boards, and other creative materials to make your playhouse unique and functional, allowing your kids to also enjoy the process. Your kids will surely love playing in a playhouse built by you!