41) Indoor rabbit hutch using IKEA furniture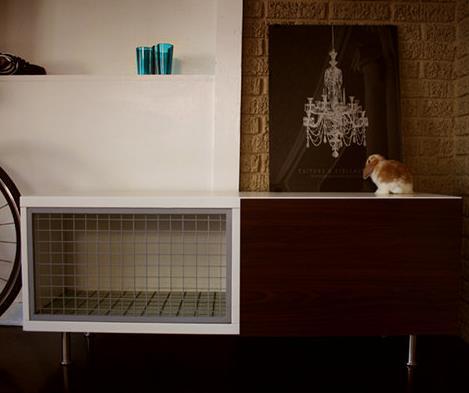 Since it's possible to make a rabbit hutch out of furniture, then why not use the same principle by buying lower-priced furniture and modifying them? This is exactly what the maker of this rabbit hutch did.
Although this can be considered as unconventional, it's still possible. After all, this method achieves the same purpose of eliminating the need to cut wooden pieces and binding them together just so you'll have a frame.
In this rabbit hutch plan, two furniture pieces are used, and those were bond together to serve as the open area and sleeping area of the pet. Because of this combination, the resulting rabbit hutch is spacious.
Instructions are easy to understand, as all of those are written in a few words or sentences. There are also accompanying photos so that readers can easily visualize how the rabbit hutch was made.
These points qualify it to become part of our list.
42) Lighted ceiling and tiled floors rabbit hutch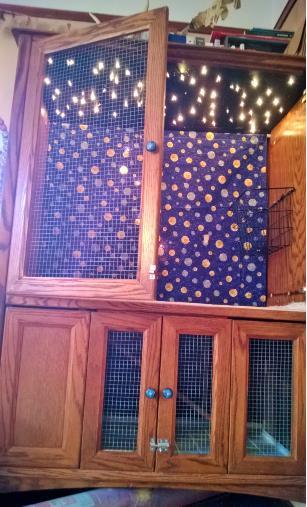 The rabbit hutch is technically a home to your rabbit. And even though they may not appreciate it, why not consider making it look like an actual house?
This is what the maker of this rabbit hutch did. Instead of keeping the repurposed closet plain-looking, lights are added and the floors are installed with tiles.
Since the time for building this rabbit hutch is significantly reduced because it uses an old drawer, the maker allotted that time into beautifying the rabbit hutch instead.
In the website, the process has been laid out by telling the story of how it came to look as such. Those instructions were further supplemented because of the photos for each step that the maker took.
Aside from the aesthetics of the rabbit hutch, the rabbit is also provided with enough room where it can hop around.
A complete package that deserves to be mentioned in our list.
Conclusion
What do you think of our compilation of rabbit hutch DIY plans? If you're new to woodworking and would like to start on a small project first before doing new ones, then making a rabbit hutch is for you.
Rabbits are furry and adorable creatures that kids will love. Plus, they don't pose a threat to children because they don't have claws or sharp teeth that can hurt them.
In fact, rabbits are considered peaceful animals and are not that difficult to take care of. Just one of the many reasons to take care of one and, of course, make a rabbit hutch.
Did you find a rabbit hutch plan that you think you can start right away? Or is there a design that you'd like to try out and check if your woodworking skills have improved?
No matter what your goal is, we're sure that you will find the rabbit hutch plan that will challenge you. You can even try out other styles if you want to further improve on your skill.
Feel free to share this with friends or other people who you think are interested in woodworking or are in need of a rabbit hutch ASAP.
If there's anything that you'd like to share with us about this list, we want to hear your thoughts. And you can do that by leaving your comments below.