21) Indoor rabbit hutch on wheels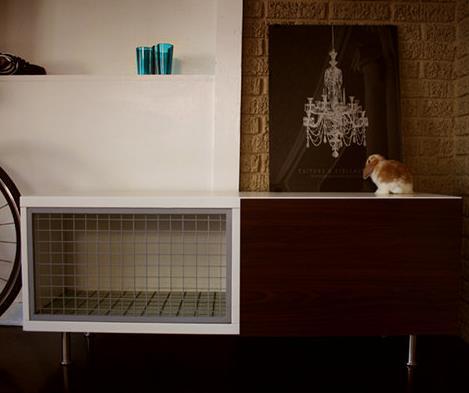 If you are not that comfortable with your rabbit hutch being outside the house, then consider making one fit for the indoors. This is the plan that will work for you.
What makes this hutch plan unique is the installation of wheels. This makes it easier even for kids to move the rabbit hutch inside the house, as there's no need to lift it up.
Another noticeable difference of this hutch plan is that there are two doors which the pet owner can access. It can be opened from the top, and it can be opened from the side in case the rabbit is inside the hole and you want to let it out.
The hutch is also fashioned to look like a cart, as there's a handle found on the side.
With the help of the instructions found on the website, even newbies can easily make this rabbit hutch.
22) Movable rabbit hutch with a bottom compartment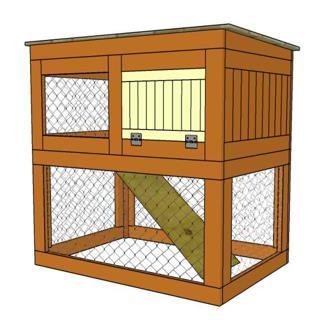 Rabbits want to feel the cool air breeze, which is why their hutches are best located outdoors. However, hutches can be difficult to move because of their weight.
With this rabbit hutch plan, that problem is alleviated.
Compared to other rabbit hutches, this one has no fixed floor. Though that's just one piece of wood removed, it makes lifting the hutch and moving it a little bit easier.
This rabbit hutch also makes cleaning easier. Not only does it eliminate the need for a litter box, their droppings are also headed straight to the soil. Now you have a natural fertilizer.
The instructions found on the website are not difficult to understand. You can also be sure that the wood will be cut correctly, as it specifies the sizes and the number of pieces needed to make the whole hutch.
All these qualify it to be part of our list.
23) Triangular rabbit hutch that's easy to move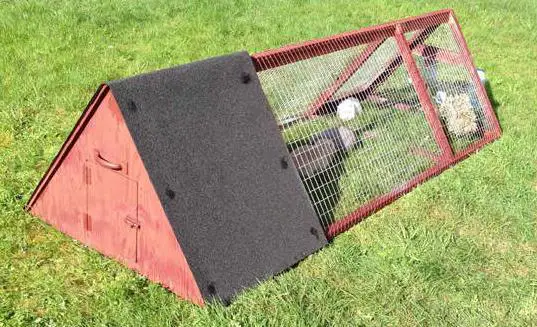 This plan is similar to what was featured earlier because it's movable. If you want a rabbit hutch with a different shape, this is worth making.
With this rabbit hutch, the pets are given enough space to hop around. It's also enjoyable for them to hop on soil and grass, giving them a more natural environment.
The rabbits are provided with a small shelter where they can hide in case the temperature becomes too hot or cold, or if they just want to get some sleep.
There's also a handle that can be seen at the back of the shelter. Not only can this be used to drag the whole hutch from place to place, but it also serves as a door in case you need to get the rabbits out or give them food even if they're inside.
With its unique design, this deserves to be on our list.
http://design.medeek.com/gallery/RH3080_COPALIS_2013/RH3080_COPALIS_2013.html
24) Small and secure triangular hutch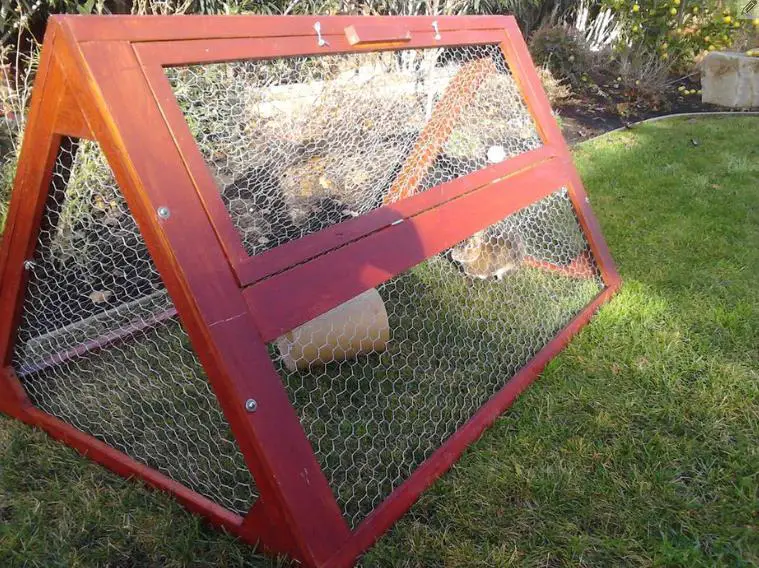 If one of your problems when opening the door of your rabbit hutch is that they can get out of it easily, then you'll have to make this cage.
This rabbit hutch look similar to the other movable hutches featured earlier. However, what makes it unique from others is that it prevents your pet from escaping once you open the door.
Since the opening to the cage is at the upper half of its longer side, it's highly impossible for the rabbit to get out. Now, even kids can be given the task of feeding the pet without worrying that the rabbit can hop away.
The step-by-step guide on the website may be short, but photos serve as a supplement so that anyone can still make it even if the instructions are somewhat lacking.
Its unique shape and door are more than enough for this to become part of our list.
https://www.instructables.com/id/Knockdown-outdoor-rabbit-tractor/
25) Mobile rabbit hutch inside your home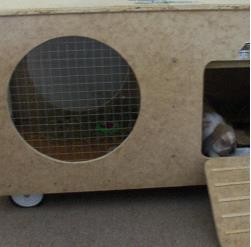 There are kids who just love pets and would want to be close to them wherever they are in the house. This rabbit hutch solves the problem of lifting the cage from one place to another, as it can simply be rolled around.
This tutorial provided all possible detail when it comes to the sizes of the wood needed for this rabbit hutch.
For their separate page on how the hutch can be made, the instructions are simple, and it only takes 5 steps to make this kind of rabbit hutch. This simplified version will surely appeal to new woodworkers.
Being fashioned similar to a cart is also appealing to young children. It allows them to play pretend of shopping in a store while they are with their pet.
As a rabbit hutch that's easy to make and is friendly to kids, this deserves to be featured in our list.
https://www.buildeazy.com/newplans/rabbit_hutch_plans.html
https://www.buildeazy.com/newplans/rabbit_hutch_instructions.html
26) Rabbit hutch tutorial for the detail-oriented woodworker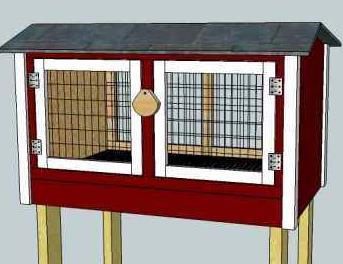 Some woodworkers don't want to start working on a project unless they have the complete details. This rabbit hutch plan will appeal to them.
What makes this tutorial rich with detail is that starting from the materials list, it already points out the specifics. It provides the quantity, material description, the size of each piece, and what the material should be made of – which is something that not all tutorials provide.
The diagram provided after discussing each step is also helpful. It shows how the materials needed for that step should be assembled, which ensures that it will be done correctly.
The instructions for each step are indeed short, but all of those are straight to the point. Even those who are new to the craft can follow the steps and construct the rabbit hutch how it is intended to be.
All those points qualify it in our list.
http://www.woodworkingsiteonline.com/free-rabbit-hutch-woodworking-plan.html
27) Basic rabbit hutch plan and the science behind it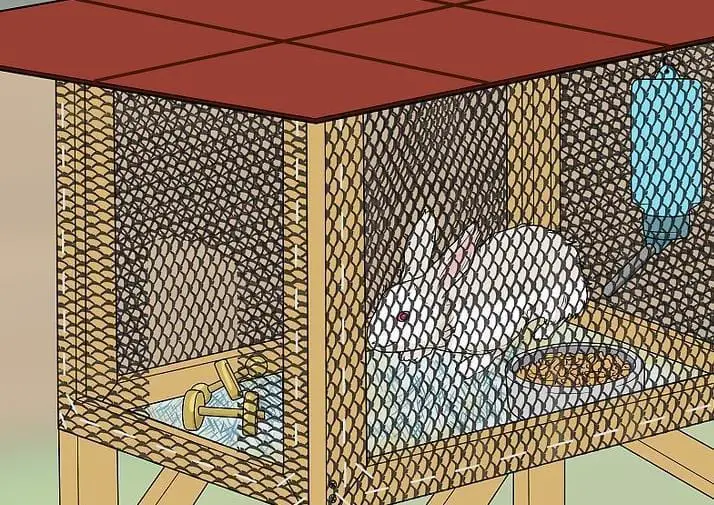 This Wikihow tutorial for building a rabbit hutch is basic, but it deserves a spot in our list. It provides way more information than anyone can ask for, and that is always appreciated.
One of the things that stood out in this tutorial is that they provided important tips so that you can make the best rabbit hutch for your pet. Aside from the actual step on how to make the cage, bullet points which could be helpful when building it are also provided.
Let's take the size of the rabbit hutch as an example. According to them, the size of the cage should depend on the size of the rabbit.
This detail isn't accounted for in many tutorials. And should be followed so that your pet is comfortable.
With these golden nuggets of information spread around the tutorial, there's no reason for it to be excluded from our list. 
https://www.wikihow.com/Build-a-Rabbit-Hutch
28) Turn your end table into a rabbit hutch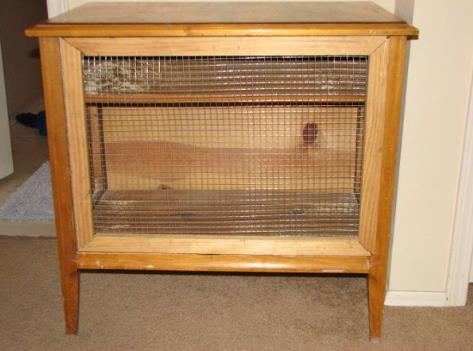 Having just the basic tools in woodworking is not a hindrance to creating a project. In fact, in this rabbit hutch plan, you can finish the project with just the basic tools and an old end table (or any wooden box for that matter).
Since there is no need for you to buy any piece of wood, the cost of this project is significantly driven down. It also saves a decent amount of your time, as there's no need to cut wood.
Each step of the process is written as direct as possible, which is great for beginners. Huge photos are also provided for each step, and each of those photos somehow demonstrates how that step should be done.
Whether you'll place the rabbit hutch indoors or outdoors, your pet is perfectly safe. However, this hutch is not suitable if you're planning to take care of more than one rabbit.
https://www.instructables.com/id/Convert-End-Table-to-Rabbit-Hutch/
29) Outdoor rabbit condo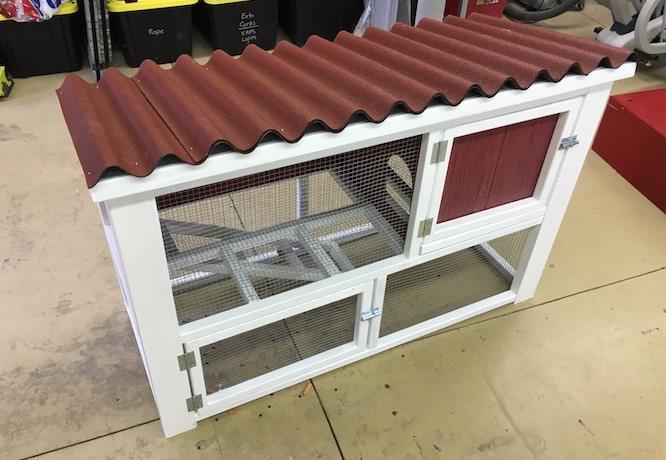 Rabbits enjoy having a wide space where they can move around. They also enjoy the outdoors and feel the fresh air.
With this rabbit hutch, it's possible for your pet to enjoy both the outdoors while they stay protected from predators.
The tutorial for this rabbit hutch gives you almost every bit of information needed to build it correctly. It enumerates not only the tools needed for construction but also provides photos or templates on how the wood should be cut.
The steps for making the hutch is also easy to understand. Rather than have separate instructions and photos for each step, both are combined in one diagram.
The actual photo of the rabbit hutch is also provided along with the diagram. This makes it even easier to visualize how it should look like after following that step.
With its unique presentation, this tutorial should be mentioned in our list.
30) General rabbit hutch guide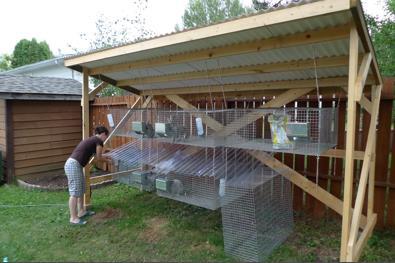 If you are planning to breed rabbits or take care of a lot of them, then this will be a helpful guide for you.
The website provided a more general way of making your own rabbit hutch. Although the instructions they provided are easy to understand, it does not explicitly state how each of the steps should be done.
But despite that general instruction, they still deserve to be part of our list. That's because of the numerous tips that they've provided so that one can make the best possible rabbit hutch.
Knowing what should be kept in mind in making a rabbit hutch is as important as the instructions.
While the instructions that were mentioned in the website is given if you're planning to make a hutch mostly made of wire, wood can still be used. Simply modify the sizes and take note of their reminders before construction.
http://www.crossroadsrabbitry.com/building-a-rabbit-hutches/