11) DIY elevated rabbit hutch
Since rabbits are quite vulnerable and cannot defend themselves in case there are predators, it would be best to make a rabbit hutch that is elevated. Doing this can minimize the chances of your pets being attacked.
This is exactly what this rabbit hutch can achieve. The cages are placed on top of the base height, keeping them safe from potential attackers.
The maker of this rabbit hutch plan wanted to keep it simple but complete. The instructions provided are short and easy to understand and did not skip on important details such as the measurement for each wood piece.
Diagrams are also provided so that one can imagine how the cage should look like if constructed properly. There is also a video that can be consulted so that the project can be done correctly.
All of these are enough for this tutorial to be mentioned in our list.
http://www.simplyeasydiy.com/2015/06/diy-rabbit-hutch.html
12) Pallet rabbit hutch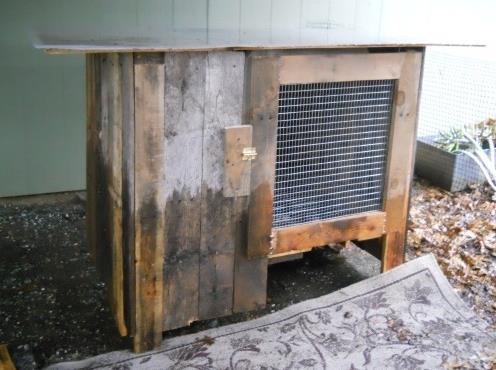 For those who don't want to (or cannot) spend money just to buy materials needed for making a rabbit hutch, then this tutorial is for you.
You can get pallet wood for free if you ask establishments, or it can even be sold for a cheap price just so it can be removed from their stock room. You can also count on the sturdiness of this material, as it is commonly used for storing and supporting a heavy load.
Pallet wood is already cut, and it's even possible that it's cut based on the size that you want to. This eliminates the needed for cutting it and just get started with the process.
Though instructions aren't too formal, the maker still discussed what he did so as to get each part of the hutch done. Pictures for each step are provided, serving as a reference for how the rabbit hutch should look.
https://www.motherearthnews.com/homesteading-and-livestock/diy-rabbit-hutch-from-wood-pallets
https://fmicrofarm.wordpress.com/2012/12/22/diy-pallet-rabbit-hutch-full-tutorial/
13) Rabbit hutch or thin materials
If the wood is quite limited in your area, consider using an alternate material such as PVC to make your rabbit hutch. The material may be thin, but it has enough strength to house your rabbits.
What's good about this rabbit hutch is that it can be used to contain four to six cages. The two extra hutches can be used as a "quarantine area" if ever some of your pets are sick.
The tutorial not only provided the steps in making the hutch; it also gave the cut list for the PVC. This makes it possible for you to substitute PVC for wood if you want to, as you simply need to follow the sizes and change it a bit so that it will look like the PVC rabbit hutch.
Despite the thin material, this hutch is still usable and sturdy. This quality deserves to be mentioned in our list.
https://besurvival.com/homesteading/rabbit-hutch-plans-part-one-how-to-build-and-assemble-a-pvc-rabbit-hutch-and-cages
14) Rabbit hutch with an A-frame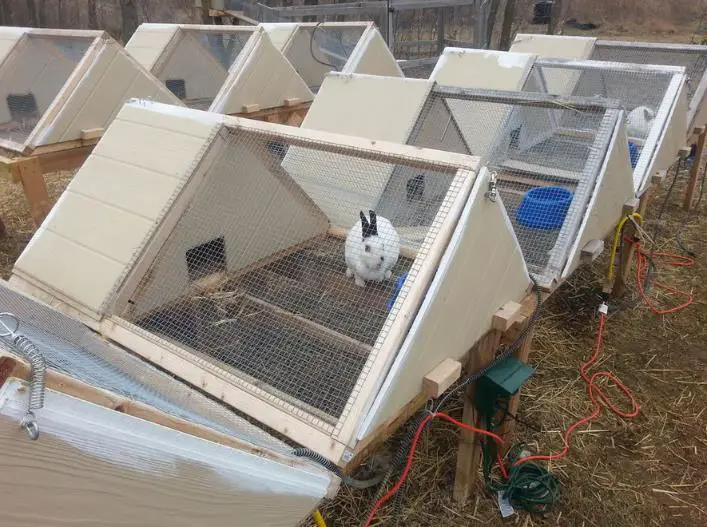 Tired of the usual square or rectangle rabbit hutch shape? Then consider making one that is shaped like the letter A.
Despite the noticeable difference in the appearance of the hutch, one can be sure that their pets are well-protected inside.
One noticeable thing about this hutch is that about 2/3 of the cage is exposed. This is beneficial for the rabbits during the summer months, as they are able to enjoy the cool breeze more.
This hutch also allows for a small covered space where the rabbit can sleep for the night or hide when it's cold or raining.
The hutch isn't difficult to make, as it uses less wood compared to its square or rectangle counterparts. And since less wood is needed, this rabbit hutch may be easier to move from one area to another.
With all these positive points, this rabbit hutch plan deserves to be featured on our list.
https://www.instructables.com/id/Super-great-A-frame-rabbit-hutch/
15) Rabbit hutch inside your home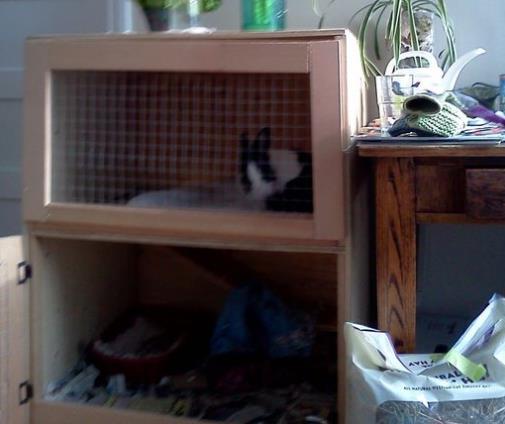 If you are the type of rabbit owner who wants their pet inside the cage but cannot stand leaving them outside, then consider making this indoor rabbit hutch.
Although this rabbit hutch looks the same with others that have already been featured in this list, what makes it unique from the rest is that it was made to be a rabbit condo.
Inside the cage, there is a ramp and a hole that the rabbit can use to get from the bottom cage to the top one. This is a great way to get your rabbit moving even if it's inside a small space.
Even beginners can make this rabbit hutch. Each step is explained in a manner that is easy to understand and is accompanied by pictures so that one can easily imagine how the cage should look like.
Those points are enough for it to be included in our list.
https://www.instructables.com/id/Build-an-indoor-rabbit-cage/
16) Converting a shelf into a rabbit hutch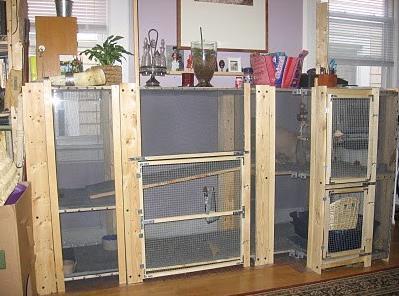 Do you have unused wooden shelves in your attic and you have no idea how you can use it? Then this is the perfect solution!
You'll be re-purposing a shelf, so you won't need to buy a lot of materials. Though you might need some parts of the shelf to be cut to size, it's still better than starting from scratch.
Since most shelves are spacious and have several compartments, this will surely give your pet a much bigger space to walk around and stretch. It also allows them to move from one "floor" to another using the ramps.
The instructions for this rabbit hutch plan are short compared to hutches made from scratch. However, it did not skip on important details such as the size of each part of the hutch so that it can be constructed correctly.
This idea of re-purposing deserves to be part of our list.
17) An old dresser makes the ideal rabbit hutch
The dresser may not be that spacious compared to a shelf, but it can also be re-purposed to become a rabbit hutch. That's exactly what the maker of this rabbit hutch plan did.
Since you'll be re-purposing an old wooden dresser, there's no need to buy lots of wood. In fact, it's even possible that you'll be removing some parts of the dresser to make the hutch – and those parts can be modified and used in making the cage or on any other project!
Instructions on how to make this rabbit hutch are presented in a way that she is relaying her story.
The maker ensured that the pet's droppings will all be in one place – that makes it easy to clean and prevents the rabbit from getting into the litter box. The hutch also has three levels, giving the rabbit enough room to move and hop around.
18) Combining PVC and wood to make a rabbit hutch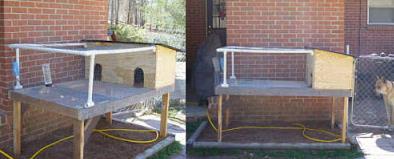 Have just enough wood to make a small covered area for your rabbit but you want a spacious rabbit hutch? Check out this plan!
The maker of this rabbit hutch made use of a PVC pipe that can be used as an anchor for the wire and protect the pet. Since limited wood is available, he made use of that precious material to build his pet an area that can serve as a more secure shelter in case of extreme temperatures.
As for the instructions found on the website, each step is presented in a manner that's easy to understand. No jargon is mentioned for each step, and the specifics such as the sizes for the wood or the pipe are also provided.
The rabbit hutch is also protected because it's placed in the high ground.
With all these positive points, it deserves to be mentioned in our list.
http://house-for-rabbit.blogspot.com/2013/01/build-rabbit-hutch-plans.html
19) Nicely made rabbit hutch
If you have some spare time and sources to construct a rabbit hutch that is not only spacious but also looks like it was done by a professional, then considers following this rabbit hutch plan.
What's great about this rabbit hutch is that the doors open to the side, and not to the top. While that's a minor difference, it is significant if your children want to handle the rabbits, as holding it can be challenging and even cause injuries.
The elevated rabbit hutch also enables the collection of their droppings, which serve as a good fertilizer.
As for the instructions, they are written in short sentences. This makes it easy even for beginners in woodworking to understand and follow each step.
The photos for each step is also appreciated. In case you can't follow using the verbal instruction, simply make the rabbit hutch look like what's in the photo.
https://www.instructables.com/id/Kid-Friendly-Rabbit-Hotel/
20) Small rabbit hutch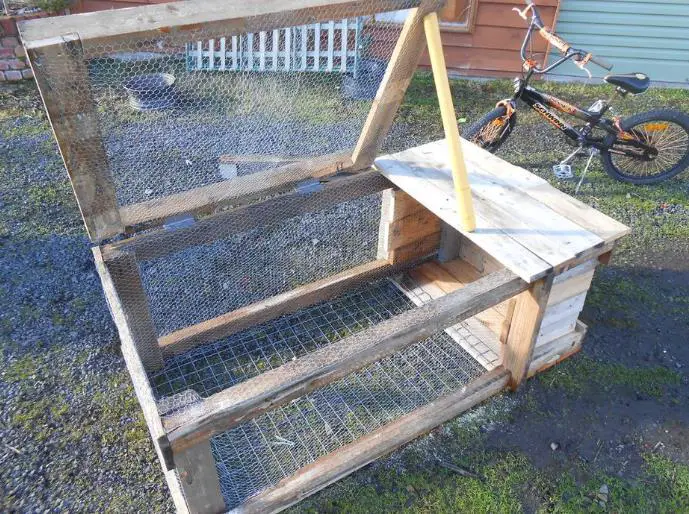 Whether you don't have enough space in your house or you simply don't want to make a huge rabbit hutch, this plan is for you.
Since only a few pieces of wood are needed to make this project, less money is spent on materials. The few requirements make this friendly to beginners who want to make a rabbit hutch.
Each step in the tutorial is clear and easy to follow. The maker also took photos for each step and provided important details such as how the wood should be cut.
One advantage of using this kind of rabbit hutch is that you can open it from the top. This will give your hand enough space to pick up your pet.
There's also an area in the rabbit hutch where your pet can take refuge in case of unfavorable weather such as a rain.
All of these only lead to one thing – this being included in our list.
https://www.instructables.com/id/Building-a-small-rabbit-hutch/