31) Step-by-Step Shed House
We all agree that this step-by-step shed house tutorial is one of the most explicit examples of a DIY shed plan, which we managed to come across while hunting for the best shed plans online.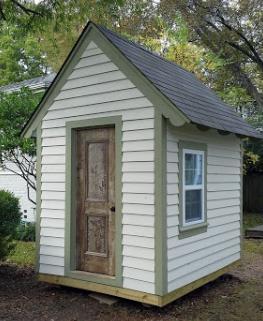 Besides the video tutorial which goes into precise details, you can also find written, easy-to-apply instructions listed for free, as well. Personally, the only downside I find to this particular shed house, is that this build is not the type which you would wish to accomplish if you don't want to study every tiny step of the process.
With that in mind, beginners might also find this tutorial a bit too detailed and, hence) complicated, than necessary. Plus, this shed is a very ambitious one in terms of size if you are not very well-experienced with DIY projects, and especially when it comes to working with wood.
32) Wooden Base Shed
When it comes to constructing a shed yourself, the base is one of the most crucial parts of the process. Many DIY sheds are created by utilizing concrete as the major material for the foundations.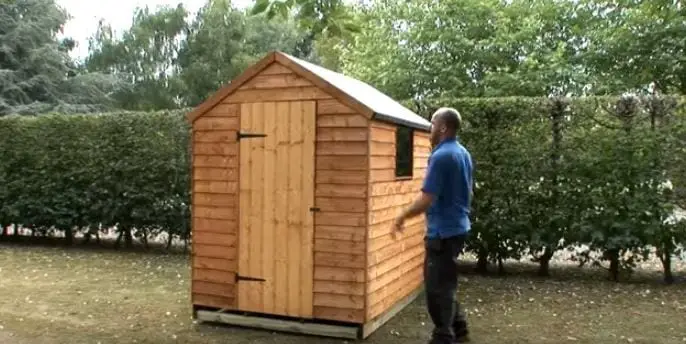 However, a wooden base shed is also a wonderful alternative, which also speeds up the building process since there is no need to wait as with concrete. Keep in mind, though, that if you happen to live in a particular region where termites are wide-spread, it might be a much better idea to opt for a concrete base shed to stay away from issues.
But in the case you can construct a shed which will fit to your needs and demands while opting for a wooden base, we believe this extremely easy-to-digest, comprehensive video tutorial will be of great help to succeed with your plans, even if you are still a beginner. 
33) DIY Firewood Shed
We were fascinated to stumble across this DIY firewood shed because of the fact this build plan can be entirely accomplished by yourself. That's fantastic news for DIYers who might be just starting with their DIY journey, and cannot call themselves professional carpenters.
Moreover, we believe this is a suitable DIY project for more experienced woodworking enthusiasts, as well, as it can save you time and will not break the bank. Personally, I was impressed with the smart and extremely beginner-friendly design of the foundation of this shed.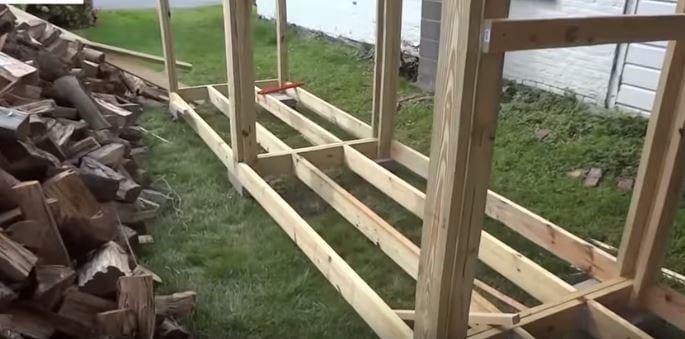 When I was starting to build my first DIY shed, I had terrible issues with the construction of the base. In fact, I think the base took much more of my time than any other part of the construction process. Another advantage we find to this DIY firewood shed is the fact that you can easily customize the design to make it a good fit for your personal preferences.
34) 12×12 Storage Shed
This 12×12 storage shed grabbed our team's attention for the intricate step-by-step guidance provided in the video tutorial, which moves you through each step of the construction process.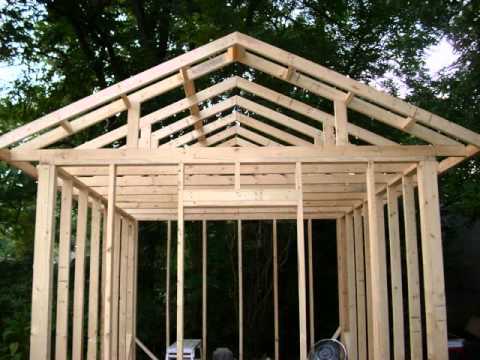 However, keep in mind that no additional build plans are provided, and we also couldn't access a full list of the materials and tools, as well as a precise cut list for the construction of this shed. But that doesn't mean this 12×12 storage shed will not give you tons of wonderful ideas you can implement to your shed build, too.
It is important to take into consideration the lack of extra explanations in the case you are still a beginner and you are on the search for a comprehensive, full list of construction tips and details.
But on another note, if you have at least some prior experience working with wood, even if you cannot call yourself a professional, we believe you will find this 12×12 storage shed tutorial useful, practical, and easy-to-apply.
35) One-man Shed Build
We find this one-man shed build an impressive and easy-to-digest tutorial. For the construction of this shed, Thomas Jacobs took advantage of some extra help only when it comes to pouring the foundations, installing the lift door, as well as the electricity in the shed.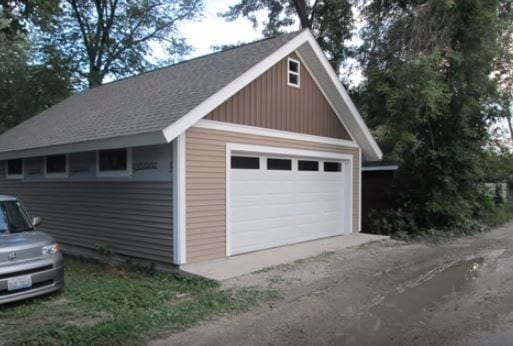 This project was completed over a several months but if you are willing to accomplish it faster, this is completely achievable. The slab for this particular shed is 22 x 30 feet, however, you can always choose to adjust these dimensions.
The overall size of the shed is 22' x 30' in 10' x 12' sections. Personally, I enjoy very much the idea of the brace Thomas utilized to help line up the 2 x 6's and hold these in place. Nevertheless, I like how he makes framing look extremely easy with the multiple photos of the project in motion.
36) Garden Office Shed
We love the simplicity of the design of this so-called Garden Office shed, which was completed by Angus McGregor all by himself, apart from the certification of the electric system, as well as the final fix, for both of which he got some additional help by experts.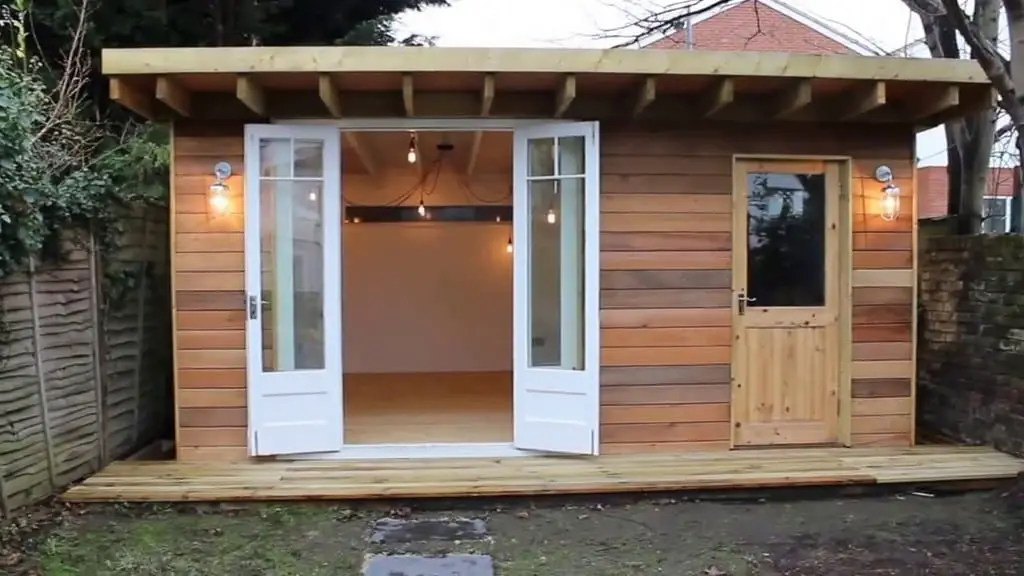 We also appreciate the fantastic ideas he shares for collecting cheap timber, such as some second-hand maple cladding from eBay. On another note, this project took Angus 9 months to accomplish; however, he also takes into account the fact that he only worked on this shed build during his spare time and wasn't in a hurry.
With that in mind, we think this project can be finished within as little as 3 months, or even less, depending on your level of experience, as well as the time you are willing to spend on the project in order to make things happen faster.
37) Incredible Pallet Shed
We couldn't think of  a better way to describe this pallet shed, than calling it an incredible one as it is created by utilizing extremely affordable and non-pretentious materials. These include pallets and old water tanks.
The pallets are used for the construction of the walls, as well as the floors, while the water tanks serve for constructing the dome roof by being cut in half. When it comes to the time you will need to accomplish this DIY project, depending on your level of experience, as well as spare time you can put into the build, it can take you anything from just a single week to a month or so to finish the pallet shed.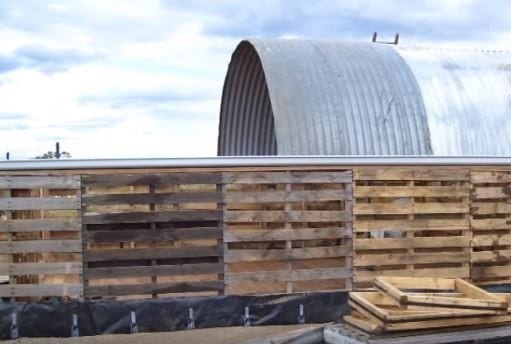 We highly appreciate that this pallet shed was constructed with the use of recycled materials but if you cannot utilize scavenged wood for the purpose of building this shed, you can always opt for whatever materials you find appropriate.
38) Big Storage Shed
We'd like to begin the introduction of this big storage shed plan by putting a focus on the fact that the video tutorial can be a wonderful source of inspiration for those of you who have at least some prior experience working with wood and accomplishing DIY builds predominantly by themselves.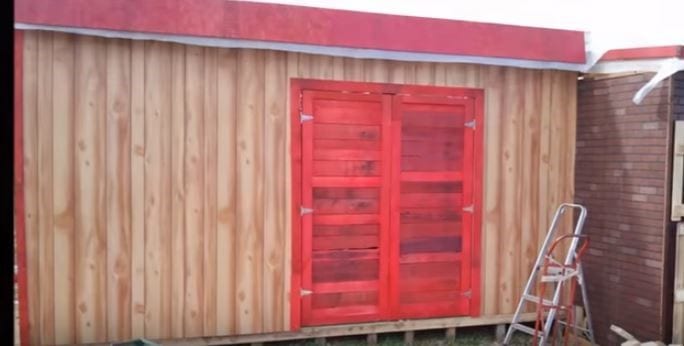 In the case you are still a newbie DIYers, the video tutorial will not give you a reliable how-to approach for the build of this shed. That's because additional build plans are lacking, there is no list of the cut list or materials and tools used, and the video tutorial puts a highlight on the major construction plan of this shed.
With this in mind, those of you looking for fine ideas to implement to their DIY shed, this big storage shed features some decent steps you may also wish to explore and apply. 
39) Colorful and Easy DIY Pallet Shed
What we like so much about this DIY shed plan is not merely the ease of the construction which one can accomplish with simple tools and materials. Moreover, we love that working with pallets allows you to customize the design of the shed as to make it a suitable fit for your personal needs.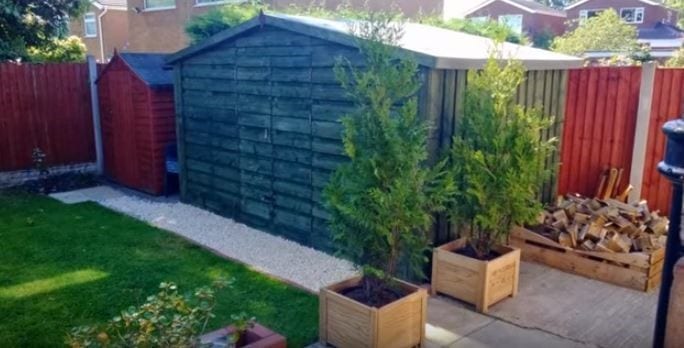 Nevertheless, we highly appreciate the creativity which is applied for this build, as the pallets are painted in an emerald shade of green which give off a particular charm to the shed. However, we also find a downside to this project which comes from the fact the video tutorial is a very basic one and additional build plans are not listed.
On another note, when it comes to working with pallets, a huge part of the build process is all on your imagination. Thus, even if you are a beginner, you can still find the easy DIY pallet shed plan a comprehensive one top help you on your quest.
40) High-quality Pallet Shed
This high-quality pallet shed is a suitable DIY project for both beginners, as well as the more experienced DIYers out there, as it utilized pallets without the need for additional dismantling.
OSB is utilized for the insulation of the floors and walls, which is a wonderful option for those who cannot or do not want to spend too much time with complex constructions.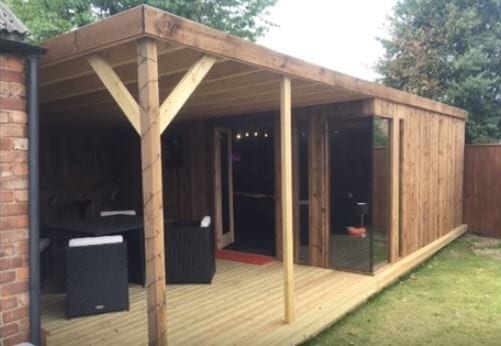 However, it is important to mention that there are no build plans available so you will have to rely solely on the guidance provided in the video tutorial, which is also a bit limited, as no precise cut, tools, and materials list is added for our convenience.
But then again, as far as working with pallets is concerned, you have a big freedom of choice as to make the project a perfect match for your needs. Personally, I am a fan of the shed floor which is made by utilizing concrete blocks, which are very easy to work with.