41) 10×12 Beginner-friendly Barn Style Shed
While calling this 10×12 barn style shed a beginner-friendly one does not mean you do not need to challenge the carpenter inside you in order to complete this build successfully, we do appreciate the fact that the design of this shed is much less complex than many other alternatives you may come across.
Personally, I got very fond of the gravel foundation, which is one of the best options for those of you who happen to live in regions where humidity is high and/or rains are heavy, tending to cause issues with traditional wooden shed bases.
When it comes to the approximate costs of this DIY project, these are estimated at about $1500, which includes roofing, flooring, and siding. Keep in mind that this barn style shed is not the most suitable project if you are planning to accomplish it all by yourself. Some extra help from friends and family would be more than welcome.
42) 16' x 32' Two Story Shed
We can't possibly refer to this 16' x 32' two-story shed by calling it anything less than simply excellent. This type of shed design can give you the mind-blowing 1024 square foot of extra storage space. When you first take a look at the design of this build, you may easily fall into the delusion that this is not a project you can accomplish by yourself.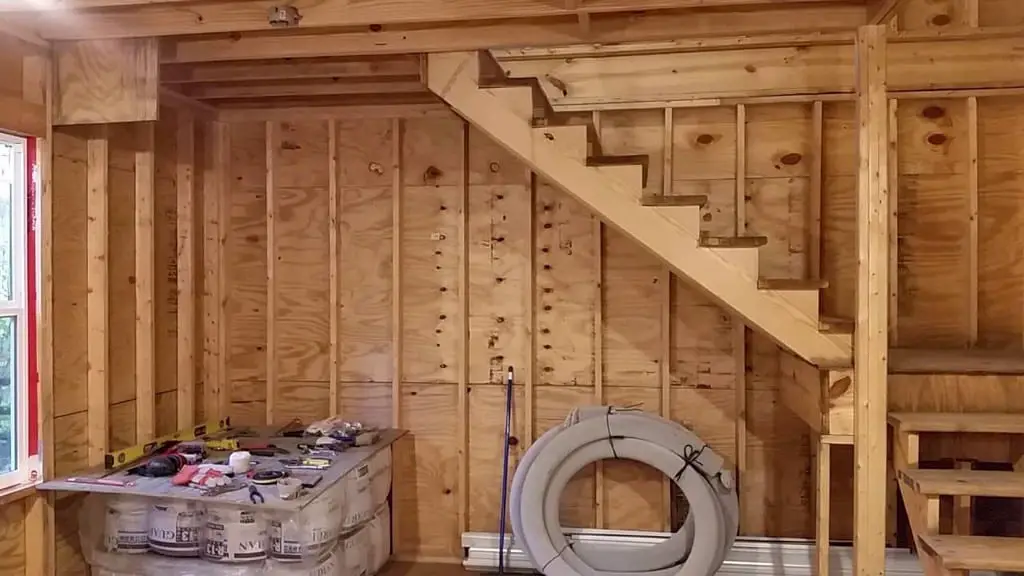 However, this is entirely possible, although as Ed List) maker of this two-story shed beauty shares, he got some extra help for the hanging of the exterior plywood, setting up the roof rafters, as well as applying the house wrap.
Personally, I love the 9 foot ceilings of the garage loft as I have always felt awfully bad when having to face low ceilings being a tall person myself. On another note, one of the disadvantages of this shed is the fact no build plans are available.
43) 10 x 12 Barn Style Shed with Loft
We think this 10×12 barn style shed with loft is an excellent choice for those of you who want to maximize their storage space while not having to comply with building a wide foundation, as the charm and elegance of this shed hides in the tall height rather than big width.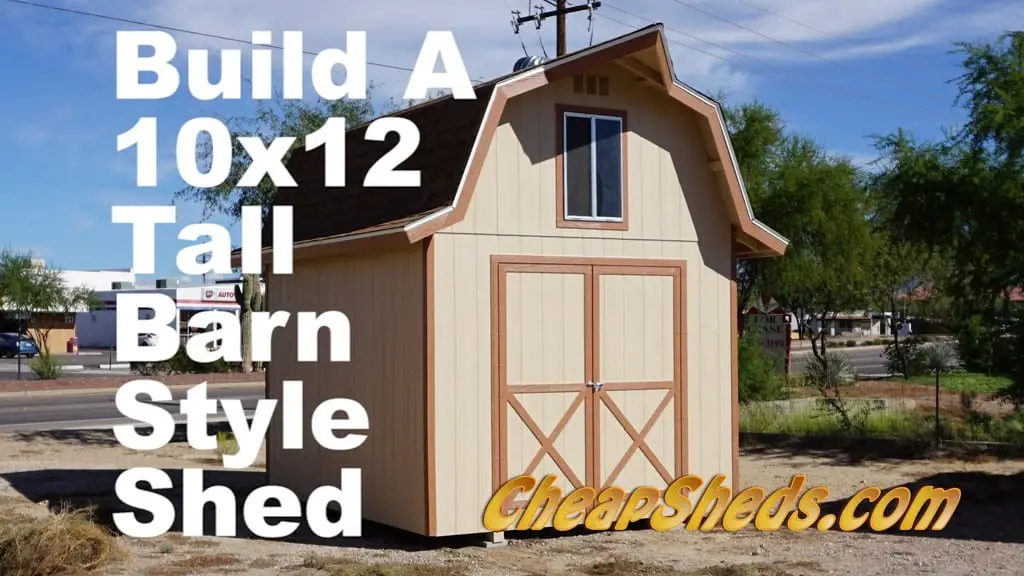 This shed is 12 inches of overhang on both sides. Personally, I love the double doors as this allows you to enter and/or exit effortlessly even if you have to make room for heavy equipment, which can often be an issue if the doors of your shed are tiny in size.
Nevertheless, we think the video tutorial is simply excellent as it guides you through all the steps of the construction. Build plans are also available, so we believe this DIY shed truly deserves our team's thumbs up, being constructed with a mind to both beginners and the more experienced DIYers.
44) 10 x 10 Mini Barn Shed
This 10 x 10 mini barn shed managed to impress us with the easy to customize design. But moreover, we find the foundation design of this shed a very smart one, which is both cost-effective and beginner-friendly. It doesn't involve setting a gravel base with all the precise and often confusing leveling which needs to be accomplished. Instead, the base of this shed is constructed by simply digging four post holes, and then building on top of these.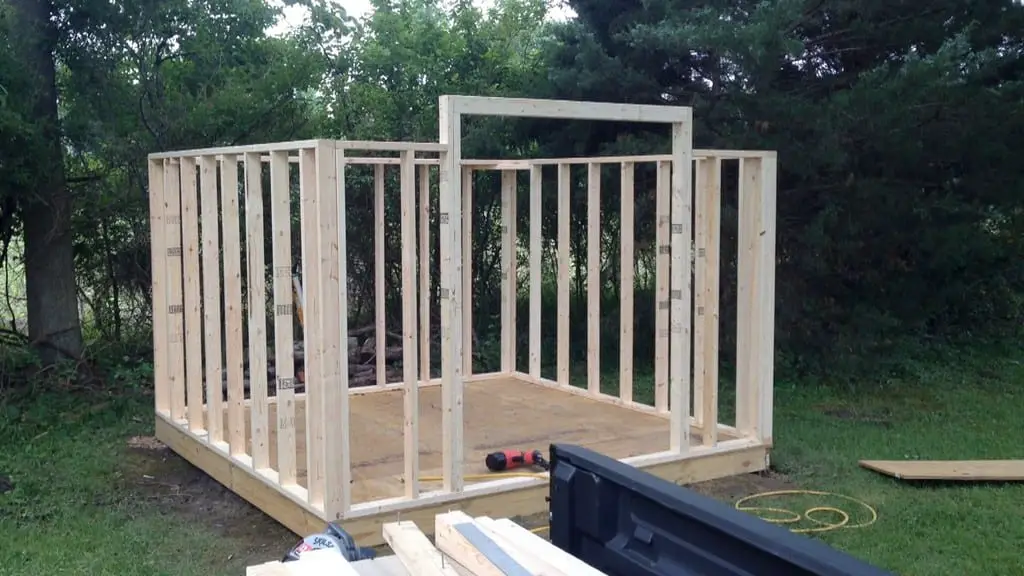 The compact dimensions of this shed allow you to place the 2×6's 12''on center. Meanwhile, it is easy to adjust those dimensions as to match your personal preferences.
Being less than 200 square feet in its original size of 10×10, this shed is spacious on the inside and welcoming on the outside, so we cannot hide we like both of these features equally.  The video tutorial guides you through all of the steps during the building process.
45) Pallet Wood Cabin Shed
Before adding this pallet wood cabin shed to this list, we must admit that we have undergone some debates. That's because this is not the ordinary shed project most of us think of when it's time to pull up our sleeves and finally start building the shed we want to have available.
But on another note, we also keep into consideration the fact that constructing a shed has much more to do with your imagination than simply finding and following a particular plan step-by-step. We found tons of useful ideas in the video tutorial which shows the complete build of this pallet wood cabin shed.
Personally, I was impressed with the way the pallets have been dismantled without the use of a sawmill but only with the labor of the two dedicated DIYers who created the video. We truly believe you can find priceless ideas after exploring this wood cabin project.
46) $500 DIY Shed
I don't know how you feel about spending money on DIY projects but as far as I am concerned, one of my favorite parts is to find cheap deals, cool tricks, and awesome brilliant insights I borrow from fellows DIYers.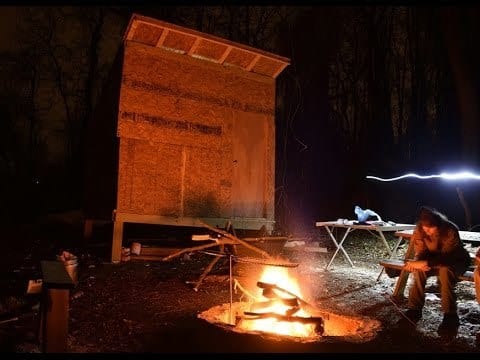 I guess to me, this is just a beautiful part of being a DIY enthusiast and aficionado. And that's also the major reason why we knew this cheap, $500-$700 DIY shed deserves to find a place in our compilation.
Keep in mind that the video is done through time-lapse, so you can harvest some nice ideas to apply to your DIY project. However, this is not the best shed plan for those of you who wish to find a reliable, step-by-step instruction list of the build, including the precise dimensions, cut list, materials, and tools used.
47) The Ultimate Wooden Shed
We agree that this wooden shed deserves to be named the ultimate one because of its extreme durability and high-quality design, which is made with mind for the perfect insulation of the shed from harsh conditions. We also found shed plans available for this particular model.
More importantly, these plans can be customized to construct this ultimate wooden shed based on your personal needs. In fact, this shed is available in 10 different sizes, which is very convenient to help you check out the ones which will be the best match for you.
Personally, I love the so-called solid sheet floor which is great for storing things like shoes and lightweight equipment without spending a fortune on the floors. On another note, the roof is constructed to be thicker and stronger than most average DIYers would go for. However, if you are still novice to woodworking, we don't think this is the best shed build plan you might be looking for.
48) Simple and Affordable Garden Shed
We felt so happy to stumble across this simple and affordable garden shed because the video tutorial goes through the entire build process without making you feel even the least tensed.
Even though there are no list of the cut list, materials and/or tools you will need, as well as the exact dimensions or average costs of this DIY project, we still find it extremely helpful for those who are on the search for inspiration and easy-to-digest free videos of DIY shed plans.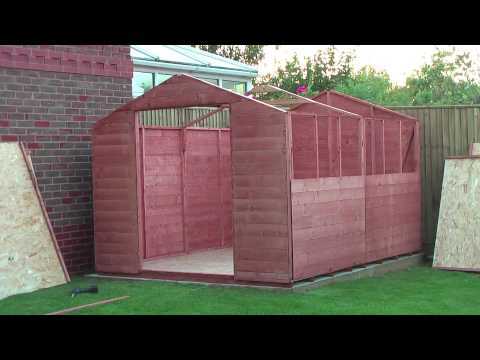 On another note, we also think it is inspiring to see DIY couples who work in harmony, as this always gives you the much-needed gulp of motivation we often need so badly as DIYers. Keep in mind, though, that this garden shed is not built from scratch. Rather than this, the video documents the assembly of the shed.
49) Lean-to Style Storage Shed
This how-to style guide of building the lean-to style storage shed is a wonderful one to explore when you are on the search for a suitable shed model you would like to construct yourself.
We enjoyed the simplicity of the steps of the build, revealed in the video, but we also wish more details were provided as to help us gain a truly reliable understanding of the process. With that in mind, newbies might find this DIY storage shed tutorial insufficient in information which will help them start constructing a shed with confidence.
But then again, there are some pretty cool tips and ideas you may stumble across, so we think it might be worth taking a sneak peek. Personally, I am in love with the compact dimensions of this shed, as well as the high ceilings, and nonetheless) the simple but well-functioning double doors.
50) Barbeque Beach Shed Shack
We are so proud to list this barbeque beach shed shack as part of our list because we are huge aficionados of affordability, creativity, and out-of-the-box, easy-to-DIY designs. And this shack seems to combine all of these features.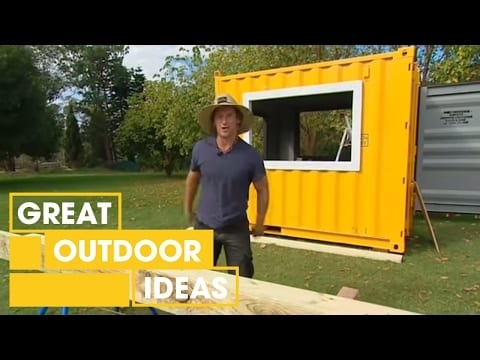 What makes this tiny gemstone stand apart from the rest on this list is the fact that it is constructed by repurposing an old shipping container.
What I personally adore is the old looks which are applied, making the tiny shed look like a rustic treasure. Although detailed build plans are not provided, we also don't seem to find these as any sort of a lack for us, DIYers.
The video goes into great detail when featuring the construction of this shed shack, so all that's left afterward, is to let your imagination run wild and find the best way to apply some or all of the tips provided when building the shed that will suit your needs.