51) Creative Shed
This shed design is an extremely artistic and creative one. That's not only because of the smart and vibrant features, such as small circular windows and the delightful porch but also because of the fact it is made of mostly up-cycled materials.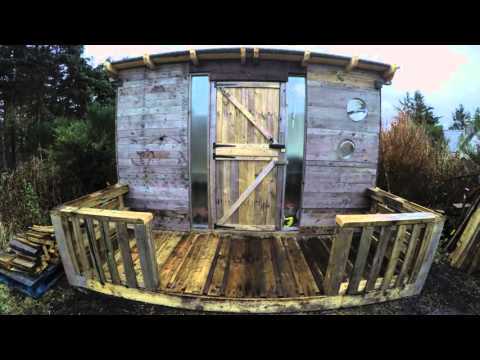 These include pallets, washing machines, sleepers, as well as kitchen worktops, among others. When it comes to the time it took the makers to complete this build, it may discourage some of the DIYers since it took about a fool year for the completion.
However, that was mostly because of the poor summer season. With this in mind, it is mostly up to your determination to be able to accomplish this project faster. Personally, I highly appreciate the fact that the roof is constructed with a mind for being wind and waterproof. However, you can always choose to apply a simpler roof design according to your needs.
52) Summer House Shed
This summer house shed is a magnificent source of inspiration for those of you who wish to build their DIY shed from scratch. However, this is a very personal decision, as you can also choose to accomplish the shed with recycled or store-bought materials, depending on your taste and personal preferences.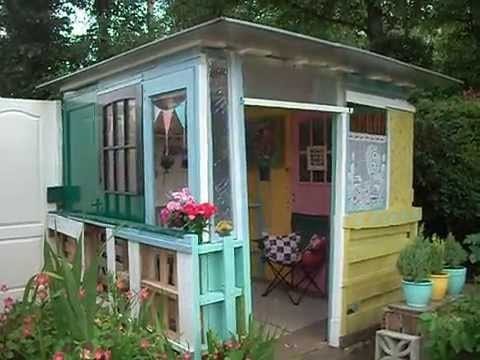 Keep in mind that the video does not provide step-by-step guidelines on constructing this tiny shed yourself but mostly gives you a sneak peek of the interior, including some useful tips from the maker.
Personally, I am determined to embrace the idea of possibly repurposing an old door I have left in my old shed for when the time is right to start constructing my next shed. Nevertheless, I find it charming to be able to utilize your shed as a summer house, although not all of us have access to the beautiful sea view that this shed allows you to enjoy.
53) Magical Bamboo Shed
Ever since I spent a lovely week in Bali, I've been thinking about the beauty of bamboo as a material which too many DIYers seem to underestimate, or simply never even take into consideration. However, this compilation of mesmerizing bamboo houses in Asia will hopefully give you another outlook on the advantages of bamboo for us, woodworking enthusiasts. Bamboo can allow you to escape straight lines and craft a shed which is curvy, twisted, and imagination alluring.
Personally, I am thinking of adding bamboo structures mostly on the outside of my next DIY shed, as I was dreaming of owning a shed which does not look boring or sad when you pass by it.
But instead, it can be a piece of art you add to your backyard.  However, keep in mind that bamboo will challenge the craftsmen inside you, so you can think of utilizing bamboo as a long-term investment for upgrading your skills and talents.
54) Wooden Cottage Leisure Hut Shed
This wooden cottage style leisure hut shed will tingle your imagination with its witty and neat design. Nevertheless, we almost found it hard to believe that it is constructed in as little as 4 hours.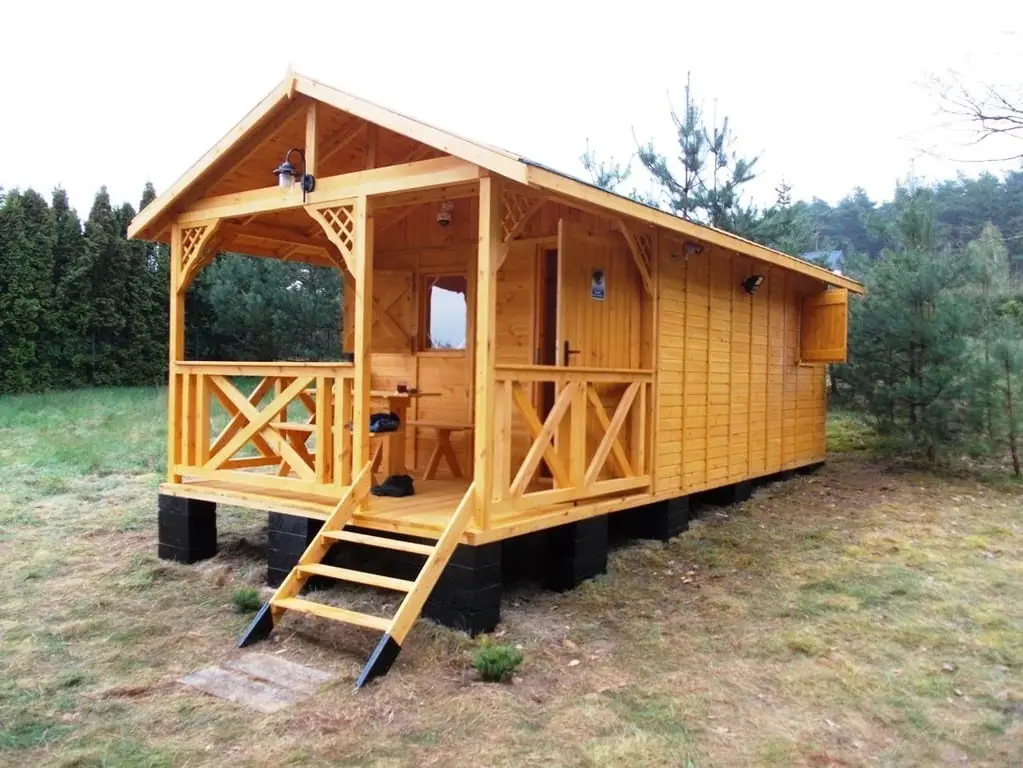 However, after we took the time to explore the video which has documented the build of this extraordinary shed variety we are sharing with you, we quickly fell even more in love with this build.
If you are still a beginner DIYer, though, we think you may find the information provided in the video too limited to help you come up with a step-by-step design of a similar shed yourself. Way too much of the construction process is left to your imagination, so if this is not the type of shed plan you are looking for, we do encourage you to explore some of the other alternatives we have compiled in this list.
55) Radio Shed Shack
We think this radio shed shack is a wonderful option for those who are on the search for a spacious but still affordable shed, which will give you plenty of free room to work on your DIY projects.
Nevertheless, this type of DIY shed project can be easily repurposed as an additional free space of any kind, such as a small relax zone or a playhouse for your kids. We adore the versatility, as the shed could be adapted to suit multiple purposes somewhere in the future.
This is something I appreciate very, very much DIY projects. Just think of all the stuff you have constructed, which simply come to an end at some point. I used to take this as a natural part of the DIY life but nowadays I always try to think in advance when constructing a particular build.
56) 10 x 14 Foot Tiny House Style Shed
This 10 x 14-foot tiny house style shed grabbed our attention but also grabbed our hearts. The design of this build is made to be affordable and durable. Meanwhile, the final result of your efforts is a beautiful and extremely elegant shed which you can continue to upgrade as the time goes by.
You can have this shed built within as little as a week, depending on your personal pace of work, as well as previous experience with DIY projects. I can't stop admiring the combination of bamboo and cedar. Bamboo floors are able to undertake extreme pressure and are not prone to break off easily.
The average building costs of this tiny bijou are estimated at approximately $2000 but this price can range, depending on the type of materials you choose to utilize. The number of windows is also easy to customize and thus, save from the final price.
57) Easy-to-Build Backyard Shed
We think this easy-to-build backyard shed might be the most popular one of all the sheds on this list. That's because of the inspiring story behind the building process of this otherwise simple shed. Luke Thill, being still 12 years old, started to construct this shed with a mind to building a tiny house for himself on a 5' by 10'.
Even though Luke has planned and designed this build wanting to have a tiny home of his own, it can be easily customized as a backyard shed.
Keep in mind that it took Luke a whole year to complete his notorious tiny house; however, that was mostly because of the limited finances he had back then, wanting to complete this project all by himself. So when it comes to other DIY enthusiasts, this shed can take as little as about a week to be fully accomplished.
58) Traditional Finnish Log Style House Shed
We couldn't help it but add this traditional Finnish log style house shed as part of our list because it features a one-of-a-kind approach to working with wood. Instead of using complex tools and modern-day techniques, it is constructed following the well-established traditions of skillful Finish wood masters.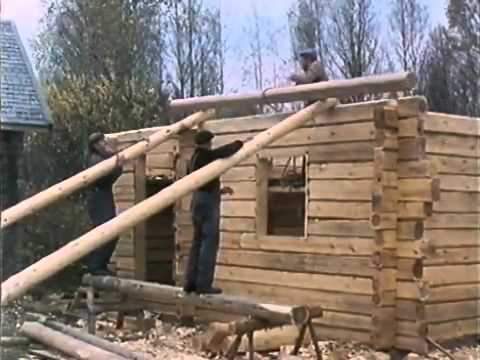 With that in mind, this is not a build plan you can follow step-by-step but we believe the methods shared in the video can truly inspire you to expand your horizons as a DIYer. Personally, I was mesmerized by the way the carpenters use an ax to add the final touch-ups to the wood, as well as hammering the pieces together as if weaving a perfect puzzle.
59) Simple Log Cabin Style Shed for Under $500
This simple log cabin style shed which will cost you as little as $500 is another out-of-the-box alternative to the typical shed plans. Thus, we were eager to share it with you because we know how crucial it is for every DIYer to embrace creativity.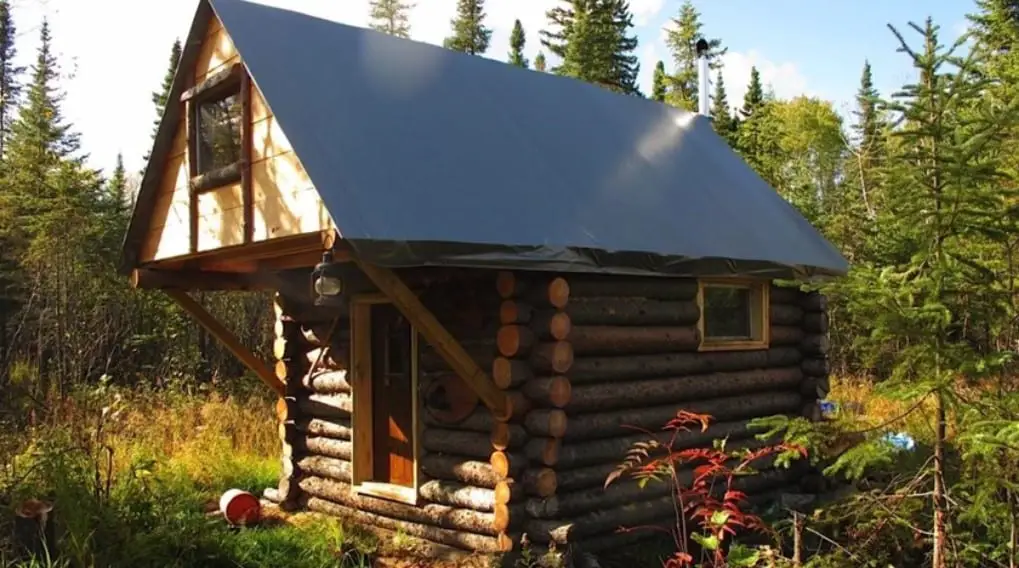 When my cousin started building his backyard shed, he asked me to give him a hand, and I was more than surprised to arrive at his house and see the bunch of logs in his backyard. It has never really crossed my mind that you can design a shed by taking advantage of logs, and admittedly, I didn't even find this a smart solution. But as he was determined to accomplish the construction of his shed this way, I had no other option but to obey his rules.
After all, his shed turned out a brilliant one, so keeping this alternative in mind might be just the spark you need to boost your DIY motivation.
60) 8 x 8 Tiny Cabin Style Shed
When we stumbled across this 8×8 tiny cabin, we knew right away that it deserves to head straight to this list of shed plans we are compiling. We love it because it is easy to build but in the meantime, it has this extraordinary appeal which makes it extremely beautiful.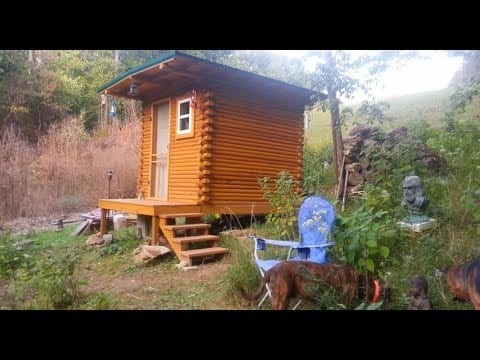 We believe those of you who don't want to construct just another boring shed might easily fall in love with this fantastic alternative. Personally, I like the idea of utilizing 8 and 12 inches nails when it comes to securing the timber in the walls.
But most of all, I was mesmerized by the awesome idea to use acrylic latex caulking with silicone to fill the cracks, as this gives off a very special appeal to the inner side of the shed, with the rays of the sun penetrating as if there are still cracks present in the walls.