21) Storage Shed
We find this storage shed a very compact and quality one. No additional build plans are provided but a few sketches with the exact measurements of the build are provided in the video tutorial.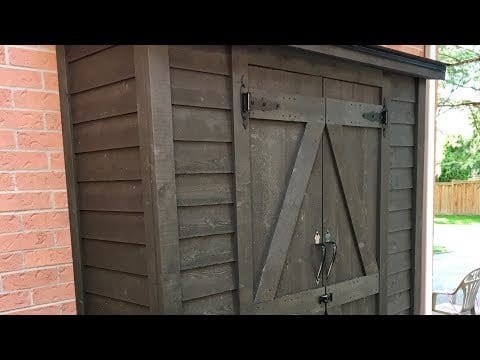 However, if you are novice to DIY projects, you might find this particular shed plan a bit confusing. That's because of the lack of narration, as well as extra tips which are of utmost importance for the less experienced carpenters. On another note, if you do already have solid knowledge for DIY projects and working with wood, we believe you may find this storage shed an inspiring and affordable option.
On another note, we find a significant downside to this plan that you need to keep in mind. The wood for building the foundations of this shed is not separated from the ground carefully. Thus, if you want to construct a reliable and durable variation of this shed, you need to think of extra insulation to keep termites away.
22) Stunning Little Backyard Shed
We decided to include this stunning little backyard shed as part of this list because we believe in the power of creativity. When you are on the search for a suitable shed design, it's never easy to find the one which make a good fit to your needs without having to roam the web for hours. That's, of course, one of the basic rules which every DIYer knows by heart.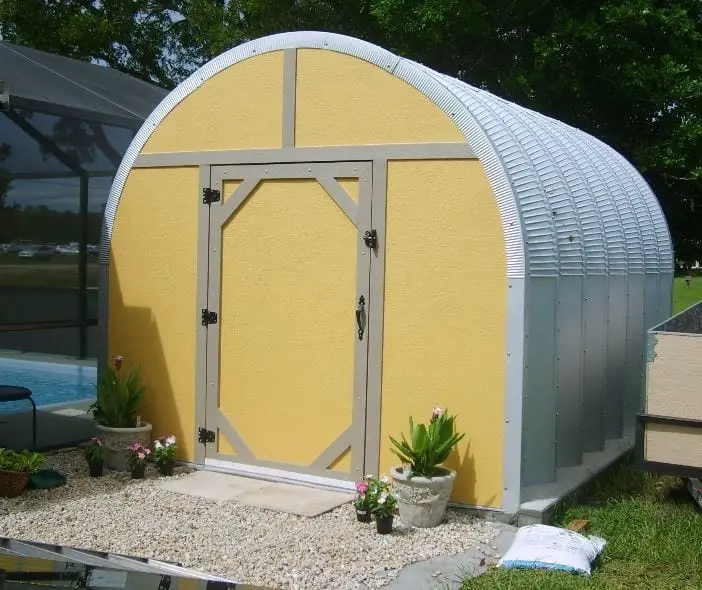 But while sometimes it easy to lose motivation being hit by numerous styles and build plans available, a fresh gulp of inspiration is always welcome. Personally, I like the idea of utilizing steel framing.
First off, steel is one of the most durable materials out there. Secondly, quality steel requires little to no maintenance. That lowers the chances of unpleasant surprises, such as heavy rains or unwanted visitors causing damage to your shed.
23) DIY Shed Built in 4 Days
This DIY shed which we stumbled across is a perfect example of two things we all appreciate as DIYers, and that's authenticity and affordability. The wood material for the construction of this shed costs a little less than $500 on an average.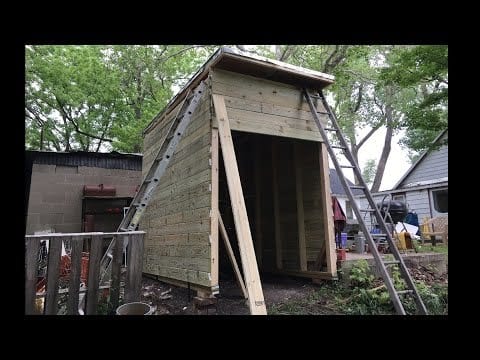 And while it took the maker 4 days to complete the build, keep in mind that he is also not much experienced working with wood. Thus, even if you are still a newbie carpenter, you can still manage to repeat their success for building this cheap and unpretentious shed.
Personally, I love the simplicity of the wall framing since I remember how hard it was for me to understand the basics when I was just starting with my first DIY shed. Moreover, it is inspiring to see a teenager go through all the hard work with such an ease and enthusiasm, as it is somehow contagious.
24) 85% Recycled Materials Shed
This 85% recycled materials shed is not only an affordable build but it is also completely beginner-friendly, as well. We think that if you are looking for a fast and non-complicated way to have your shed done in as little as a few days, you will love to explore this particular DIY project. I was impressed by the brilliant idea to use pallets.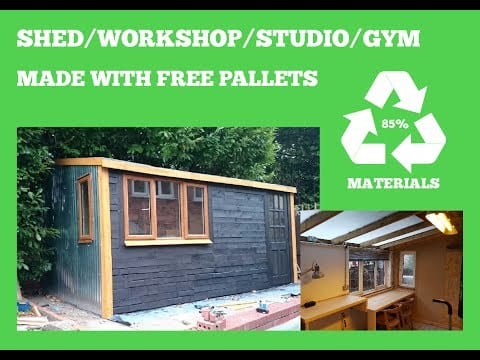 Moreover, the huge benefits come with the fact that these pallets do not even need to be dismantled. The idea of this DIY build is to take advantage of the reclaimed pallets and simply attach these to each other, while starting off with a suitable slab for the base.
Thus, you can choose the dimensions which will suit your needs, and then look for pallets of size which will make a good match. On another note, personally, I love the design of the door, as well as the additional window.
25) 8 x 8 Shed
The 8×8 shed plan we stumbled across is one which can give you tons of priceless tips on building a quality and sturdy DIY shed which can last for generations to come. It is rare to get that many invaluable extra tricks while watching a single video tutorial, so we highly appreciate it.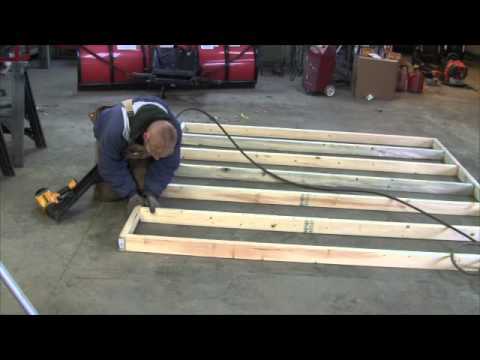 We think that those of you who might feel stuck with the design of their first shed will be even more impressed.
When it comes to those of you who already have experience with wood working projects and feel confident as DIYers) then this tutorial can give you the exact directions you need to start constructing your shed without feeling confused about the tiny but crucial details which can make or break your entire build plan.
Personally, I find the explanations regarding the proper framing of this shed simply excellent.
25) Big and Cheap Shed
We love the idea of a big and spacious shed. Together with affordability, this particular shed design can make a good fit to your needs. This DIY shed project is planned to be 15 feet wide, 13 feet tall, and 20 feet deep. Personally, I adore the arch-like roof design.
All in all, it's a 300 sq. ft. shed but the project itself is not a reserved territory for the professionals, despite the big dimensions. It is comprised mostly of plywood and OSB. The sheeting is not included in the estimated price range for this DIY build, so altogether the final costs can be a little bit over $600.
Moreover, no costs for the flooring are taken into consideration, as well as the roofing, as the makes suggests utilizing a simple greenhouse type of roof. However, when it comes to me, I truly wish I had come up with the idea of a similar roof when designing my tiny backyard shed.
26) 10×16 Storage Shed
Before we dig any deeper for sharing our impressions and insights on this 10×16 storage shed, we'd like to begin with the fact that this is not the best DIY shed plan for beginners.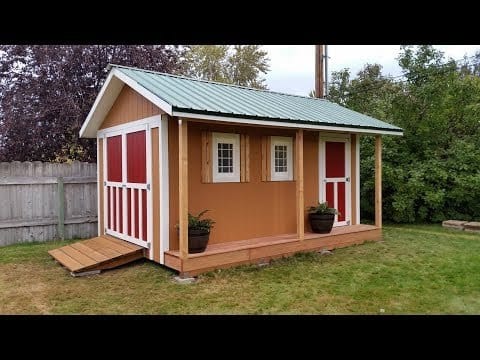 First off, it is pretty big in size, which will face you with tremendous challenges. And secondly, there are no additional build plans available to rely on. However, if you do happen to be experienced with wood working and DIY projects, as well as looking for a spacious but affordable shed design, this storage shed can be a wonderful source of motivation.
The video tutorial is an excellent one, and we highly appreciate the eye to the detail which helps you go through all the essential steps you need to take into consideration. The average build costs of this plan are estimated at $3000. However, if you choose to utilize reclaimed materials, this price range can easily drop down.
27) Firewood Storage Shed
We like this firewood storage shed so much because it features a smart, simple, and beginner-friendly design. The build plan is for constructing the shed at 4 foot by 12 foot. It goes up at about 5 and ½ feet.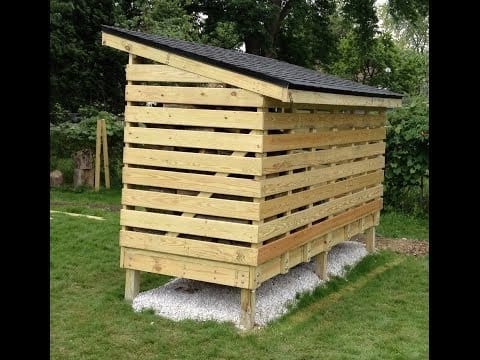 Next, you need to make 6 post holes with 4×4's. You can dig these manually or by lending the specific equipment you need. 2×4's are then glued and screwed over the leveled base which adds an awesome amount of strength and durability to the shed. If you dislike the gaps which make air and light penetrate easily inside the shed, you can always choose to isolate these additionally.
On another note, an extra door and/or window can also be added whether at the early stage of the build or as planned for later on. Nevertheless, the dimensions of this DIY shed plan can be adjusted to match your personal preferences, too.
28) Large, Solid and Cheap Backyard Storage Shed
Whether you are a DIY enthusiast with little experience, or you have already mastered some of the pro techniques of craftsmanship, we think anyone can find this solid, large, and cheap backyard storage shed plan a very practical one. The video tutorial goes through all the steps of constructing the shed but more importantly, we highly appreciate the useful tips and highlights.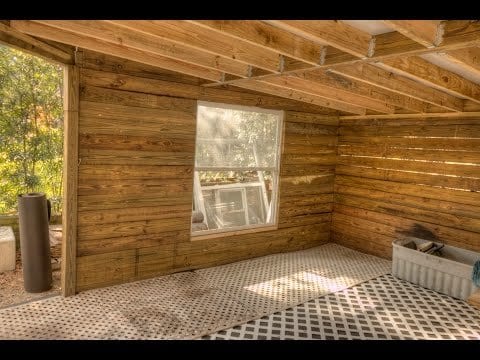 Personally, I can't agree more with the fact that a good shed needs a good base. With this in mind, you should not underestimate the importance of proper leveling, as well. That is another part of this large backyard shed plan which I find especially valuable.
Nevertheless, we give extra thumbs up for the friendly tips when it comes to achieving extra stability while working. It is not common-spread to stumble across so many priceless tips and tricks for constructing an easy, reliable, and affordable shed while you roam the web for inspiration.
29) Beginner-friendly Storage Shed
We assume that this beginner-friendly storage shed with no walls is probably not the first image which will come to your mind when you think of DIY shed plans. However, that's exactly why we find this storage shed so incredible. On another note, as we are all so completely different, we believe some of you might just find what they were looking for with this specific type of shed.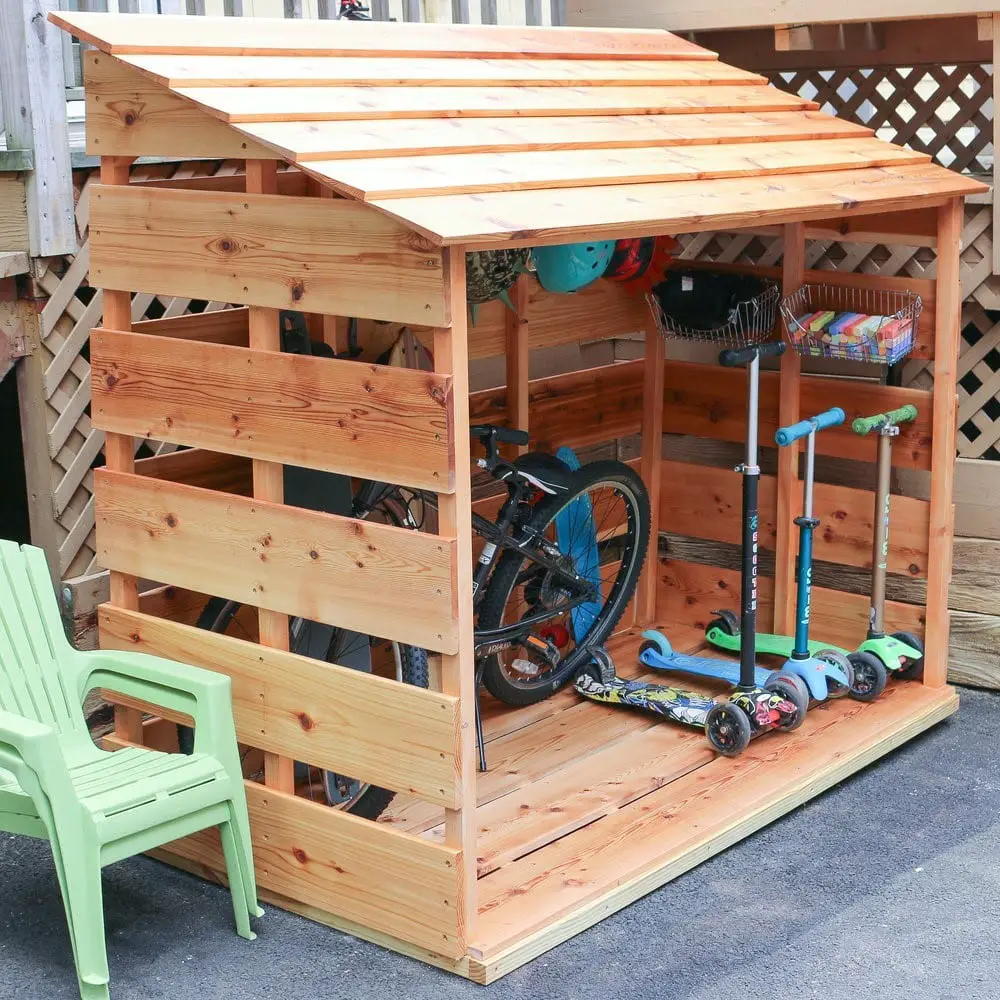 Personally, even though I have a different idea of the way my shed is supposed to look like, I am still planning to accomplish this one, as well. After all, who doesn't love extra storage; the more, the better.
We also highly appreciate the fact we found easy-to-follow free plans of the build. Plus, a step-by-step picture tutorial is also available, including a neat list of all the instruments being utilized. Plus, you can always adjust the dimensions to build a bigger shed and/or add insulation.
30) DIY Bike Storage Shed
If there's any better way to live a happy life than not having to fall on your face after hitting those tossed-everywhere toys and bikes, then please, do tell us what's the secret recipe. In the case this scenario sounds familiar to you, I can feel you.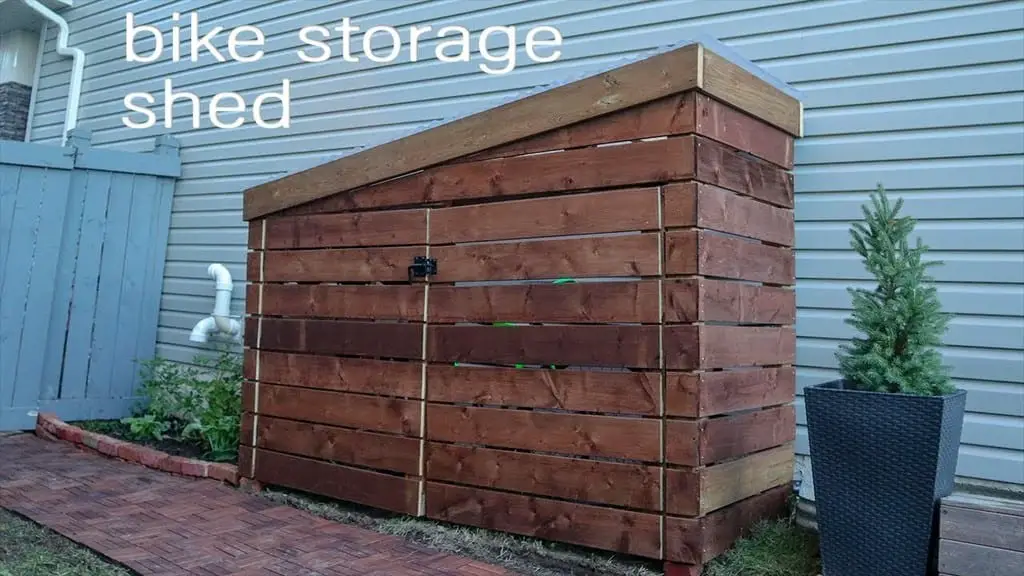 We got into a little bit of debating before we decided to include this DIY bike storage shed as part of our list. That's because not all of us could agree this is the shed plan most people have in their minds. However, we also understand and value people's unique needs.
Hopefully, some of you will find inspiration and a suitable alternative for an easy DIY shed as they get acquainted with this bike storage shed plan. No downloadable build plans are available but the list of all the tools you need are clearly listed. Plus, the swinging door deserves extra points for creativity.