11) Tiny House Garden Shed
This tiny house garden shed can easily double up as a workshop. With this in mind, the construction process took the DIYers 5 weekends to accomplish. For those of you who are still learning the basics of working with wood, this particular DIY project might be quite challenging.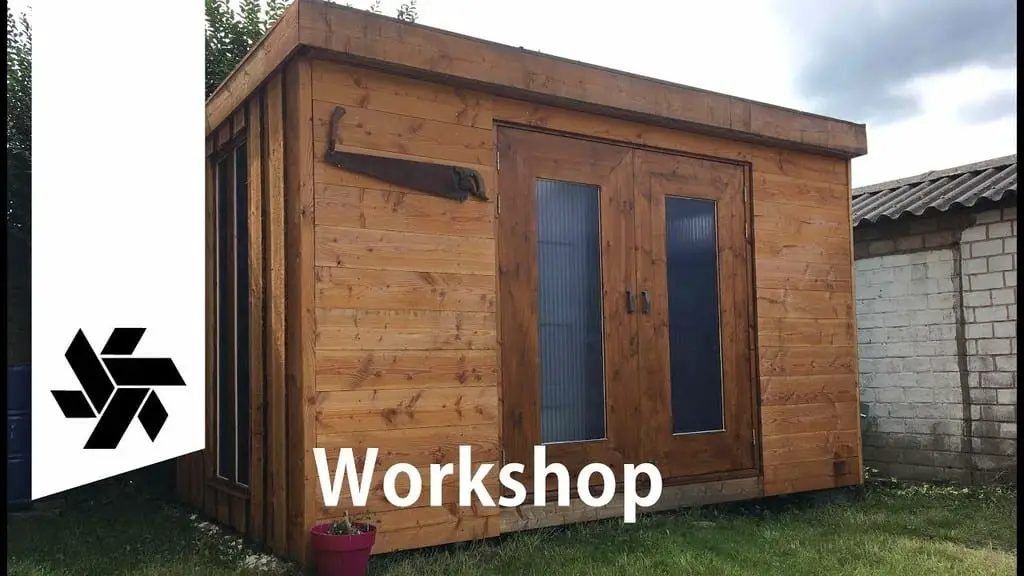 However, the final result is a versatile, stable, and very clever-built shed, which anyone can enjoy having available. One of the downsides we find to this tutorial is that there are no build plans available to download. Another disadvantage is that we couldn't check out the exact way for constructing the door and windows, while both of these are extremely important features.
We were also surprised to see that only the floor has been well-insulated but when it comes to the walls, these were left without extra insulation. For those who live in a warm climate, the lack of insulation on the walls might not be an issue, though.
12) Cedar Sided Shed
This cedar sided shed is a piece of art. With that in mind, this is not the most affordable DIY plan, and it is also not the easiest one to construct. Nevertheless, the build itself took several months. But for the end result, we think the time, investment, and efforts put into constructing this beautiful shed are worth it.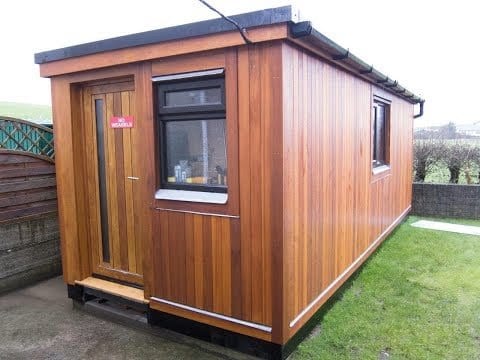 The size of this DIY shed is 20 x 6.5 feet, which will make up enough space to shelter many of your tools and belongings. Personally, I am a huge fan of concrete floors, as my experience so far has brought me into thinking that these are among the most durable yet much easier to implement than other possible base options.
One more thing I loved about this plan is the fine calculation of positioning the floors. The concrete is poured right above the heavy rain water line, which will help to keep all the materials inside the shed away from possible damage.
13) Green Roof Shed
This green roof shed has quickly become one of my personal favorites on this list. It was designed as an extra storage place for a balcony, which is rather unusual since we are mostly used to garden and backyard shed builds. But on the other hand, it is exactly because of the out-of-the-box design that I find this shed so awesome.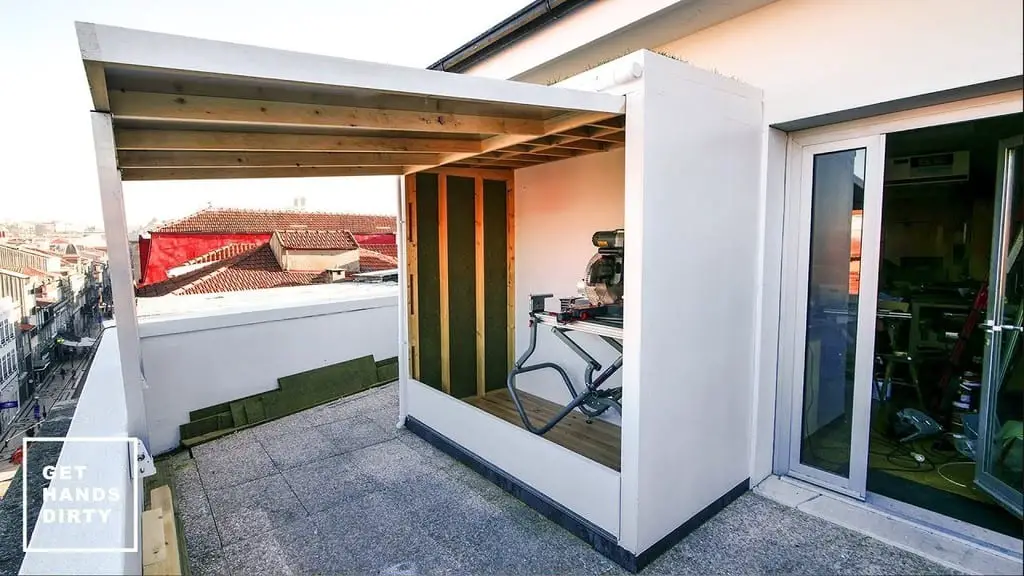 When it comes to the instruments you may want to consider for constructing this shed, these include an impact driver, a driller, a hammer driller, a mini angle grinder, a plunge saw, and a miter saw.
One fantastic idea which I will most certainly apply for some of my next projects is the integrated ramp. Even though no additional build plans are available, the video tutorial goes above and beyond for providing you with plenty of essential tips, as well as easy to follow steps to complete this Green Roof Shed yourself.
14) 12' x 24' Mega Shed Shack
I will never forget the pain in my guts when I had to tear apart my first shed and start constructing a new one. However, I must also highlight that lacking experience back then, it didn't even come to my mind that I can reuse and repurpose some of the materials left behind from my previous DIY shed.
So when we stumbled across the video tutorial of this 12' x 24' mega shed shack, which is constructed utilizing some of the materials left over from the old and smaller shack, I immediately felt a bond with this particular project.
With high walls of 7.5' and a colonial style roof, this mega shed shack is full of extra storage to embrace an amazing amount of your tools. In fact, this shed can easily become a small living quarters if at some point you decide to utilize it for this purpose.
15) Level Shed
Not all sheds are created equal. And even though some of you might find this rule sounding way too obvious, it is actually the small details that can make or break your game. That's especially true when it comes to DIY projects. This level shed is constructed with a mind for being extra solid at the bottom.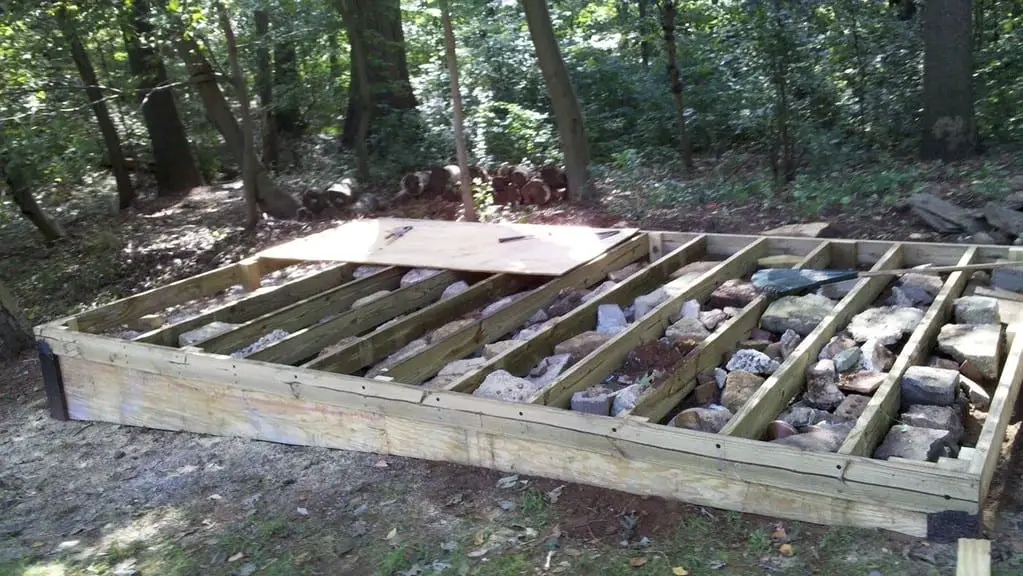 Sure, we know that a sturdy base is a sturdy shed. However, depending on the region you live in, a poor base can also mean problems with rotting or unwanted visitors, such as skunks, for example.
This level shed is true to its name, utilizing a level foundation, which helps to block the access of tiny maggots who want to sneak into your shed but also prevent the development of rot. Besides the video tutorial, a step-by-step build plan of this solid level foundation is also available, and we give this one big thumbs up.
16) Concrete Pad Shed
This concrete pad shed was built as a present for 2 happy parents. That reminds me of the second shed I decided to construct and surprise my own parents with. Even though I have built 2 more sheds later in time, the one I designed especially for my family has turned out the sturdiest of all.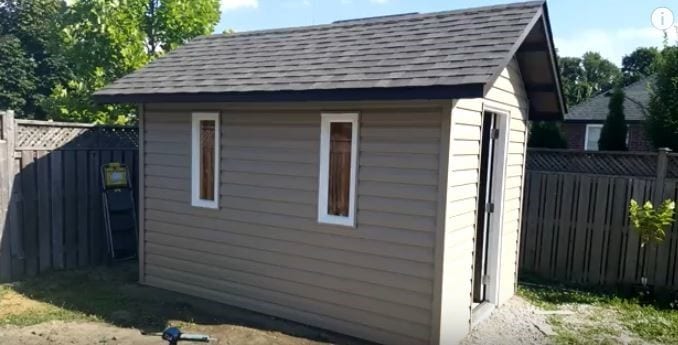 So as soon as I got acquainted with the video tutorial on building this concrete pad shed, I felt the same heart-warming feeling of creating something special through the otherwise simple design of this shed. It is 8ft by 12ft in size, with a roof pitch which has a 30 degree angle.
Personally, I think a 30 degree angle is one of the best decisions when it comes to simple but reliable shed tops. The only downside to this concrete pad shed is the absence of additional build plans for those who enjoy written instructions.
17) Pre-cut Wood Shed
We decided to include this pre-cut wood shed as part of our list because it provides essential tips for all of you who might be considering to construct their shed using readily available shed kits.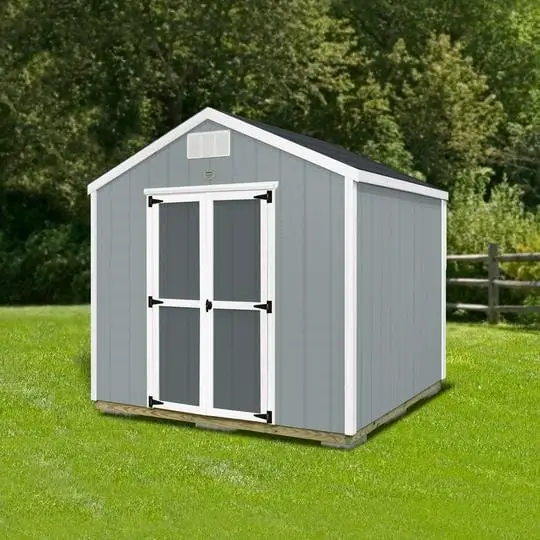 After all, the beauty of DIY projects is about the diversity of the designs one might choose to embrace. Also, it is good to have a proper understanding of the time you will need to accomplish a shed from pre-cut wood. For example, when I was considering whether or not to opt for a shed kit for the construction of my third shed, I was fooled into thinking that readily available shed kits would allow me to finish my project in the blink of an eye.
However, this is not the real case with pre-cut sheds, as it all depends on your level of experience. On another note, even if you are not keen on building your shed by utilizing shed kits, you can get some fantastic ideas by the build plans available.
18) 8' x 10' Shed
We love this 8' x 10' shed so much because it is the only one in this list which makes use of a video animation tutorial, featuring the exact build plan you will need to consider before getting down to work on this project. We find this a no-nonsense way to picture and understand each step of the process. Nevertheless, full build plans are also available.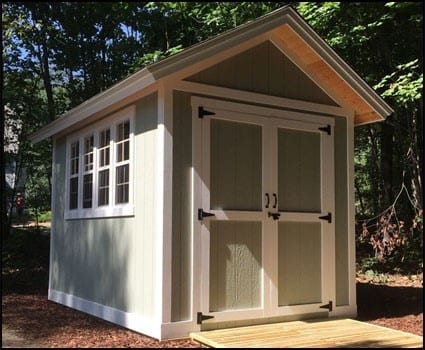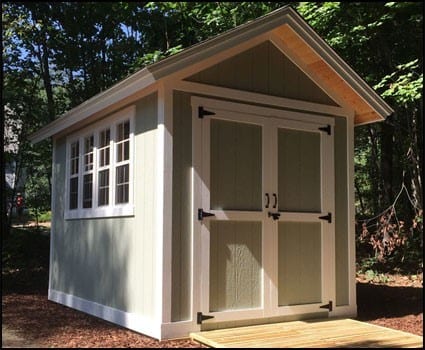 When it comes to the budget for this particular shed, it is estimated to cost you approximately 1400) 1900 USD. If you are a novice to DIY projects, it might take you about 4 weeks to accomplish this one, though.
For those of you who are more experienced, you can expect to be able to finish this shed within an average of 4 days. Also, keep in mind that you will want to dedicate an extra day just for the painting of the shed.
19) Huge Shed on a Budget
This huge shed on a budget has become a wonderful source of inspiration for our team. That's because of the priceless tips shared in the video tutorial, which every DIYer who is planning to construct his/her first shed will highly appreciate. This particular shed is built on a slab but it can also be constructed on compacted earth with a wood deck on top, for example.
Personally, I like the additional side walk which is made out of poured concrete, as I have often stumbled across DIY sheds which are hardly accessible if you try to enter while pushing your lawn mow through the raw ground in front of the shed.
On another note, we also appreciate the focus put on designing the shelves of your shed as to make a match for your set of tools and stuff you are planning to store inside. Many beginner DIYers do not pay attention on that note, so they end up disappointed.
20)  OSB and Construction Lumber Shed
This Budget Board and Backyard Garden Shed is built out of OSB and construction lumber, and it is the type of DIY build plan which will give you tons of inspiration, even if this is not the exact shed you want to build yourself.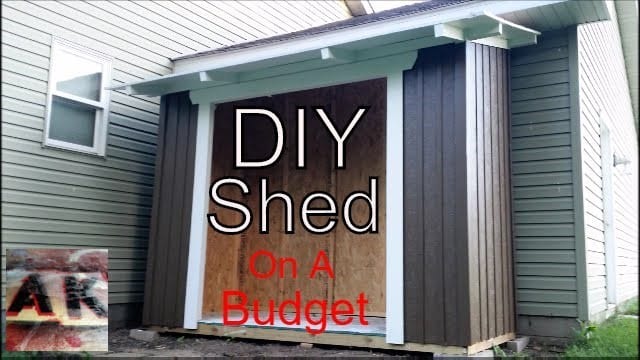 The size of this shed fits in the compact 4 by 10 foot. When it comes to the average costs of the build, these are estimated at about $400. However, we do find a downside to this particular shed plan, and that's because of the poor foundation.
If you are looking for a shed which will be extra stable and durable but still like the overall looks of this one, we highly encourage you to think of some extra support for the base. A quick tip on that one is to use 6 foundation blocks. On another note, we think the affordability of this DIY shed compensates for some minor touch ups you may need to add in terms of stability.