41) Beginner-friendly DIY Workbench
This beginner-friendly DIY workbench has quickly become one of our top favorite workbench plans in this list. Being true to their awesome style, Shanty2Chic have provided us with a super affordable, easy to build a workbench, which also happens to be fantastic for storage.
Nevertheless, complete and free building plans are also available, including a step-by-step written version with pictures for those who prefer this type of interaction with the content.
Although, we find the video tutorial extremely useful, so if you have at least some prior experience with woodworking, you most probably don't need to get to the part of relying on the free building plans to start your very own beginner-friendly DIY workbench the Shanty2Chic style.
My personal favorite feature of this project is the minimal use of any complex tools or techniques. Casters, Kreg Jig, and glue bot are all the instruments which are utilized for accomplishing this workbench.
42) Workbench with Casters
This KregJig inspired workbench design is as simple as it is sturdy. For those who want to craft this DIY project, the list of tools you'll need includes a drill, circular and jigsaw, right angle clamp, and C-clamp.
You will also want to get equipped with pocket-hole screws, wood glue, and sandpaper. All of the materials you will need, as well as cutting and shopping lists are available for free. Moreover, each step of the construction is listed in an easy-to-grasp step-by-step tutorial, so even if you are a beginner, this DIY project is fully achievable.
Personally, I highly appreciate the fact extra tips have been added, and especially some very useful ones concerning the safe execution of the project. Being a girl who is fond of crafting things with my hands, I have often been trapped in dangerous situations as I do not possess a clear understanding of the possible damage which can occur.
43) Easy Garage Workshop Workbench
The first thing which came to my mind as soon as I finished watching the easy garage workshop workbench video tutorial is none other but a big Hooray. To all my fellow DIY girls out there, we are not alone.
Kristy Green has put some effort into creating a super easy-to-digest, very manageable, and pleasant DIY plan, including some precious tips. Inspired by one of Ana White's workbench projects, Kristy was so, so kind as to share her easy way of building this versatile workshop workbench in as little as just 4 simple steps.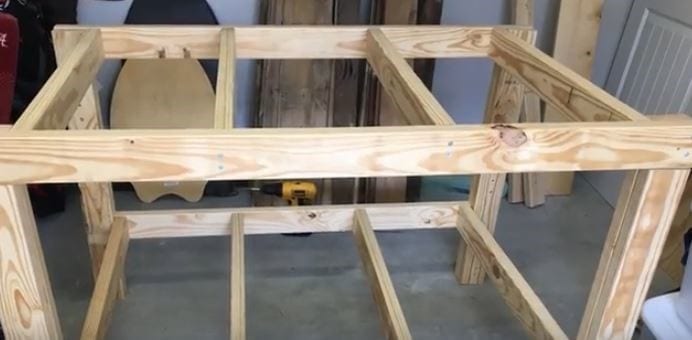 All the measurement cuts and materials used are clearly listed, too. Personally, I almost got in an aww after checking out the materials one will need to accomplish this project. These include 8 pieces of 2×4's, thick plywood, self-tapping screws (or brad nails), and self-tapping wood screws. Can it get any simpler than that? This makes me want to get down to work asap.
44) Wall Mount Workbench
This wall mount workbench is an excellent alternative to the typical workbenches, which rely on well-designed and well-built legs to stand in a comfortable and reliable position. Honestly, at first, I was more than merely skeptical about this DIY project.
However, after I took the time to check it out thoroughly, my mind was completely changed.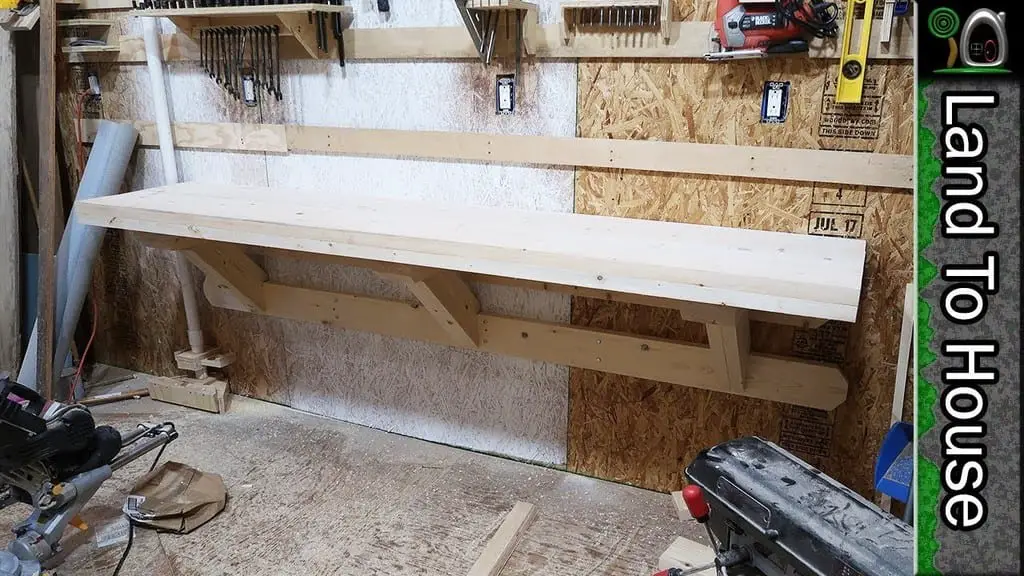 This is a very smart DIY plan, which will also surprise you with its sturdiness. One particular trait which I cannot help but adore about this wall mount workbench is that it is an amazing space-savior.
I can't count the thousand times I've wanted to have more free space available to move my feet around without bumping my knees into the workbench or any other type of object standing on my way while crafting. Being attached to the wall, this workbench leaves enough place which would otherwise be simply impossible to utilize.
45) Mega Workbench
This workbench cannot be put into any better term than that of being a Mega workbench. It features a heavy design, which is excellent for the dedicated DIYers who need stability and sturdiness. However, as it is also built on wheels, it is effortless to move it around whenever needed.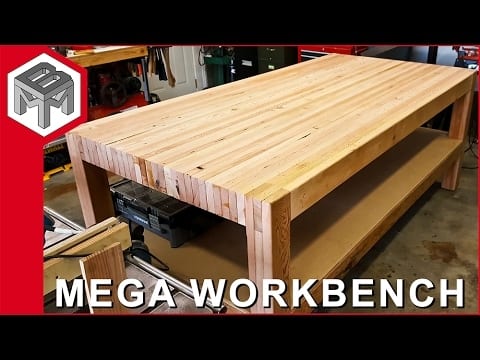 Besides being super solid, this workbench plan also comes with a storage shelf, and we all know some extra storage is always welcome. On another note, if you are looking for a lightweight DIY workbench or simply don't feel like dedicating more than a single day to build your own, you'd probably better skip this tutorial.
This is a heavy workbench, which weighs more than 850 pounds. Nevertheless, it will eat up on 1 ½ gallons of your wood glue supplies, and it will take up 600 screws to finish it. Make sure you have at least one free weekend dedicated solely to constructing this design.
46) Outfeed Workbench, Torsion Box Top & Downdraft Sanding
If the workbench we just listed above deserves to be called a mega workbench, then this outfeed workbench, which has a torsion box top, deserves to be named the Ultimate workbench of your dreams. Or at least the ultimate workbench of my dreams.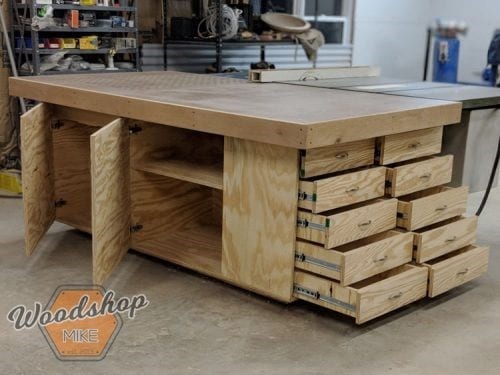 I can't express how much I was impressed by the amazing storage space, created by crafting multiple useful drawers. Meanwhile, the combination with a torsion box top is a priceless one. All of you who work often with wood know the challenges which come along when it comes to getting rid of the excess dust.
The integrated downdraft area is a very smart solution. When it comes to the dimensions of this workbench, I adore the wide 48″ x 84″ surface. Best of all, this DIY project comes with full plans, as well as a list of materials and tools needed. You can feel confident when going through every step of the building process.
47) Very Simple Workbench
We all agree that this particular workbench fully deserves to be named a very simple workbench. Even if you are just a beginner and/or have to access only to limited tools, this DIY workbench is one which you can accomplish with ease.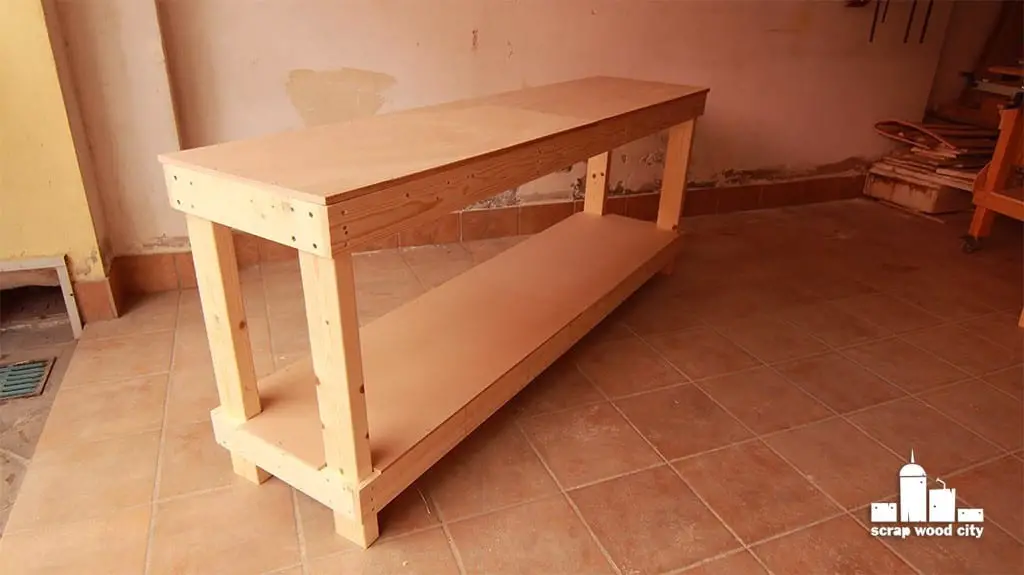 In fact, we think even those of you who are considering to purchase a readily-available workbench instead of wasting time and efforts for constructing one themselves, might quickly change their mind once you take a sneak peek at the video tutorial we are sharing below.
The dimensions are 2×0.5m and 0.8m high. When it comes to the materials you will need, these include MDF, plywood, and spruce solid wood. Personally, I highly appreciate the fact that this workbench is not only simple but sturdy, as well. You should always put a priority on the durability of your DIY projects, as simply opting for the easiest ones is not the best decision in the long run.
48) DIY Workbench on a Budget
This DIY workbench is not only an affordable alternative but it is also a relatively simply designed one. Thus, if you happen to possess only a few tools or lack sufficient experience working with wood, it is still a wonderful model you can try out crafting on your own.
This workbench is estimated to cost you approximately 185$. When it comes to the tools you'll need, these include a chop saw, drill and impact drivers, as well as a circular saw. This particular model is 8' long, 37'' in height, and 30'' in width.
Personally, I fell in love with the easy-to-digest approach of this DIY project. I wish I could have stumbled across more similar plans when I was just getting started to work with wood 10 years ago. Nevertheless, I also think this is the type of tutorial which both amateur and professional DIYers will equally appreciate.
49) Super Easy Workbench
When my father saw this super easy workbench, sneaking behind my shoulder while I was watching the video tutorial to see if this DIY project will make a good fit for our list of DIY workbench plans, I could feel his smile as if it was penetrating straight through my ears.
He is the type of person who would easily reject a DIY project if it is not extremely cost-effective. But being part of the old generation, he is also constantly looking for very sturdy designs. So when I felt this particular workbench plan got his attention, I already knew it is a keeper.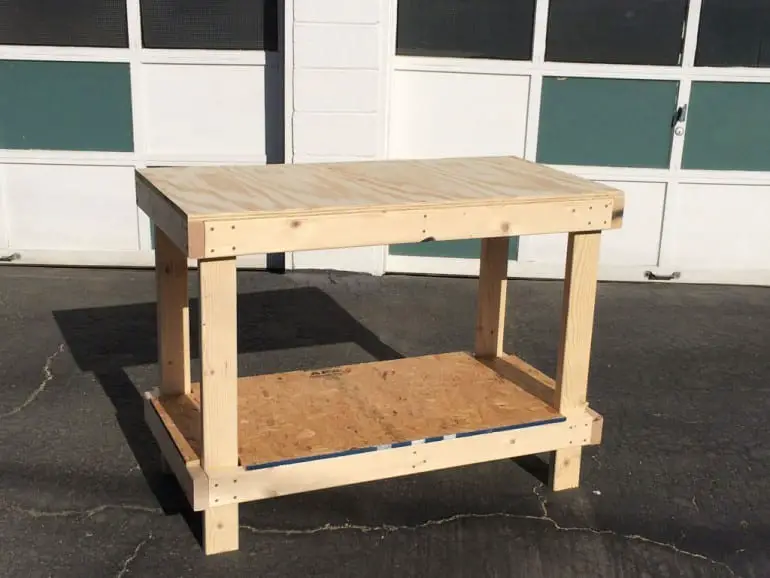 You can also construct this durable workbench for as little as 50$. Moreover, build plans and sketches are also available. What personally impressed me the most is that despite the simple and cheap build, this workbench can hold up to 500 pounds.
50) Workbench with a Solid Core Door for $35
I've always had and will forever have a deep love for crafty DIY projects. Whenever someone thinks of a smart addition, which can make use of already existing materials, which would otherwise go in the trash, I feel as if a little celebration gets started in my heart. And probably that's exactly why I enjoyed this workbench with a solid core door tutorial so much.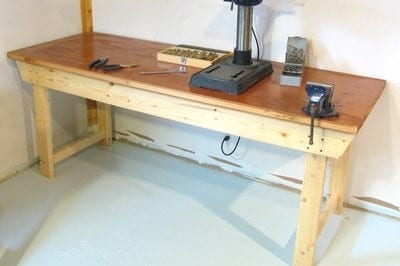 Keep in mind, though, that the average price of 35$ building costs might actually increase if you don't have an extensive set of tools. However, I also bet many of you might already have these instruments available.
Nonetheless, some of these can be easily substituted with less professional ones and/or hand tools, as well. When it comes to the materials you need, these include 8' 2×4, 8' 2×6, 3' x 7' door, 5/8'' dowel, 2'' screws, 3'' screws, and 50 ml of glue.