11) Cheap Workbench with Drawers
This workbench with drawers plan and tutorial provided by Jeremy from Guildbrook Farm) Off-Grid Living is one which we find an excellent for both beginners and the more experienced woodworkers. That's because if you are only a beginner, you will appreciate the super comprehensive, simple and no-nonsense guidelines provided.

But meanwhile, there's also free to download sketches, a material and costs list, as well as cutting diagram, which give off a very professional approach to this DIY project. If you have been working with wood for a long time, then you know how exhausting and frustrating it gets when you fail to find out the precise pieces of information you need to start your building plan.
All in all, we think this is an excellent and extremely practical DIY workbench plan in which all the weekend woodwork warriors will fall in love with.
12) Garage Workbench
If you happen to have only a limited amount of space to place, store and utilize your workbench, then this DIY garage workbench might be a very suitable option. You can use it both as a tool storage addition but it is also durable enough to exploit when it comes to your woodworking projects.
All the instructions, including the set of tools and materials you will need, are listed for free. Nevertheless, this garage workbench plan is a very affordable one to accomplish. However, it is not the most beginner-friendly so starters might better check out some of the other DIY workbench alternatives we have listed in this article.
This will take about a weekend to complete if you can estimate your woodworking skills and experience as somewhere in the intermediate scale.
13) DIY Rolling Work Bench
This DIY rolling workbench featured by DIY Pete comes along with free and downloadable plans to help you construct your very own one with ease and confidence.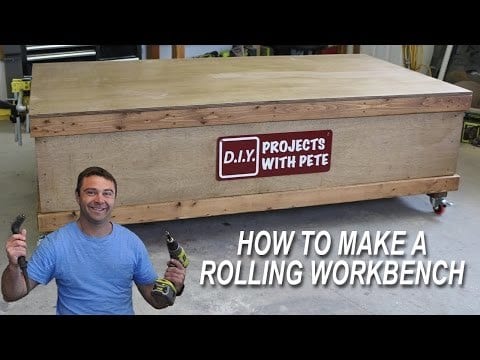 Don't get fooled by the fact it is a portable workbench because of the wheels installed, as this doesn't affect the durability. In fact, this workbench is so strong that you can build concrete counters on it with no problem.
Personally, I've had some bad times when working with my first DIY rolling workbench, and I almost got one of my fingers snapped off because of a sudden movement of the wheels. However, this was mostly due to my amateur level back then but it's a good point to keep in mind when creating your portable workbench on wheels.
That's also exactly why we've been so grateful that besides the video tutorial, the comprehensive plans are also available.
14) The Samurai Workbench
This Samurai Workbench has been called a once of a lifetime woodworking project by its executor) the Samurai Carpenter. And indeed, we couldn't help it but fall in love with the exquisite design, combining Maple tops and trestles with Oak legs and vices, along with Walnut contrasting pieces.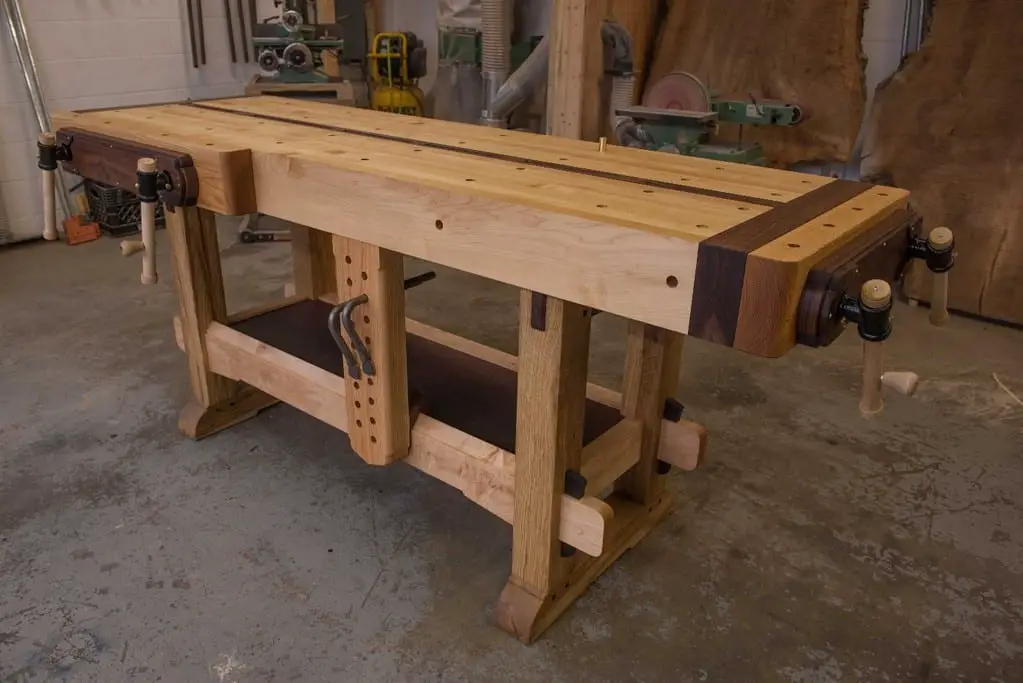 Personally, I wouldn't say this is the easiest DIY workbench project if you are just getting started. But on another note, if you are motivated enough to follow the step-by-step instructions, I am convinced that you might just become a better carpenter once you manage to finish it.
Even though the plans are not provided for free, we appreciate the variety of options, which include video content and/or customizable sketches, as well. One of the details which are truly amazing is the way the ancient practice of Japanese joinery is revealed (hence the name of this DIY project).
15) Sturdy Workbench
This sturdy workbench design by Get Hands Dirty is a perfect example of how beauty and durability can go hand in hand.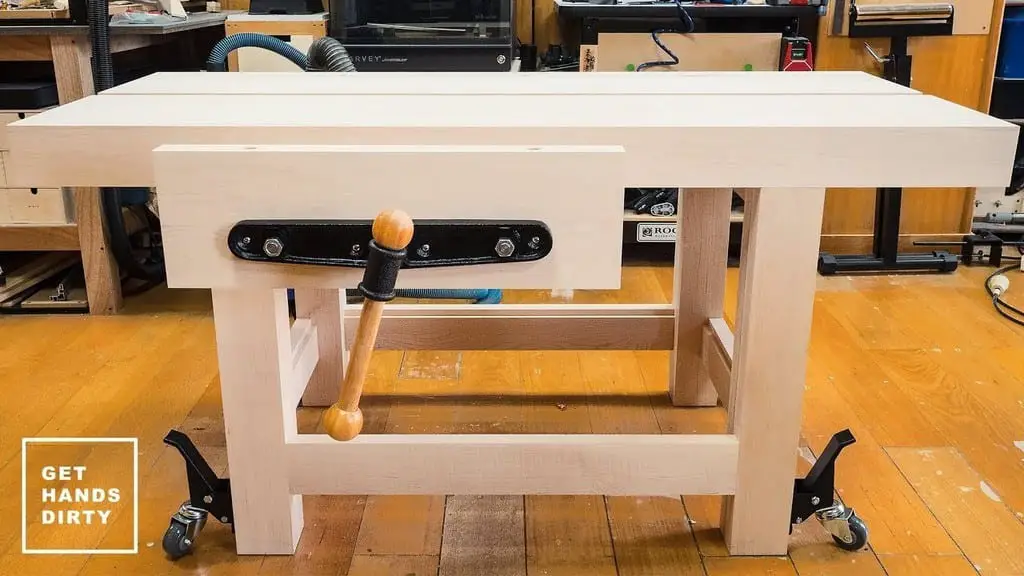 On the one hand, it is heavy enough, made with a mind to hold up on the pace of work and weight you might be using for your future woodworking projects. It weighs about 265Ib (120 kg).
On the other hand, it is exquisite and elegant to the look, inspired by the Roubostyle, and utilizing hard Maple, which is one of my personal top favorite wood materials to use.
When it comes to the dimensions, this workbench is 9″ x 27 1/2″ x 29″ tall. The only downside is that there are no plans available for downloading on how to make this sturdy workbench yourself.
However, if you have at least some prior woodworking experience, the video tutorial is comprehensive enough to provide you with all the essential details you need.
16) Smart Workbench for Under $100
This Smart Workbench by Eric Sorensen, which we decided to include as part of our list is, in fact, a smarter one than most you'd stumble across.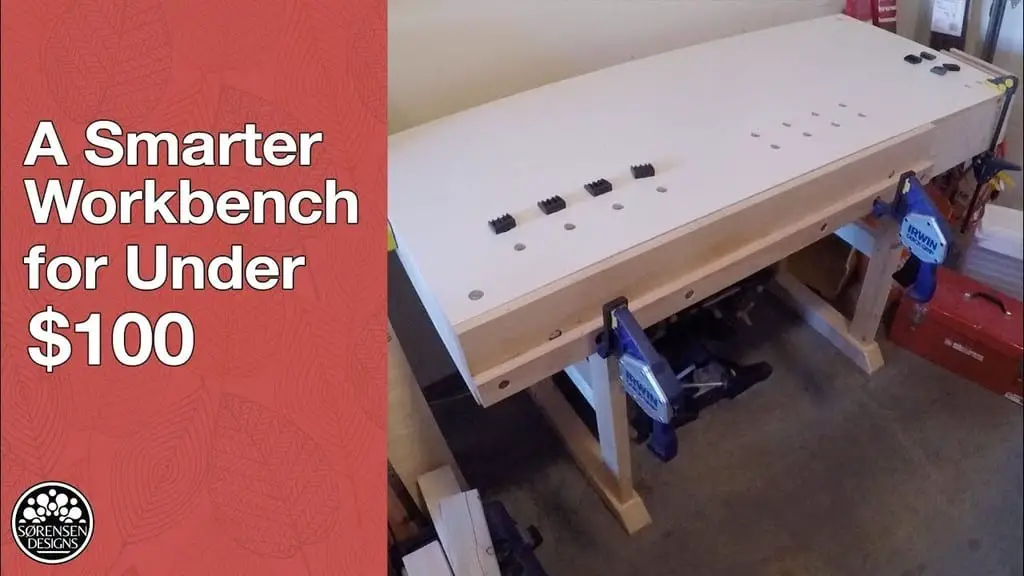 The video tutorial goes above and beyond in showing some brilliant little tricks you can apply to your DIY workbench project.
For example, the top is a replaceable one, which only adds to the usefulness and practical approach of the tutorial.
Personally, I loved the tool drop-box and find this one a very clever addition. It is attached through the implementation of a French cleat, which is suspended off the end of the workbench itself.
We also like that this bench is suitable for both hand tool and power tool operations. Despite being lightweight, it is designed to be strong and durable, inspired by the excellent Scandinavian woodworking benches, which can last for generations.
17) Big and Sturdy Island Style Workbench
This big and sturdy island style workbench we came across is one of those awesome DIY projects you find hard to resist. Meanwhile, it is also very affordable and the design is extremely durable.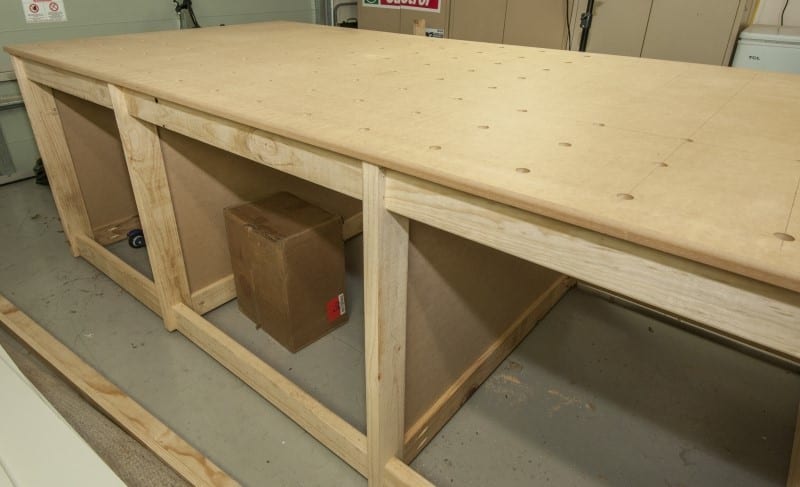 Nevertheless, it does not require a full set of complex tools to accomplish this plan yourself. Apart from the easy joinery technique provided, Warren from One Wood also shares a few other options, so that you can make joinery simple and match your needs.
Above all, we were happy to find free plans available to download in PDF format, as well as sketches, which is a huge plus.
For those who might be interested in the list of tools utilized, it is also provided to make your DIY workbench quest as easy and enjoyable as possible, even if you are still a beginner.
18) DIY Folding Workbench
This DIY folding workbench is one which deserved its spot on our list for its space-saving, simple design, as well as affordability.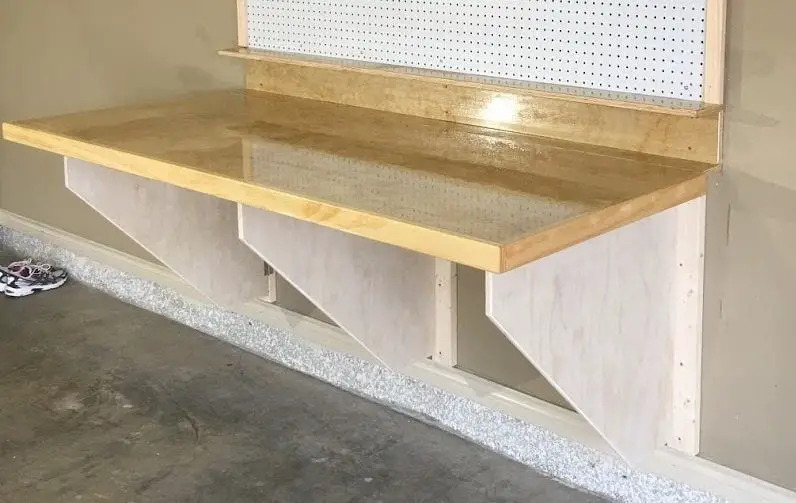 For those of you who have at least some prior woodworking experience, this project can be accomplished within a single free day for as little as $100. Nonetheless, it is a very solid one, being 32'' deep.
If you need the full building plan, though, it is not available to download for free. Instead, you'll be charged $8.40 to get the full plan.
Anyway, we did enjoy the versatility of this DIY workbench project and find this one extremely useful for taking up only 6''deep when folded.
19) Simple Folding Workbench Modern DIY
This simple folding workbench design is one which you can find to be extremely useful in more than a single way. In fact, you can utilize it in as many ways as your imagination goes.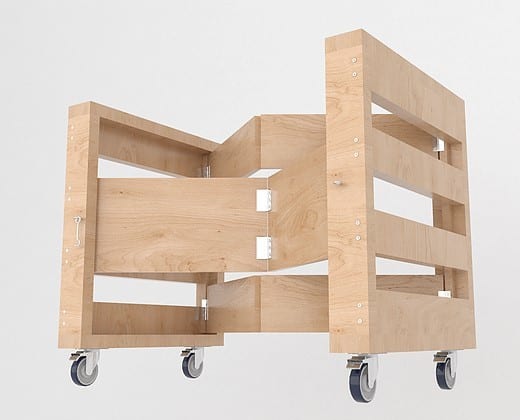 It is 100% mobile thanks to the wheels installed but it is also easy to transform into a beautiful coffee table, for example.
Personally, I'd love to use it as a small screen to keep my tiny balcony herb garden away from the harsh rays of the sun as I have been faced with this issue multiple times during the hot summers.
However, this is not the type of super-heavy-and-durable workbench, so if you are looking for something sturdier, we encourage you to explore other options we have listed in this article. When it comes to the plans, these are available for $5.
20) DIY Folding Mobile Workbench
We felt so much in love with the smart design of the modern DIY workbench we listed above, that we knew we had to include more similar models so that anyone can find out a little something to suit his needs and demands.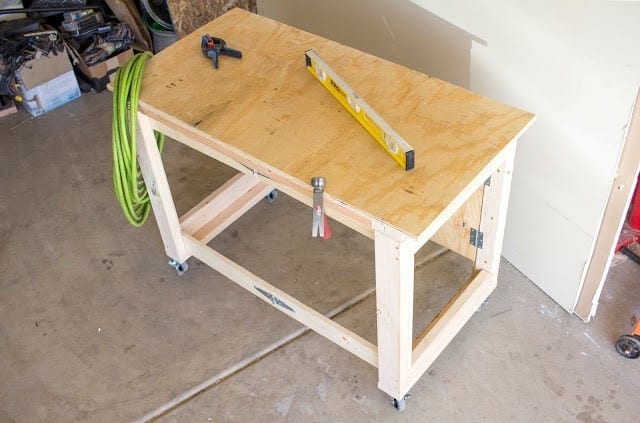 What we like about this particular DIY folding mobile workbench is the additional touches made to create a sturdy design than most similar models have. Nevertheless, you can take advantage of the full cut lists and building plans available for free. The step-by-step instructions are excellent and very detailed, too.
All of the tools utilized for the construction of this folding mobile workbench are also listed. So all that you have to do is to push your carpenter mood button on and create your very own workbench which will help you work better, especially if you are faced with limited space.