61) Flat Pack Workbench
If anybody tries to convince you that a high-quality workbench can only be constructed by experts, using a full kit of professional tools, designing and assembling the pieces together for days, then please slap them in the face with this DIY flat pack workbench.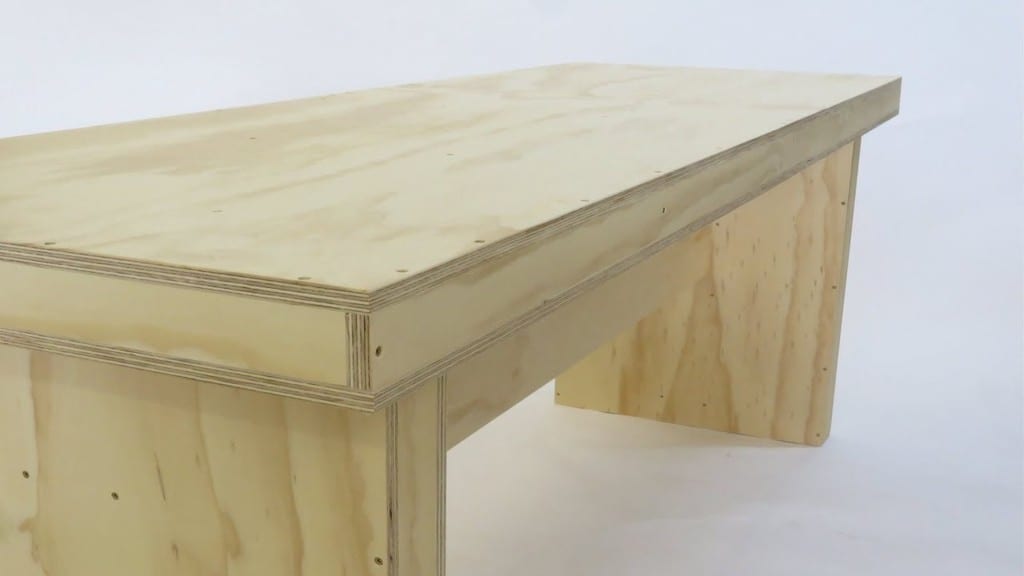 However simple, the design of this workbench is a durable and reliable one, and I still find it hard to believe that all you need is 3 sheets of plywood in terms of materials. When it comes to the tools you will want to utilize, these include only a circular saw, a drill, a jigsaw, and sander.
Thus, even if you are still a beginner, you can finish the build of your flat pack workbench within as little as a single day. The average costs of this sturdy workbench suitable for complete beginners are only around 150$ on an average.
62) 4 Sheets of Plywood Workbench
Years ago, when I was just getting started with my first DIY woodworking projects, there was a specific moment when I knew wood had my heart forever. I remember it clearly as if it is happening right now. I was holding a sheet of plywood and feeling super awkward because I couldn't seem to repeat the step-by-step build plan accurately.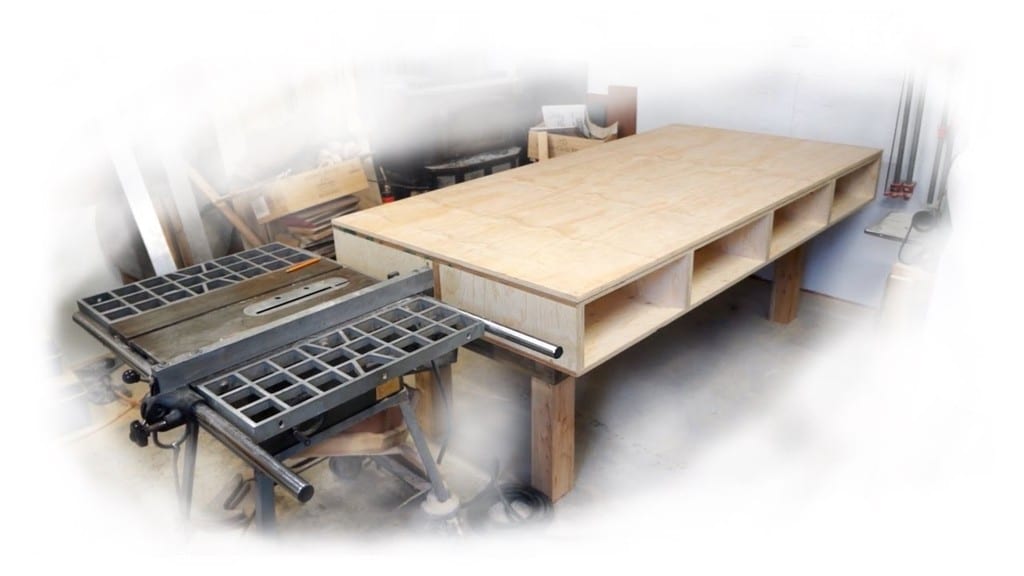 But then I felt suddenly illuminated, and ideas were flooding my mind, so I ended up constructing something completely different but wonderful out of my (un)successful trial.
This feeling came back to me when I stumbled across this 4 sheets of plywood workbench plan because I find it a very beginner-friendly alternative, while still being of very good quality. In fact, this DIY workbench project will take up as little as just a few hours of your free time. The only downside is the lack of an additional build plan available apart of the video tutorial.
63) Workbench Table
This workbench table build plan is better suited for experienced DIYers. It is not the simplest one to build, so if you are lacking sufficient experience working with wood, you'd better skip on this one and look for another alternative in this list.
However, that doesn't mean taking a sneak peek at the video tutorial we are sharing below will do you any harm. You might come up with awesome ideas since this workbench table is full of smart designs. It is constructed with 2 rolling workbenches being tucked under the main table. That makes up for an excellent free space for extra storage.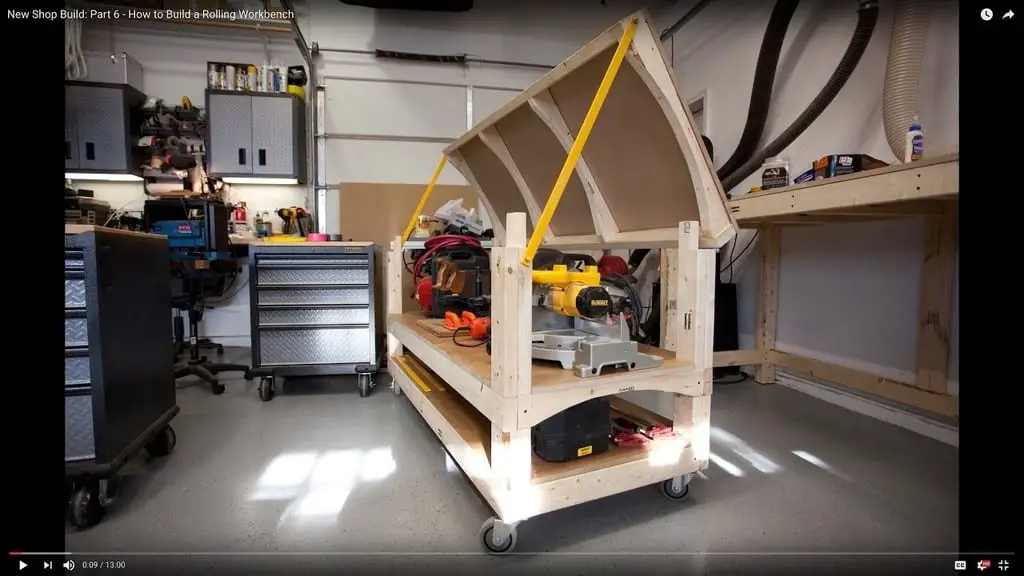 But what personally impressed me the most is the quick and easy access to the tools. All you have to do is simply open up the rolling workbench, while simultaneously being able to take advantage of the clever table top support, which allows you to slide bigger instruments out without having to keep the lid open yourself.
64) Mini Tabletop Workbench
When the summer seasons kick in, I always find my tiny workshop to be very limiting for my free soul. But on the other hand, I can't go without crafting things with my hands and exploring new DIY plans, so this mini tabletop workbench hit a chord with me.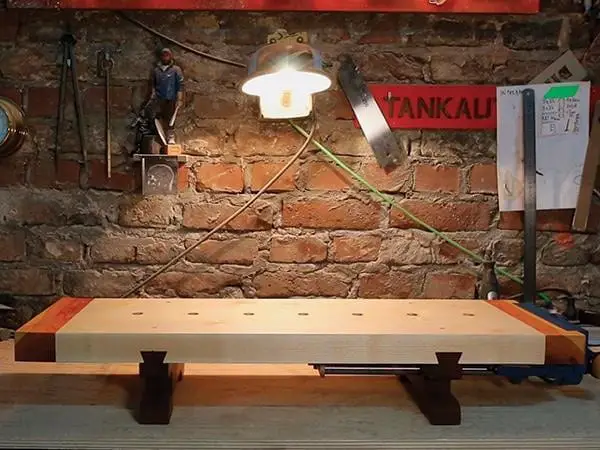 It is sturdy enough to allow you to enjoy your projects while not being obligated to work in one place as it is portable and easy to install almost everywhere. Nevertheless, you can also adjust the height by slightly raising the workbench, gaining better control over the position.
However, as this is a mini tabletop workbench, it is best suited for fine woodworking plans as it will not be able to handle too much pressure from heavy objects and/or tools. But when it comes to planning, sketching, simple assembling, and detail work) this mini tabletop workbench is a tiny bijou, full of usefulness and style.
65) Cheap and Easy Workbench Build
This 36 inches tall cheap and easy workbench is made out exclusively of 1 sheet of plywood, 4×4's, and 2×4's.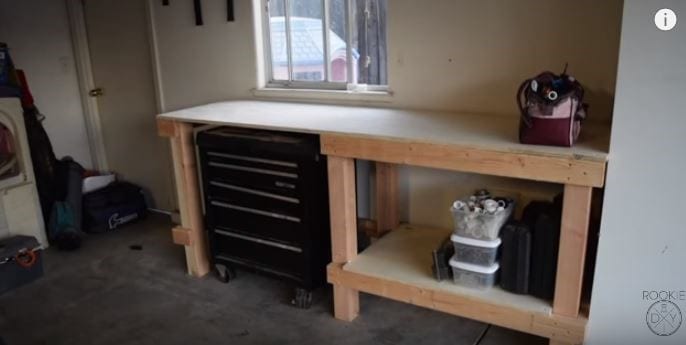 There's a built-in toolbox, which is 32 inches tall. However, these dimensions can be easily adjusted according to your personal needs and preferences, which is something I always highly appreciate when looking for my next DIY adventure. The video tutorial is easy-to-grasp, even though I slightly dislike the fact some parts are cut off.
Thus, if you are still a novice at working with wood, you may need some extra assistance from a friend who is more experienced as to explain you some of the details which are lacking.
66) Multifunctional Modular Workbench
This multifunctional modular workbench has literally everything you need to make your DIY projects easy, quick, and fun. Not that you will not have fun while utilizing any other workbench but if you hate messiness like I do, you will understand my point on that one.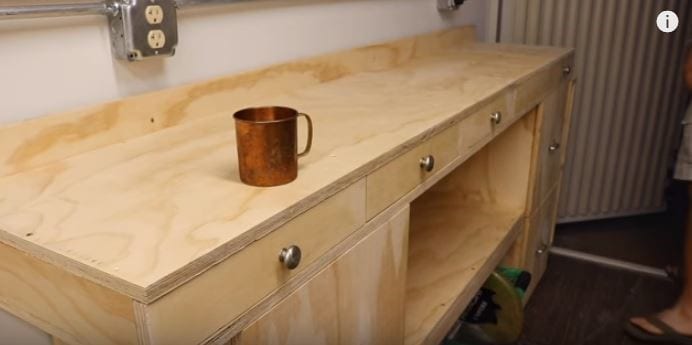 Nevertheless, this is the type of DIY workbench plan which is worth exploring even if you do not fully apply it to the construction of the workbench of your dreams. It is boasting of smart ideas which you can easily borrow.
The main disadvantage I find in this multifunctional modular workbench is the lack of an additional build plan available. However, I can certainly state that the video tutorial goes into great detail, so this is a good compensation.
The Bottom Line
As we have reached the end of this inspiring workbench plans journey, we truly hope we have succeeded in listing a little something for everyone out there, looking for a suitable DIY workbench project.
We believe working with wood is a blessing, and a talent but it is also a skill which you develop after each project you accomplish. Thus, if you enjoyed this article as much as we enjoyed creating it, don't forget to share it with friends. Or if you have some awesome workbench ideas or any insights that might be helpful, join us in the comment section below.