31) Folding Mini Workbench
Heading straight to another mini workbench masterpiece, this one differs from the model we have just listed above as it is also foldable, and hence) free to be transported whenever and wherever you need to. It is only 26 inches tall and 52 inches long.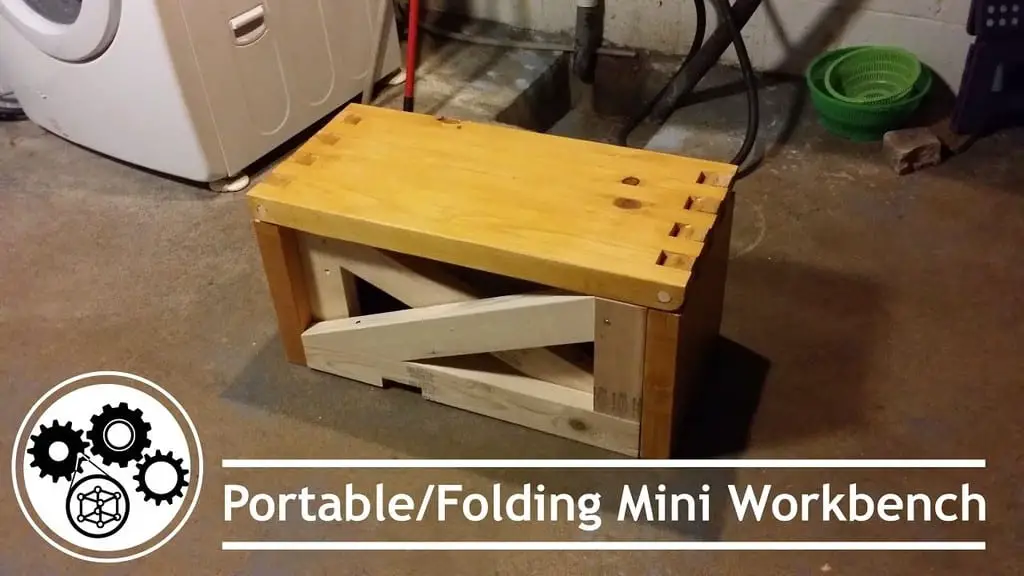 Meanwhile, the width is 13.5 inches. Now, the true magic happens when you fold this tiny bijou. In a glance, you will have your mini workbench turn into a portable little gemstone, transformed into 14 inches tall and 28 inches long. 
We were also extremely happy to notice that free building plans are also available, so if you happen to work better following precise written guidance, I know you will highly appreciate this as a huge plus.
Best of all, you can always choose to adjust the plans to match your specific needs in terms of dimensions, so it is truly a win-win.
32) Cheap & Easy to Build Solid Workbench
When I first took a glimpse at the video tutorial, showcasing this cheap and easy to build solid workbench step-by-step, I ended up in a very curious state of mind. I couldn't help it but think how this super sturdy workbench could easily survive being thrown away from an airplane or something similar, without ever even breaking in pieces.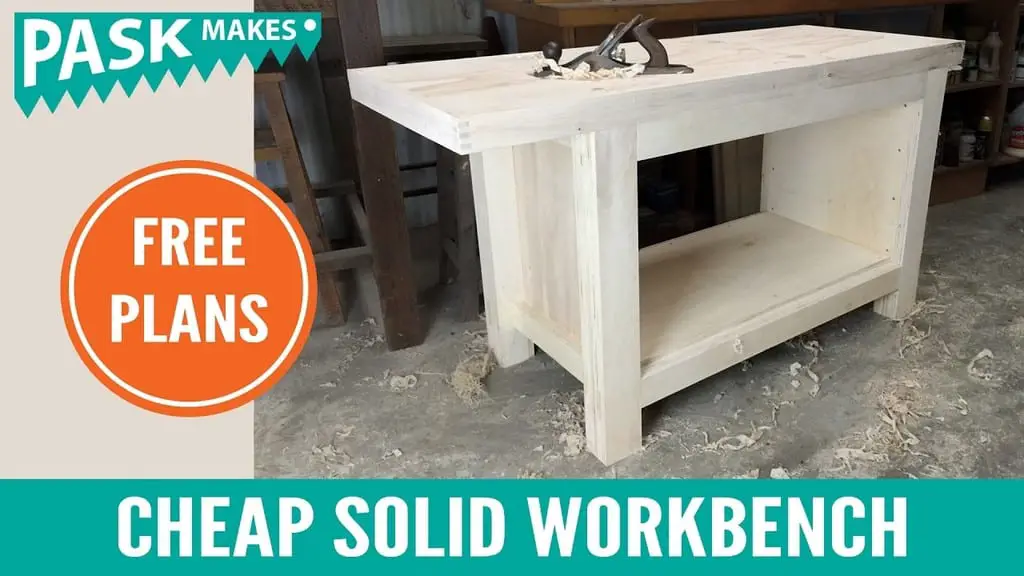 Or maybe end up just with a few scratches but nothing too serious which will break the survival of this workbench for generations to come. Built out of plywood, what I personally like so much about this DIY project is the quick assembly. Partially, that's possible thanks to the smart way the base is constructed, implementing a method of layered construction.
Moreover, we highly appreciate the fact this simple yet reliable design allows you to keep adding multiple additional touches, such as extra drawers, for example, so this is one workbench with perspective.
33) Extreme Woodworking Bench for Under $200
If you are wondering why this woodworking bench is called an extreme woodworking bench, that's because of its extreme sturdiness and heavy-duty design.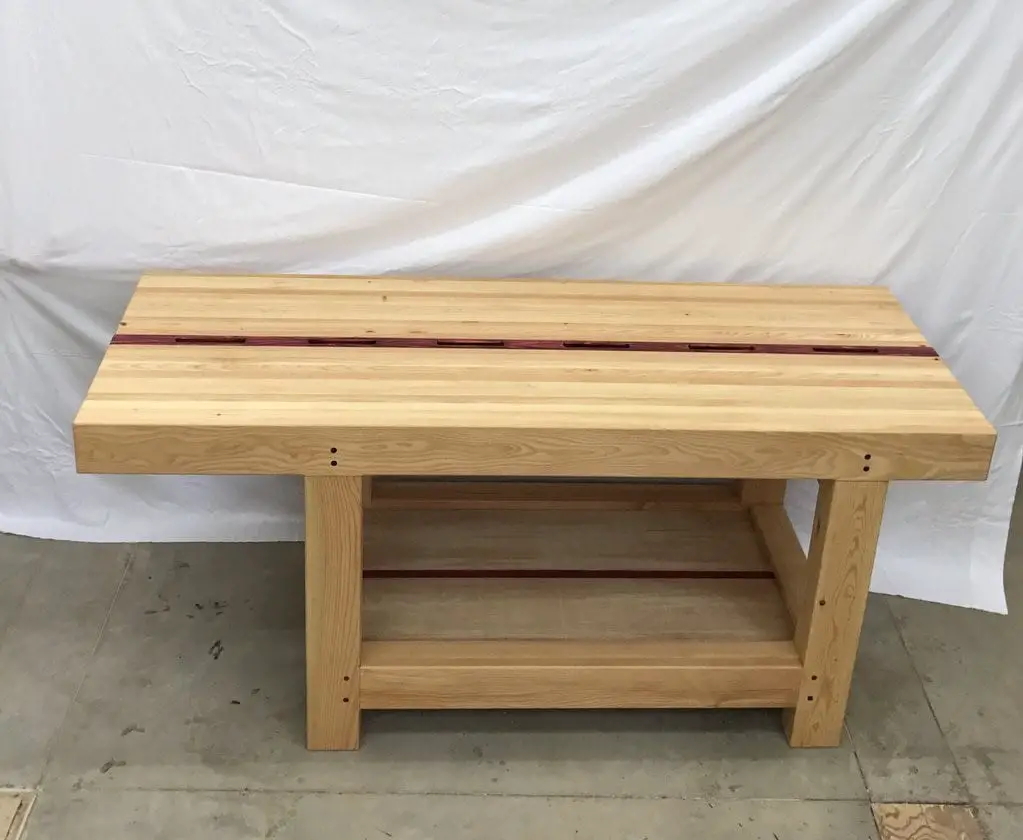 This workbench weighs approximately 500 pounds, and it can take up on a lot of pressure. Since my cousin wanted to have something similar for his workshop, we spent weeks roaming the web for suitable models of an extra solid workbench.
It was almost hard to convince him of the benefits of constructing his own DIY solid workbench, as he was ready to just forget about his humble savings and throw half of these away on a nearly $3000 readily available workbench.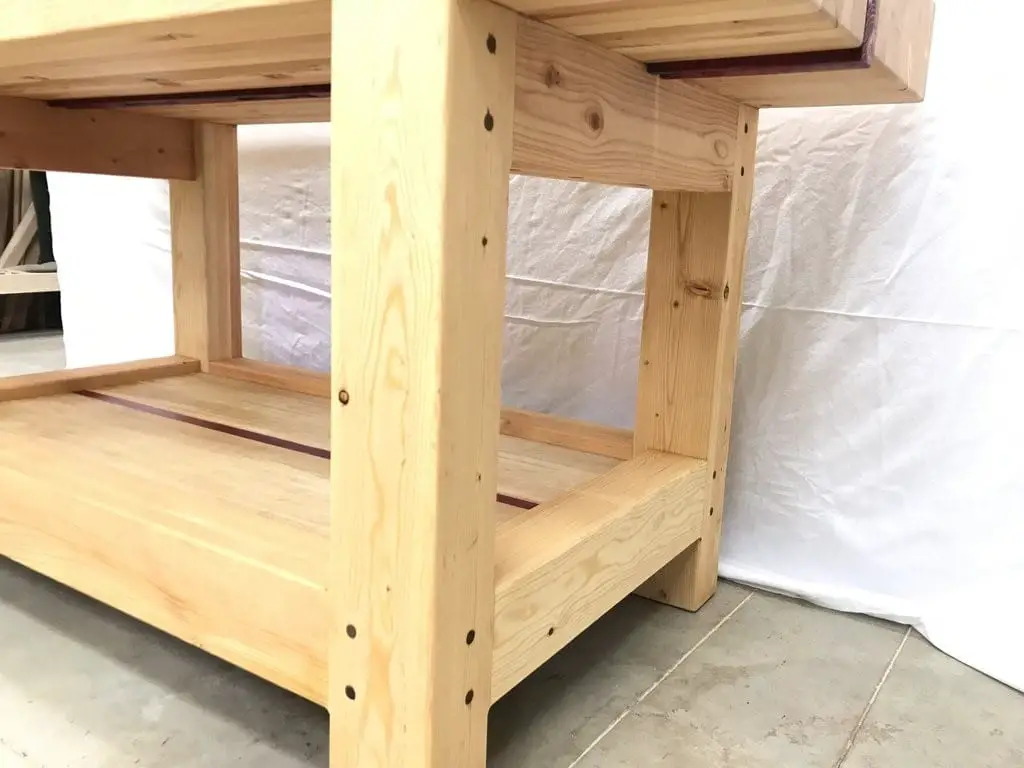 But fortunately, this extreme woodworking bench for under $200 was a game-changer. After watching the video tutorial and exploring the building plans available, my cousin was determined to apply what he has learned from this DIY project and design an affordable workbench for himself.
34) Inexpensive Woodworking Bench with Mobile Base and Easy Storage
This inexpensive woodworking bench with mobile base and easy storage is one which might easily surpass your expectations. After getting acquainted with the full video tutorial, we were more than delighted from what we learned.
Of course, it almost goes without saying that in order to construct this woodworking bench model yourself, you will need to have a sustainable amount of tools.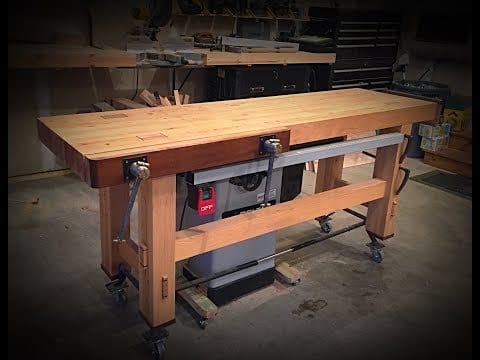 Apart from that, the design is rather straightforward, and the durability of this workbench is inevitable because of the professional approach towards the construction process.
No building plans are available but the video tutorial itself makes up for a very clear understanding on how to make your very own inexpensive workbench, which is also mobile and full of extra storage to put the much-needed order in your DIY life.
35) Portable Folding Work Bench
This portable folding workbench is a very easy DIY project which even beginners can put into practice without much of a fuss. The very idea of utilizing two Stanley V Groove Saw Horses is a pretty ingenious one. It saves you tons of work for crafting the down base of your workbench, and it also saves you time.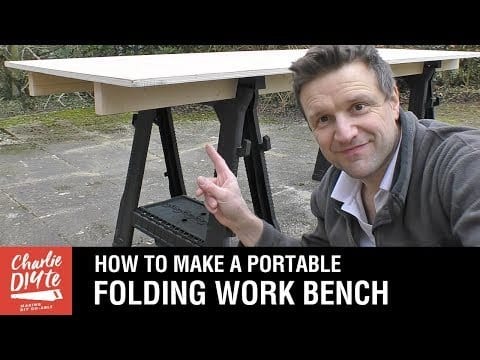 Anyway, it almost goes without saying that the V Groove saw horses will not take upon as much pressure as a solid hand-made construction will do. But in some cases, it might be exactly the opposite.
I know beginners will be especially touched by the ease of this design, as sometimes it better worth to play it safe than waste precious material for crafting something which might not live up to your expectations. 
36) Portable Workbench for Under $35
This portable workbench design which will cost you as little as $35 is one of the easiest and most affordable plans we've managed to come across while roaming the web for awesome DIY workbench plans. In order to craft this workbench, you do not need any complex tools, and even novice carpenters will be able to accomplish it effortlessly.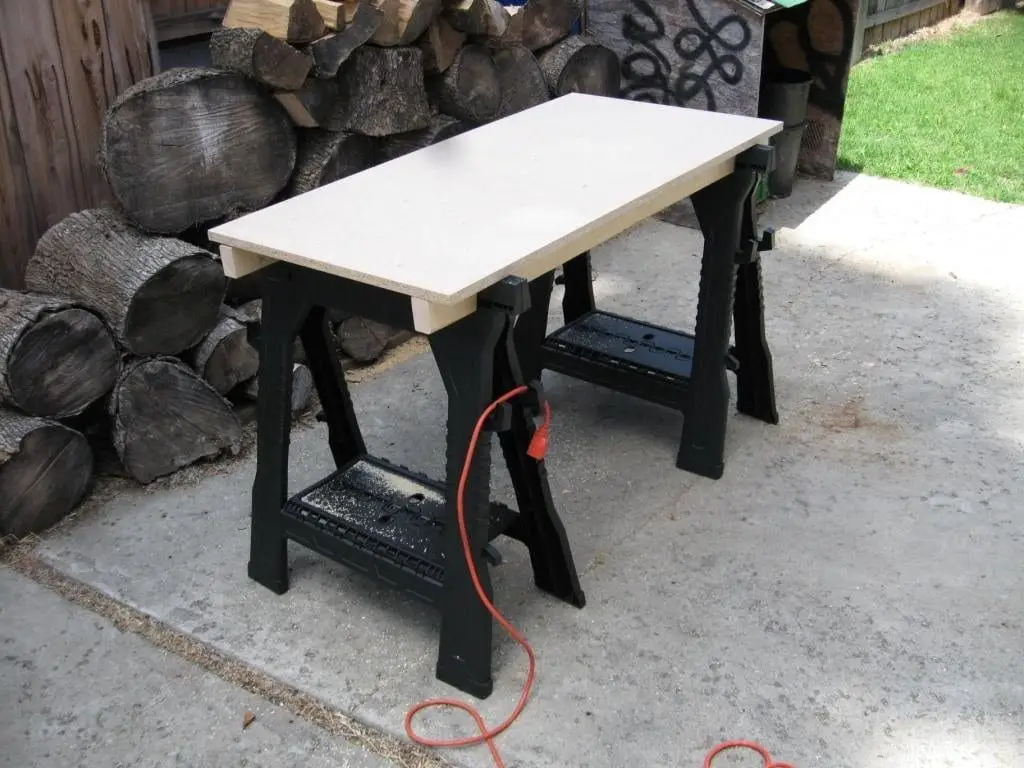 You want to get equipped with a drill, a wood file, and a saw. Even though this workbench is very lightweight and collapsible, it is also pretty strong, with a capacity of approximately 1000Ibs.
What makes up for the extreme ease of this design is the utilizing of 2 horses, which create a stable and portable low base. Due to the beginner-friendliness of this DIY project, no extra building plans are available since the video tutorial is more than enough to have you ready to get working on this mobile workbench.
37) 2×4 Workbench with Levelling Feet
We all agree that Corey Rametta has done a wonderful job with showcasing this excellent DIY 2×4 workbench with leveling feet. If you have ever been faced with the challenge to try working on a workbench which is placed over uneven floors, you already know why we love this how-to guide so much.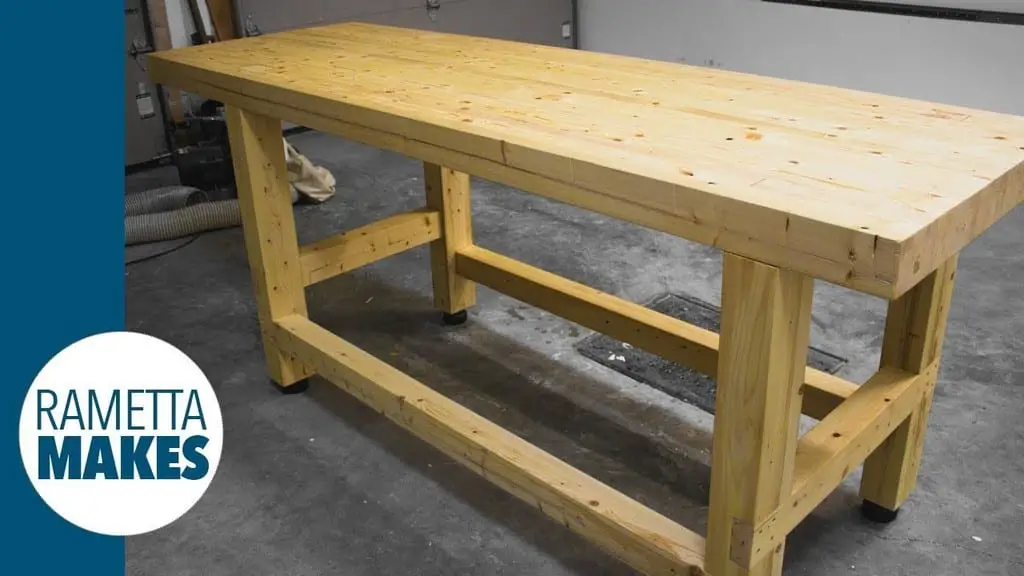 Not only is it very uncomfortable to craft anything while fighting with a workbench which keeps being unstable but it is also dangerous, too. My father-in-law had a terrible accident because of the uneven floor in his garage, where he used to spend every single free minute.
Although he managed to get out of the situation after a while, he was unable to move for a whole month due to the heavy piece of machinery which fell on his left leg during one of his DIY projects. With this in mind, this workbench with leveling feet is a fantastic build.
38) Simple Torsion Box Workbench with Handy Fixturing Surface
This simple torsion box workbench with the handy fixturing surface is one of those builds we cannot skip to share. We were impressed by the smart design which makes use of simple tools and materials, such as plywood, dimensional lumber, carriage bolts, and pocket screws.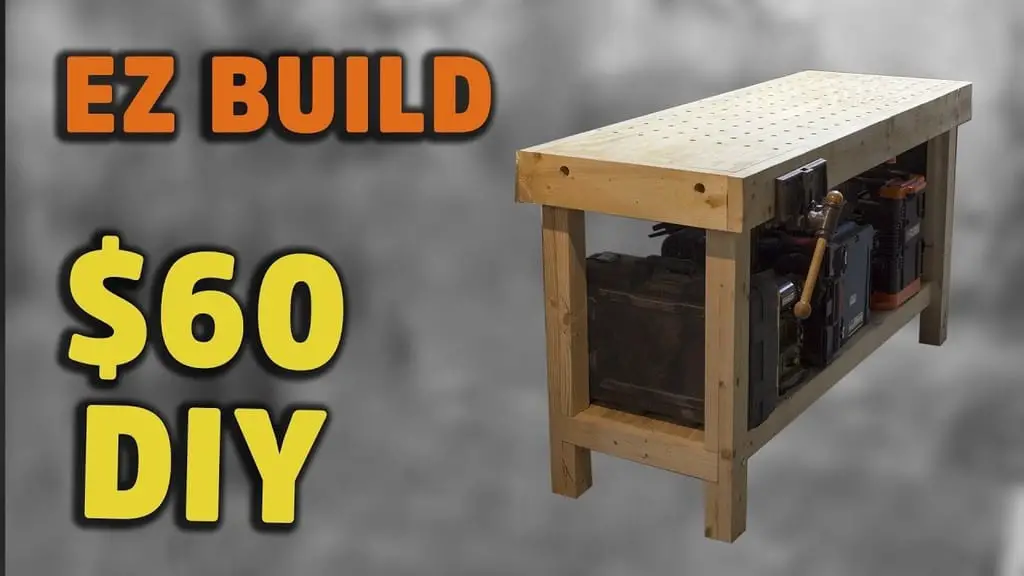 A torsion box can resist a good amount of torsion under a particular load you apply, hence the name of this structure. While the very mention of a torsion box might seem like heading straight into the unknown, especially if you are a beginner, it is actually a relatively simple design. It makes use of 2 thin layers of material which share a lightweight core.
Unfortunately, no additional building plans are available for this DIY workbench plan, so if you are just getting started with exploring the world of handcraft, this might not be the most suitable project to suit your level of experience.
39) Roubo Style Woodworking Bench from 2X6 Construction Lumber
This roubo style woodworking bench which is made from 2×6 construction lumber is designed with a great eye for detail. We love that the video tutorial took us through all the phases of the build, and we would estimate it as one of the most complete how-to guides.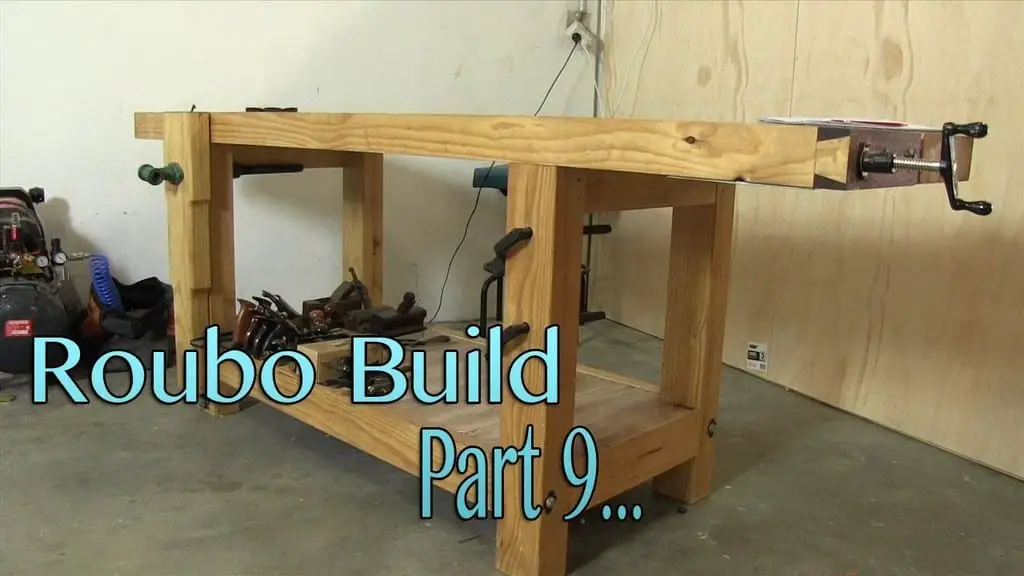 In fact, it is so comprehensive that some of you might easily lose their nerves from all the talking. But then again, this is exactly what many others will find extremely helpful. Personally, I am the type who enjoys getting all the tiny details into consideration, even those which some might find unnecessary and annoying.
On another note, we do appreciate that both hand tools and machinery methods are presented, so that you can implement the one which caters to your needs and supplies.
40) Heavy, Huge $100 Laminated Workbench
This heavy, huge workbench with a laminated design is surely one with a character. As it is not the lightweight type of workbench, you might want to consider this DIY project if you tend to use many hand tools. In such a case, this particular workbench model will be very useful.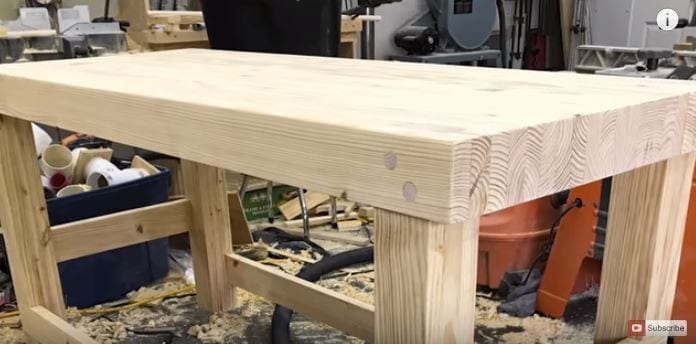 Also, if you spend a lot of time banging on various objects while crafting, this is an excellent choice. However, if you happen to utilize a workspace where most of your equipment requires constant moving, then this workbench is not the best one to match your needs.
The tools which you may want to utilize while constructing this workbench are all neatly listed. However, no building plans are available so you will have to count solely on your understanding of the video tutorial. The video comes in 2 versions) a narrated, and a non-narrated one.