21) Alternative Modern Outdoor Concrete and Wood Workbench
This Modern Outdoor Concrete and Wood Bench is one amazingly creative DIY project, which is simultaneously extremely simple in terms of execution. With that in mind, both beginners, as well as the more experienced DIY aficionados can find this design scrumptiously tempting.
Personally, I've always been a little conservative when it comes to any material, which is non-wood related.
However, this DIY project has boosted my inspiration, and I am determined to try out creating this piece of beauty for my outdoor workspace. Concrete is not only easy to work with but it will also provide an amazing durability and stability to this bench.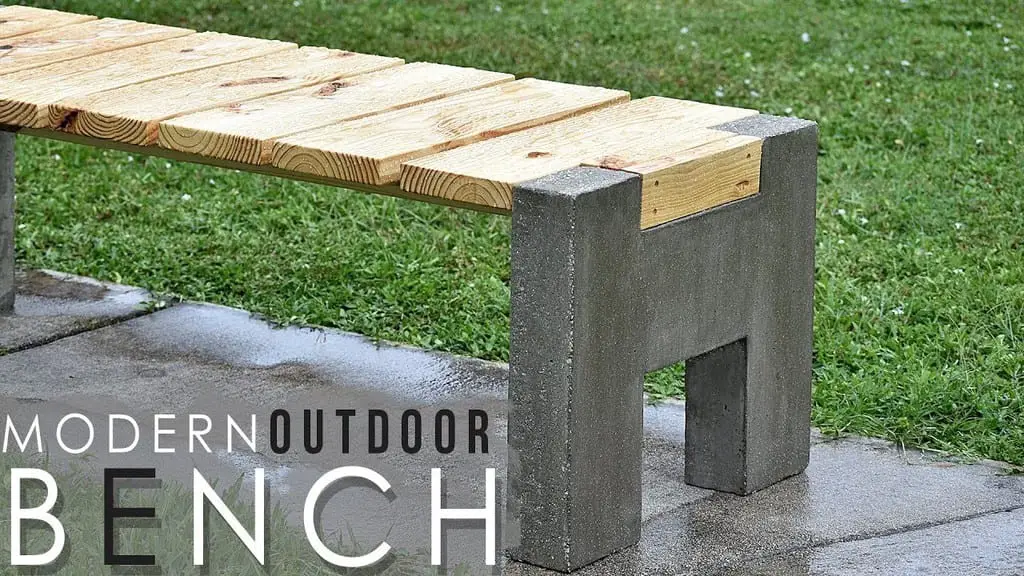 In order to turn it into a suitable workbench, I am simply planning to adjust the height, as well as to upgrade the design of the top by using some of the rest workbench tutorials we have listed and choosing the one to match my taste (and skills).
22) DIY Workbench with Pallets
Working with pallets is very popular among DIY aficionados, and this trend doesn't seem to come to an end. Indeed, pallets are perfectly versatile, and best of all) if you can put your hands on reclaimed pallets, you can accomplish your plan with little to no expenses at all.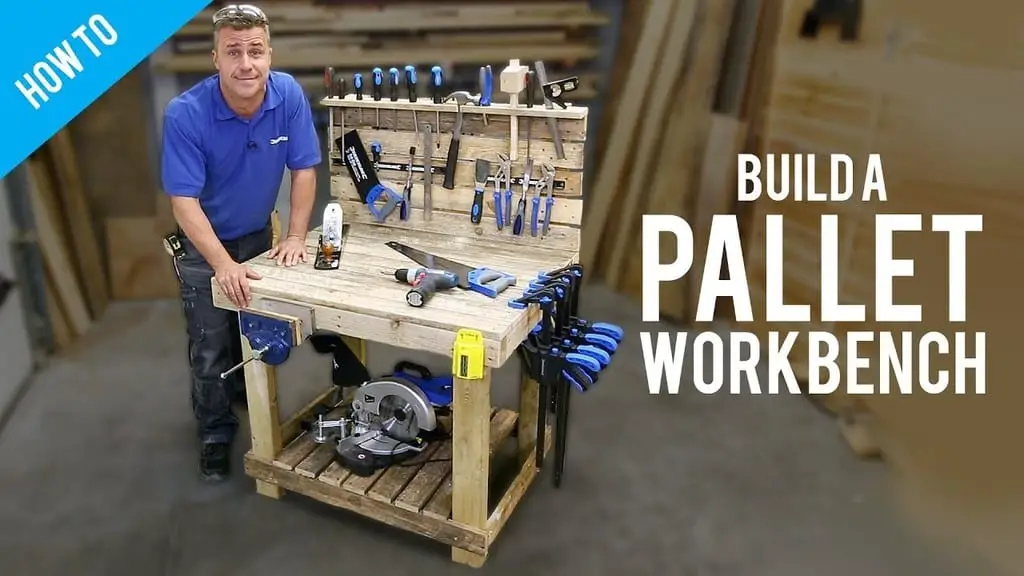 This DIY workbench with pallets tutorial explains all the steps you need to go through in an extremely easy-to-digest way.
However, keep in mind that this particular workbench is not the sturdiest one. It can work great for storing your tools, for example, but we don't find it suitable for heavy DIY projects.
The arsenal of tools you will need is a very basic one, which can be a good plus if you happen to have only limited access to instruments. Free plans are not provided but that's mostly because the project is so straightforward that you don't actually need such.
23) DIY Simple Workbench Project
Once again, DIY Pete manages to help those of us who are roaming the world of woodworking for wonderful DIY projects. This simple but super functional workbench was crafted to become a part of the new home of Pete's good friends, named George.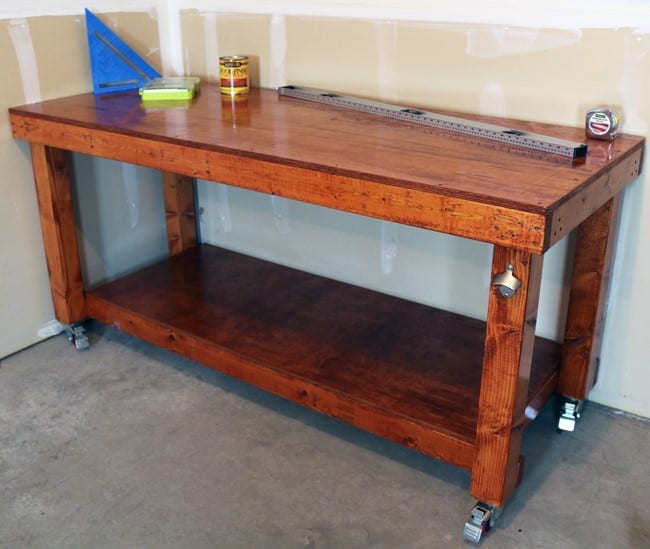 Well, we are happy that George needed this workbench because now we can also take advantage of the free building plans available. The plans come with step-by-step instructions, including pictures and sketches.
The tools you'll need to have handy include circular saw or miter saw drill and/or impact driver, orbital sander, tape measure, pencil, and straight edge. Of course, you always need to apply for suitable protection when it comes to your eyes, hands, and ears.
The average costs of this project are not expected to exceed $125.
24) Woodworking Workbench for $110
This is one beautiful, sturdy, and extremely professional DIY workbench that we've got here.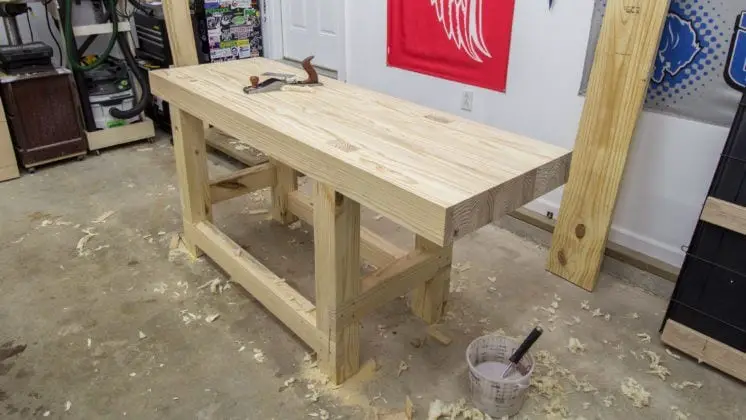 However, if you are just getting started with DIY woodworking projects and/or do not have access to an extended set of tools, make sure to check out the video tutorial with an open mind.
You will see that Jay Bates has utilized a very extensive arsenal of instruments and if you fail to realize these can be actually substituted with much plainer instruments then you might end up confused.
Apart from that minor concern which we already warned you about, personally, I think this workbench is worth every single effort. A metric and imperial plan is also available but it is not for free, and if you want one it will cost you $19.99.
25) Sturdy Woodworking Bench
We love this sturdy woodworking bench tutorial because it is simply fantastic, no matter if you are still a novice to woodworking, or you are already among the more experienced carpenters out there.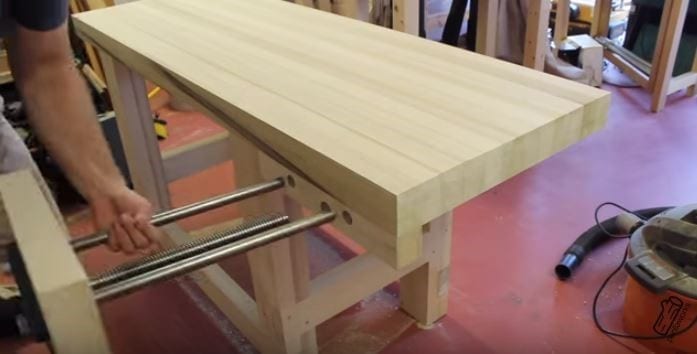 When it comes to the dimensions of this workbench, it is 23″ wide, 66″ long, and 34″ tall.
However, if you like this particular workbench, mind that there are no building plans available, so make up your mind whether or not you will feel confident to work on this project by relying solely on the provided video. Anyway, we do find the video to be detailed, no-nonsense, and very practical.
26) DIY Workbench Extra Storage Build
A fair warning to all: if you are not interested in building a workbench which has TONS of free storage in the form of drawers, then this DIY workbench extra storage build is not what you want. But on another note, if the idea of having your workspace supremely organized while not compromising on a stable and solid workbench, then I believe this particular DIY workbench will keep you smiling for weeks.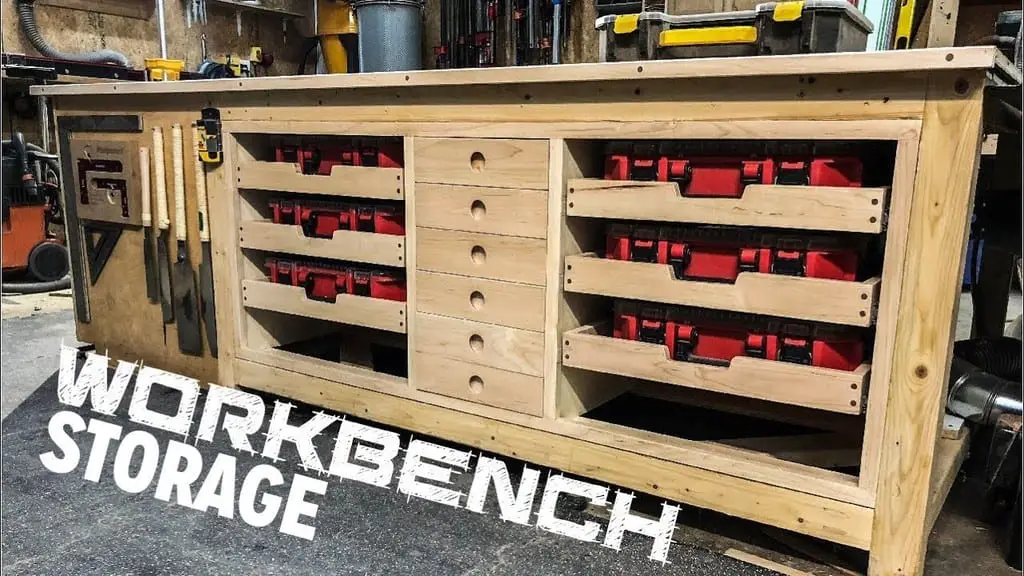 John Malecki has been doing some awesome DIY video tutorials which are truly nailing it, and this one makes no exception.
The more experienced carpenters among you can cope without getting the building plan. Anyway, plans are available, although not for free, and will cost you an extra $10.
27) Mobile and Modular Workbench
This mobile and modular workbench quickly grabbed our attention for its truly magnificent design.  Personally, I was literally impressed with the opportunity of having a workbench which can be utilized as one single big working area or just 2 smaller parts.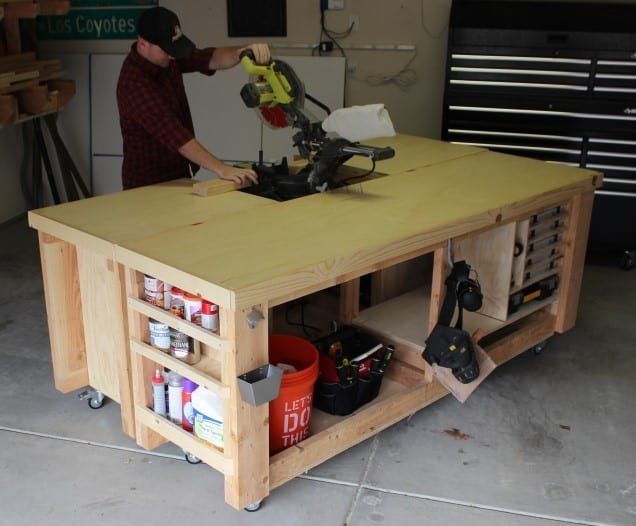 But the most brilliant trait of this workbench is none other than the spacious storage. Thanks to that spacious storage, this particular workbench can substitute the function of the out-feed table.
The height of this workbench is about 36 inches, which makes up for a very comfortable time crafting. The top is made very economical and practical as it makes use of ¾-inch cabinet-grade plywood. Afterward, 2 layers are lamented to make the top strong and stealthy.
Ultimately, this is a fantastic design with step-by-step guidelines which might look complex at first but turn out to be very simple and smart as you take the time to explore them.
28) Workbench with Sustainer Storage
This workbench with sustainer storage is a fantastic example of a large and extremely detailed piece you can craft (and be forever proud of). The dimensions might not be a great fit for you if your workspace is limited, though.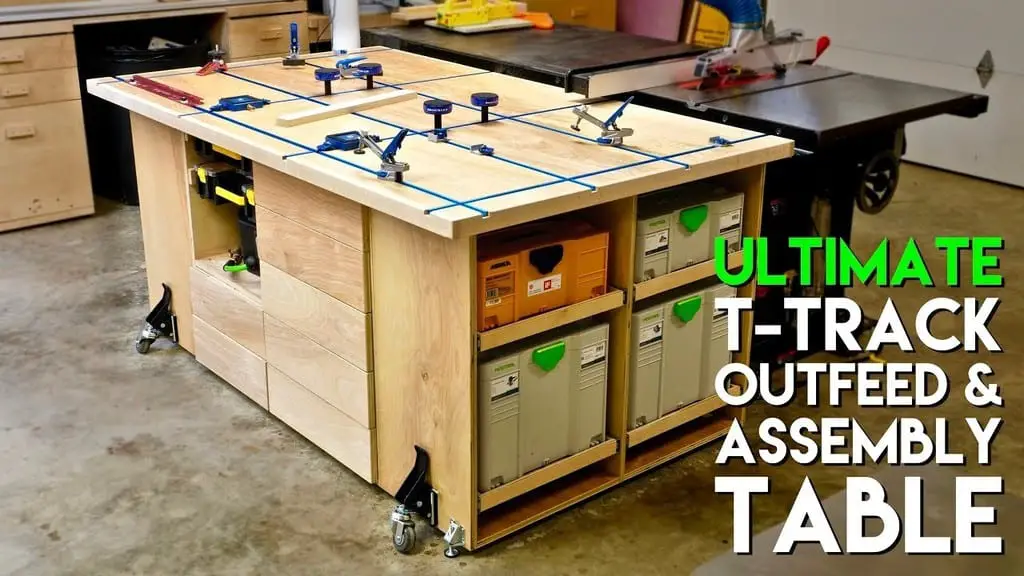 The table is 73 ½ inches wide, 42 ¾ inches deep, and 33 ½ inches high. The height included the leveling feet. However, these dimensions are adjustable, so don't get discouraged at the very mention of the size. All the tools and materials you will need are clearly listed.
Full building plans are also available, however, you can find these for an additional $9.99 in a PDF downloadable format.
This type of workbench can be suitable for those who want to have one single ultimate workbench with extra storage, serving simultaneously as an outfeed table, and is not the best DIY workbench project for the novice carpenters.
29) Laminated Pine Workbench
When we stumbled across this Laminated Pine Workbench made out of 2×4's, we didn't even suppose we're going to discover such an excellent tutorial. We agree this is one of the simplest and most affordable workbenches, which anyone can make, as long as you are okay with following video instructions.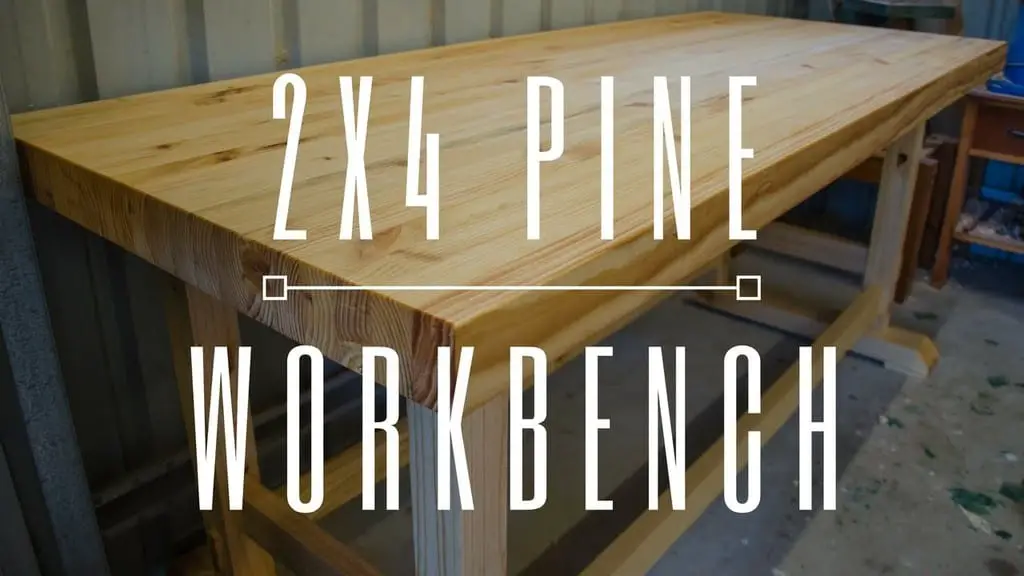 Additional building plans or sketches are not available, so it is solely the video tutorial that you can rely on.
However, we were very pleasantly surprised to find out many clever tips and multiple tiny tricks shared in the video, which one can effortlessly apply to other DIY projects, as well, and not merely when it comes to crafting this workbench.
Ultimately, we think this is an excellent build from start to finish, with all the essential details you want to know being showcased in an easy-to-grasp and easy-to-digest, precise way.
30) Mini Woodworking Bench
I know from first-hand experience that having a mini woodworking bench is nothing less but a brilliant addition to any workspace.
Thus, as soon as I became a part of the team in charge for creating this excellent list of DIY workbench plans, I was impatiently waiting to share with you some fantastic ideas for a mini version of the favorite and so necessary for every carpenter and DIY aficionado workbench.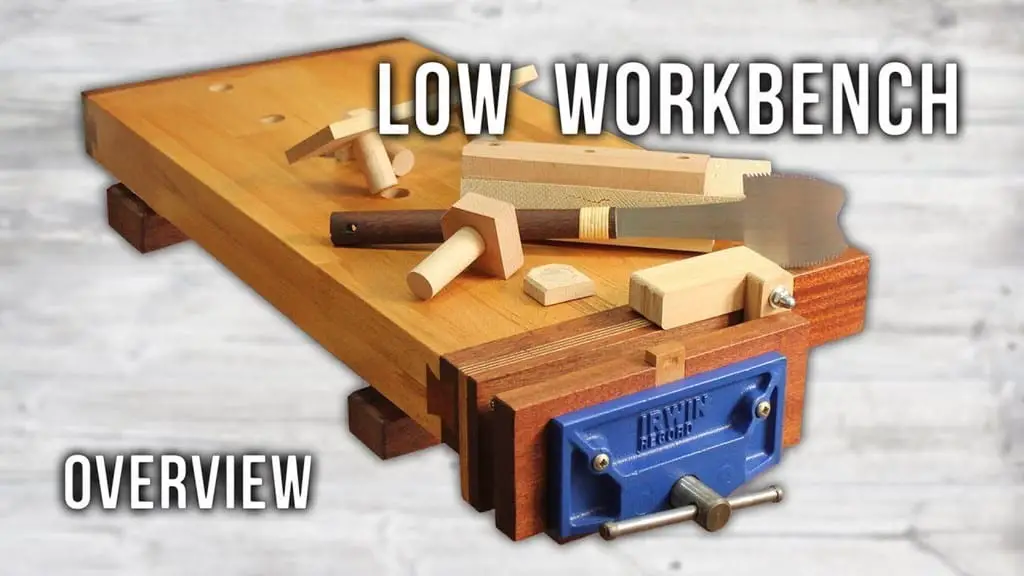 This mini woodworking bench can be clamped to a suitable surface, such as that of an already available bench or table. One of the only downsides we find to this particular DIY tiny workbench is the lack of building plans. At least all the instruments used are clearly listed below the video tutorial.
Meanwhile, the highly crafty and precise video actually compensates for the absence of building plans available, as it guides you through every step of the process.