51) Old Door Workbench
In line with the core door workbench we just listed above, this old door workbench DIY project can make use of some outdated and most probably useless materials you keep in your garage or workspace. The table surface of this particular build plan is 36'' x 86''.
However, you can easily adjust these according to your needs and personal preferences, as well as the materials you might want to reuse and repurpose. When it comes to the frame, 2'' x 3'' stock is utilized.
Personally, I highly appreciate the free 3D sketch up for this project, as it is very helpful to visualize well the construction, and especially if you are the type of person who doesn't seem to work well by relying solely on video tutorials (like me). Besides the ease of this DIY workbench plan, I also love the versatility of the end product, which is always a huge plus.
52) Workbench on Wheels
This DIY workbench on wheels plan is a super crafty, extra easy, and an especially clear to build one. On another note, this is also a very affordable project as it is estimated to cost about 70$.
What I personally appreciate the most is that you can customize the table to your very personal needs and preferences; however, the basic structure remains very strong, sturdy, and durable.
I know these features are always relative when it comes to DIY projects. But as far as the construction of a workbench is concerned) it gets even more important to opt for a robust design with a mind to your health while you enjoy working on future DIY projects on your workbench.
Best of all,  the top of the table is easy to replace, so when it gets out of order, you can effortlessly switch it for another one with little to no fuss.
53) Tool Cabinet Workbench
Even though I am not a real fan of heavy workbench designs, admittedly, I think this tool cabinet workbench can change the mind of even the toughest skeptics. It is also named the massive concrete workbench, and that's exactly what this extra storage DIY project is all about. In fact, utilizing concrete for building this workbench is a double win-win.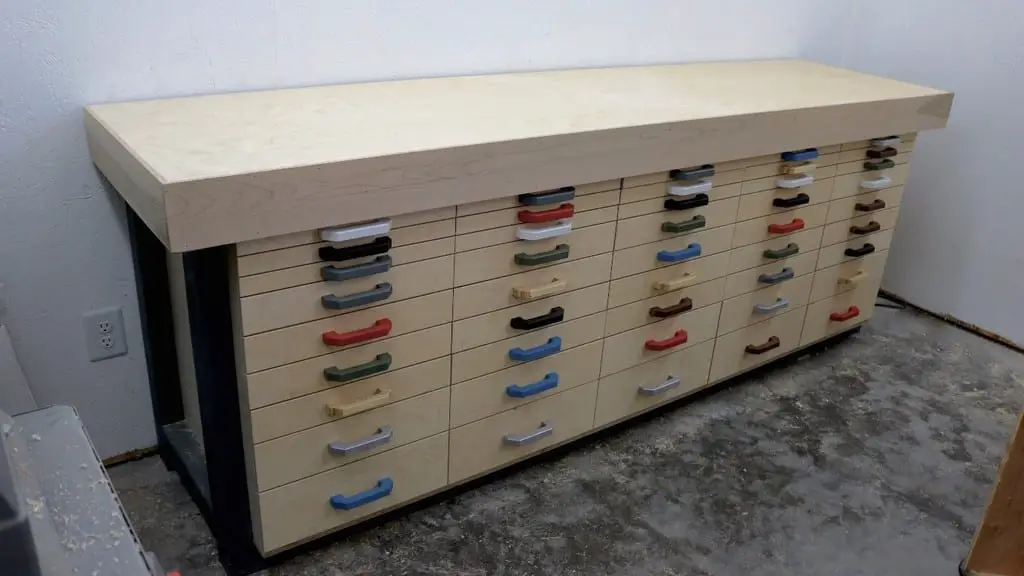 First off, this makes part of your work on this project so much easier than having to work with wood. Secondly, it saves you money. And thirdly, it can last for a very, very extended period of time. Last but not least, the use of concrete truly makes up for an extremely durable, solid design.
Thus, if you happen to work with heavy objects and need a reliable, massive workbench, I know you will find this one nothing less than impressive. Sketch-up files of this build are also available for free.
54) DIY Plywood Workbench
I know a lot of craftsmen out there will consider this DIY plywood workbench a downgrade one, as opposed to some more intricate and sturdy designs you may opt for. However, I also know that every DIYer has different needs, so this simple build might actually be exactly what some of you are looking for.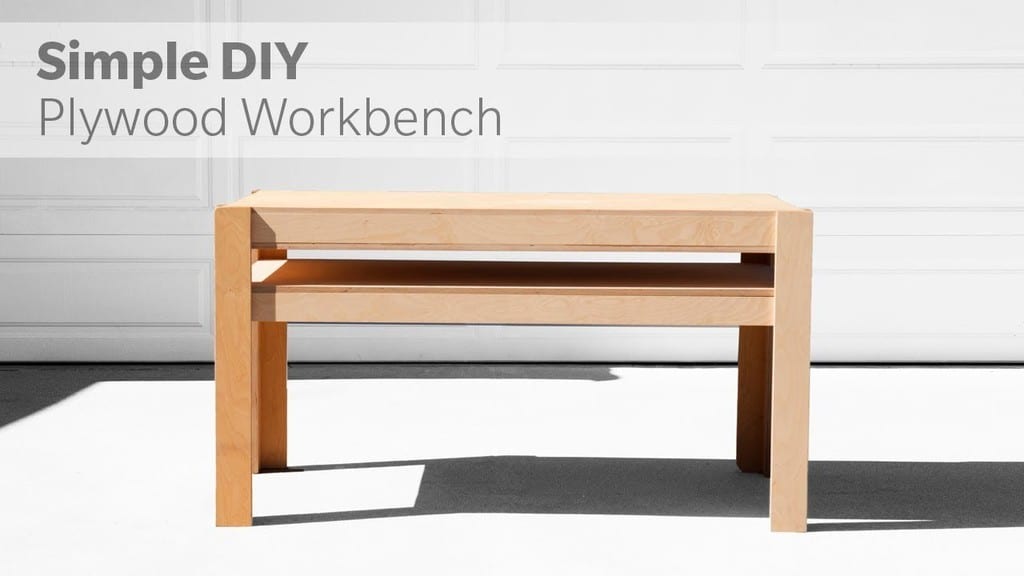 Personally, I love the unpretentious list of materials utilized for this project. In the video tutorial below, Chris Salomone utilizes a full sheet of plywood, as well as some left-overs from a previous project he has been working on.
Nevertheless, once the sheet of plywood is broken into smaller pieces, it is easy to accomplish this DIY workbench plan on your table saw. The legs are glued and screwed together until they form an L-shape, which is a very doable design even if you are still a novice at working with wood.
55) Modular Pallet Workbench
This modular pallet workbench can be a fantastic choice for those of you who need some extra space to lay out their tools, as well as to stage some parts while working on other projects.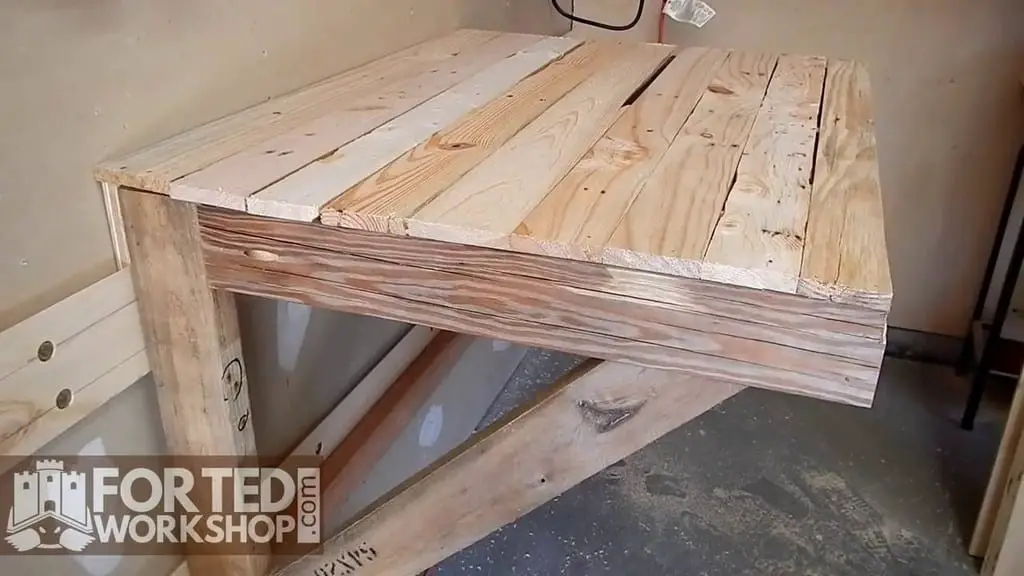 However, this is not the best build plan if you are looking for a heavy-duty workbench, which will be able to take up lots of pounding. What I can't help but highly appreciate about working with pallets is the fact that you can make use of reclaimed ones.
That is not only an environmental-friendly solution but it is also a very cost-effective option. On another note, you want to be careful when choosing the right pallets for your needs, and watch out for the condition of the wood. You need to avoid pallets, which have become extra thin, as this will make them shatter once you start deconstructing the parts.
56) 2×4 Homemade Workbench
This 2×4 homemade workbench is just as sturdy as it is simple. Thus, in the case you want to start your workbench project with something affordable and easy to construct, this model can be an excellent option. It is made out of 4'x8' sheet of ¾" thick plywood.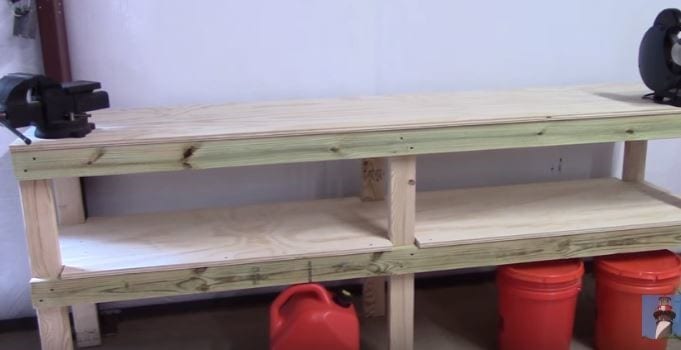 When it comes to the legs, you will want to utilize 2"x4" x 36" wood. 2"x4"x8' is used for the back and front of the shelf, and 3 – 21" end pieces are needed for some extra support. The final result is a bottom shelf which is 16'' from the floor. That space makes up for easy storage of about 5 gallons containers.
What I personally love the most about this DIY workbench plan is that anyone can do it without sacrificing the quality of the end product. This is a workbench which can last for generations to come.
57) Workbench Out of 2x4s
Being a true aficionado of DIY projects, and especially the one which involves woodworking, I know very well some of the challenges that come along when you start building and crafting. I can't even count the thousand times I have felt lost in the chaos of working with multiple parts.
Thus, when I stumbled across this workbench out of 2 x 4s DIY plan, my attention was immediately won thanks to the minimum parts being utilized. With this in mind, however, it is good to remember that you may fail to construct a truly sturdy workbench.
My advice to those of you who are looking for a DIY workbench plan which will allow you to build a heavy pounding workbench is to skip on this one. But on another note, if you are on the search for a convenient workbench where you can store some of your tools and craft lightweight stuff, this one is a good option.
58) DIY Workbench Solution – Garage Store Shelf
This DIY workbench solution is a fantastic option for a space-saving, versatile, and easy to build the project. In fact, the design is so simple that even those of you who are just getting started to explore the beauty of working with wood will be mesmerized by this DIY plan.
It makes use of only 2x'4's and 1/2″ particle board. Personally, I am always excited to come across building plans, which are effortless to customize since we all have different needs and demands.
On another note, besides being easy-to-scale, this DIY workbench solution makes use of basic only tools and supplies. These include a circular saw, a miter saw, a drill and impact driver, as well as deck screws, and polystyrene insulation for cutting mat. A full cut list and sketch ups are also available so that you can accomplish this project with confidence and ease.
59) Easy-to-Build Simple Workbench with a Shelf
I remember starting my first DIY projects and roaming the web for tutorials. Even though this was quite some years ago and the availability of how-to guides was much more limited than nowadays, I've always hated the fact that most of the guides were making use of complex techniques and/or tools.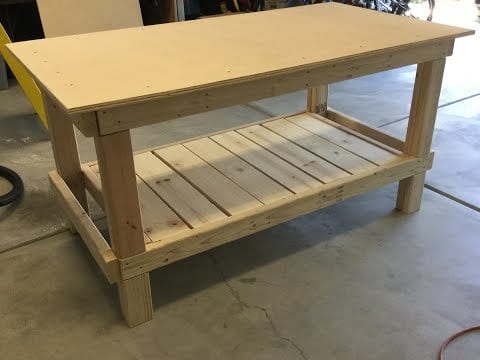 After all, we are not just born with some magnificent woodworking skills. And nonetheless, even up-to-date when I am more experienced than I used to be back in time, I still have some of those lazy weekends when I prefer to construct something simpler and more manageable.
That is also exactly why I appreciate this easy-to-build simple workbench with a shelf plan. In the case, you want to build a functional workbench with as little as T-star drive screws and glue as major materials apart from the 2x4s, common pine boards, and a sheet of plywood you will also need) then this build plan might be a wonderful option.
60) MDF Workbench – Sturdy and Cost Effective
MDF sheets are a fantastic choice for the construction of this MDF workbench, being both cost-effective and easy to work with. At the very mention of MDFs, however, I know many of you will feel suspicious whether or not utilizing these would make up for a solid and durable workbench.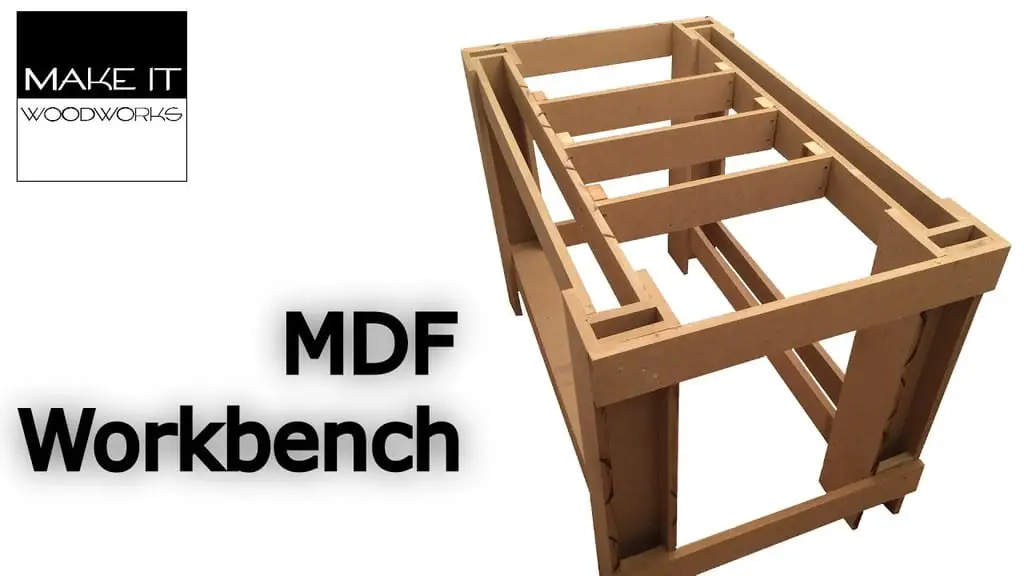 Well, creativity beats it all. Even though I was also on the no-no side of working with MDFs when it comes to a DIY workbench project, I was delighted to see that I was wrong.
This particular MDF workbench will not be the best choice for those of you who work with heavy objects or need an extra robust and strong workbench, that's for sure. But for many of you who do not keep into consideration the maximum sturdiness of the build, I know this plan can give you tons of excellent ideas to apply fully or partially to your DIY workbench.