31) Garage Pergola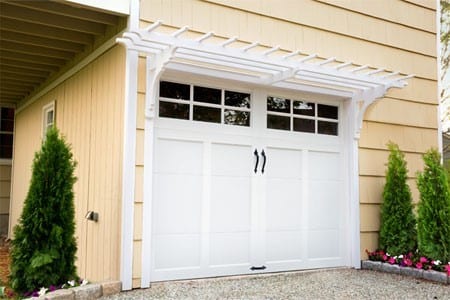 Give your garage door a makeover with a lovely pergola. This is similar to the mini pergola plan, however, the rafters are narrower and the upper supports are longer (as wide as your garage door). Just like the mini pergola, this does not have posts but is bolted to the garage door entryway with an L-shaped support.
This structure frames the garage door in this picture so the beams are painted white, the same as the garage doors. The plans for this DIY garage makeover are available here.
http://www.thisoldhouse.com/toh/how-to/intro/0,,20827825,00.html?pergola
32) Simple Patio Pergola Design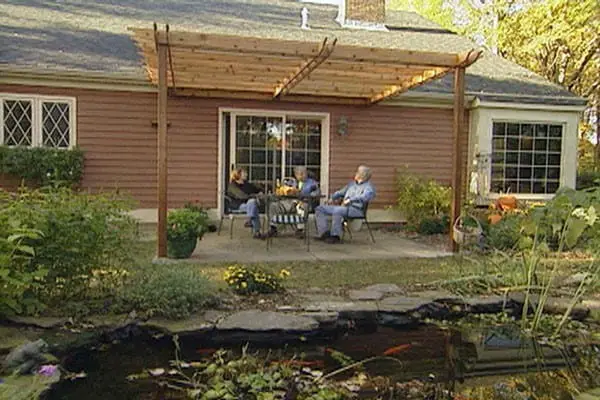 Give your patio the best upgrade with a pergola. This is a simple pergola that is attached to the house. Two posts are buried deep into the ground while the other side of the structure is attached to the house, leveled with the roof. This pergola is high but has narrow posts and beams.
The rafters have expertly-shaped ends made by using a jigsaw. Comfortable seats, potted plans, pillows, and lights make this patio pergola a cozy place to relax in. The plans for this lovely outdoor structure are found here.
https://www.ronhazelton.com/projects/how-to-build-a-wood-pergola-over-a-patio
33) The Square Pergola Plan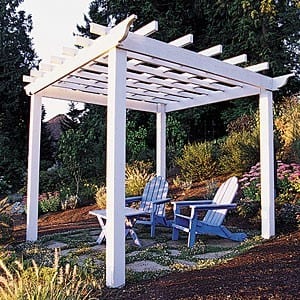 Relaxing outdoors, admiring nature or just getting some sun is never going to be the same again with this outdoor square pergola. This is similar to the box pergola design because the rafters have been spaced carefully to make a square or a box.
Long, thick posts are buried deep into the ground while strong and wide upper supports hold the crisscrossed rafters. This pergola is tall and airy. It stands on a grassy open area on your backyard.
Accessorize this pergola with large wooden lounge chairs, a table, and some flowering plants. Easy plans for this pergola are available here.
34) 10 x 10 Base Pergola Plan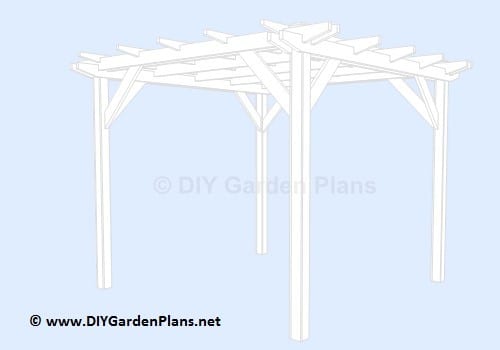 This is a plan to make a pergola standing on a 10 x 10 base. The plan included with this DIY pergola may be adjusted to fit any size of the base. Like all plans, this one uses pressure-treated wood as posts. This will help make the posts strong and durable and can withstand and extreme weather changes.
The pergola itself looks simple and very easy to build. It is tall, airy and has plenty of room to hang plants and to set up chairs, tables, lounge chairs and other accessories. The plans for this simple pergola are available from the link below.
http://www.diygardenplans.net/diypergola.htm
35) Classic Pergola Design #2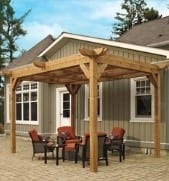 This classic design was constructed right up against the house so you can shade your patio or outdoor seating area from the sun. This pergola has four sturdy posts that are buried deep in the ground. The upper supports are strong and wide while the rafters are barely seen as these are covered by the wide supports.
Strong diagonal braces offer support for the upper sections making this strong enough to hold aerial plants, lights, and other accessories. This pergola may be built directly out of the house or on top of an area near a pool or a water feature.
This DIY pergola plan is not for beginners though because you need to master making notches for the rafters using a dado blade on a circular blade.
http://www.homeathome.homehardware.ca/en/index/home-projects/project-ideas/home-at-home/summer-projects/pergola.htm
36) Freestanding Pergola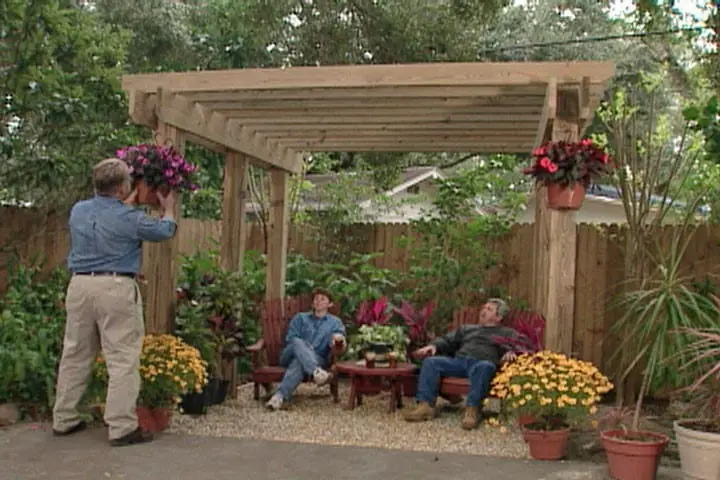 This is a special pergola made of materials that can withstand even hurricane-force winds. This can update any plain area in your backyard and will offer a shaded sitting area as well. You can make this as large as you want it to be to accommodate large outdoor furniture pieces like a sofa, lounge chairs or even a hot tub.
Hang flowers, place pots, use decorative lighting and you got an outdoor area that you will love to be in for the entire afternoon. This pergola was made from the ground up. It stands on a stone-covered surface while the posts are buried three feet into the ground for strength.
Hurricane clips are used to attach the crossbeams together. You will find the plans for this strong freestanding pergola here.
http://www.ronhazelton.com/projects/how_to_build_a_free_standing_pergola
37) The Pergola Shaded Sitting Area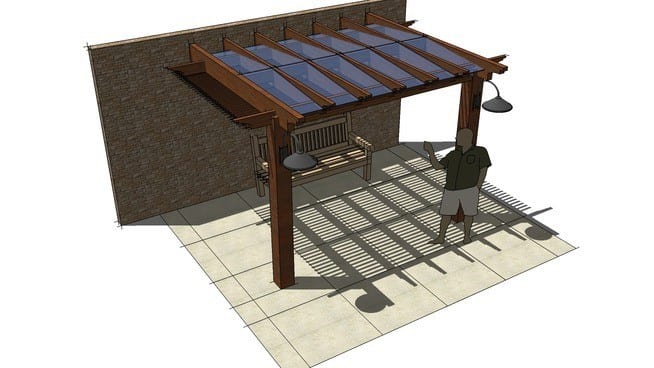 A pergola may be installed on any area in your backyard, front yard, garden or poolside. What makes a pergola perfect outdoors is that it can provide just the right amount of shade on an area. This plan is for making an attached pergola, constructed as a permanent part of a house.
Two posts are buried deep into the ground to support the structure while the other end of the pergola is mounted on the house. Instead of having just simple rafters as a roof, a sheer material is mounted on top of the rafters to serve as a shield.
You can construct this as a removable sheer cover or as a permanent installation. You can build this over your backyard barbecue area, near the pool or on a patio. You can add hanging plants, a few potted plants, and lights.
https://3dwarehouse.sketchup.com/model/bde832da29c2291aeedf2db31e7bff6/Pergola
38) A Walk-Through Garden Pergola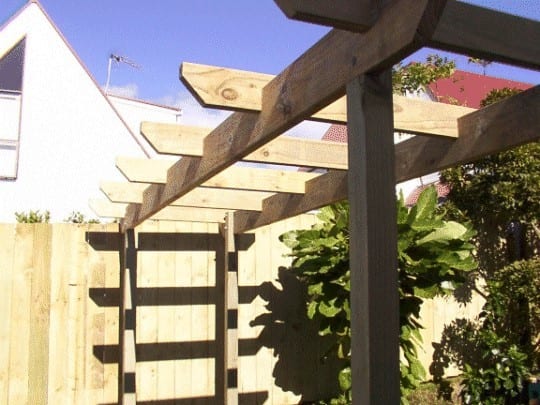 If you have a large garden and you often have to use an umbrella just to get from one area to another then you can install a walk-through garden pergola. This is a structure that will shield you from the hot sun and also from the rain.
This walk-through pergola plan uses treated wood that is suitable for outdoor application. It is narrow but long with only two upper supports with only a few inches in between. Like long monkey bars, this pergola will enhance the beauty and style of your garden.
https://www.buildeazy.com/fp_pergola.html
39) From the Ground Up Pergola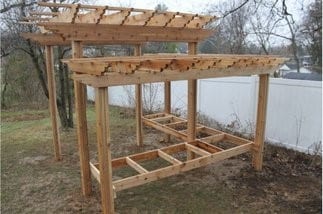 One special thing about this pergola is that it looks so awesome. Looking at this photo, it is not clear what this pergola is but the sections at the lower pergola reveal that this could be a seating area. The rafters have been cleverly and creatively cut using a jigsaw.
Supports are also cut in an angle for a more dramatic effect. You can tell that this pergola is strong because it is made from Western Red Cedar. The two pergola sections have eight posts in total, all of which are buried in the ground. You can use this as a seating area, a place to hang plants and lights and as an area for outdoor meditation.
https://www.instructables.com/id/How-to-build-a-pergola-Make-it-awesome-from-the-gr/
40) The Gorgeous Red Pergola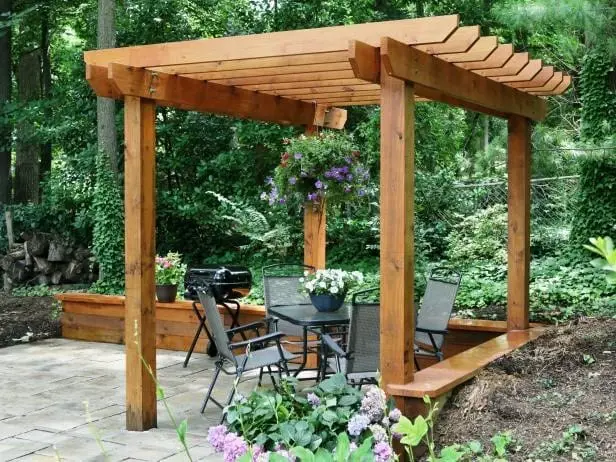 As you can see, this pergola is quite reddish in color because it was made from pressure treated red cedar. It has a simple design but yet there are a few perks. This was made near a seating area possibly in a home or in an outdoor section in a mall or park.
The pergola has wide and long posts making the section airy. The rafters can hold aerial plants, lights, and other outdoor accessories. And of course, this redhead can be used to cover seating areas, relaxation areas, and meditation areas. The plans to create this pergola are available here.
https://www.diynetwork.com/how-to/outdoors/structures/how-to-build-a-pergola