71) The Pergola Patio Sketchup Design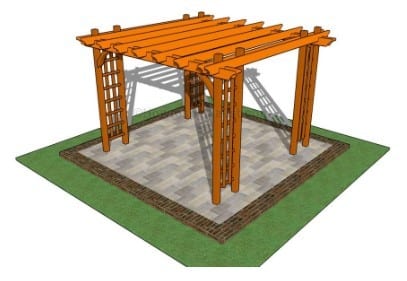 This is a conceptualized pergola design plan that will show you how to construct an easy pergola like you would in a kit. This has 8 posts in total which are buried in the ground for stability. The rafters have been equally spaced to create an even and professional-looking design. If you look closely, there are lattice woodworks found between the posts and this has added to the charm and beauty of this pergola design.
This pergola may just be a sketch but it looks compact but roomy. It has a whimsical design that you would want to have in your garden or yard. So whether you are new to woodworking or you've done projects before, this plan will surely satisfy your needs. Click below to get the complete plan.
72) 10 x 10 Freestanding Pergola Plans
When you are just starting as a woodworker it is best to start with the very basic plans. This is a simple pergola plan that is all about building a 10 x 10 feet structure. This has deeply buried posts with high upper supports and rafters to create that plain but airy style.
This works great as a shield from the sun if you want to place some patio furniture out. It can also be used to shield plants from the hot sun. Sting up some lights and add some aerial plants and you got a festive venue for any party or family event. Interested in building this pergola? We have the complete plans for you.
73) Redwood Pergola Design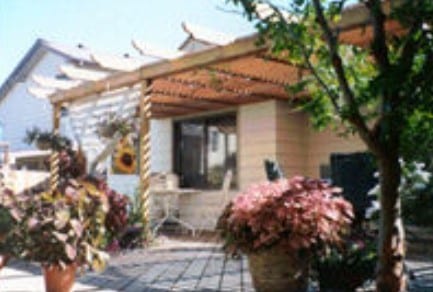 This is a pergola made of durable and lovely redwood. It has six panels with 29 louvers and one panel that has 16 louvers, therefore, it is a complicated build. But despite the complexity of the build, you can bet that this is one pergola that will truly be a spectacle once it's completely finished. It can become the highlight of your backyard with its magnificent design.
The structure can shield a patio, a barbecue area, a poolside relaxation area or simply a place where you keep delicate plants. Hang some lights and you have a cool area to dine and wine with friends and family. Check out the plans to build this lovely redwood pergola here.
https://www.instructables.com/id/Backyard-Pros-Diary-of-the-Construction-of-His-Per/
74) The Simple Backyard Pergola Plan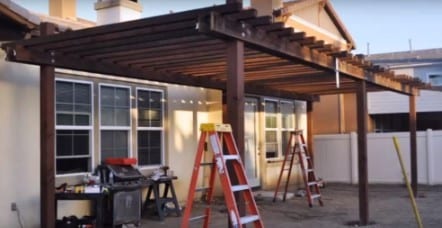 Sometimes beauty is seen in the simplest design. This is a very basic pergola plan that even someone with minimal woodworking knowledge can do. Would you believe that the builder of this pergola used only Google Sketch to create the plans? Nevertheless, the result looks awesome.
The structure looks very simple, has high upper supports with plain evenly-spaced rafters. What's also great is that the builder captured every step of the build in detail even photographing everything that he did. And aside from the different steps, a detailed list of all the materials and tools needed for the project was given. This is definitely a DIY pergola plan that a novice builder should check out.
https://www.instructables.com/id/How-to-Build-a-Simple-Backyard-Pergola/
75) String Up Some Lights On this Pergola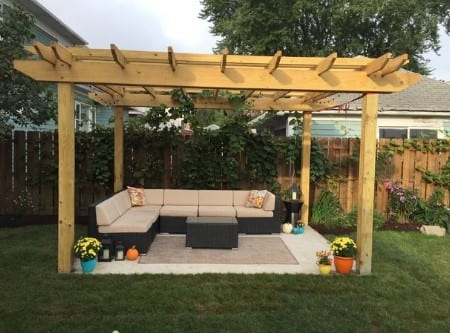 Create a stunning pergola that you can fill with hundreds of lights. This could be a great outdoor venue for barbecues, movie nights, romantic dinners and so on. This pergola is tall, with two layers of lattice boards as the second layer runs perpendicular from the first layer.
A comfy L-shaped sofa is the highlight of this outdoor space and as you can see, the builder has made the space more homey with area rugs, a table, and matching accents. Make sure to use outdoor furniture or at least add a canopy to this structure to protect the furniture from rain or heat. If you love this pergola design then check out the plans for the build here.
https://www.instructables.com/id/Make-a-Back-Yard-Pergola/
76) 8 x 10 Redwood Pergola Plan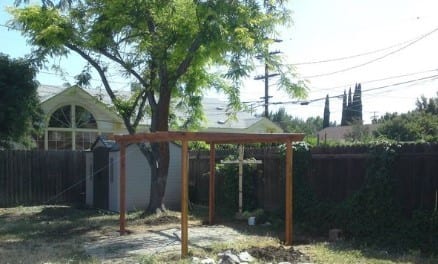 This is a small yet very functional pergola measuring only 8 x 10 feet. It has a traditional and basic design that you will surely find easy to make. It has tall posts with evenly-spaced rafters that will provide shade from the sun.
You can transform this simple pergola into almost anything. You can create a simple outdoor dining area for special dinners with family and friends. Place some lights and create a whimsical area for relaxation or meditation.
You can also plant flowering vines and have it grow all over this pergola or add some hanging accents and plants. As they say, the plainer the easier to accessorize. Follow the plans to build this easy backyard pergola from the link below. 
http://www.instructables.com/id/My-Pergola-Project/
77) Basic Pergola Building Guide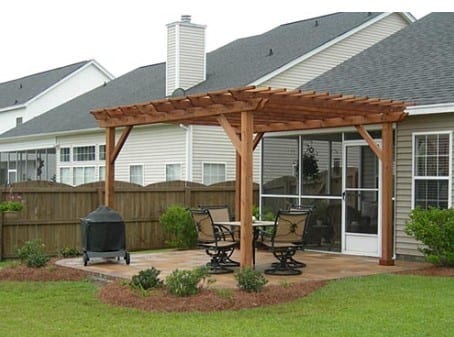 This is a special guide on how to build a pergola. Although most people dream of having a pergola in their backyard, this may seem impossible if you don't really have the woodworking skills. Even if you have complete tools and materials, you need a good building guide to help you out.
This special guide gives you all the best details on how to build that pergola. You can transform your yard dramatically and improve the value of your property even with a simple pergola. The link to this guide is found here.
78) Garage Door Trellis Plan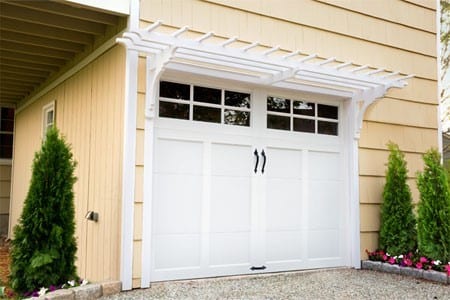 Even your garage door needs a makeover. This is a simple pergola which is not really a full-sized structure since it is attached to the top of the garage door. Call this a trellis that simply frames the door and allows vines to grow and shield the door area.
This improves the look of your home and is not really a complicated structure to build. As you can see, the arbor/trellis/pergola is made of only two rafters but with at least six L-shaped supports. With this simple design, you can build this in just a few hours if you have the right tools and materials. The plans to make this garage door trellis pergola are found on the link below.
https://www.instructables.com/id/Over-a-Garage-Door-Pergola/
79) Patio Pergola Plans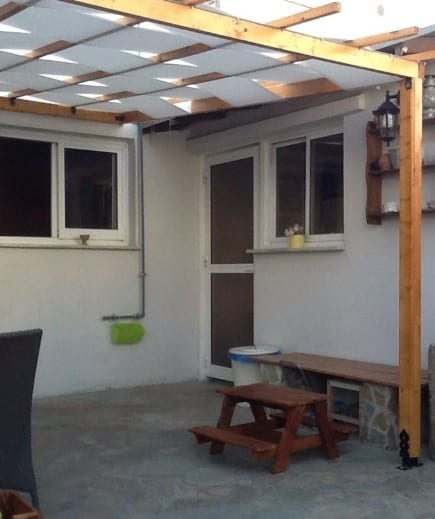 This is a vinyl-covered pergola that is attached to an outdoor deck patio that provides ample shade to your family. The builder that created this pergola lives in Greece and emphasizes the importance of protection from the sun.
This pergola can be improved by placing a vinyl cover or a weather-resistant fabric. This is attached to the house as you can see while the posts have been bolted down the ground. The rafters are very simply designed but the simplicity of this pergola is one of its great points.
This simple pergola design can be used as a shield to cover a breakfast or dining area. The plans to build the pergola can be found at the link we have below.
https://www.instructables.com/id/Pergola/
80) Arbor Seat Plans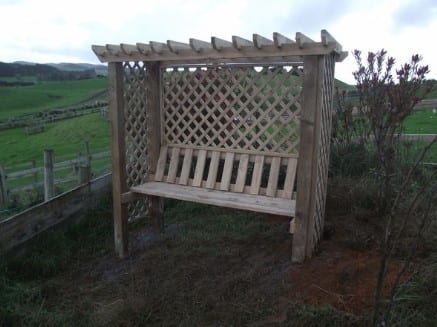 This pergola arbor seat was constructed to be one of a highlight of an apple orchard. This was designed for a person who wanted to meditate quietly outdoors. The plans here will help you build the uprights, the lattice panels, and the seats. As you can see, this is an easy build even for a novice woodworker.
The materials used here very durable and will resist years of outdoor use. If you have been longing for a lovely quaint place to meditate then this should be your next project this weekend. Check out the plans to make this arbor seat here.