61) Basic Pergola Plan You Can Do Today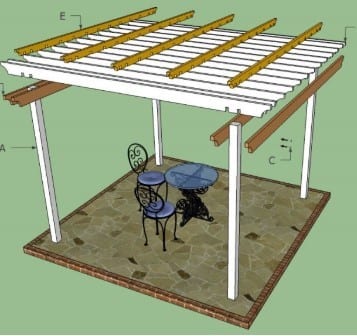 Only a few people possess profound woodworking skills and if you are dreaming of a pergola in your backyard, you can try this basic pergola pattern. This is a no-frills design that consists of four posts that were deeply buried in the ground.
You can actually improve this design depending on your needs and the size of your backyard area. When finished, you can use this newly updated area as an outdoor grilling area, dining area, breakfast nook or a relaxation area. 
62) Box-Type Pergola Design Plan
Evenly-spaced, professional-looking box type pergolas will surely update any backyard. A box-type pergola has carefully-spaced rafters that form even squares. The squares could be large or small depending on your preference but basically, if you want more sun then choose a large square design.
And like all pergolas, the posts for this project have been buried deep into the ground for good support. This is made from hardwood so you can count on this structure to hold plants, accessories, lighting and more. Get the complete plans for this pergola design from the link below.
https://www.buildeazy.com/pergolabox_fin.html
63) Free Pergola Design from Construct 101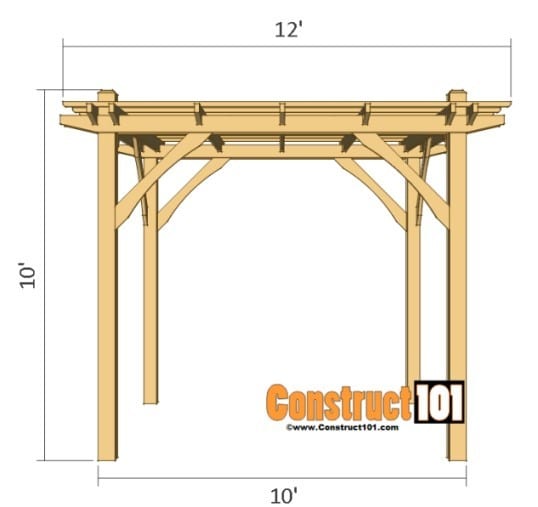 This is your chance to learn how to construct a large pergola measuring 10' x 12' x 10'. If you are a novice woodworker you will benefit a lot from using this plan because it is easy to use and has clear directions on what to do and what to use.
The pergola in this plan is simple and has adjustable dimensions. You can use this pergola as a trellis and an arbor, a shield for an outdoor seating or dining area. You can get the pergola plans from Construct 101 from the link below.
64) The Sunset Pergola Kits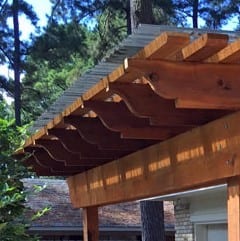 Some people just don't have the time to shop and prepare all the materials needed to make a pergola. They would rather go with the quickest ways to make a pergola and that is using Sunset Pergola Kits. This kit contains all you need to make your own pergola.
This kit has wood and hardware for a small 8 x 8 feet pergola to a 34 x 36 feet structure. You can construct any type of pergola that will match your needs. What's great about Sunset Pergolas is that it is completely waterproof. It has a transparent shield that keeps water away from your patio, furniture, and accessories. So stay dry and high with this simple
65) Presenting the Minimalist Pergola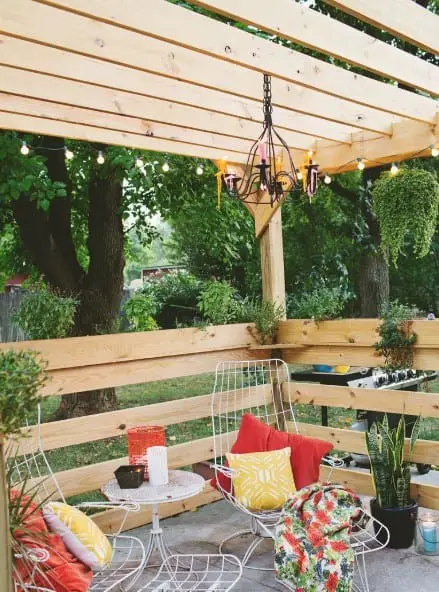 A pergola could be as classy or as simple as you want it to be. Very prominent designs like the A-frame take time to construct while basic plans won't let you work for a day. This is a minimalist pergola design that measures 10 x 10 feet. It has a straightforward design, no frills, and no fancy designs.
This makes an excellent choice for a trellis, an arbor or a place to simply sit back and enjoy nature. Have breakfast or have a late night dinner date underneath the stars with this simple, minimalist pergola. Design plans await you when you click the link below.
66) A Weekend Pergola Project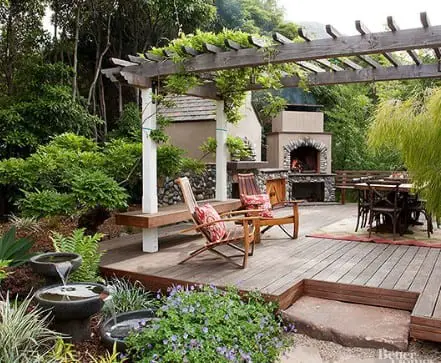 The simplest pergola design can be done in a few days, even a weekend and this plan are one of these.  This is an easy design with tall upper supports and posts buried deep in the ground. The rafters have a very basic design as well.
But this basic, minimalistic design can give way to awesome design inspirations too. You can construct a basic pergola to be used as a shield for a breakfast area, a fire pit, a poolside relaxation area or a barbecue area for patio parties. Outdoor entertaining would surely be a breeze when you have this weekend pergola as your backyard venue. Plans to make this lovely area are provided when you click the link below.
https://www.bhg.com/home-improvement/outdoor/pergola-arbor-trellis/build-a-pergola/
67) The Patio and Planter Design Pergola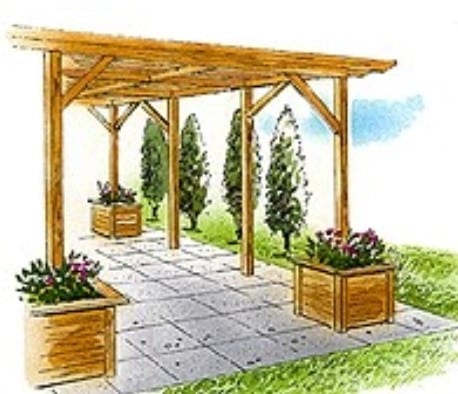 This is a conceptualized pergola design that you will surely love. It has a charming pergola covered with thick flowering vines and along its rafters are hanging plants. This pergola is perfect for almost any kind of outdoor event because it is constructed on top of a patio where it's safe and dry to walk on.
Planters constructed along the sides of the pergola serve as additional places to put plants while inside the pergola table and chairs, a sofa or any kind of seating can be used. Too complicated for you? Check the DIY pergola plans to find out. 
https://www.bhg.com/home-improvement/outdoor/pergola-arbor-trellis/pergola-and-planter/
68) The Windsor Style Freestanding Pergola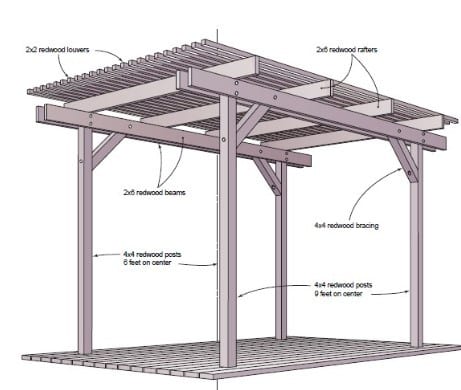 This is a freestanding pergola that is made of fine redwood. This is another conceptualized design that will cover a large area of 96 square meters but can be customized according to your needs. If you are going to customize, your rafters must not be more than 6 feet in length.
This pergola can be built anywhere: near your house, along a pathway in your garden, near the garage or as a focal point in your garden. You can also use this for events. To eat dinner with family, to host parties, barbecues or to simply relax outdoors.
This freestanding pergola is high, airy and very lovely which makes it a wonderful addition to anyone's backyard. Get the plans to make this freestanding pergola here.
http://calredwood.org/pdf/Projects/Windsor+Shade+Shelter.pdf
69) Blueprints for a Freestanding Pergola
This is a 10 x 10 feet pergola that has a simple design. It has been made to look simple so you can modify this according to your needs. If you want an 8 x 8 feet pergola, the beams and the crossbeams should be 10 feet while a larger pergola like a 12 x 12 feet structure needs 14 feet beams and crossbeams.
This blueprint is so simple even an amateur woodworker would understand how it works. You will be able to construct this anywhere you wish. And with so many ways you can use this freestanding pergola, the most popular use would be for outdoor parties and events.
So the next time you plan a party, put up this simple freestanding pergola first. Plans for this outdoor venue are available when you click the link below.
http://www.diygardenplans.net/diypergola.htm
70) The Classic Red Pergola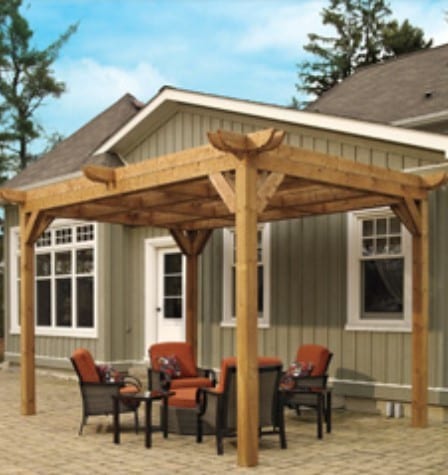 Why do homeowners love to build pergolas? Most love pergolas because it creates a classic charm to any backyard. Take this red pergola made of strong treated lumber. It has a very sturdy design. It shields the dinner party and it keeps the home cooler too by blocking the sun's rays especially during the summer months.
If you love to entertain and you want to stay cool all the time then a lovely red pergola such as this should be your next outdoor garden project. Get the complete guide and plans when you click the link we have below.
http://homeathome.homehardware.ca/en/index/home-projects/project-ideas/home-at-home/summer-projects/pergola.htm