81) The BBQ Patio Pergola Plan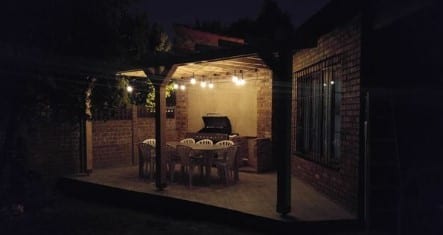 This is a lovely patio pergola that is attached to the wall of the house. This is a shaded, semi-enclosed area where you can host parties, barbecues, quiet dinners, and breakfasts. A concrete slab is the foundation of this pergola and the structure has been constructed out of treated lumber.
The builder mentioned that the plans for this pergola have been made using CAD computer software. This is a bit complicated plan but it's definitely worth checking out. It took around 8 weeks to complete this pergola but if you have all the materials and tools ready, you will surely be able to complete this in less time.
https://www.instructables.com/id/Pergola-Style-Patio-Braai-Area/
82) Pergola from Upcycled Wood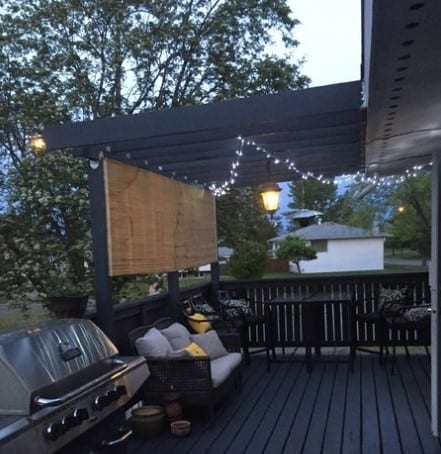 This pergola is made entirely from upcycled wood. This was constructed from a demolished deck but after this project, the deck looked like it was featured from a home and garden magazine. The wood was picked from a scrap lumber for free and therefore the builder was able to save money from making this project.
The rafters were equally spaced, the deck, sides, and roof were painted dark to hide imperfections on the wood. And of course, accessories were added to complete the look. Bamboo blinds, LED lights, outdoor furniture, pillows, and lamps were included to prepare this area for a lovely family time. Come and get the plans for this pergola here.
https://www.instructables.com/id/Reclaimed-Wood-Pergola/
83) Rustic Woods Pergola Design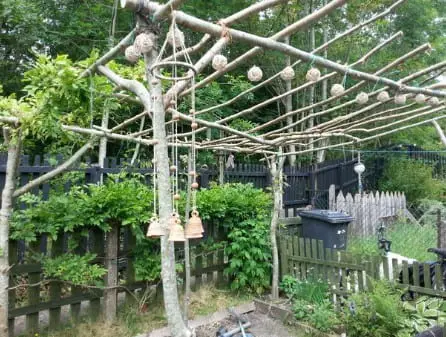 This is a totally different pergola that was made entirely from wood found in the builder's backyard. It was made of ash, hazel and willow wood and the only tools and hardware used were screws, rope, a hole digger and a spirit level. This pergola doubles as a trellis where vines can crawl into.
A vegetable garden is grown underneath this pergola and whimsical accessories hang from its rafters. If you want to build this amazing pergola then check out the plans we have on the link below.
https://www.instructables.com/id/Rustic-Pergola/
84) Classic Vineyard Pergola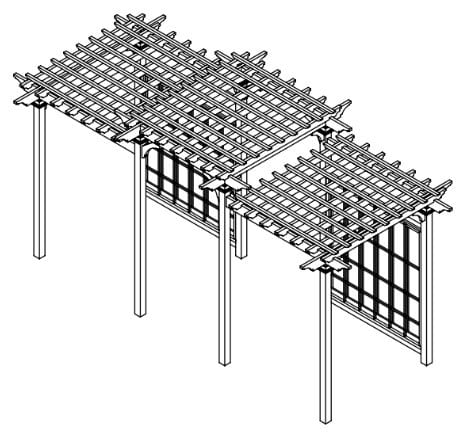 This is a classic vineyard pergola that is made up of three sections. This is an elongated and rectangular pergola that is completely the opposite of the usual square-shaped pergola designs. This pergola has tall front posts and latticed back posts. The rafters have intricately-shaped ends that have been crisscrossed to create better shielding.
And aside from using this as a trellis or an arbor for plants and vines, you can also use this for your outdoor seating, dining area or relaxation area. Ready to transform your backyard? The plans for this DIY pergola are very easy and are found at the link we have here.
https://www.realcedar.com/outdoor/free-diy-project-plans/vineyard-pergola-plan/
85) Modern Classic Pergola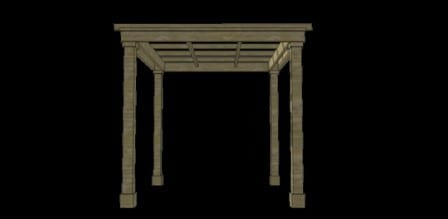 This is a pergola designed by Design Confidential. This is a modern yet classic pergola that has been estimated to cost around $200 to $300.  This is a very simple option compared to other spectacular and fancy designs. It uses pre-treated wood that can withstand the rigors of outdoor use. It has four simple posts that have been buried deep into the ground.
There are no rafters to cover this pergola only square frames that leave no shield from the sun. You can opt to use weatherproof covering to improve shielding. Add lights, hanging plants and other accessories then this simple design will turn into a lovely outdoor area for you and your family and friends.
86) 8 x 8 Pergola Plan
This is a pergola plan that will turn a boring outdoor area into a shaded place to hang out. This is a design from My Outdoor Plan that will help you create a simple 8 x 8 feet pergola. This was made from a concrete patio area which can be used for outdoor seating or dining.
The pergola has arched upper supports while the rafters have jigsawed ends. Whether you are new to making wooden projects or this is your nth outdoor project, this DIY pergola plan is surely something to look forward to.
Conclusion
A pergola has a variety of uses and may be constructed in just about any kind of material. It is an easy way to update an outdoor area and to salvage materials that are readily available in your backyard. And with just simple accessories and furniture, you can have the dream backyard or patio you have been looking for with a pergola.