21) Vine-Covered Pergola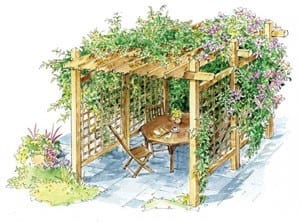 Let flower-coated vines grow all over a simple pergola and you got a vine-covered structure perfect for shaded seating and quiet relaxation. This is a simple pergola with lattice walls to allow vines to crawl better.
The posts of this pergola have been buried deep into the ground, therefore, its sturdy and will remain despite winds and rain. You don't need to worry about rain and wind though because thick vines can protect you as you sit comfortably. The complete plans on how to construct this lovely pergola are available from the link we have here below.
https://www.motherearthnews.com/diy/garden-yard/how-to-build-a-pergola-zm0z13jjzmar
22) Lovely Green Pergola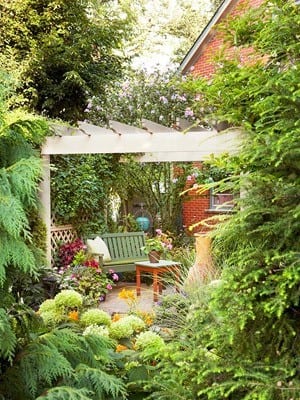 Rather than standing out, this lovely pergola prefers to blend in. You can barely see the pergola from this photo because of all the lush trees, plants and vines that have grown nearby. The beams on the top have detailed ends while four large posts are buried deep into the ground.
The upper supports for this pergola are wide and therefore can hold aerial plants, thick vines, and accessories. A comfy sitting area was set underneath this pergola accessorized with a small table and colorful pillows. If you love this green pergola then check out the link on how to construct this below.
https://www.bhg.com/home-improvement/outdoor/pergola-arbor-trellis/build-a-pergola/
23) Your Trellis, Arbor or Pergola Plan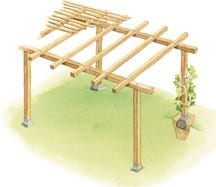 Arbor and pergolas are designed to provide relief from the harsh sun's rays and can be large enough to house a small table and some chairs to make an outdoor dining area. Add lights and plants and this pergola can be an evening party venue.
Allow vines to crawl along the beams and you have nature-inspired outdoor area. This is a narrow, free-standing pergola with buried posts and an open-roof design. It is easy to construct and won't take a day to complete.
https://www.hometips.com/diy-how-to/arbor-pergola-build.html
24) Rustic Grape Vine Pergola
This project just shows that you can use anything you have around to make a lovely quaint pergola. This is made from wood from actual trees from a backyard. You can also use bamboo to make this sturdier and more appealing. It has a classic design with two facing seats, like a breakfast nook.
But instead of just being used as a seating area, a grapevine calls this home. Aerial plants are also suspended on each beam with plenty of room to hang more plants too. If you are looking for an easy weekend project then this DIY pergola plan is for you.
https://www.motherearthnews.com/diy/how-to-build-a-pergola-zmaz98fmzkin#axzz2SnZ8Ozsk
25) Pergola Swing #2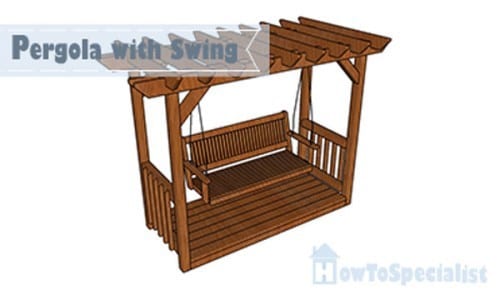 As a child, you may have loved to ride a swing. The rocking motion is actually calming while the carefree feeling is definitely satisfying. This pergola swing has rafters with contoured edges. Railings are found along the sides of the pergola swing and these are a part of the plans as well.
This DIY pergola plan is quite complicated because you will not just make a pergola but you also need to construct a floor frame and the swing seat. But when you have all the materials you need handy, you can surely complete this just in time. Detailed step by step instructions for this fun pergola design is found at the link below.
26) The Round Pergola Design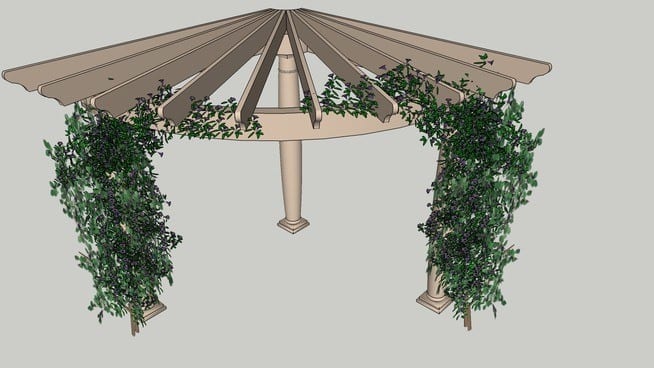 Possibly one of the most unique pergola designs is around one. This is a structure that has a center post which is larger than all the other ones along the circumference of the circle. The rafters are arranged like a huge umbrella with each one notched to the main upper support.
Each post is covered with thick green vines. Allowing the vines to crawl on top of the pergola will provide shade; improved protection from the rain and of course will create a romantic touch. Looking for the ultimate backyard wedding venue then this circular pergola is for you. Plans for this are available from the link we have below.
https://3dwarehouse.sketchup.com/model/696ef95351e9880260072466d4acb698/Pergola
27) Simple Steel Pergola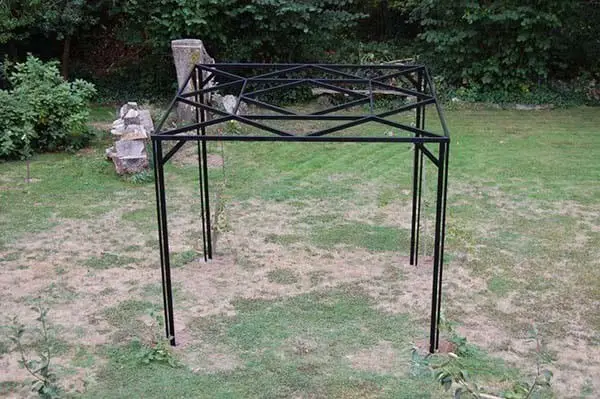 Aside from using wood to construct a pergola, metal would be a good alternative. Not only will metal pergolas last a long time but will also survive the harsh outdoor weather and climate. This DIY pergola plan looks simple but it requires knowledge about metal works and how to make materials out of raw steel.
The legs are free-standing and may be buried deep in the ground for improved support or it may be supported with rocks in case you want to move your steel pergola. This can be a good trellis or arbor for small plants, vines, potted plants and more.
You can construct a larger or taller metal pergola you want an outdoor relaxing area or dining area. Take note of plans to build this pergola from the link below.
https://www.instructables.com/id/Steel-Pergola-for-Kiwi-and-Grape/
28) L-Shaped Stunning Pergola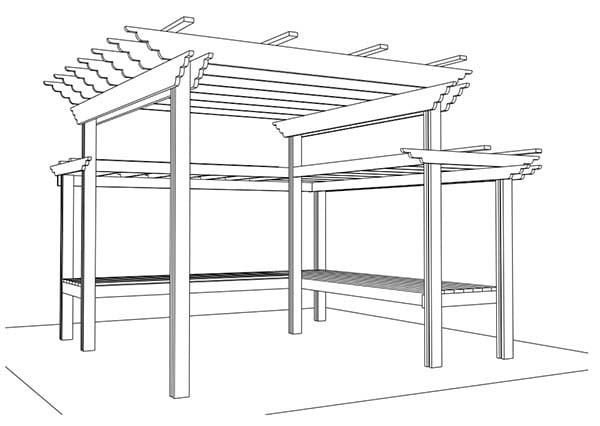 This is a pergola made from Western Red Cedar that has an L-shaped design that looks more like an installation for a mall or hotel. The main pergola is taller with four posts that are buried in the ground. An L-shaped pergola is constructed along the main one's sides.
The L-shaped structure has a lower roof and a complementing L-shaped sitting area at the bottom. The plan for this pergola is a bit complicated for a beginner but check it out in case you need to upgrade your boring backyard soon.
https://www.realcedar.com/outdoor/free-diy-project-plans/l-shaped-pergola/
29) The Box Pergola
The rafters in this pergola were arranged in such a way as these form a perfect box. This is an extremely popular design because it looks neat and perfectly even. This was constructed as ornamental roofing for a deck but it can also be used to shield an outdoor seating area, poolside relaxation area or a meditation area.
The lumber used for this project is treated, surfaced pine while the posts are treated for in-ground construction. All-in-all, this pergola is simple to build for as long as you keep the rafters arranged in a box-shaped pattern. The plans for this DIY pergola are available here.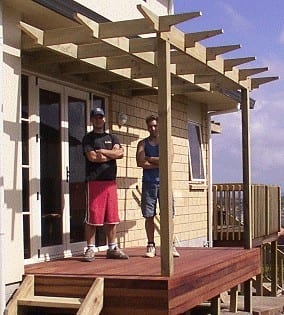 https://www.buildeazy.com/pergolabox.html
30) The Miniature Pergola Design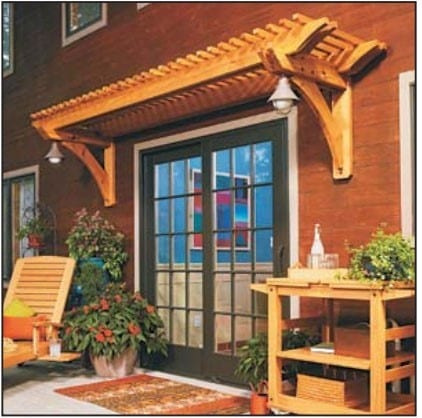 This is a pergola that is meant to accent a door or a window. This is a long and narrow pergola constructed out of hardwood which has been coated twice with varnish. Instead of a post, L-shaped supports hold this pergola together.
The supports are bolted on the wall of the house while an outdoor light hangs on each L-shaped support. But aside from just framing a door, you can also use this mini pergola to hang on top of a walkway, a patio door or a large window. Plans to build this lovely mini pergola are found at the link below.