51) Basic Pergola Plan from DIY Network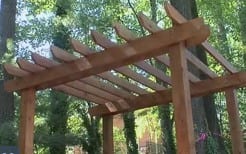 This is what novice woodworkers need. This is a very simple video prepared by DIY Network made to help people who want to improve their yard with a pergola but have very little knowledge of woodworking.
This is a basic pergola with only a few rafters and easy but sturdy posts, lower and upper supports. Use this basic plan according to your needs.
You can add more rafters, increase or decrease the height of the posts or improve the upper support designs. And depending on the height and the design of your pergola, you can use this to shield a sitting area, dining area or relaxation area.
https://www.diynetwork.com/how-to/outdoors/structures/how-to-build-a-pergola-videos
52) Weatherly Pergola – Lattice and Seating Area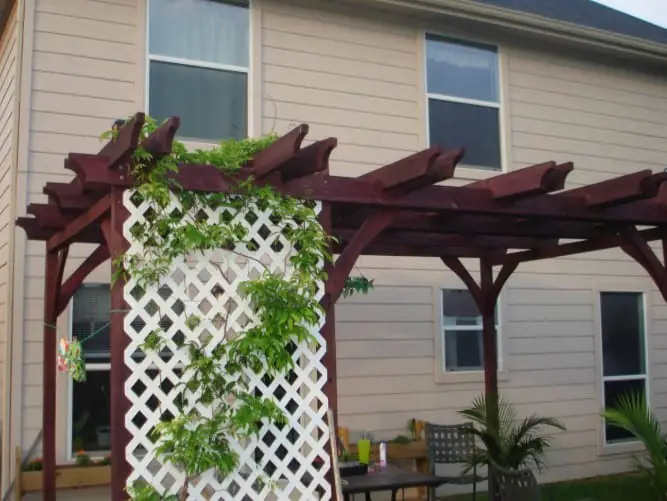 Cute and functional, this pergola has the modern twist. It is made of treated hardwood but instead of using wooden stain, the beams and posts were painted reddish-brown. This is a large pergola with eight posts, a latticed area where vines can grow and another area that houses a seating area.
A few chairs are in the photo with a small table to hold drinks and some knick-knacks. However, you can jazz this up with additional lights, hanging plants, some pottery, and an area rug. This weatherly pergola is easy to construct as long as you have all the materials and tools ready. Check out its plans from the link below.
http://www.ana-white.com/2011/04/not-quite-same
53) Modified Weatherly Pergola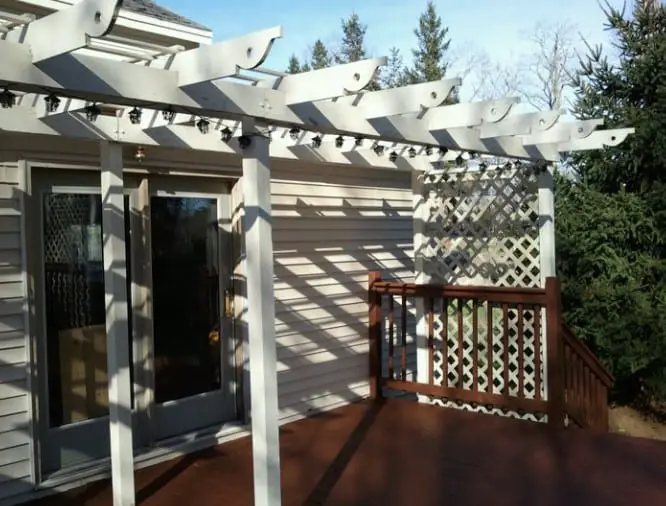 Just check out all the effort that the woodworker did to make this very detailed pergola. This may look like a simple weatherly pergola but see the lattice walls and the designs on the tips of the rafters?
Obviously you need to be an expert woodworker to complete this design but nevertheless, you can learn now with this plan. The latticed walls offer some privacy considering this was installed over a deck. The cute rafters make excellent hook eyes. Vines can grow along the lattice and above the rafters to create that quaint country style charm.
http://www.ana-white.com/2011/05/modified-weatherly-pergola
54) Simple Pergola Design for Backyard Area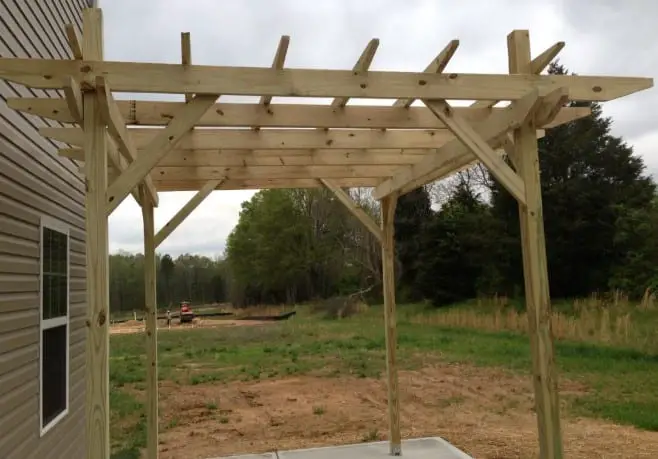 Moving to a new home is very promising indeed. When you want a backyard facelift then a simple pergola would do great. This is a design that will surely appeal to novice woodworkers. Made of treated lumber, this pergola has simple yet strong posts, upper and lower supports that does the job and rafters with simple tips.
It stands on a concrete area just outside the back door of the homeowner but is not actually part of the house. Check out the plans for this pergola and surely it won't take you an entire weekend to complete this simple design,
http://www.ana-white.com/2013/04/pergola
55) White Pergola Attached to the House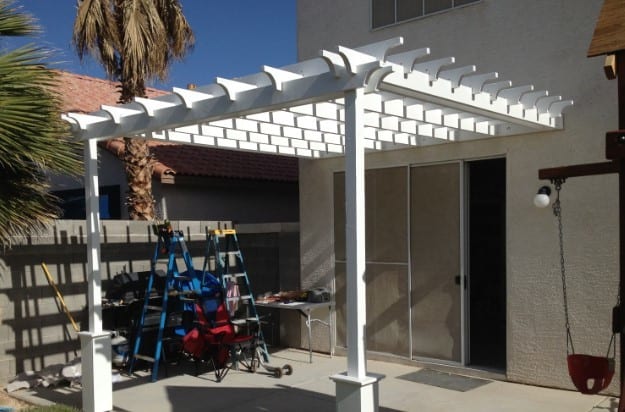 This is a cool airy pergola with a modern look. Painted white but made from treated lumber, this pergola will surely last for a lifetime. The two posts have excellent supports and are laid deep into the ground. The front tips of the rafters have a downwards curved design which is lovely and functional. You can hang plants, lights or any kind of outdoor accessory.
Although the photo does not exactly show what this pergola is for, you can design the area to become your outdoor seating area, dining area or a place where you can relax and meditate. It could also be a good place to house plants and to grow delicate plants that need partial shade. Get the plans for this white attached pergola here.
http://www.ana-white.com/2013/05/pergola-attached-directly-house
56) Easy Pergola Plan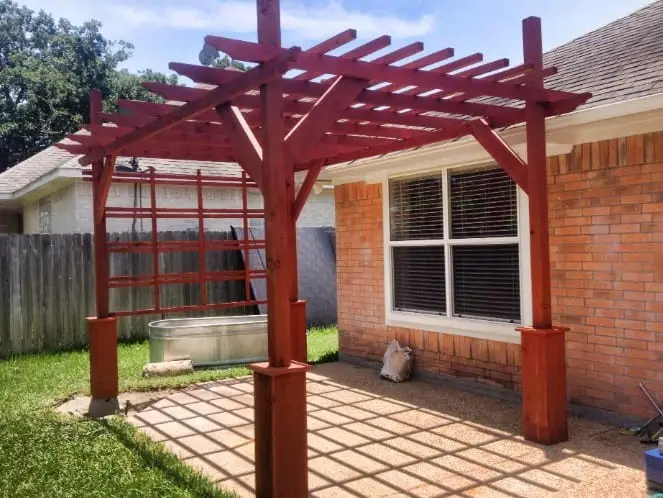 This DIY pergola looks like it was made by an amateur but nevertheless, it looks lovely and homey once it gets accessorized and updated. This is a simple pergola with lots of room and height. It was made using treated wood to withstand the elements.
The rafters are crisscrossed to further improve the pergola's ability to shield from the harsh sun. More rafters equal to more places to hang plants, lights, and accessories. The photo may not show much but with good accessories, you will surely have a fantastic outdoor area to hang out with your family or friends. The plans to build this pergola are found in the link we have below. 
http://www.ana-white.com/2013/06/pergola
57) Backyard Pergola on a Busy Neighborhood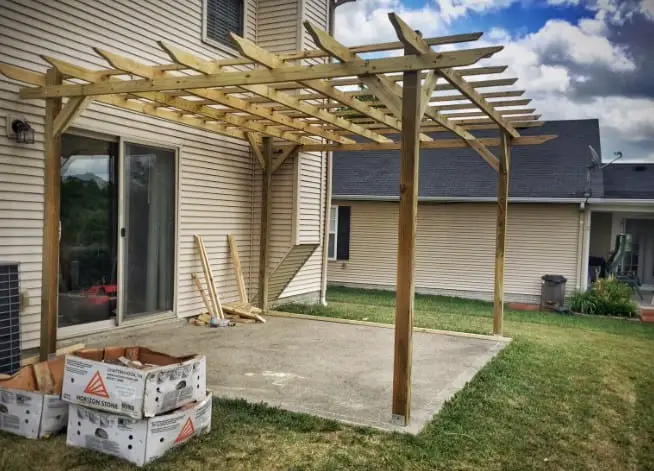 Watch your neighbors turn green with envy when they see your new backyard pergola. They will surely wish for the same thing when they see these well-constructed posts buried deep in the ground. The rafters may be widely spaced but are crisscrossed for improved coverage.
This is not attached to the house so you won't have to drill or bolt anything. So what to do with this much space? Create a breakfast nook, a dining area, barbecue area or just a place to sit and relax with the family.  You will surely find this plan easy and simple to follow. Check out the plans for this pergola from the link below.
http://www.ana-white.com/2015/06/DIY_furniture/235-weatherly-pergola
58) Pergola for a Stone-Covered Patio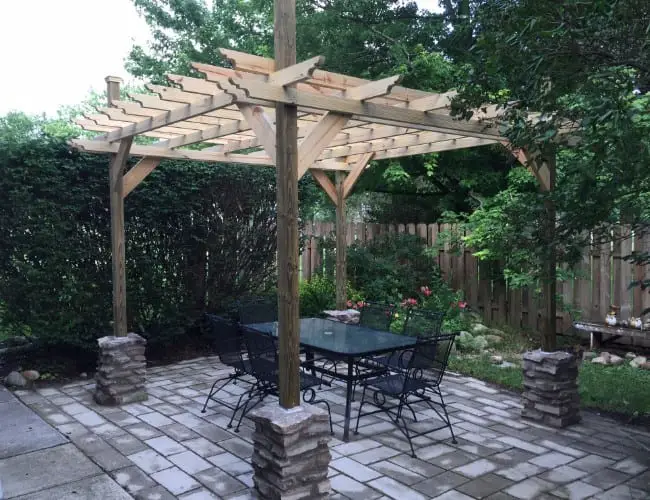 What could be a better way to enhance a stone-covered patio than a pergola? This is a unique design because the stone floor design extends to the pergola posts which actually strengthen the posts as well. Four stately posts hold the upper supports plus the rafters that have exquisitely cut edges.
This makes a wonderful place to sit and relax or enjoy a meal. Place a large outdoor sofa and you got a place where you can relax and just take a nap. There are endless possibilities when you have this large pergola in your backyard. Check you the plans for this pergola here.
http://www.ana-white.com/2015/06/DIY_furniture/northwest-ohio-pergola
59) Stunning Backyard Transformation with a Pergola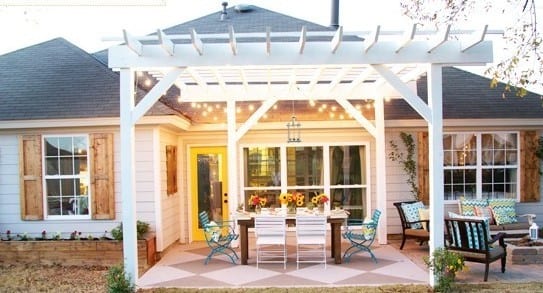 From drab to fab, this is a backyard renovation made by installing a pergola. The yard looks empty and dull before but after adding this structure, the yard came to life. The pergola looks easy to make but you someone to help you with lifting and fitting the beams.
The rafters have been cleverly cut and spaced while the posts buried deep into the ground. In the photo this space was made into a dining area but no doubt that there is more to this than a dining area. You can transform it into a sitting area, relaxation area or meditation area as well. Check out the construction plans for this backyard stunner here.
https://www.thehandmadehome.net/2013/01/how-to-build-a-pergola/
60) Pergola with A Canopy From Lowes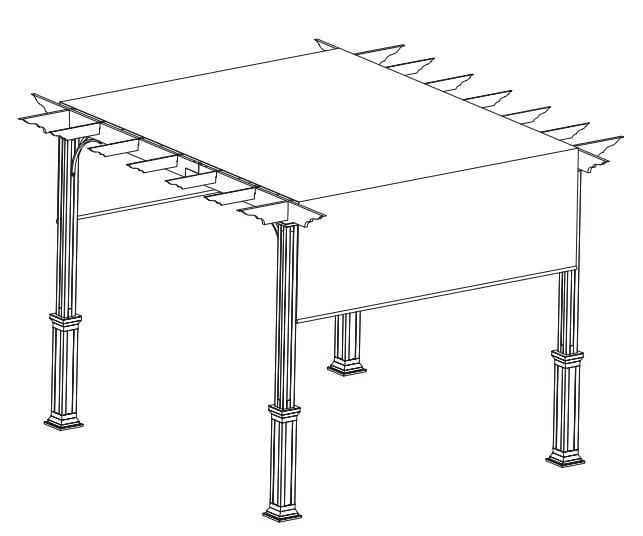 Not a fan of the sun but want to spend time outdoors? You won't have to fear the sun anymore with a ready to install pergola with a canopy which is part of a kit. This is a pergola set that has all the materials you need to build this lovely pergola.
Your woodworking project has large posts, contoured rafters, and strong upper supports. A thick, removable canopy completes the design making this a good place to hang out for any type of weather. Get the plans to make this pergola canopy here.