41) Vine-Covered Pergola #2
This is a pergola with a classic charm and a fantastic glow. Most people think of pergolas as an outdoor white structure and this plan does not fail to prove that design. This is a vine-covered pergola that has large columns for posts.
All six posts are actually buried deep into the ground to improve strength. The rafters have been cut using a curved design to create a flowing white dramatic look. This pergola has been erected on a flat and tiled area in a backyard but you can also construct this near your pool or in your patio barbeque area. This is a complex project but with the plans, we have here you will surely find it easier to complete.
https://www.familyhandyman.com/garden-structures/how-to-build-a-pergola/view-all/
42) Plans for a Very Large Pergola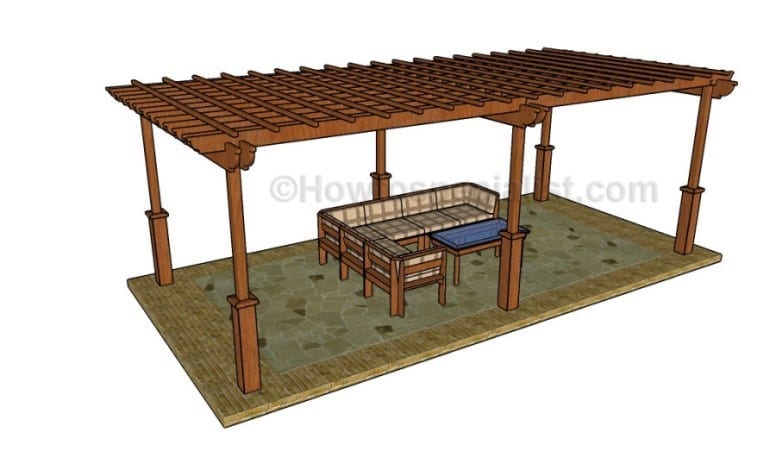 This is a very large pergola and should cover more than just your average deck or backyard. It is a structure that would provide large venues for events, parties, and special occasions. It can also be constructed as a walkway from your home to another area in your yard. Because of its size, this large pergola requires six posts, all buried deep in the ground to strengthen the structure.
The rafters have been crisscrossed to improve the pergola's ability to hold heavy objects like planters, lights, and lamps. And as you can see in the image the pergola rests on a stone-covered area making it a good place to hold outdoor events. Plans to construct this very large pergola are available from the link below. 
43) Backyard Pergola 2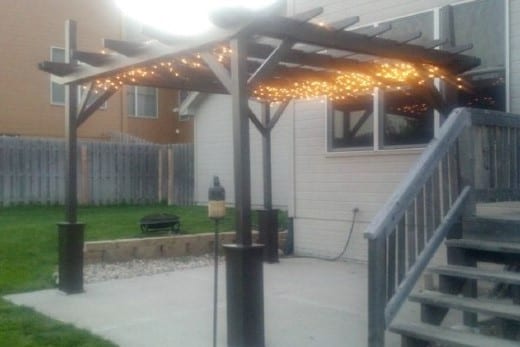 We have a number of pergola plans that are constructed in the backyard but there's no doubt that this is the most charming. Made of ultra-strong hardwood, this structure has been built separated from the actual structure of the house however it seems to be quite near the back entrance.
But this makes it easier to take things from the house and to the back in case you have a party or special event. This pergola has buried posts and a very straightforward, no-frills design. This looks strong and capable of handling hanging plants, ornaments and lighting.
Imagine having your own private party under this lovely pergola. You can also eat breakfast, take a nap, meditate or do yoga here. The plans to construct this pergola are located on the link below.
http://www.ana-white.com/2011/04/weatherly-pergola
44) Repurposed Doors Pergola Plan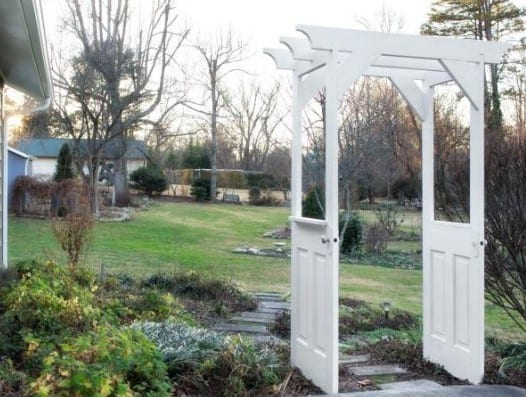 Have you ever had to throw away old doors? For this project, you can use an old door to serve as posts for this pergola. The doors were updated though; the upper half of the door was removed while the handles remained.
The pergola only has three rafters which were expertly shaped using a dado saw blade or a jigsaw. This whimsical yard accent is truly something worth checking out for your next DIY project. The plans for this door pergola are available through the link we have below.
https://www.diynetwork.com/how-to/outdoors/hardscape/make-a-garden-arbor-from-old-wooden-doors
45) The A-Frame Pergola Design
One of the grandest pergola designs is this one. It has a unique A-frame design that looks more like a movie backdrop wedding venue scene. The plans for this pergola are a bit complicated but no doubt that this guide can help you out.
Just some of the highlights of this cool pergola are its A-frame front arch, uniquely-designed posts, rafters with custom edges and seating area. You can basically call this large pergola home! And of course with this large design accessorizing it is an endless challenge!
You can place a dining set, sofas, lounge chairs, area rugs, tables, fountains, plants, curtains, lights and more. The possibilities are truly endless. You can check out the plans to make this A-frame pergola here. 
46) Lovely Backyard Dining Area Pergola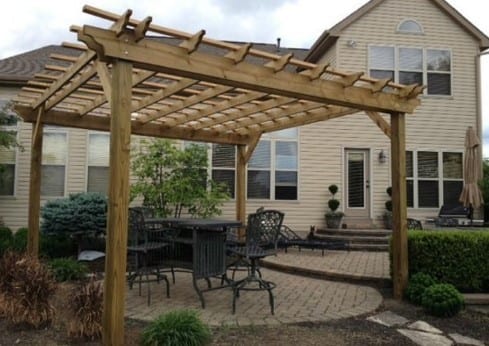 Redefine "dining out" when you have this amazing backyard dining area pergola. This is a huge structure made from sturdy and lovely hardwood. This was obviously the result of hard work as it looks expertly made from posts to rafters.
The posts are buried in the ground to provide good support for the pergola system. The upper supports are not just here to hold the rafters but also to highlight the crisscrossed beams that make this pergola truly one of a kind. Another great thing about this pergola is that it can be used for other things like an arbor, a trellis for vines and ornamental plants and as a plant hanger.
The crisscrossed beams make this as a good trellis for almost all vines. This plan could get a bit complicated though and is not for novice woodworkers. But if you are interested in making this is your next woodworking project check out the plans from the link below.
https://www.etsy.com/listing/120801097/pergola-plans-complete-plans-to-build-a?zanpid=10723_1532351007_ef7db2bfbe77f7d207b73eab3e4bbf00
47) Curtained Pergola Plans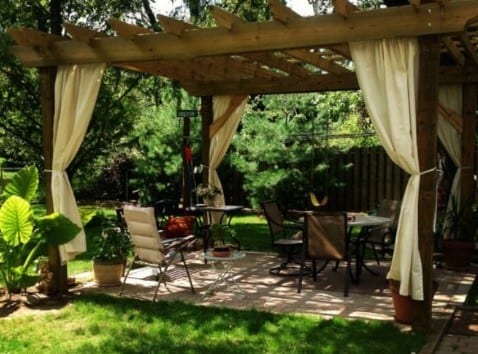 Create a wonderful weekend retreat with a whimsical pergola with certain accents. There are many pergola designs like this one but this has to be one of the best.
First of all, the pergola in this plan has a simple design. The posts, upper supports, and rafters are actually very basic. Built on a tiled outdoor area, the pergola houses a dining area and a small seating/reading area with several plants and accents.
The large curtains on each post seal the deal. You can add lights, pillows, blankets and other accessories to make this a wonderful outdoor retreat for you and the whole family.
https://www.etsy.com/listing/120801097/pergola-plans-complete-plans-to-build-a?zanpid=10723_1532355112_9976df01ada73f49efcb1bed881f6193
48) Pergola Columns Design
Why construct a simple pergola when you can make an extravagant design with large columns instead of wooden posts? This is a plan to make a pergola that looks like Greek temples with large columns as posts. The rafters are large as the upper supports are large.
This, of course, complements a house with a grand outdoor design. And you need a lot of experience working with wood when you want these very intricate pergola posts. But rest assured that the plans we have here will help you complete this grand outdoor project in no time.
How to accessorize this large pergola? Use large sofas, extra-large seats, grand dining tables and chairs and necessary accents like curtains, lighting, lamps, potted plants and hanging plants. 
https://www.etsy.com/listing/260499915/?zanpid=10723_1532355609_184c756cde2b2fe1dedb57b2afcaf427
49) Red Pergola for a Comfortable Seating Area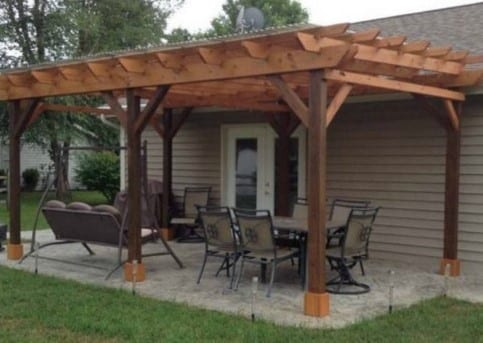 Another red pergola that houses a large seating area is featured here. This pergola is so large it has six posts for supports and each post has been cemented on the ground. The rafters have expertly shaped edges and are laid out in a crisscrossed pattern.
Notches fit the rafters side by side and you can see that a lot of work has been placed in laying everything out. The entire structure is on a stone patio. Large seating areas and a table are in the pergola but still, there's space for more.
It could take days to complete this kind of pergola but rest assured that after you are done, you will love to hang out at this area more than any other area in your home.
https://www.etsy.com/listing/213881674/covered-pergola-plans-12×24-outside?zanpid=10723_1532356102_63b5b10a29838416c65105ee69415592
50) Breezy White Pergola Plans
Pergolas were said to have originated from Greece and were naturally white. But over the years, most homeowners and contractors prefer to use the natural color of wood rather than paint it white. But still, there is a charm in white pergolas and this design is a classic example.
This is a small white pergola that has a tall and breezy design. The rafters are replaced with large ornamental pieces that actually work well as rafters to keep the sun out.
Even with this size of the pergola, you can place two lounge chairs, a breakfast nook for two or this could be a place to hang aerial plants, potted plants and more. Despite its opulent design, the plans to make this pergola are simple and you can find it from the link below.
https://www.etsy.com/listing/266665485/?zanpid=10723_1532356622_8bc1e1099968cc4a53514ced2b56f143