11) Kitchen Island Pergola Plan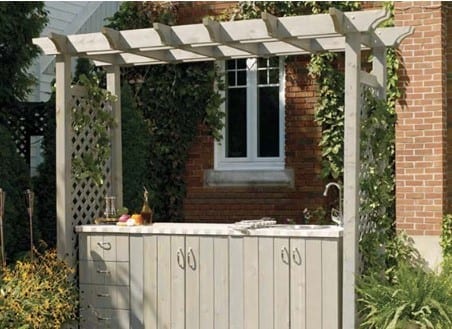 If you are a homeowner with a free-standing outdoor kitchen then this pergola will surely capture your attention. This can be built to shield an existing kitchen island which will surely jazz up your outdoor dining and entertainment. This design includes a simple pergola with only two upper beams.
The lattice sides of this structure are the focal point of this design which creates a clean and charming country ambiance. The plans to make this kitchen island pergola are available below.
12) The White Deck Pergola
This is a charming white pergola that looks absolutely classy. It has a unique lattice pattern top while the posts look like large columns. Two sides of this pergola are connected to your home making it an extension of your kitchen or dining area. 
This is a DIY pergola plan that needs a little experience and a bit of time too. But for sure, after you are done, you would love this beautiful and relaxing area in your backyard. Plans on how to build this pergola are found in the link below.
13) The Stunning White Pergola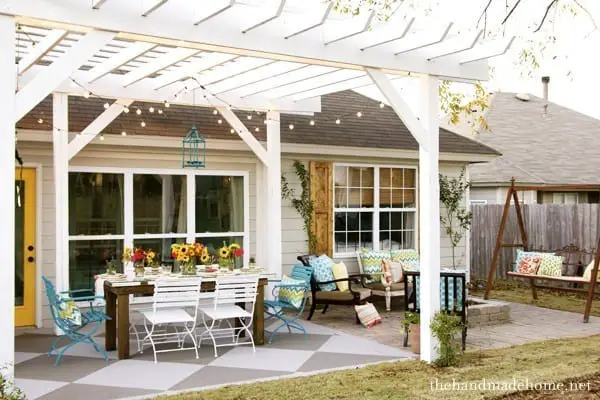 This stunning, light-filled pergola has been constructed quite near the home but as you can see, it still remains an independent structure in the backyard. This has large posts which hold two large upper supports where shaped beams are evenly notched.
Mismatched chairs a large dining table with lovely fresh flowers accent this lively area. Stringed lights, a simple chandelier, and a few plants complete this look. A simple plan to construct this pergola is available for you.
https://www.thehandmadehome.net/2013/01/how-to-build-a-pergola/
14) Patio Pergola with Charming Tendril Posts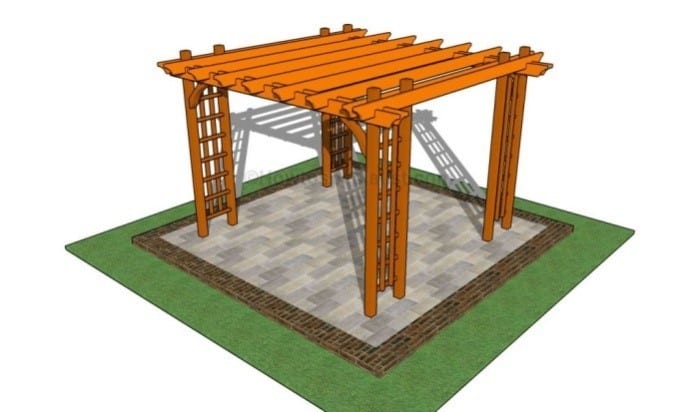 If you have a patio then one way to transform it into a lovely sitting area is to build a pergola on it. This is a design with tendrils for posts. You need to construct these charming tendrils from scratch and bury these in the ground to improve the stability of the structure.
With the tendril posts and the carefully shaped beams, this makes a relaxing area to sit on or a place to plant vines, aerial plants and blooming potted plants as well. This is an easy DIY pergola project if you have a lot of time and good working power tools.
15) The 15-Minute Pergola Plan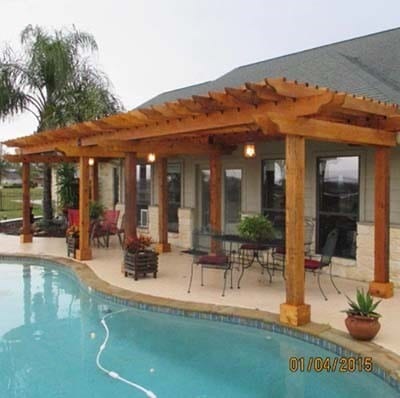 This is a stunning pergola that was constructed near a swimming pool. As you can see in the image, the posts were raised using large blocks of wood while the beams were carefully crafted and crisscrossed. This is a long pergola that is a sitting area, poolside relaxation area, and a walkway.
Obviously, you can't build this pergola for 15 minutes but no doubt this can be planned in less than this amount of time. Accessorize these with lamps, potted plants, and aerial plants to make a classy outdoor area. Steps to build this pergola are available in this YouTube video link.
16) Sitting Area Pergola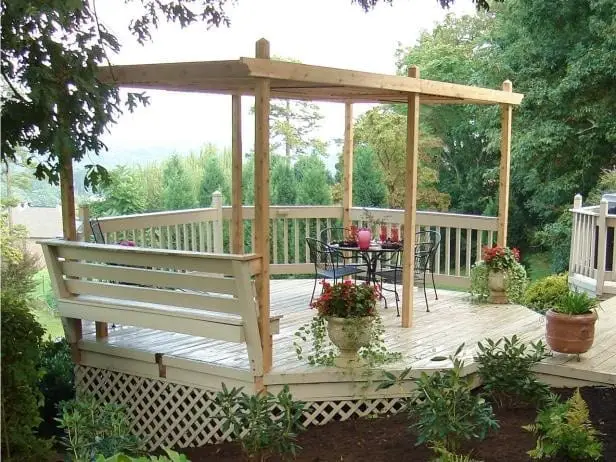 Transform a boring outdoor space into a lovely sitting area under a wide pergola. Just look at this fantastic country-style setting with an elevated deck with wicker and louvered accents. The louvered roofing can be shut or opened in case it rains or it's too bright out.
It looks like the deck was constructed before the pergola was added but nevertheless, the lovely oak pergola complements the wicker structure. Aside from the wooden seating, cast-iron seats, and tables plus potted flowering plants complete this quaint outdoor sitting space. The complete guide on how to make this outdoor sitting area is found by following link below.
https://www.hgtv.com/design/outdoor-design/landscaping-and-hardscaping/how-to-build-a-backyard-pergola
17) Patio Pergola DIY Plan
They say that one of the easiest ways to enhance the look and the value of your backyard is by building a pergola. This is a patio pergola that can be made on top of any existing seating area or outdoor dining area.
This is made of durable lumber which is the best material that can withstand the blazing sun and changing weather conditions. When this patio pergola is done, arrange a seating or dining area underneath this patio structure and accessorize with hanging plants, potted flowering plants, and vines.
18) Fancy Seating Area Under a Gray Pergola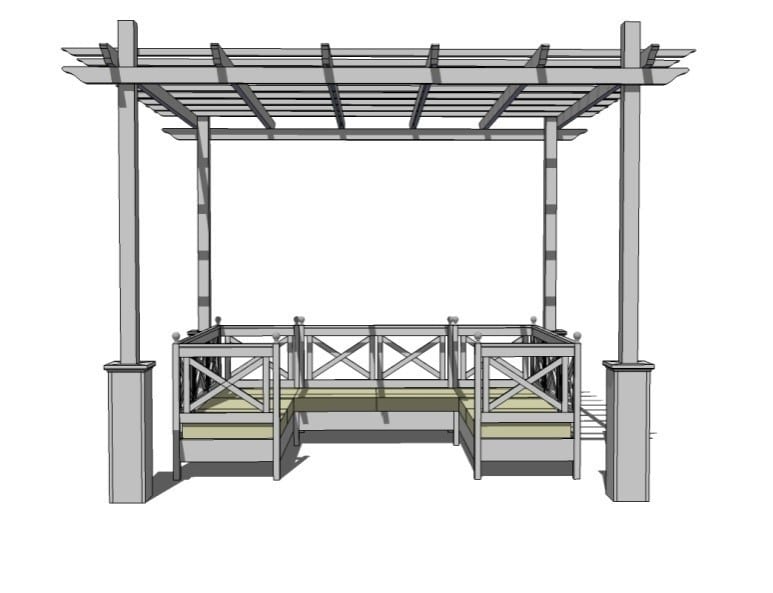 You need a bit of experience in constructing this large gray pergola. It is huge, with plenty of room underneath for a large sitting area and still has plenty of room to accessorize. This pergola has deep posts with expertly shaped beams to shield you from the sun.
A customized C-shaped seating area is also part of this plan so you got a nice outdoor cover and a lovely place to sit and relax when you are done. The plans to make this fancy gray pergola with a seating area are available at the link below.
http://www.ana-white.com/2011/04/weatherly-pergola
19) The Ultimate Octagonal Pergola with Fire Pit and Swings
This is a very large pergola that surprisingly does not have any beams to make the pergola roof. It is also a pergola constructed with swings and a fire pit perfect for late night outdoor parties and gatherings.
This structure is octagonal in shape with eight posts buried deep into the ground for ultimate stability. The swings were also made out of the same pine wooden beams made to construct the pergola body. A fire pit made from large rocks and cement is the focal point of this structure.
String some lights, a warm fire and some pillows and blankets for each wooden swing would make an outdoor spectacle that everyone would be envious of. Step by step instructions on how to construct this massive pergola is found at the link below.
https://www.remodelaholic.com/build-diy-pergola-tutorial-firepit-swings/
20) Classic Pergola Design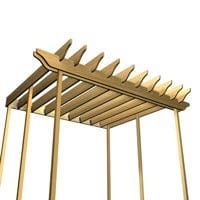 One way to improve a boring outdoor spot is to construct a pergola. Call this a classic pergola design using very simple materials. This has four posts that are placed in the ground and treated lumber for rafters.
This is a simple design so you don't need to spend too much time and money on buying expensive materials. This very basic design is also perfect for anyone new to woodworking or for a novice outdoor innovator. Get the plans to build this classic pergola from the link below.